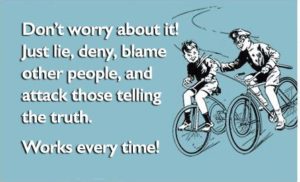 The following  article was written in response to an email from Tatsuhiko Koyama   and Paul Gee …
There  appears to be something inherent in NZ about  covering up   , its all about saving  $$$   and saving face  so  we  unjustly  leave  citizens with the cost  and the  degradation    which comes with being a whistle-blower .. no wonder there are so many suicides  we just  give some one a pill  and tell them to go away .
Our legal system is totally out of whack  it does not deliver justice  and our public servants have a massive rug under which  anything  suspected  of being  even   slightly rotten is swept.
Our systems are broken  I petitioned for an independent commission against corruption  it was thrown out by a man who left parliament under a cloud , the reason it was thrown out.. it disclose fraud and corruption… go figure read  about it here 
I was charged and  found guilty  for breaching an order  which cannot be shown to exist  for an un name person  the  Lawyers disciplinary tribunal decision   makes no reference to any orders  nor does it caution  the existence of one , the decision was one where the  tribunal effectively condoned  criminal behaviour of one of its own  have a read…. https://www.justice.govt.nz/assets/Documents/Decisions/2016-NZLCDT-24-Waikato-Bay-of-Plenty-Standards-Committee-v-Mr-M.pdf. I believe that this is  the same man who wrote the legislation for the animal welfare act for his  own  business plan  and  then made a fraudulent application which gave him statutory law enforcement powers and no accountability , the court has protected him and  MPI has protected him because they never checked the facts  they were reckless and its easier to make some one else's life hell than show that they system is not working .
The ombudsmen's office provides a document 130 pages long  http://www.ombudsman.parliament.nz/system/paperclip/document_files/document_files/463/original/managing_unreasonable_complainant_conduct_manual_october_2012.pdf?1351456121    which  allows  a person who  uses CAPITALS , underlines words , uses a different Colour or Highlights  a word to be  declared an " unreasonable complainant .
To complain about  being an unreasonable complainant makes you even more unreasonable
The ombudsmen  do have a book on how  to deal with complaints  its only 32 pages long  of which only 5 pages deal with  the  actual guidance of dealing with complaints
This culture of treating any   complainant  whether whistle-blower or some one pointing out a flaw in the system ,as a villain  only serves to make New Zealand more corrupt.
I had a first hand  demonstration   of how effective this system is   Ian Holyoake  who has been a rotarian for many years  totally defamed me with his  opinion which was so skewed  that logic was totally absent   ,
Ian  is of such standing that  his word is  gospel    and all he needs to say is   that he is a fine upstanding person  and that is sufficient for his opinion to hold against any one.  When I asked for a retraction and an apology  he could not possibly do that   and when I mentioned the possibility of defamation action  he went round  telling  people that  I had already served him with papers . The local assistant Governor  told me that an apology from Ian would  be unlikely   the pattern in my opinion  appears to resemble the rules  shown here
When you are the innocent party   every reasonable  thing you do to set things right  is turned into  a sinister act it is a real art form  all perpetrated with  fallacies  but more on that later .
Whether that society is  your  local rotary club the  Plumbers Gasfitters and Drainlayers Board, Law society or  our government,when facts and evidence  don't matter   the society you are involved in corrupt  but it appears that it is also a crime to expose the corruption.. that is what the   real problem is .
When the headlines read " Bar Association says ongoing suppression breaches in Grace Millane murder case endanger trial " they got my attention . Fair trial  here in New Zealand   No way !!! so how could   the breach of the suppression order  which is implied to exist   possibly damage the fair trial of a murderer  when many others  who have not been associated with  murder do not get a fair trial .
Any one   who has been fortunate enough  not to have   entangled with the law is  of the mistaken belief that our  justice system is robust and works like a well oiled machine..  don't be fooled  there are many things which   impact on natural justice here in New Zealand
Suppression  . By suppressing the name of the offender  the  chances  of a material witness coming forward is laos reduced , if the  offender was named   someone who knows him  is more likely to remember a relevant fact a week out from the murder  rather than  upon hearing his name a month or so later .. and what could have been relevant evidence is diminished  by doubt and confusion which occurs  with time.
How do we know that there is a suppression order, well you wont find anything from our court stating that there is a suppression order   , the judge in this case refused  one  but he mere fact that the lawyer for he accused  said he would file for one was sufficient  for  suppression  until the next appearance to be available .  But the court did not  make any statement that this is the case for that you have to search the statutes or  wait for a  reporter to write an article .
But  can you  believe the press  , one report states  that this was  court ordered suppression    when another explains that   it a statutory obligation .. why nothing  from the courts   directing what the situation is,   Despite there not being any firm direction and the name being freely available on any search of Graces name .
The police  are talking about prosecuting those who breach suppression this is done in  a flash and they  don't even need evidence as the court supports their   prosecution.
Evidence is not required
I read  a publication by the law society which was so detailed that from my own  experience I could speculate as to the identity of the lawyer who  had  defrauded his client.     He   had been given name suppression by the  law tribunal  to conceal this corruption .   I was prosecuted, no evidence of  a suppression orders existence was required , the court merely said the tribunal had a right to make one.. when actually there is no scope for a suppression order under that legislation but they can make an order for non publication. No evidence existed as to the identity of the lawyer who appeared before the tribunal  or if an order under  the non publication  criteria was ever  made .  basically the question I still have   is   whatif I had said Mickey mouse would I have been similarly guilty  as there is about  much evidence that Mickey mouse was the lawyer  as there was for Neil Wells.
I have learned that    evidence is ignored all it takes is for a lawyer to say  I  have it on good authority your honour  that the sky is green  then the judge will say   it must be right as he must not knowingly mislead me
Perjury
perjury happens all the time       but  it is too difficult for the  police to prosecute it  so people  perjure all the time. In a recent case a  forensic accountant gave evidence   to support his  client despite the fact that he had sworn an oath that  as an expert witness he was obliged to   act in accordance with the code of conduct
An expert witness has an overriding duty to assist the court impartially on relevant matters within the expert's area of expertise.

An expert witness is not an advocate for the party who engages the witness
The  client was very pleased    and sent an email  to the  forensic accountant  thank you I could not have done it without you  a complaint made to the police  will not be investigated as it is not a priority
Denial of a defence 
I  discovered corruption and  questioned how  a law enforcement body  which undertook public prosecutions could have  been given  that  authority when it did not exist  and the application was based on fraud.  I was taken to court    for defamation and I was not allowed to put my defence of truth  and honest opinion .
Lawyers acting in appropriately 
Nick wright who was the lawyer taking the case was during the course of the events a committed patient  , he  grossly misled the  court as did his seniour  lawyer David Neutze  who never checked the facts  and was  happy to  rely on his  own  reputation to  succeed in court .
The judges  believe that they have  a duty to believe lawyers  as a lawyer is an officer of he court and must not mislead the court.  However it is  apparently impossible to hold a lawyer accountable to the rule of law .
The Judges
the judges  can do their own research  and obtain material which has not seen the light of day in court  , they write their decisions accordingly  . Judge joyce  used his 92 page  judgement as a  attack on my character and reputation  .
Judges are not held accountable   for their decision , many  judges are husband and wife teams   and no  conflict of interest is declared
No trials fake documents 
see the experience of  Tatsuhiko Koyama   here
Tatsuhiko Koyama, BA, Juris Doctor, PGDipHealSc, MHealSc, DipGrad
Enrolled Barrister and Solicitor of the High Court of New Zealand
The new zealand law firms
Law firms  are  a group of persons in a partnership, no partnering  documents are ever  visible  or discoverable  and   mist contracting is done  under the  trading name which is not registerd.  so the law firm  can never be sued  they are   a grey area  undefined  entity  which  is described in walis v sutton 
Litigation involving unincorporated associations is notoriously difficult when it is not done by way of representative action.
Unincorporated bodies are lawful but legally nonexistent. As Fletcher, in The Law Relating to Non-profit Associations in Australia and New Zealand
p.187 puts it:
"Legal issues arising from their activities are justiciable provided they can be presented without attributing a corporate character to the association."

At p.190 Fletcher concludes that:
"The prohibition on assuming a corporate character does not prevent the members collectively from asserting their rights either by all joining as parties to the suit or by representative
action."
Fletcher quotes an article by Lloyd, Actions Instituted By or Against Unincorporated Bodies (1949) 12 Mod. LR 409 at 411 on the subject of collective action by all members:
"Under this procedure, every member would, of course, have to be individually named and would have the full status of plaintiff or defendant, entitled to appear and be separately
represented, and liable to incur separate sets of costs."
"There seems to be no doubt upon the authorities that a voluntary association, such as the plaintiff, which has never been incorporated in any way, cannot sue except in the name
of all the members unless advantage is taken of rule 20 and an order is made by a Judge that one or more of the members may sue for the benefit of all persons interested."
thus  it is very  clear that   prawn pickle and herring  cannot  sue or be sued, therefore how could they enter into a contract least of all claim to   represent their clients  when in fact  they could nto be lawyers
the New Zealand justice system  is a farce 
we  do not  have the privy council
the supreme court is our highest court
Our highest judge   Sian Elais is married to Hugh  Fletcher 
Judges  are appointed by the  governor general  , Sian elias  has held the position of  Administrator of the Government when the Governor-General is unable to fulfil their duties
the  governor general  appoint   based on the recommendation  by the attorney general  who is generally a  member of he law society and  chooses members of the law society to be judges
there is a judicial complaints officer  The first Commissioner was Ian Haynes, ONZM, BA, LLB. He served from 2005 until 2009, he is now a member of the law society
Sir David Gascoigne KNZM, CBE, LLM served from 3 August 2009 until 30 August 2015 he is married to our Governor-General Patsy Reddy
Alan Ritchie, LLB became the first Deputy Commissioner in 2011 and took office as Commissioner on 31 August 2015, Mr Ritchie was also Executive Director of the New Zealand Law Society from 1985 to 2008. which was the former law society  which did not have a requirement for lawyers to have an obligation to the rule of law.
the  new law society  is both the disciplinary body and the   development  body for  lawyers , it is thus grossly conflicted
the law society is a statutory body  but  works with law societies which are incorporated societies set up after  the inception of the new lawyers and conveyancers act.
the law society has committees which review complaints  depending on whether you are foreign educated or local the results may well vary  some are protected some are crucified
the law complaints  review office is  funded by the law society  it is under funded and under resourced to such an extent that it   makes the wheels drop off . the persons who are appointed LCRO  are frequently  former lawyers
Lawyers hold top positions every where and are the advisors to  government. New Zealand is a small country  but   there are probably  more close  knit relationships in the judiciary   and legal system  than that would be  good for the health of the country and true justice    I would hate to think how many deals are done in the Northern club and other related clubs.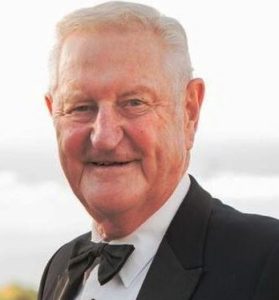 There is a culture in New  Zealand that has to change  and that is   practice of keeping up appearances .
We  just love keeping the illusion of " all is well"  alive  and again today I read Maggie Barry whistle-blower threatened with legal action, as more bullying alleged. The tool box  supporting the illusion  consists of  suppression orders, confidentiality agreements, denial , character assassination and using the court to turn  fiction into fact .
Our courts have become a tool for the concealment of corruption ,  our courts themselves are corrupt  ( being that they do not work the way that they are supposed to work.. they simply do not  deliver justice and are manipulated )
People have in the past kept quiet because to speak up  means that your life is over .  Yet we encourage people to speak up, we pretend that we are anti corruption but when you say  "hey there is something wrong here", be prepared to be destroyed financially and reputationally.. it's called scorched earth .
I have been in the thick of it for 12 years   I proved that a private  law  enforcement  authority had no legal existence and came about  out of fraud . Now 12 years later I found myself being totally slandered by a former  Police assistant commissioner  Ian Holyoake   who had the  nerve to  send this The Brief x  to the people in my Rotary group  when he was unsuccessful in getting me thrown out of Rotary .
When Ian Holyoake and his mate David Hills  initially  attacked my character  I made a complaint to   the president of  our  Rotary club who chose not to do anything and put off meeting with me, the usual  delay   and pretend   it doesn't exist  tactics were used  . When Ian Holyoake breached the confidentiality agreement by sending out "the Brief"  no one did a thing   , yet when I  published this post I was asked   to an urgent meeting. It appears to me that  the  act of being defamed is of lesser importance than  the fact that you  say that you have been defamed  , by doing so you  apparently defame the defamer .
When mud is  flung  there are those who don't   take the time to talk and find out  and prefer to sit  and judge . I wonder what would happen if  this had happened to them .
I  was told to keep quiet and was denied the right to  defend the destruction of my reputation by this man  saying no more  than "look at me I am a fine upstanding citizen and this woman  should not be allowed  in Rotary ". Not a skerrick of evidence was  ever shown  to exist and  it was 10 weeks after Ian holyoake made his slanderous  complaint about me   that  I  was first advised of the  complaint  but was not allowed to see it  or address it  . Holyoake had been a past district governor  and he had credibility sufficient to persuade  others to  remove me from my group on nothing more than his say so   .  (I do not believe that this is reflective of rotary but rather the lack of leadership   in our group and the inability of  our president to be impartial )
There is a lot to be learned  in running an incorporated society and the first lesson is to treat all members equally and fairly . We also need to look at the so called noble men in history who  have impeccable reputation but transpire to be rogues. Reputations need to be maintained  that I why I fight for mine .
The whole scenario has taught me lots about how things are done in New Zealand . We had  agreed to confidentiality. It appeared that the confidentiality only applied to me  and  not to the others  and certainly not to  Ian holyoake.
My crime .. to speak up about corruption . 10 years of court action was not enough , the  woman who initiated it all , now a lawyer for the FMA  and who appears not to know  what a trust is ,  took action against me to make me lose my Private investigators licence  by making very serious allegations   which were never proved , when that was not  enough she  decided to take me to court for saying that in 2006  when she  intimidated me   that she was not a lawyer. now in the defamation  matter which she has taken against me she has kindly provided evidence that she was not  law society dossier.  I very much suspect that she was behind the action in my group   as this mirrors  the events in the past years .
We have to question where society is going when it is a greater crime to speak up about wrong doings than it  is  to commit them .. does this mean that we condone  corruption? 
in 2017 I found myself  in court again  this time  charged with breaching an order  which cannot be shown to exist ,  the action was taken to  protect the confidentiality of the   lawyers tribunal  who  without hesitation condoned theft  of money   by a barrister   from his  client.  see the  decision here . The law society wrote  this up  in this news item and from the detail and my own knowledge of events in Te Kuiti which I had reported well before this event  see  post  spot the suppression order
I took it to the court of appeal but it is apparently not in the public interest that a person is charged with wording which reflects the  section which creates the offence , near enough is good enough especially when you can introduce wider meanings  than  that which  statute provides for..   In this case I was charged with  breaching 263  lawyers and conveyancers act   the  wording for that  event would be along the lines of without lawful excuse  breached an order made under section 240  lawyers and conveyancers act. Suppression however can be achieved by many   ways  and he lawyers and conveyancers act  does not provide for  an offence for breach of suppression
In charging me this is what the police relied on alleged suppression order  the full copy of this was available on line   here
The police admitted to me  that they did not have a copy of the order, this is totally   against the provisions of the prosecution guide lines
It took the police 7 weeks after charging me   to locate this document interim order which is very nondescript and in any case does not say who it is for.
Even if mr W was identified it and the  decision being   clear,  the fact that this  document was hard to find and not in the public realm should have  supported the "lawful excuse " content of he charge, but  when they are out to hang you    you may as well get the  dunking chair out and wind the clock back  several centuries .
It has to be noted that I had asked the  cop who contacted me ,to show me the  order which I had allegedly breached  and gave him the assurance that  I would comply with it , but there was no order  hence he could not  produce ti so  the court was used to cover up for the police.
so  we have the police refusing to investigate the public fraud  , the law society protecting  the  lawyer who  stole from his client and who perpetrated a  fraud on the minister .  the police protect the  law society  and the offender and   silence the whistle blower   by prosecution  to  protect the criminal activity which should be of public concern .
I was  found guilty  because I speculated   that Neil Wells was the lawyer referred to in the  law society article . My own speculation was all the evidence that they required.    Ian Holyoake then took the ball and ran with it alleging that I would be  imprisoned and had been convicted of a criminal  offence , he claimed he had had an email about me  then later claimed he had  not , I used to resect the man and  can only  suspect that he has gone off half cocked  because he trusted some one in a uniform , this sadly appears to be  part of the  the methodology  use people with a  great reputation to attack those  you wish to discredit .
It appears that the name suppression has now been lifted as Neil Wells is dead and a judges  have released decisions  which name him  see here decision on alleged breach of suppression of wells Disciplinary tribunal  and Pol v Siemer – Judge Blackie.  In the mean time   I am paying off yet another 6,000  on top of the 300,000 that  blowing the whistle  has already   cost me. the cost is way beyond monetary   and I reserve the right to protect my reputation
The only evidence that the lawyer  who appeared  before the   tribunal was Neil wells, was   my speculation   that it was him , but   and   this  has now become reality   through the decisions  of the court.
It appears that the  courts support   the law society  in condoning   criminal behaviour of  its barristers  and provide for the law societies ability to   deal with these " rogue  lawyers "  outside the criminal  jurisdiction .. covering up and not making those who have a legal obligation to he law more accountable to the law  but rather  providing them with a layer of protection    and hence  facilitating  the corruption in the  legal  fraternity
I set up my own blog sites because mainstream media wont touch any of this  and unless we  do speak up  nothing is going to change.
whistleblowers need to support other whistleblowers… no one should go through what I have had to endure.
we have a right  to justice and should not live in  fear that  speaking up will have you  bankrupted through the  justice system which  does not recognise evidence  and which apparently works on  back room deals  done  in the Northern  Club and its   associated   clubs.
we have freedom of speech supposedly  but   it is at the risk  of  you being severely  discredited.. Truth hurts.
The Herald today reported a story  about Zholia Alemi  which illustrates that new Zealand is not the only place where people  don't check things
.A Plymouth woman who acted as personal assistant to bogus psychiatrist Zholia Alemi says she repeatedly tried to blow the whistle on her 'bizarre' actions but was never treated seriously.
For many years I worked as  a private investigator   and  now a verification specialist. But in Godzone the shell be right and God defend us  appears to be  the  level protection which we rely on.I too am a whistleblower and I have been totally ignored
I have  found that across the board we do not rely  on evidence  but  trust those who we think we can trust  for the basis of our decision making . Evidence and truth does not come in to it … at all .
Prime example  is the granting of residency  to a drug smuggler  by the minister of immigration .  The information is there but no one reads it  and what is more no one verifies any thing. we have many more examples of  high profile people who  were not qualified  but much in New Zealand relies  on who you  know and   not on the truth
With   advances in technology any one can now  get a degree document from any university  in the world even from universities which don't exist .
Names can be changed by deed poll  and now even sex  and date of birth can be changed . You too can be a new person tomorrow , better still if you  work it so that you match a degree   or qualification and Bingo    whole new  life.
In such a fluid society  where things  are open to change    it is  more important than ever that the changes are  verified and that nothing is left to chance .
It is a simple matter to verify a degree and looking at a document  and saying looks genuine enough  is not the  way.
But Trust  as a means of  verification appears to be the   method of choice , if we trust a name or trust a person then  that   ticks the boxes  speak to  those who  trusted the name Hanover and blue Chip.
The converse also happens, those who seek to keep  frauds concealed  do so by attacking the reputation of others   so that anything they say will be regarded as rubbish  or retribution for the attack.. attack is the best form of defence especially if you attack using the court  and  deny a person  a defence.
Its a weird world  and here is  little old me thinking that  verifiable evidence  is the key .. it appears  not to be so
For every Fraudster  caught there are 10 lurking ..  But who will die   who will suffer miss fortune because of the lack of verification remains to be seen, it only becomes important when  the person who suffers is you or one of  your  family .
Its time our medical council  verified  the degrees of their overseas applicants  and those who qualified abroad.
*Zholia Alemi  appears to own  both properties at 93 Oakdale  Road  in Mount Roskill
Vivienne  You  have made my life hell for 12 years  and I have all but come to the end of my tether ,  12 years after phoning me and intimidating me you decide  that  the truth I  have spoken  is defamatory .  Vivienne truth is never defamatory .. if you don't like the way your actions reflect on you try acting  in a positive manner .
You have blocked all email communications and are using the court process to cause me stress and  duress and waste my time  I am totally over it .
You filed an  unsigned  memorandum in court this week seeking  discovery of the documents which I have already sent you links to and  explained in a lengthy affidavit (which is  subject to the rules of perjury) . see it here  affidavit discovery signed
Because the links are no longer active after  scanning I took the  care to send  a copy to  your work email  Vivienne.Holm@fma.govt.nz and you immediately blocked my email 
the full version of the affidavit with active  hyperlinks is  here discovery affidavit
It surprises me that you  do not know  how to open hyperlinks  and that you  do  not know that  the hyperlinks give you access to the  documents which you now want to put me to more trouble  to  to produce .
I have already  worked out that  you took defamation action to have  your name removed from search engines  and that  legal action is an apparent  requirement for  google   if you do a search on Vivieen Holm you will see this at the bottom of the page
In response to a legal request submitted to Google, we have removed 25 result(s) from this page. If you wish, you may read more about the request at LumenDatabase.org.
more details can be seen here  https://www.lumendatabase.org/notices/16567636#
A simple back ground to this all  and very important  questions  which remain unanswered are here.
On 2  June 2006 Vivienne Holm, claiming to be a lawyer  Phoned me late at night   and  simply told me that if I did not  change the name of the trust that I was a trustee of that  she would  go after my Private investigators licence .    I call this intimidation
Even thought I gave up My private investigators license this year  due to on going  apparently " orchestrated " complaints , Vivienne has continued to pursue me  and   took defamation action  because  I mentioned her part in the larger  corruption  which  I have experienced  has been covered up  at all levels.
This phone call  centred on a trust which  I  with others had incorporated  to prove that the law enforcement authority by the same name had no legal existence and was at the centre of serious corruption in new zealand .
We currently have  a  massive fuss over an immigration matter , but  this involved a man writing legislation for his own  business plan, advising on it and setting up  one of only two    private law enforcement authorities  ever.  The RNZSPCA  has statutory powers the same  Statutory powers were enjoyed by the animal welfare institute of New Zealand( AWINZ)   which did not exist  in any   capacity other than an alter ego of the person who wrote the legislation and pocketed the money  .
It was this action that  Vivienne Holm was up to her neck in  in concealing this  corruption  by attacking me  and 12 years later after having  contributed to breaking up my  family  , my marriage causing me over  $300,000  in losses and forcing the sale of  the family home  she is still  at it and wants   to take a chunk from my pension .
the purpose of this open letter is to supply  Vivienne with the  Hyperlinks yet again, they are all  on the  various posts which  she complains  of  , the are on the affidavit  and they are again on the  Schedule of documents  which again was  affirmed  in the courts
By making them public I hope that she may be able to talk to one or two of her colleagues at the  FMA  and they may be able to explain a few things  to her about trusts  the  things I wish them  to explain to her as it worries me that lawyer  working for the FMA  does not appear to know
 the difference between a group of people who came together without a trust deed and without any   legal evidence of a trust existing  and a legally constituted  incorporated trust .
we incorporated our trust  the animal welfare institute of New Zealand on 27 April 2006 . The register was hard to search in those days and this way we knew that if another trust by that name existed then we could not be successful in registering it .
we were duly incorporated under number 1809454, we  were forced to change our name in 2017 due to the court action which Vivienne had commenced by  drafting the statement of claim  and her  husband  at the time, Nick wright  of Brookfields Continuing.
In the defamation claim which  she brought  on  behalf of  Neil Wells  and  the passing off claims  of three people who had no  evidence of being a trust  and who had first come together on 10 May 2006.
she worked on the statement of claim despite  having  official correspondence  from the ministry of economic developments  which stated that we had the name legitimately .
the problem was  that in 1999  Neil Wells had lied to the minister  and  had told him that AWINZ existed , he had lied   for 7 years  and  risked being caught out , in my mind   Vivienne Holm is a party to   conspiring to  conceal corruption
It also worries me that a woman who called herself a lawyer at the time of intimidating me  did not have a practicing certificate at the time   and  is now  suing me for defamation for saying so.
It further worries me that the   former resource management lawyer  who now works for the financial markets authority  appears to have a problem comprehending   documents .  such as
 Ministry of economic developments  stating that we were legitimate and that Neil Wells  group was not
the  two trust deeds which emerged in 2006  being different http://www.transparency.net.nz/wp-content/uploads/2011/05/trust-deed.pdf  and http://www.anticorruption.co.nz/wp-content/uploads/2012/07/awinz-deed-maf-copy.pdfhttp://www.anticorruption.co.nz/wp-content/uploads/2012/07/awinz-deed-maf-copy.pdf
that the 2000 trust deed  states   that  trustees are due for re appointment after three years  and the  evidence shows that  the trust never met even at conception , never held assets, or passed resolutions There was one reference to an alleged meeting in 2004  but no evidence of it  and  again a IRD number and bank account were obtained in 2005 ..  How is that possible with  legal existence  .
Wyn hoadley was appointed as trustee when the trust deed was missing  ,  she was appointed on 10 may 2006 under a section number which did not appear in the original deed   when there was no  evidence of previous activity of a group of persons . Or any evidence of compliance with the   provisions of the charitable trust act for appointing trustees 
there was no  evidence of a resolution  appointing solicitors .
If  she can turn a blind eye to this  what is Vivienne Holm doing in the FMA ? Or is it that Vivienne holm who has  spent a lot of time as a resource management lawyer does not understand trusts and legal entities ?
Vivienne sent  me  some documents by way of discovery with holm affirmed file  one was a  law society dossier
Now one of the  things that Vivienne felt " defamed over " is  the statement that   at the time she phoned me in June 2006 she was not a lawyer despite claiming to be . So Vivienne  send me the evidence that I was right  But continues to ask me to jump through hoops  while she continues her defamation action .  The evidence  in the law society dossier   is right here
To any educated person  this  means that  on 2/6/2006 when  Vivienne posed as a lawyer   she was not one  she ceased being a member  13 February 2006  and again became a  member 15  August 2006 when she  became a barrister.
The questions  which I would also like to know the answer to are
why would two barristers  instruct a resource management  law clerk

why  did you say you were researching defamation and  rang me in error  that later friday night .. why not simply hang up  and say sorry wrong number  why say  if you don't change the name of your trust I will go after your private investigators licence.  and why back it up with emails ?
I do hope that some one   in the FMA   can look  at the   matter as it appears serious to me that a lawyer  working for the FMA  can be so confused about  legal entities  and lack comprehension to a degree where by  she cannot even interpret document she has in her own possession .
I have found everything about Vivienne's approach as intimidation she continues to intimidate  and name call in the latest court document.
This is a cover up of Gross corruption   Why  is it being ignored 
IN 2006  XXXX  was working at home as a law clerk for  Brookfields , she was  allegedly approached by Two Barristers   Neil Wells and Wyn Hoadley  who  were pretending to be trustees of a trust which had never existed .
They had a dilemma you see in 1999 Neil Wells   had written legislation for the animal welfare act   and  had been an advisor to the select committee . He then made a fraudulent application to the  minister claiming that  the animal welfare institute of New Zealand existed , it was in reality  just a fancy name  that he had thrown about the  offices of  MPI  for a while so that those who did not check  got used to  the sound of the name .
In the application  Wells claimed that AWINZ was  formed by trust deed , but then in letters to the minister he avoided sending  a copy of  the deed .  he said that the one deed had been sent off to be registered.
The  lawyers for the MPI believed him  and never checked  and then  in 2006   some one had  registered a trust with the same name   which  embarrassingly showed that Neil wells had told a lie .
But rather than deal with the lie   and  hold Wells accountable to the law   it was far easier to instruct a law clerk to put some pressure on the woman involved.. One Grace Haden
Grace Haden is the villain in this piece , she questioned corruption , this threatened not only the  fraud that  was AWINZ but also  the ability of the  government to verify its facts  and uphold the  law.
So the heroine of the story   enters .  "I will fix this" she said   and  takes it upon her self to  ring the wicked witch of the west  late one friday night and threatens her PI licence if she does not change the name  of the trust which she and others had legally incorporated . ( blackmail in most peoples books )  The witch is not a push over   so our heroine sends some   emails to  drive her threats home .
The  witch   using her magic powers locates our heroines  home  and on arriving there on her japanese power driven  broom stick  is confronted by   two  children  who say " mummy is not home'   and calls daddy.   Daddy  sees  to it that the police serve a trespass notice  on the witch , last thing you want is to   intimidate some one and them have them call at your house to see if they can resolve the problem.
Next step is a lawyers letter .. Lawyers letters don't need to be factual , they  just have to threaten in a nice way  , leaving no options and the best thing is to get a lawyer who  does not check what he is signing so  the letter is put in front of Davis Neutze of Brookfields .
The  letter is  sent  by the lawyers  who claim to represent  the fictional organisation which cannot legally    contract to a lawyer , they effectively  claim that the trust formed in march 2000  made  the application for law enforcement powers  in 1999 . they   go   totally  off on  a tangent  about  AWINZ being a charity , the reality  is that  it was not a charity , it was not a trust  it was  a name  that Neil Wells used when he    took on the law enforcement role using the staff of waitakere city council .  He establishing a bogus Trust for personal profit.  As the UN call it   public office for private gain
But who cares  this Is NZ the land of opportunity and   the magic of being a barrister means that one can do what ever they like as they are trusted and believed  and no one must never say anything   bad  let alone the truth  .If you do  then you will be crucified in court..  yes that  is what happened to the  the witch and  years  later they are still trying to tie her to a dunking chair.. hard to  believe that this is  2018
The fact that Wyn Hoadley and Neil Wells   did not have a trust deed , nor any other documents which could show that they  were  trustees  was beside the point.. the fact that they were barristers   made it all leggit . A law degree makes people honest    Yeh!!!!!
So the  humble law clerk  dashes out and in August 2006  becomes a barrister too (She got a practicing certificate to be a barrister )    and prepares the statement of claim  which will force the  witch of the west to  give up the name so that  the two barristers  can  perform their magic and   make the problem  and the lies  Vanish
David Neutze signs the letter  he doesn't even notice that the trust deed he refers to is not there  , had he seen the trust deed he may have asked questions  like why is Wyn Hoadleys name not on it  and how and when did she  become a   trustee (   Not by any legal process we can assure you .. pure magic .. poof one minute she is not on the trust the next   she is the chair woman )
This was not the only magic    the trust deed which was missing in 2000 see page 6 bottom , has miraculously  reappeared , been renumbered  to eliminate the clause referred to   and now has two versions   one  sent to the witch the other  to MPI .  MPI didn't even notice that there were lots of pages on their one not signed.. but why should that matter  .. don't want to look too close do we  its just a bit of paper that ticks the box  after all .
The real magic had been concealed as the people who  allegedly signed the  deed  had never met , never passed a resolution   and never held funds. AWINZ was a total fiction .
We were told that our heroine prepared the  statement of claim  which  was a wonderful piece of fiction
The first plaintiffs are the current trustees of The Animal Welfare Institute of New Zealand,
('AWINZ 2000), an unincorporated charitable trust which was formed pursuant to a trust
deed executed on 1 March 2000.
the reality of the trust is recorded by Maf   by 2008 the trust had met three times   2004  2006  twice.  By its own terms the trust  ceased to exist in 2003  when no  trustees were reappointed .  Hoadley had become  a " trustee on  10 may  when the deed was missing , by a clause that does not exist in the copy of the deed  and by no visible legal means , the  audit report records AWINZ has not been incorporated under the Charitable Trust Act 1957, as was originally expected . The lies in the application  Have been totally  condoned by MPI .
In November 1999, the second plaintiff wrote to the Minister of Agriculture advising that he
was seeking approval for AWINZ 2000, which was at that time not yet formally constituted
by way of trust deed,
this from the application audit report

Question  which  statement is false  the SOC, the  application  or perhaps BOTH
The third defendant is a trust formed pursuant to a trust deed executed in 2006 and
incorporated pursuant to the Charitable Trusts Act 1 957 on 27 April 2006.
Note that this was formed before Wyn Hoadley  came on board with Neil Wells, they also had this letter from the registrar of trusts  lawyer 
Everything was twisted and contorted   we had set up a website   to  advertise the fact that AWINZ  was not  legitimate. It was using  waitakere city council dog control officers to collect revenue for its Boss Neil Wells .
He had re branded the building to be  confusingly similar to   the fictional AWINZ 
Now  12 years  later  and  with Neil Wells dead  , our herone  is still at it  she decided to go after the witches  PI licence, because  she thought it gave the  witch powers of magic  like being able to find people .  She   ensured that  there was no point in the witch appealing the decision of the person  posing as the pspla( he was not a lawyer as required ) and his misguided belief   that the witch was a conspiracy theorist and  therefore should not be   an investigator .
Vivienne's own words  in the complaint to the  Pspla  show that her aim was to discredit the  witch   the  new PSPLA  decided to have a hearing in Wellington before  she even considering  all the submissions  submissions   this is my response response to complaint_and the witches  submissions in response 
It is of note that  every time   our heroine contacted the witch  she  has made a threat   against the  witches professional licence, now that she has  have given up my licence she is  taking the witch  to court . for defamation . what does this woman want !!!! she doesn't want to settle she doesn't want to say  what  has been said that is wrong .But you guessed it she wants $$$$$$ about $30,0000   worth  $20,000  as compensation   ..  for what ?    because the  truth hurts .
She has proved  that you do need defamation papers to put in front of Google to have your name removed  from the web https://www.lumendatabase.org/notices/16567636
Is this how the court is  going to  be  used in New Zealand ? is this  going to be condoned  by our judges..      I will keep you posted
So there you have it folked if the truth hurts and you want to remove it from  Google  you need to take defamation  action   and you can continue to ensure that  the bad spot light   fixes on  others  while you  conceal the truth about yourself .
mean  while we  continue to  live in the perception
don't be fooled   The reality is no fairy  tale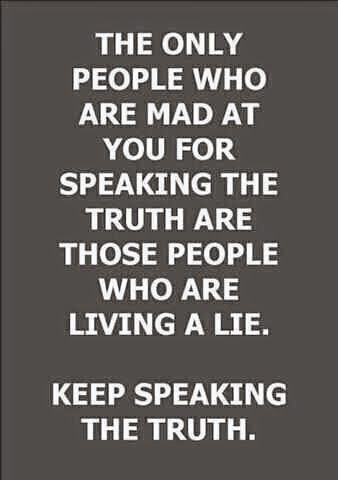 It appears to me that the worst thing you an do in our society is to speak the truth .
I am not alone    I had the  video link  below sent to me today and it   simply goes to prove it
Just a few days ago two gentlemen came to my house and spoke most disapproving my of  Blogging   and frowned upon the fact that I fight  corruption .( as if that's a bad thing to  do  )
I was told to leave it  to the proper authorities.  I explained that there appears to be a general covering up of corruption in New Zealand  and   that my experience was such that I don't want to see any one   go through what I had to endure ( and am still enduring )
I was told that there are two Grace Haden's  the one they  like and then there is  other , the one with  the  online presence the one who speaks about things  which apparently  are a tad embarrassing and conflict with the statistics .. heaven forbid that we upset the perception  or prove statistics  wrong .
They expressed their opinion that I should not express mine.
I was extremely upset with their visit  , I felt bullied by it  and it was totally unnecessary  additionally they had  no apparent mandate from any one, it was totally uncalled for an out of place .
Why  do we seek to silence those who are speaking up  about   the wrongs in our society . The cracks are starting to  show  in MPI and the SIS  . Thompson and clark  are members of the NZIPI https://www.nzipi.org.nz/nicholas-thompson/. The NZIPI is headed up by Ron McQuilter  who was behind  ensuring that I was discredited as a Private investigator .  I feel certain that these old boy connections  are  what is keeping New Zealand's  perception of the least corrupt alive.   Stomp on any one  when they  speak up about corruption , crucify them and   make their lives hell so as to ensure that  the next person  will see nothing .
https://www.facebook.com/supportrickflori/videos/1950697488298231/
 Last year a number of news items  were prominent with regards to  the issues of dairy farming  and the effect on  waterways   see here   here   here and here 
Put simply, more cows have meant more nutrient and pathogen pollution of waterways. Across the whole country, the number of dairy cows increased by over two million between 1992 and 2011 – an 86 percent expansion. During the same period, average dairy herd size in New Zealand more than doubled from 169 to 386.
Now it occurs to me that   Mycoplasma Bovis  appears to be a blessing for  the greenies or is it simply just a convenient way to   reduce  cattle numbers ?  I have first hand evidence  of how  MPI can be manipulated and how  facts are irrelevant   to them.
Bryce Edwards  published a  great little article yesterday Political Roundup: The M. Bovis debacle deserves more debate. His opening statement  totally echos my experience with MPI
What has emerged from the debate over the Mycoplasma Bovis saga is that New Zealand appears to have been let down by authorities – especially politicians and senior government bureaucrats who have mismanaged the country's biosecurity, leaving farming in turmoil, and the taxpayer picking up most of the tab for their negligence.
I had cause to speak to a bovine vet the other day  and  he  confirmed that the tests of mycoplasma bovis  are  not particularly reliable,so a whole herd is put down because one cow tested positive, this could  have been a false positive  but who cares  lets put the whole herd down  at a time when Gypsy day is seeing  other herds migrate freely from one area to another .  Guess that fits with the agenda of culling as many   cattle as possible .
It has made me realise that the  characters in the old  TV series gliding on  are still alive and well  and working  at MPI ,  they may of course have taken the precaution to drink their tea and coffee  black .
My own experience with the incompetence of MPI  ( then MAF)goes back 12 years .
I questioned serious corruption which had allowed a person closely associated  with  key players in  MPI   to  write legislation for their own business plan , advise on it  as " independent  advisor" to the select committee and while MPI knew this person was severely conflicted they stood by and allowed him to  provide comment on caucus  papers which saw the government approve an application for coercive law enforcement powers to a non existent organisation  based on a fraudulent application.
MAF/ MPI are fully aware of it  and have refused to undertake  an investigation, my own opinion for this  is that the lawyer who provided a crown law opinion  was Peter McCarthy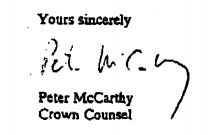 who gave a detailed legal opinion but didn't  even think about checking if the application he was commenting on was legitimately made and that AWINZ existed  .
As a whistleblower on the AWINZ matter I was crucified , the first thing MPI did was  to  attempt to prosecute me for  passing myself off  as a MAF officer, their evidence was so thin that  they resolved to warn me  despite the fact that  there should not have been an investigation  in the first place  . This was tied up with another substantial fraud  see Boss invents accountant to escape $60k debt – NZ Herald and Charges over alleged fake liquidator – NZ Herald
That was the  very first attempt to discredit me,   and   to   properly conceal the matter Peter Mc Carthy  was made chief legal officer  of MPI 
Despite  untold complaints to government , ombudsmen , state services commission , police ,SFO and untold ministers  this issue has been totally concealed while I   was refused a renewal of my  private investigators licence   and was labeled a " conspiracy theorist "
This has been  total bullying an  white washing of a criminal act .
Wells was able to  negotiate with  MPI to withhold information from me  so that  the complaints to the  law society etc  could be dealt with  without the inconvenience of facts  getting in the way also see here   and here .This crucial document was the audit report which totally expose AWINZ as a sham  but even despite their own findings  nothing was done but  AWINZ conveniently  stopped being an approved organisation  when the super city was formed.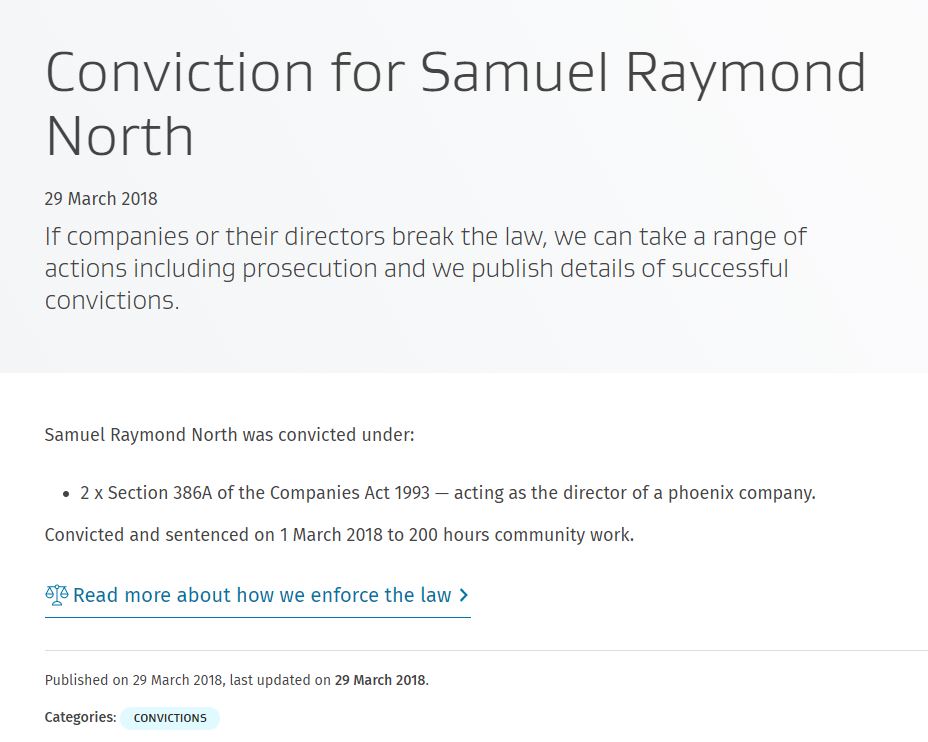 The conviction of Samuel North has been recorded by the companies registrar
section 386 A  of the companies act states
386A

Director of failed company must not be director, etc, of phoenix company with same or substantially similar name

(1)Except with the permission of the court, or unless one of the exceptions in sections 386D to 386F applies, a director of a failed company must not, for a period of 5 years after the date of commencement of the liquidation of the failed company,—
(a)

be a director of a phoenix company; or
(b)

directly or indirectly be concerned in or take part in the promotion, formation, or management of a phoenix company; or
(c)

directly or indirectly be concerned in or take part in the carrying on of a business that has the same name as the failed company's pre-liquidation name or a similar name.
(2)A person who contravenes subsection (1) commits an offence and is liable on conviction to the penalty set out in section 373(4).  ( A person convicted of an offence against any of the following sections of this Act is liable to imprisonment for a term not exceeding 5 years or to a fine not exceeding $200,000:)
The conviction was  for   setting up  and operating  Muse eatery through the   new company CATERING LIMITED  which took over he business,  the  processes and chattels of Muse on allen which  was liquidated by IRD.  Samuel   has since liquidated Muse eatery but not before he was seen asset striping CATERING LIMITED on the last day. see The Phoenix has flown .. Muse Eatery rumours of closure prove true
Malcolm North   , Samuels father   who works for the ministry of social development  was a director for the phoenix company  for a short while  when he was  a bankrupt .Malcolm  North was a director  from 28 Feb 2017 to 04 Apr 2017   he was a bankrupt    7 march to  20 June   the official assignee's report is worth reading  by any one who  is contemplating a business venture with  Malcolm North or Samuel North  . The official assignees report is located here   Malcolm North bankruptcy report it is worth noting
 The Bankrupt ticked "no" to having any real estate interests, however
attached to his Statement of Affairs was a piece of paper with details of his
property ownerships and their corresponding values. This information is
below:
30c & 30d Arawhata Street, Porirua  $370,000.00
10 Palm Grove, Lower Hutt $560,000.00
1/10 Makara Road, Paraparaumu   $430,000.00
The Bankrupt stated on his Statement of Affairs that he has been in business
as a director or manager of a limited liability company registered with the
Companies Office in New Zealand in the past three years. No further
information was provided by the Bankrupt as to the Company details that he
was manager/director of. The Official Assignee requested further information
from the Bankrupt. The Bankrupt advised it was an error and that he had not
been in a business as a director or manager in the past 3 years.
company office records show  him as being director of MUSE ON ALLEN LIMITED (3933441)  09 Jan 2013   to 11 Nov 2014  then again  17 Nov 2014  to  06 Dec 2015
he was then a director of CATERING LIMITED (5860509)     28 Feb 2017 to 04 Apr 2017
Throughout the administration, the Bankrupt has failed to co-operate with the
Official Assignee on a number of occasions. He has consistently raised issues with
the costs of his personal lawyer as well as the costs of The Official Assignee's
lawyers. This has resulted in the Official Assignee spending significant time
corresponding with the Bankrupt regarding matters that are not necessary for the
administration of the bankruptcy and have added unnecessary costs to the estate