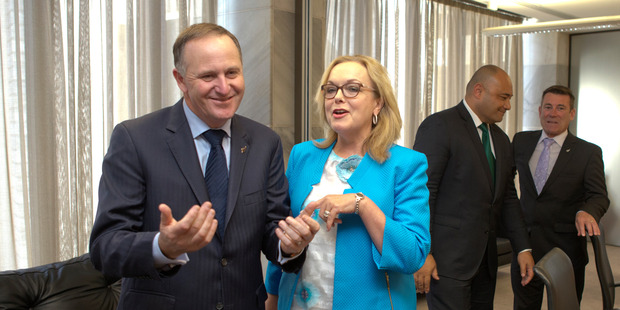 This post is prompted by the  Editorial: NZ needs to assure world of trust scrutiny.
It is one which I will forward  along with  other blogs to international agencies who may wish to question  how  one of the worlds least corrupt countries  can make this claim and I wish to reveal how trusts work in New Zealand
In 2006  I questioned the lack of existence of  trust , this trust just happened to be  one of two private law enforcement agencies, this trust  the animal welfare institute of  New Zealand  (AWINZ ) taught me all you need to know about NZ  trusts  and how loosely they operate
AWINZ operated  as an equivalent to the RNZSPCA  and enforced animal welfare law ,  It had  powers of search and  the ability to seize some ones prized pet .
I was asked the simple question , who is AWINZ ? when I discovered that it was nothing  but a sham  and  questioned the existence of a sham trust being a law enforcement authority  I was immediately sued,  denied a defence  and   was told to pay some $100,000  dollars to the  person who wrote the animal welfare bill and  was independent adviser to the select committee  in the process of making his business plan , law .
He then made an application , which in my days  as a police officer would have been considered fraud . ( this is due to the fact that the claim that  AWINZ  was a trust was totally false  the application made 22 November 1999  predated  he formation of any organisation  by that name  the earliest trust deed and one which Mr Wells relies upon was  dated 1.3.2000  and even those persons never met  or passed a resolution )
I have  for years  been beaten up   for blowing this whistle. Below I have a list of links of how I have beaten my head against a brick wall for many years  but for now I will reveal how New Zealand trusts work
 You need a trust deed  .. it doesn't matter when you sign it  or who signs it  as  long as there is a deed a bit of paper which looks convincing.
no one enforces the deed, no one cares if the so called trust  complies with its deed
If you want a new deed  you simply  write a new one and refer to an earlier deed which may or may not have existed  , Ird  does not care  I  rather suspect that most people at IRD are number crunchers and done understand the legalities of dates names and real persons  being involved in a trust .
there is more information on the deed with regards to the  identity of the  witnesses than  with regards to the  the trustees.  you can use generic names  and who could ever identify  the trustees
if a trust does not  meet  or hold any assets  or pass  any resolutions it is still considered a trust  and its identity can be used  to interchange with any other trust ( real or fictional )
the charities commission  are happy to grant charity status to anything  whihc meets their criteria , the fact that  there are no resolutions for the trust and  big gaping holes in   their existence is but a technicality
Let me explain in terms of the AWINZ  trust
As stated earlier Neil Wells a barrister at the time  made an application for law enforcement powers for AWINZ  he claimed on 22 November 1999 that a trust had been formed

No  executed trust deed existed and these people had not formally met together  or passed  any resolution
Maf and The dog control section of Waitakere council had signed agreements with the representative of AWINZ:- Neil Wells
in 2006  Neither MAF nor Waitakere city council had a trust deed or had seen one : basically no one had checked  the existence of AWINZ
when I proved that AWINZ did not exist  ( charitable trusts need to be registered ) a trust deed materialized dated 1.3.2000  whihc brings about the question how can  you make an application before a trust is  formed. ?
I was to get evidence that these people had never met   never held any assets , never passed a resolution.
By the terms of the deed the trust ceased to exist  three years after it was formed, continuance depended on reappointment of trustees and since they never met no one was  reappointed.

Wells sought charitable status in 2006  when new legislation came in. IRD rejected the trust deed   so he simply wrote a new one  and they claimed to be a continuation of the bogus 2000 trust 

this was totally acceptable to the lawyers charity commission and  MAF ( and later the government )
AWINZ was finally removed as  approved Organisation in 2010  .  the fictional  law enforcemnt organisation  operated  for  10 years  re branding council property  and using the  Council staff under Neil Wells control  as AWINZ officers  .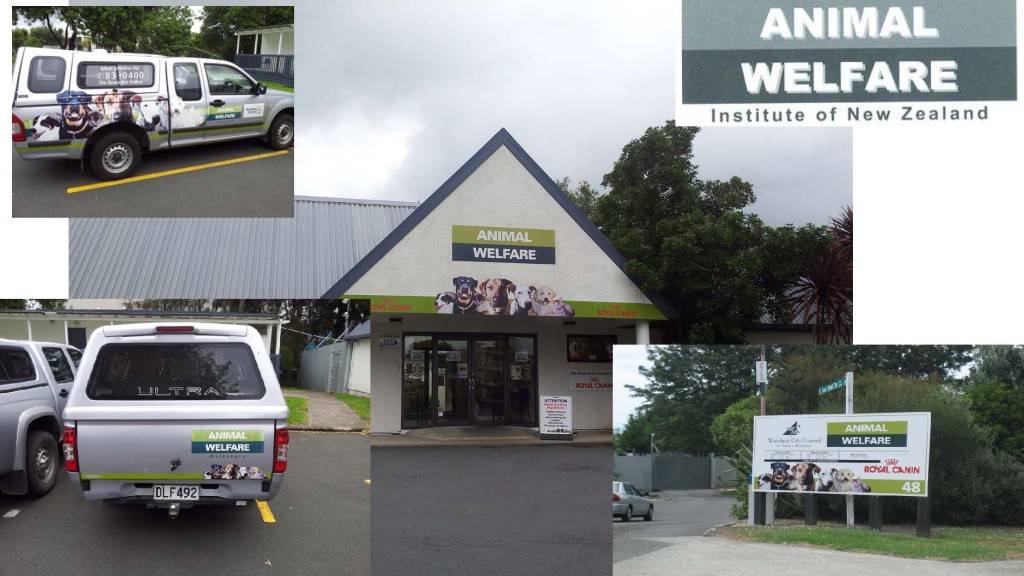 Neil wells still consults for government and makes submissions  strange  that he does not refer to the 10 years where he was the only person involved with AWINZ
this is how what I considered to be a fraud  worked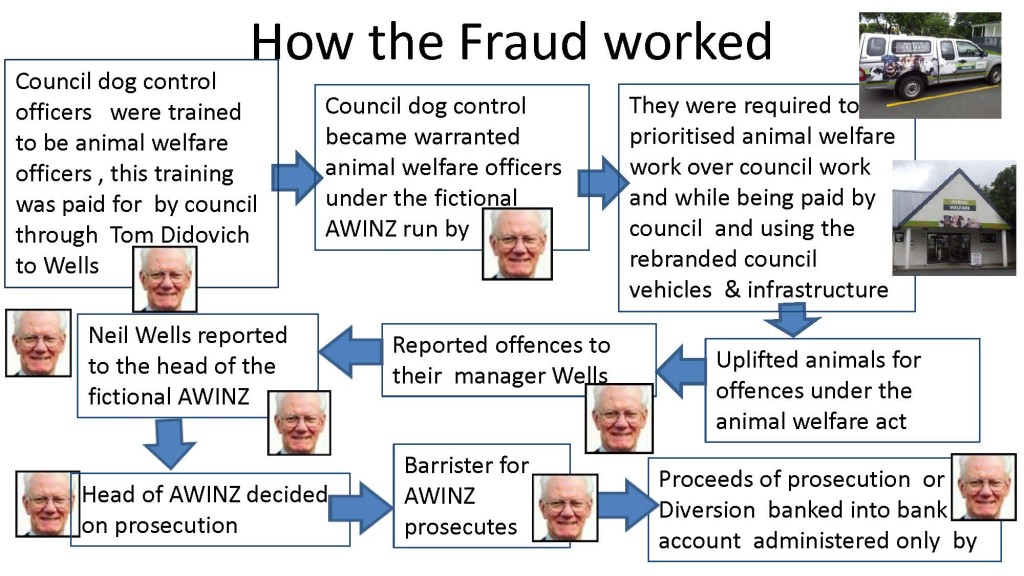 I have brought it to the attention of the prime minister , Transparency International NZ , Auckland Council  and again here , here , here, again here ,    here, here , here ,Auckland Mayor, the CEO of council , council lawyers and again here  and here  , here, here.
I have written to the lawyers involved and again here  and here, here, here , the law society by way of  regarding the lawyers  , the charities commission  and again here   and here
Maf and  now the ministry of primary Industries  repeatedly fobbed me off and actively concealed the fraud, after all they never checked to see if the trust existed before supporting the application for law enforcement status , I was later to find that the current lawyer for Maf was involved int he process earlier on when he was  working for crown law  so I guess his own work came under scrutiny therefore    concealment of the fraud was an act of self defence  complaints to Maf Here  , here, here , here, here,here, here, here and here
The people posing as trustees  here, and here,here, here
attorney general  here
I had questions asked in parliament  Here  wrote to ministers  here  and here 
notable blogs of the past   touching on the  corruption which  exist in New Zealand
Conclusion  :  Fraudulent trusts are condoned in New Zealand , I was silenced because I was exposing how slack our trust  administration was .
more to come   Court is used to   silence exposure of abuse of overseas trusts
Our  view is  yes  to both  depending on who you   are
Please click on  the link above or here   to  make a submission  prior to  Monday  1 feb http://www.parliament.nz/en-nz/pb/sc/make-submission/0SCHE_SCF_51DBHOH_PET63268_1/petition-of-hon-maryan-street-and-8974-others
Submission of Grace Haden
I am a former police officer and work as a private investigator.  I have been sued for speaking the truth on corruption. My marriage was attacked   and all sorts of cruel legal tactics came into play.
Things became so bad that at one stage I considered suicide and therefore believe that I am qualified.
Legal tactics include attacking a person's character and reputation , I considered myself as a strong person but  the years erode your strength and  you are repeatedly  portrayed as a  sinister being  when  in reality you are the opposite.
I have often wondered how many people who are involved in litigation ae pushed over the edge , there are no   apparent surveys done on this , no public money is made available. Yet for those  who drown  we have  bucket loads of  research  and we actively  strive to reduce the  road toll  and enforce all sorts of measure and throw   tons of money at  prevention.
The  annual road toll  and he  drownings   are far smaller than the annual suicide rate.  And let's not forget that some of the figures in the road toll and drownings   will be suicides .
On the one  hand  our society   is reckless with regards to suicide  and  encourages those who are healthy but stressed  commit suicide because of the apparent lack of  justice while those who have no hope of  ever living a life without pain and suffering are denied  this right  due to lack of  physical capacity.
In our current  civil litigation system  there is "a win at all cost mentality" this takes no consideration of a person's mental health and wellbeing  and is aimed to  ensure  their  entire  life collapse around their  ears  and isolate them from support and loved ones , even he very strong will   eventually feel that they  are just a very bad person ..  these are mind games
For the past 10 years I have studies the tactical  methods  which seek to bully and undermine  good people involved in the  judicial system  part of this is  giving them an appearance in the eyes of others to be   sinister  and when the court supports  the opposition  few will  believe that   this person is a victim of   a screwed up justice system which relies on ancient protocols instead of  evidence.
If we   were to interview the relatives and friends of  a suicide victim I believe  that   a disproportionate number of  incidents would  show  some kind of legal issue in the  background.
Our primitive justice system does not consider  emotions   and the civil jurisdiction  does not have  to comply  with  the rules of fairness like our criminal jurisdiction does.
On the other hand those who  live life without hope and lack the capacity to take their own life   but have the mental capacity to know that future life  is futile and will not improve  must sit and wait till  nature takes over.
If you have a pet and allow it  to continue to live  in those circumstances you would be prosecuted  under the animal welfare act
If you have a  pet and bully and torment it  so that it shys away from others   and finds itself unworthy  you could also  face prosecution  but these tactics are totally acceptable  if the victim is a human.
The reality is that we would have far more rights and protection if the animal welfare act was to apply to us
Those with a terminal illness have a right to die, those  facing litigation should not be pushed into it
We need proper research into the causes of suicide and we need to have as much money spent on suicide prevention as we spend on the   reducing drownings and road toll  and if the government  will not fund lifesaving medication  for  those suffering illness or if no remedy is available  they should not   be forced  to   die a slow agonising death
Amazingly such an approach will actually  reduce our suicide rate  by keeping healthy people alive  and allowing those terminally  ill  the right to die .
I wish to be heard  on my submissions
Transparency International  has just published the corruption index for 2016 and it would appear that  NZ is  on the downward slide
The herald reported in an article headlined
Stonewalling and strange deals: Has NZ become more corrupt?   that New Zealand's public sector is the most corrupt it has been in almost 20 years
On the other hand we believe that    the  public sector is very corrupt  but   we are now getting more exposure on  that which has  previously been carefully  concealed.
Transparency Intentional New Zealand  published a Media Release Document  in which Susan Snively states
"Our government must act immediately to reestablish New Zealand's stand-out reputation for a trusted public sector". says Transparency International New Zealand Chair, Suzanne Snively. "New Zealand trades on its corruption free reputation."
Snively's comment proves  the   short sighted focus of Transparency International New Zealand  inc of keeping   the  corruption free appearance alive.
We can only hope that    Transparency International NZ is encouraging  our government to take a hard line   and  enforce  the law against those who are corrupt rather than  pretend it is not happening.
We support Transparency internationals statement that " Not one  single country anywhere in the  world  is corruption free "  so why does Susan Snively   wish to give  New Zealand the apparition of  being corruption free?   As an economist  she apparently  sees this as a good move for the economy.  We  see her efforts as  encouraging the  concealment of  corruption  there by making the country  a very dangerous place to trade in .
There are two ways to improve the  corruption perception index
convince every one that there is no corruption by suing those who  are whistle blowers  or  show any hint of exposing corruption .
 prosecute  those  who  engage in corrupt practices  so as to  discourage others.
From and economist point of view it is much cheaper to conceal corruption  and  in New Zealand              transparency International NZ incorporated in our opinion  appears to play  a vital role in the concealment of corruption  as  its members  include  the  very Public sector  agencies  whose performance is being rated.
We encourage the truth   and transparency when it comes to corruption   but Transparency International NZ 's Susan Snively  appears to have  a severe conflict of interst   see www.kiwisfirst.com
What does Transparency International – New Zealand Know about corruption ?
At  Last  NZ ratifies UN Convention Against Corruption  but  is this  an empty gesture or  will  corruption be dealt with seriously and not just  concealed  like it has been in the past  ?  Time will tell  .
We fear that  it will be  business as usual  in the Axminster   system operated in  NZ where corruption is habitually swept under the carpet.
News of the ratification  received  virtually no publicity at all instead we had a video and an article of  a South Auckland man finding a  live caterpillar in supermarket salad bag.   Those of us who  have grown up with  fresh vegetables know that this  a possibility   if you don't like   bugs in your food  go for GE  .
So   what are we going to do  now that the necessary law changes have been made  are we  going to ignore them and continue to allow the courts to   silence those   who have asked lawyers to  act according to law ? ( more on that later ) .
We are still asking questions with regards to   the former crown law  lawyer  who is now acting in a situation of conflict of interest by turning a blind eye to  the corruption of the animal welfare institute  of New Zealand  a fictional organisation which was given wide law enforcement  powers   because no one checked.
And transparent International New Zealand  what  are you going to  do?  provide more  statistics  to show  how well we do  while  ignoring the elephant in the room ? we must keep the perception alive  imagine if people were   to  embrace reality ?  Disaster !
More to come   in the mean time here are some links   so that you can investigate what the  ratification of the UN convention against corruption   should  mean .
The United Nations Convention against Corruption (UNCAC) is a multilateral convention negotiated by members of the United Nations. It is the first global legally binding international anti–corruptioninstrument.
read about the convention  here
Text of the United Nations Convention against Corruption English
STATUS AS AT : 05-12-2015 07:03:18 EDT
CHAPTER XVIII
PENAL MATTERS
New York, 31 October 2003
| | | |
| --- | --- | --- |
| Entry into force | : | 14 December 2005, in accordance with article 68(1). |
| | | |
| --- | --- | --- |
| Registration | : | 14 December 2005, No. 42146 |
| | | |
| --- | --- | --- |
| Status | : | Signatories : 140. Parties : 178 |
Text
:

United Nations,

Treaty Series

,

vol. 2349

, p. 41; Doc. A/58/422.
| | | |
| --- | --- | --- |
| Note | : | The Convention was adopted by the General Assembly of the United Nations on 31 October 2003 at United Nations Headquarters in New York. It shall be open to all States for signature from 9 to 11 December 2003 in Merida, Mexico, and thereafter at United Nations Headquarters in New York until 9 December 2005, in accordance with article 67 (1) of the Convention. The Convention shall also be open for signature by regional economic integration organizations provided that at least one member State of such organization has signed this Convention in accordance with its article 67 (2). |
| | | |
| --- | --- | --- |
| New Zealand 8 | 10 Dec 2003 |  1 Dec 2015 |
8.Upon ratification, the Government of New Zealand notified the Secretary-General of the following:
"… consistent with the constitutional status of Tokelau and taking into account the commitment of the Government of New Zealand to the development of self-government for Tokelau through an act of self-determination under the Charter of the United Nations, [the ratification by New Zealand of this Convention] shall not extend to Tokelau unless and until a Declaration to this effect is lodged by the Government of New Zealand with the Depositary on the basis of appropriate consultation with that territory…"
The United Nations Convention against Corruption (from this link)
The United Nations Convention Against Corruption (external link) requires countries to take action in both the public and private sector to prevent corruption.
New Zealand signed the convention in 2003. It creates:
arrangements to strengthen international co-operation
arrangements to prevent the transfer of funds obtained through corruption
ways of monitoring a country's compliance with the convention.
The convention requires countries to criminalise corrupt behaviour such as:
bribery and embezzlement of public funds
trading in influence
concealment and laundering of the proceeds of corruption.
When dealing with the proceeds of corruption, a country must be able to trace, freeze, seize and confiscate those proceeds.
New Zealand is compliant with most of the convention's provisions.  The Ministry of Justice is working on the final necessary steps to bring New Zealand into full compliance.

Our post MUSE ON ALLEN we reveal the secret to Samuel North's success. Has met with total acceptance of  Malcolm and Samuel North  but no  so of the  lawyer for Muse on Allen   XXXXXXXXXXof  Johnston Lawrence limited
XXXX immediately filed documents  in which he again made very serious and   incorrect  allegations . see  Third Urgent Memorandum of Counsel – 090715   and Affidavit of Judith Louella Jane Burge sworn 9 July 2015
 this response was sent to court people have the right to defend themselves against  false accusations.  
From: Grace Haden
Sent: Thursday, 9 July 2015 12:04 p.m.
To: xxxxxxxx'; 'Stack, Michaela'
Cc: 'Jozsef Szekely'; 'malcolm north'; 'Samuel North (samuel@muserestaurant.co.nz)'; 'The Norths'
Subject: RE: CIV 2013-485-9825: Szekely v Muse on Allen Ltd
Good Morning Michaela
I refer you to    the latest post on  Transparency New Zealand  . Open letter to the minister of small business
I also advise the court that  Mr xxxxxxxxx is  willfully   misdirecting the court as per  His honour Justice Collins  minute  the documents  which were provided under rule 8.30 (4)   are held in the offices of Duncan Cotterill .  They have not  been made available to me .
The  documents on Transparency were provided by me  and as shown in the attachment that Mr xxxxxxxx attached to his legal secretaries  affidavit   the documents    came from the following sources
Page 1. Direct from the plaintiff he had this document in his possessing from the time he purchased  the assets.
Page 2  this is available on line  from the companies office   free of charge and available to the public
Page 3  this is a copy of  a document which Jozsef has had in his possession  from  a date prior to the court proceedings .
Page 4 -10 these are available on line  from the companies office   free of charge and available to the public
Page 11-54 . these are the documents  for  the district court proceedings in Which  Muse on Allen , whichis currently in liquidating court  took against Jozsef  for the losses which were incurred in the company based on  the 63.4% share holding which the  SOC alleged he has ,  being  the majority shares in Muse On Allen the very shares which were unlawfully transferred   by Samuel north  from Jozsef to himself.
Page 55    a document  available   through the land transport  register
I have repeatedly made Mr xxxxxxxxx aware  that   the documents did not  come  from discovery in the high court and indeed it is self evident that   they  were   served free of  confidentiality   By Malcolm North in the  district court .
I appreciate that this may not  be convenient for Mr Abricrossow  but he should not be using his office to  conceal fraud  and the evidence is obvious that a fraud has occurred  in that  Jozsefs shares  have been  deceitfully  removed and withheld  using the court.
I remind Mr xxxxxxxxxx that   he should be acting in accordance with Section 4 of the lawyers and conveyancers act.
We have not  breached   the  discovery in  the high court   and it is an abuse of process form Mr xxxxxxxxxx that allege that .
Regards
Grace Haden
From: malcolm north [mailto:malcolm@muserestaurant.co.nz]
Sent: Thursday, 9 July 2015 6:10 p.m.
To: 'Grace Haden'
Subject: RE: CIV 2013-485-9825: Szekely v Muse on Allen Ltd

Hello Grace

Thanks for the update you haven't taken any notice of me at all about your grammar ,punctuation and spelling.
Response :Thank you Malcolm     did I mention that English is my second  language .
On 9 Jul 2015 9:19 pm, "malcolm north" <malcolm@muserestaurant.co.nz> wrote:

Thanks for that .Probably why you can't understand Szekely walked out of the Restaurant after  eleven weeks .Funny how you haven't told anyone this.
Response :Did he walk or was he pushed.  I suspect he walked just like pirate's made their victims walk the plank.   Yes its all Jozsef's  fault because he wouldn't put up with the bullying.   Bullies always blame their victims.
On 9 Jul 2015 11:01 pm, "malcolm north" <malcolm@muserestaurant.co.nz> wrote:

He walked.
Response : Yes he walked….. Straight to his lawyers   see letter here letter from lawyer 16Jan
Note: Samuel did an interview in   Concrete Playground     these are extracts show how he started Muse on Allen    the reality is reflected in the fact that   he  transferred the share holding of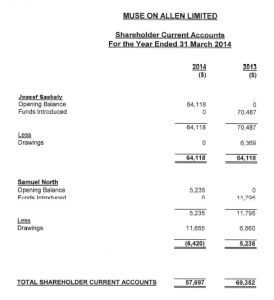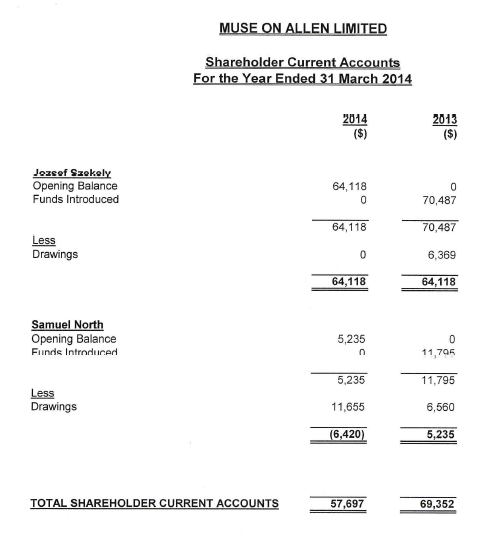 another  chef into his own name  and then  denied  Jozsef  any rights    .  The accounts  in 2014 show that there were two share holders in the accounts  although Samuel was  listed as the 100% share holder on the companies  office site .
Jozsef had $64,118   equity in the company  while  Samuel owed the company $6420     yet Samuel  went out a bought a 207 BMW SUV loaned against the company BMW
Remembering  this read the article below    and remember that Samuel is being acclaimed  as begin the youngest Chef in Wellington to OWN a restaurant .. He actually OWNS NOTHING  and OWES   it all to  Jozsef
The opening accounts  speak volumes    prizes fro those who spot the contributions by Samuel click to enlarge 
This is the real secret to opening your very own  restaurant. its called other peoples money  .
In our professional opinion  it is  fraud when you get   a person to invest in a company   they are the majority share holder  and then you  move  all their shares into the name of a person who makes a living off the company .   At the same time   the  majority  share holder is excluded  and    is sued   for   the losses incurred by  the company.
to  put the icing on the cake  the losses  include the purchase of  a  2007 BMW which the person who has no share capital in the company but  who has claimed all the shares as his own, uses as his own .
Any way back to   Concrete playground 
Yup okay that was impressively disastrous. You've certainly picked up from there though, you established this place at 21, which is ridiculously young, what gave you the confidence to do that?
SN: My parents gave me really good support, they've supported me the whole way through it. Especially my dad, he's been in business before and really wanted me to do this I think. Probably not so young though. I could have waited a few more years but I was just too keen, too eager to own my own place, even if it was going to be something else. This place actually wasn't even supposed to be a restaurant – I just wanted to have a bar but it turned out completely differently.
What was behind that huge need to have your own place?
SN: I just really hated working for people to be honest. I hated getting told what to do all the time. It was driving me crazy. I was just like fuck, what am I doing? I just wanted to do my own thing.
Starting a business so young, was it kind of hard to get people to take you seriously?
SN: Yeah it was really hard, especially in the first year. I'd hired all these young people who were like fuck it, he's 21 what the fuck does he know? It made me realise that I needed to be hiring the right people who were going to support me and who wanted to listen to me. I find that actually hiring older and more mature is better. I've got a lot of older staff now. They're still in their like, thirties and twenties and stuff but they are passionate about the restaurant, the food and the service.
We also include  the  some real feed back  with Samuel's responses   which  we captured before it was removed .. they
speak for themselves..click to enlarge they  originate from Trip advisor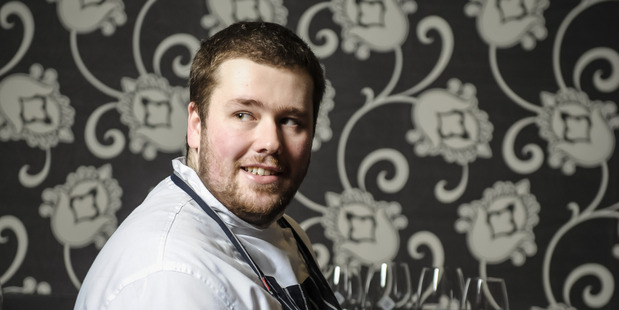 Restaurateur Samuel North has been in the news  many times , each time there is a common thread  and that is – he is identified as- the youngest chef  in Wellington to  have his own restaurant .
Transparency New Zealand will today   examine the truth behind that statement  and others  which we have located in the news.
For convenience we have prepared a file with the relevant documents  they can be found here  samuel north evidence  (  most of the originals of these documents are available on the companies register , the others have been filed in  the Wellington district court with the exception of the  car registration which comes from the on line register)
Page 1  this  is the sale and purchase agreement    the lawyer involved  for Muse on Allen   was  the North's own lawyer  .The company was set up with two directors and two share holders   Jozsef Gabor SZEKELY     who owned 70 % of the company page 2    and Samuel Raymond NORTH  who owned 30%  of the company  .
Malcolm North  was involved from day one and took charge,  he drew up a  Partnership agreement     and as can be seen  Samuel's total contributions  was to be $10,000  as opposed to  Jozsef who invested $65,000 .page 3
Jozsef understood  that  all would be equal partners  but that was not to be,   as it was later revealed that  every one except  Jozsef  introduced their money into the company  by way of loans . Jozsef on the other hand was    recognized in the accounts as a share holder .
Debbie North Samuel's mother   requested to be an alternate director for her son   instead she  completed her own directors documents  and uploaded them on to the companies  site back dating  them to the date of the companies formation Pages 4 &5 
On 3 November 2012  the dominion post published a review of  the restaurant Muse on Allen: Food fit for the gods
On 19 December 2012 Samuel  without complying with the required legislation  and without any  share holder transfer   documents  reduced Jozsefs 70% share holding to  49%  Page 6.
Another great  review was published by Raymond Chan on  4 January   2013 acclaiming both chefs.
On 9 January 2013  without   following the required procedure for appointing a director Samuel prepares a directors consent for his father  Page 7  and up loads this to the companies register Page 8
Malcolm North, Debbie North and Samuel North  are  now all directors  and have  a meeting at their home on the 10 January  they resole to remove Jozsef as director   Page 9 
24 February Samuel North  transfers all of Jozsef's shares to  himself .  page 10
Jozsef   who consulted Lawyers on the  10th of January  2012   has spent  two years in court  attempting  to  get justice.
It has been a stalling game one intent on  costing Jozsef big $  and now when the end is in sight Malcolm North advises that the company is in liquidation court.
Malcolm North has also  been passing himself off as counsel in court documents  see here 18 Amended Statement of Defence   In this document Malcolm  also states
 The Companies Office records stating otherwise are in error, and that the plaintiff remains a shareholder in the company,  and 

The amendment of the Company's Office register on or around 24February 2013 was an error, and the plaintiff remains a minority shareholder of the Company.
despite  making this statement  the companies register has never been corrected.
On 19th June   2015   despite  Jozsef being denied any rights  of a share holder, Malcolm files documents in the District Court pages 11- 54.
In the statement of claim  he alleges that Jozsef  as a 63.2% share holder is responsible for the corresponding  % of losses in  Muse on Allen  for the 2013 & 2014 financial years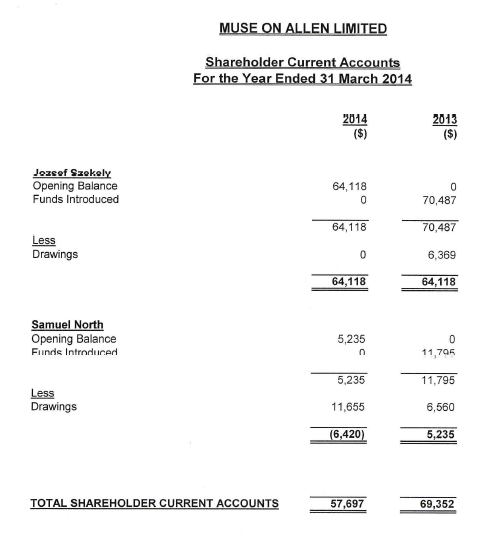 .
this would have to be  a first in New Zealand  where a company sues its only solvent  share holder for  the loses which the management  has incurred after denying the share holder any rights.
The accounts attached  speak volumes   especially the share holder accounts   they show  that Jozsef has paid up share capital of $64,118  and  Samuel North  has a deficit of $6420.
No other persons are shown as share holders   and no  other share capital has been introduced.
The accounts clearly show however that the   funds introduced  into the company by Samuel's parents and  his girlfriend Anabel Torrejos  were introduced as LOANS. they have never been  recorded as share holders.
We wish to make it clear that these documents came to us without any restriction  or confidentiality and as can be seen  they clearly identify Jozsef as the  majority share holder.
As a share holder and in this case the only paid up share holder he has every right to the accounts .
On a  % share holding basis    it is obvious  that the sole owner of Muse on Allen is Not Samuel North but Jozsef  .
We believe  that what has happened in  Muse on Allen   totally undermines the  confidence that   should be had in the integrity of  our companies.
Jozsefs battle to  be recognized as share holder continues  but in a bizarre twist Malcolm North advised   Jozsef on 8 June 2015   that the company is  currently in insolvency court  being  sued  by Kensington Swan , their former lawyer. The date for the hearing has been delayed allegedly in the hope that  they can repay the  debt which we believe is some $24,000.
In the mean time  Samuel North is driving about town  in  a Black BMW X3 2007 Reg HYE837 Page 55   .similar to the one pictured for which he has raised a loan through the company ( see corrections  on Samuel North  responds )
Now that you have these facts   you  can look at the following articles in a different light , we particularly  like  the  concrete playground  article   it speaks volumes and is well  worth reading   and now that  you  know the truth you  will have more insight.
Other less colourful articles are below  they all    assert falsely that Samuel  is the sole owner of   Muse on Allen  Limited. 
11 august 2013 Muse on Allen takes Top Honours– Wellington has a new rising star on the food scene, with the 22-year-old head chef and owner of Muse on Allen taking out this year's MiNDFOOD Wellington On a Plate Award……Muse on Allen's 22-year-old head chef and owner, Samuel North
04/09/2013  Young upstart of the restaurant scene   Samuel North is not your typical restaurateur. At just 22, he's thought to be the youngest chef running his own dining establishment in Wellington. In fact, he was 21 when he launched Muse on Allen in the former site of Satay Kampong restaurant at the top of Allen St…..In his most recent job at the White House as chef de partie, he read about Martin Bosley starting a restaurant at the age of 21, and says: "I was inspired by that. I thought I could do that. I started looking at places up for sale. We looked at 19 different places before we found this one."  
August 9, 2013MiNDFOOD Wellington On a Plate Award Winner Announced 22 year-old Samuel North, chef & owner of Muse on Allen, takes out the MiNDFOOD Wellington on a Plate Award….Wellington has a new rising star on the food scene, as the chef & owner of Muse on Allen takes out this year's MiNDFOOD Wellington On a Plate Award…..Muse on Allen's 22-year-old head chef and owner, Samuel North,
21 July 2014 Theatrical dish coasts into Dine award final Samuel North, 23, the head chef and owner of Muse on Allen in central Wellington, has had his restaurant nominated as one of five finalists in the Visa Wellington on a Plate Award.
06/08/2014 Fresh faces of food SAMUEL NORTH, OWNER AND HEAD CHEF AT MUSE ON ALLEN  Samuel North was just 21 when he opened his own restaurant, Muse on Allen in 2012. By that time he'd already chalked up six years behind the stoves of a whole bunch of kitchens from Wairarapa to Hunter Valley. "I think I may have been the youngest chef to open a restaurant in town. There was this big hype when I opened it because I was so young and a lot of people thought I'd fail, " he says
Oct 13, 2014   NZ Herald -Your Business: Young Entrepreneurs
"The founder and head chef of Wellington-based restaurant Muse on Allen worked and saved hard for six years, and got a loan from his parents and help from his partner to set up the restaurant, which last year took out a top culinary prize – the Visa Wellington on a Plate Award."
Oct 13, 2014   NZ Herald -Your Business: Young Entrepreneurs   "I have no credit cards, no bank loans – nothing," he says. "The banks ran a mile when I put the idea to them. It's pretty funny looking back at it now; there was no way they were taking the chance on me – and I can't blame them."
March 2013 social cooking :Samuel North  Info:At just 21 years old, Sam was considered to be the youngest Chef to be running his own establishment in Wellington, when he opened Muse on Allen 2 years ag0
31 July 2014  Lettuce take a moment with… Samuel North  "Samuel North is no stranger to success. At the age of twenty-one, Sam opened his very own Restaurant, Muse on Allen."
August 13, 2014  48 hours in the capital: Where to eat in Wellington  Head chef and owner Samuel North is, amazingly, only 22, and made a name for his new restaurant
31 January 2015  Grab one  Owner and chef, Samuel North, won this year's MiNDFOOD Wellington On a Plate Award, which recognises the top level of creativity and skill among Wellington's chefs, along with their ability to showcase local ingredients through Dine Wellington's festival programme.
18 April 2015  Muse and a little Singin' in the rain   Muse is the establishment of Samuel North, a young chef in Wellington with a bucketful of talent.
08 July 2015  Producers "live and breathe" their craft….Muse on Allen chef and owner Samuel North 
Muse on Allen Restaurant and Bar -Wellington on a plate
More soon
A Ted talk  has been forwarded to us  by a member , it is extremely relevant  it is only 10 minutes long   and a must see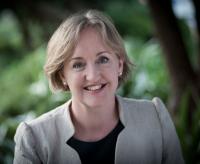 Good morning Minister
Last week I made submission to the select committee on the anti corruption and money laundering bill
I note that in the bill we do not define corruption
This makes our anti-corruption initiatives extremely effective as you cannot have something which is not defined.
As such the following are NOT examples of corruption in New Zealand
1. Having a business plan to amalgamate local government duties with those of central government for private pecuniary gain then writing the bill for and advising on legislation to facilitate this
2. Making an application for law enforcement powers under that legislation pretending to be a trust when no trust exists .
3. Deceiving a minister by making false claims so as to get the law enforcement approval
4. Getting law enforcement powers for a fictional body by pretending that it is a legal person when it is not.
5. Operating that Fictional law enforcement body from council premises using the staff vehicle and infrastructure for private pecuniary gain
6. Setting up a pretend trust in 2006 to pretend to be applicant and issuing court action to cover up
7. Deceiving the court through lawyers and denying the defendant a hearing or the right of defence of truth and honest opinion so as to re write history using a court judgement obtained through deceit
Through the journey I have found that we effectively try to Kill off Whistle-blowers , through stress financial hardship and making their life hell on every front as such a simple question of " why does that law enforcement authority not exist as a legal person ?" has cost me my family , my marriage, nearly 10 years of my life well over $400,000 hard cash and goodness only knows how much in lost earnings.
I took on a lawyer who has since been found by the courts to have been " incompetent " he is now suing me because I complained of double billing. I made a complaint about a billing issue 4 years ago , it is still not resolved and instead the lawyer has taken me to court in a series of actions seeking to bankrupt me when he has overcharged me some $28,000.- message- don't complain about your lawyers double billing – he will sue you and make your life hell .
I am a licenced Private investigator and former long serving police officer , I know a thing or two about fraud and corruption and I know that it is impossible to report fraud and corruption in New Zealand because it damages our clean green image.
I have found the greatest issue to be that lawyers are not held accountable to the rule of law, and crooked lawyers have a licence to use our legislation in the most convoluted manner to cover up fraud and corruption . The law society has conflicting roles of member society and lawyers authority , nothing is going to change until those conflicting roles are separated .
The so called public watchdogs, are under resourced and under staffed by competent personnel and we function be throwing up walls for people to bang their heads up against until they either drop dead or go away.
My matter is well researched, I have a ton of documents, from the government's own files , No government authority has ever looked at them , they all claim it has been through court and it is therefore settled.
This proves that using the court to conceal fraud and corruption in new Zealand works and makes this even more serious.
I have even gone to the extent of filing a petition for a commission against corruption only to find that Mike Sabin, who was on the wrong side of the law himself , threw it out because my evidence disclosed fraud.
It appears that peoples reputations are paramount, that is their reputations not mine – My crime is to have exposed corruption and I have paid a very high price .
I request that you use my scenario as an investigation into corruption in New Zealand , it proves that it exists at every level and that we would sooner shoot the messenger than deal with the real issue.
Are you the minister who will turn corruption in NZ around ? I hope so for all our sakes
Regards
Grace Haden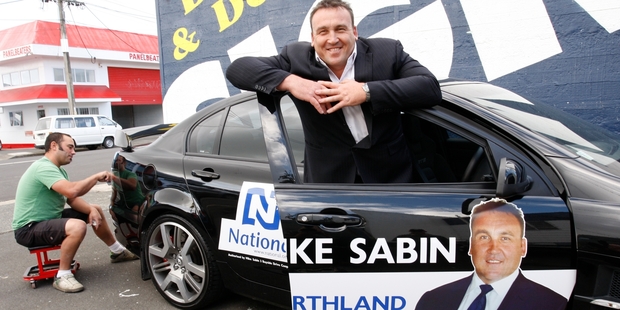 From: Grace Haden
Sent: Tuesday, 3 February 2015 2:20 p.m.
To: 'select.committees@parliament.govt.nz'
Cc: 'jonathan.young@parliament.govt.nz'; 'lindsay.tisch@parliament.govt.nz'; 'ian.mckelvie@parliament.govt.nz'; 'phil.goff@parliament.govt.nz'; 'Kelvin.Davis@parliament.govt.nz'; 'david.clendon@parliament.govt.nz'; 'Mahesh.bindra@parliament.govt.nz'; 'KanwaljitSingh.Bakshi@parliament.govt.nz'; 'Andrew Little'
Subject: Petition for a commission against corruption
Good afternoon
Last year Andrew Little presented my petition for a commission against corruption
I am a former police officer and now a private Investigator who has found herself at the fore front of corruption In New Zealand because I believed the spin that NZ was corruption free.
I thought it was the proper thing to do, to draw attention to the fact that a man had written legislation for his own business plan, advised on it at select committee level and then using a false name  applied for the coercive law enforcement powers which he had helped create.
The powers were under the animal welfare act and he claimed that he made an application on behalf of a trust called the Animal welfare Institute of New Zealand(AWINZ ) . The trust was fictional, the minister was misled and no one checked that the Animal welfare institute of New Zealand existed.
In 2006 a lady working at the Waitakere city council dog control unit asked me if I could find out who or what AWINZ was. The council vehicles and the buildings had been rebranded to have the appearance of belonging to AWINZ, the council officers were required to Volunteer their council paid time to AWINZ and prioritize animal welfare over dog control . The prosecutions were performed by the council dog control manager who was one and the same as the person who had written the bill which ultimately became foundation for the law. This was a classic case of public office for private pecuniary gain – which is deemed to be corruption by international standards.
Through my journey with corruption many people have come to me and have told me of the brick walls which they , like me have encountered. The police say they had no time , the SFO say not serious or complex, the ombudsmen took 2 ½ years to get a document then went quite ,the office of the auditor general total ignored it .. IT HAS NEVER BEEN INDEPENDENTLY INVESTIGATED except by the society for promotion of community standards , who confirmed what I had alleged.
In having my petition rejected, I have struck yet another brick wall and again things are done with an appearance of legitimacy but without any real legal foundation and ability.
Mike Sabin rejected the evidence of my petition on the basis of standing order 236 b . this quite clearly states that the evidence is considered to be an irrelevant or unjustified allegation can be expunged. It does not state that all of the evidence can be thrown out and indeed there are various issues raised in my evidence not just that of AWINZ .
236 Irrelevant or unjustified allegations
When a witness gives evidence that contains an allegation that may seriously damage the reputation of a person and the select committee is not satisfied that that evidence is relevant to its proceedings or is satisfied that the evidence creates a risk of harm to that person, which risk exceeds the benefit of the evidence, the committee will give consideration—
(a) to returning any written evidence and requesting that it be resubmitted without the offending material:
(b) to expunging that evidence from any transcript of evidence:
(c) to seeking an order of the House preventing the disclosure of that evidence.
It concerns me that Mike SABIN was so actively involved in the removal of this petition and in light of the events of the last week it is entirely possible that a conflict of interest existed.
Mr SABIN does not state that the allegations are irrelevant or unjustified , and 236 b clearly states "to expunge that evidence from any transcript of evidence " this does not give open licence to dispose of all of the evidence.
Additionally my evidence does not make it clear that the matter has been" thoroughly investigated" my evidence is that it has never been investigated by the proper authorities .
As a former Police officer Mr Sabin is well versed at writing complaints off but this is a matter before parliament , it needs to be dealt with according to the rules and I do not see that 236(b) can have all the evidence expunged.
Additionally standing Orders have ways of dealing with evidence which could have impact on persons reputation . I have deliberately not named any one however the evidence in support which were obtained from government and council files show who the players are in the game. The Animal welfare institute of New Zealand does not have legal existence hence does not have any legal rights and therefore cannot have a reputation .
It is precisely the use of such fictional personas which makes fraud prevalent in new Zealand , this practice is being condoned and this is exactly why we need a commission against corruption . It is a huge elephant which is being ignored.
I request that the committee review the manner in which this petition has been disposed of and ensure that it was done lawfully if they up hold the decision. I am happy to resubmit eh evidence with names removed if that assists .
Additionally under the OIA I request the names of those who sat on the committee with Mr SABIN and voted on dumping the petition and writing the letter attached above and the minutes pertaining to this .
I will be publishing this letter on www.transparency.net.nz as the public have a right to know .
Regards
Grace Haden
Phone (09) 520 1815
mobile 027 286 8239
visit us at www.transparency.net.nz
There is  a  very big anomaly in New Zealand with regards to law firms , they are not readily identifiable and even the law society has trouble telling you  what is a law firm and what is not a law firm.
Lets look at  some entries on their register  at a listing for  Stewart and associates Equity law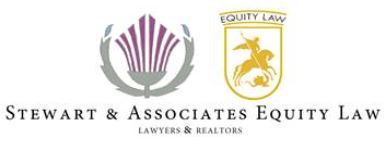 You wont  find it on the companies register and even the registration   on the  solicitors roll is deceptive  as the address is in Auckland  and the phone number is in Alexandra.
Also you have to  wonder how an organization can operate   from a Po Box. .. bit cramped we would have thought .
Try to physically locate it  and you will never  find it  as the " organisation "  doe not  exist   and  it is indeed a  fictional law firm .
This fictional law firm,   fictional entity   is however the  instructing solicitors  in  court action  agaisnt us . The law firm  only has one  lawyer  a  young lady   named Julia Leenoh.   Julia is not her real name and neither is Leenoh apparently  as she  does not appear to have obtained her degree in that name    and appears to be   Joo Yeon Lee
Now this  fictional  law firm   came  about apparently  through the  " merger"  with Equity law  .
Now  the objective of this blog post is to identify  who or what  Equity law is .. I warn you  you are going to get dizzy .
It is of note that when the proceedings were commenced against us the   fourth plaintiff was identified as  Equity Chambers we then received a memorandum   to say
"This document notifies you that the fourth Plaintiff was incorrectly named as Equity Law Chambers.  It should instead be amended to Equity Law Barristers Limited, as incorporated company, having its registered offices at Level 4, Khyber Pass Road, Grafton, Auckland. "
We had rather foolishly  thought that equity law    was  equity law barristers  as  all the  signage in the building  indicate
equity law  as being inthe building  and when  our director had close relationships with the  law firm  it appeared to be a law firm .
let us look at the  history of Equity law .. assuming that it is the company  Equity  law barristers Limited
the company was formed  19 Dec 2006   as Equity law  2007 Limited
Captures from the  way back machine  show the very first  we presence  that they captured  on 17 August 2007
the  web site  was registered 20:19 27/3/2007 to  equity law  Limited  we note that there is no such company as  Equity law limited  but even the registrar of  domain names agrees that this must be the company which owns the web site   becasue the other associated companies did not exist  at that time
Equity trust International Limited  was incorporated 26 may 2008
Equity trust International tax agents  Limited  was incorporated  15 November 2011
Going back to  Equity Law 2007 Limited  we note that it had two directors
These two persons are also involved in the   legal action against us .
Action was originally taken  agaisnt a member  and  when     the plaintiffs agreed it was an error they eventually  submitted  proper documentation   which   shows the other plaintiffs signatures.
this is the signature of the  second  Plaintiff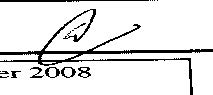 now look at the   initial filing  documents of the  company for this  same person    and the signature is  some what  different  the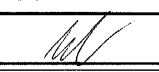 full document is on this     link it is the fourth  document from the bottom  this   and the share holder link is this the  actual signature for the share holder is   this
Our research shows that  the  actual signature is the very first one
to us it appears  that  a law  firm has been   set up  using fraudulent signatures. But could it even have been a law  firm ?   seems like no one can tell us.  Now  The   director of  the firm   claims that Equity law is a trading name he used.  so the plot thickens. perhaps we will never know.
The  dubious signatures are  a bit ironic  as  a  member of the chambers was Frank Deliu  who defended Lu Zhang  "
Lu Zhang, 28, is accused of 75 offences of making false statements in company registration forms after she declared her office address was her residence in 75 companies she registered.

She was charged after a plane loads of weapons, including rockets and grenades, from North Korea bound for Iran was seized in Bangkok last year.
another  new item is also worthy of reading  this is an extract
"Former fast-food worker Lu Zhang, 28, was the sole director of Queen St registered SP Trading Ltd, a company that hired a plane discovered at Bangkok airport last December flying 25 tonnes of arms from North Korea to an unknown destination, believed to be Iran.
Zhang pleaded guilty yesterday to 74 charges of giving false residential information to the Companies Office, which registered multiple companies with her as a director. She could have faced up to five years in jail and/or a fine of $200,000, but was convicted and discharged.
Her lawyer, Frank Deliu, revealed that the Chinese ambassador in Wellington, Xu Jianguo, had written to Zhang's immigration consultant, former immigration minister Tuariki Delamere, who had briefed him on what was happening. Mr Xu's letter was included in affidavits."  see article
it is interesting to note that  Tuariki Delamare operates  a  floor below that of Equity law   see this
The   entire building appears to be abuzz with   inter connected activity   just recently  the bank Breder Suasso  was found operating on the second floor  with a fake reception  see the news item here
The fourth Floor  of  44 Khyber pass   used to be just the law firm  and the travel agent next  door  but now  we have  a  raft of activity  there including  forex traders  and  Equity trust International  which sets up  new Zealand companies for   foreigners   .
The instructing solicitor  in the action against us is Greg Stewart , although he works in Alexandra he is the director of this company  and also  supervised Julia Leenoh    from his desk in Otago .
we have now   got a most  confusing situation   where by  the court papers filed Greg Stewart claims  that  Equity   law barristers limited was not the law firm    called equity law   in one lot of proceedings  and  claims that it was  in  another lot of proceedings.
the Statement of Claim and the  Bundle for defence part 1 and Bundle for defence part 2  AND Bundle for defence part 3    and the defamation defence COMBINED are at the links
they have been served on the lawyer  who is appearing on the matter   and who  has been signing the submissions  but refuses to file a representation . this is Michael  Locke  we believe he is the one and the same   who  appears on the insolvency web site having been   recently released from bankruptcy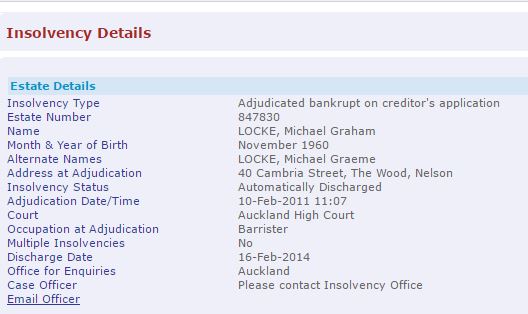 .
The plaintiffs    have been attempting to  silence us  because  the truth is  inconvenient
our revelations   that the  former lawyer  did not have a proper  law firm,   and the fact that the   associated  trust firm passes itself off as a ;w firm is of concern.  as  are the mention of 10 million dollar bank accounts, solicitor escrow accounts and  the offer of passports   from the Dominican republic, St  Kitts  and Nevis  as second passports to  open up the world for  would be investors.
Interesting holiday reading of  what he  world  so called second least corrupt country facilitates.
We stand by our research   the truth is the truth .