IN 2006 a law clerk was working at home as for Brookfields , she was allegedly approached by Two Barristers Neil Wells and Wyn Hoadley who were pretending to be trustees of a trust which had never existed .
They had a dilemma you see in 1999 Neil Wells had written legislation for the animal welfare act and had been an advisor to the select committee . He then made a fraudulent application to the minister claiming that the animal welfare institute of New Zealand existed , it was in reality just a fancy name that he had thrown about the offices of MPI for a while so that those who did not check got used to the sound of the name .
In the application Wells claimed that AWINZ was formed by trust deed , but then in letters to the minister he avoided sending a copy of the deed . he said that the one deed had been sent off to be registered.
The lawyers for the MPI believed him and never checked and then in 2006 some one had registered a trust with the same name which embarrassingly showed that Neil wells had told a lie .
But rather than deal with the lie and hold Wells accountable to the law it was far easier to instruct a law clerk to put some pressure on the woman involved.. One Grace Haden
Grace Haden is the villain in this piece , she questioned corruption , this threatened not only the fraud that was AWINZ but also the ability of the government to verify its facts and uphold the law.
So the heroine of the story enters . "I will fix this" she said and takes it upon her self to ring the wicked witch of the west late one friday night and threatens her PI licence if she does not change the name of the trust which she and others had legally incorporated . ( blackmail in most peoples books ) The witch is not a push over so our heroine sends some emails to drive her threats home .
The witch using her magic powers locates our heroines home and on arriving there on her japanese power driven broom stick is confronted by two children who say " mummy is not home' and calls daddy. Daddy sees to it that the police serve a trespass notice on the witch , last thing you want is to intimidate some one and them have them call at your house to see if they can resolve the problem.
Next step is a lawyers letter .. Lawyers letters don't need to be factual , they just have to threaten in a nice way , leaving no options and the best thing is to get a lawyer who does not check what he is signing so the letter is put in front of Davis Neutze of Brookfields .
The letter is sent by the lawyers who claim to represent the fictional organisation which cannot legally contract to a lawyer , they effectively claim that the trust formed in march 2000 made the application for law enforcement powers in 1999 . they go totally off on a tangent about AWINZ being a charity , the reality is that it was not a charity , it was not a trust it was a name that Neil Wells used when he took on the law enforcement role using the staff of waitakere city council . He establishing a bogus Trust for personal profit. As the UN call it public office for private gain
But who cares this Is NZ the land of opportunity and the magic of being a barrister means that one can do what ever they like as they are trusted and believed and no one must never say anything bad let alone the truth .If you do then you will be crucified in court.. yes that is what happened to the the witch and years later they are still trying to tie her to a dunking chair.. hard to believe that this is 2018
The fact that Wyn Hoadley and Neil Wells did not have a trust deed , nor any other documents which could show that they were trustees was beside the point.. the fact that they were barristers made it all leggit . A law degree makes people honest Yeh!!!!!
So the humble law clerk dashes out and in August 2006 becomes a barrister too (She got a practicing certificate to be a barrister ) and prepares the statement of claim which will force the witch of the west to give up the name so that the two barristers can perform their magic and make the problem and the lies Vanish
David Neutze signs the letter he doesn't even notice that the trust deed he refers to is not there , had he seen the trust deed he may have asked questions like why is Wyn Hoadleys name not on it and how and when did she become a trustee ( Not by any legal process we can assure you .. pure magic .. poof one minute she is not on the trust the next she is the chair woman )
This was not the only magic the trust deed which was missing in 2000 see page 6 bottom , has miraculously reappeared , been renumbered to eliminate the clause referred to and now has two versions one sent to the witch the other to MPI . MPI didn't even notice that there were lots of pages on their one not signed.. but why should that matter .. don't want to look too close do we its just a bit of paper that ticks the box after all .
The real magic had been concealed as the people who allegedly signed the deed had never met , never passed a resolution and never held funds. AWINZ was a total fiction .
We were told that our heroine prepared the statement of claim which was a wonderful piece of fiction
The first plaintiffs are the current trustees of The Animal Welfare Institute of New Zealand,
('AWINZ 2000), an unincorporated charitable trust which was formed pursuant to a trust
deed executed on 1 March 2000.
the reality of the trust is recorded by Maf by 2008 the trust had met three times 2004 2006 twice. By its own terms the trust ceased to exist in 2003 when no trustees were reappointed . Hoadley had become a " trustee on 10 may when the deed was missing , by a clause that does not exist in the copy of the deed and by no visible legal means , the audit report records AWINZ has not been incorporated under the Charitable Trust Act 1957, as was originally expected . The lies in the application Have been totally condoned by MPI .
In November 1999, the second plaintiff wrote to the Minister of Agriculture advising that he
was seeking approval for AWINZ 2000, which was at that time not yet formally constituted
by way of trust deed,
this from the application audit report

Question which statement is false the SOC, the application or perhaps BOTH
The third defendant is a trust formed pursuant to a trust deed executed in 2006 and
incorporated pursuant to the Charitable Trusts Act 1 957 on 27 April 2006.
Note that this was formed before Wyn Hoadley came on board with Neil Wells, they also had this letter from the registrar of trusts lawyer
Everything was twisted and contorted we had set up a website to advertise the fact that AWINZ was not legitimate. It was using waitakere city council dog control officers to collect revenue for its Boss Neil Wells .
He had re branded the building to be confusingly similar to the fictional AWINZ
Now 12 years later and with Neil Wells dead , our herone is still at it she decided to go after the witches PI licence, because she thought it gave the witch powers of magic like being able to find people . She ensured that there was no point in the witch appealing the decision of the person posing as the pspla( he was not a lawyer as required ) and his misguided belief that the witch was a conspiracy theorist and therefore should not be an investigator .
the complaint to the Pspla show that her aim was to discredit the witch the new PSPLA decided to have a hearing in Wellington before she even considering all the submissions submissions this is my response response to complaint_and the witches submissions in response
It is of note that every time our heroine contacted the witch she has made a threat against the witches professional licence, now that she has have given up my licence she is taking the witch to court . for defamation . what does this woman want !!!! she doesn't want to settle she doesn't want to say what has been said that is wrong .But you guessed it she wants $$$$$$ about $30,0000 worth $20,000 as compensation .. for what ? because the truth hurts .
She has proved that you do need defamation papers to put in front of Google to have your name removed from the web https://www.lumendatabase.org/notices/16567636
Is this how the court is going to be used in New Zealand ? is this going to be condoned by our judges.. I will keep you posted
So there you have it folked if the truth hurts and you want to remove it from Google you need to take defamation action and you can continue to ensure that the bad spot light fixes on others while you conceal the truth about yourself .
mean while we continue to live in the perception
don't be fooled The reality is no fairy tale
You could have made a massive difference to  many lives by  asking questions in 2006 , instead I felt bullied by you  when you  concealed the corruption that was AWINZ.
AWINZ  was not   just any old organisation  there were only two private law enforcement organisations in New Zealand , AWINZ was one of them ( RNZSPCA the other )   AWINZ did not exist  you covered it up  and  12 years latter are still on the attack . I have had enough.
The purpose of this open letter is to get  some  issues into the open , you are a policy analyst employed by the  government directly  as a contractor  and  apparently as an employee For LINZ.
You are reportedly a lobbyist  and as such I see the  connection between  you and Wells .

see Lifting the lid on lobbying in politics ..When lobbyists are handed control
As such it is in the public interest that you  act  with integrity and  that your actions are exposed .
As to integrity  it is my   professional opinion is that your  does not reach the threshold for a public servant  It is my considered opinion that a person with integrity would not seek to  damage some ones reputation  so that  corruption could be  concealed.
I am no longer a private Investigator , you are very much the reason for this, by  giving up  my career I am free from the constraints of the Private security Licencing authority ( PSPLA)which I believe you and your associates have been stirring up for years  in an attempt to discredit me . You say so  yourself in the complaint to the pspla COMPLAINT DATED 23 JANUARY 2018
Your  complaint in January   was in my opinion  totally  malicious and vexatious  yet I was  supposed  to travel to Wellington  the following week  so that you   could have a go at me in person  at a " disciplinary "  hearing.  presumably for the  defamation claim     you were setting me up for.
You have also   alleged that you are preparing  a defamation prosecution  but refuse to say how I have defamed you  or given an opportunity  to  make a correction  .I stand by everything I say as truth and Honest opinion .
In short your  actions  with  the PSPLA  appears to me to  have been  for no other reason that to bully and intimidate me .
I have never met you  but for the past 12 years you have been beavering away in the  background to conceal serious government corruption . I suspect the link  with Neil Wells was that you   both advised on Policy and there appear secrets which need to be  kept , Like   protecting corruption rather than exposing it .
Last year I suspected  that Neil Wells was  the  corrupt barrister   who  is mentioned in this  decision for ripping off his client and then charging 7 grand to find the  money he  took , perhaps that unsettled you  because you   had gone all out to defend him  and  spent years with your former husband persecuting me, taking me to court for defamation when I was speaking the truth   but  by denying me  the  right  to a fair trial and a defence   you influenced the court and  a most defamatory judgement of me  emerged when the  judge believed the spin  the lies and  misinformation Nick Wright  put to the  court.
The  resulting Judgement has served you well     and has been rolled out by you and your mates for 12 years to create a false impression  that I am a nasty person, and you are the one who complains of defamation !  You have done everything you can    they should not believe my allegations of corruption.  It has worked so  far but then you  thought I would have given up by now , No I have not .  with the spotlight currently on  rape  through the me too movement , corruption will be next     this is  like being abused for 12 years   .
I suspect that  in fearing  that the tide was turning, you  made a complaint  against My Private Investigators licence , it was malicious vexatious  and as a result I have  given up  my licence as  it was obviously the draw card for your ongoing  attacks  by those I suspect that you have encouraged to  make complaints against me. Free from the PSPLA   I  have eliminated that  avenue for harassment .
You  first approached me at  9.45 Pm on Friday 2nd june  2006  you rang my home number   and told me  to change the name of the  legal trust which I was a trustee of  or you would make certain I would lose My Private investigator licence  , you followed this up   with  an email at 11 pm making  similar threats .
You were working from your home as a law clerk  at the time for Brookfields  which your then Husband Nick Wright was a partner  of  .
You now falsely  claim that you had a practicing certificate  but the law society  investigations  Here  and the decision here  prove  otherwise .
there is evidence that  you  lied to the  PSPLA when you said "I was not working as a law clerk in 2006.I was a lawyer. I had been a lawyer for about ten years, since late 1996." this    reflects on your level of  integrity

One  has to wonder  why Neil Wells a Barrister  and Wyn Hoadley  a barrister  would instruct a resource management law clerk working from home on an alleged defamation matter  and why she is now rewriting the past about her   status as a law clerk. !
The trust which I was a  trustee of was the Animal welfare institute of New Zealand  now called the  ANIMAL OWNERS SUPPORT TRUST, we had incorporated it to prove conclusively  that no other  legal entity existed by that name. The purpose of this was to support our suspicions that   the Approved Organisation  by the same name was a fraud.  see here Lifting the lid on lobbying in politics ..When lobbyists are handed control
You and Nick Wright contorted that to be something quite sinister alleging  that we were  competitors trading on the name and seeking to deprive   Wells of donations .  You had the ability to twist facts then   that skill you apparently have retained .
This post has been amended to remove the honest opinion of the writer at the time. . Documents in support as attached   .submissions in response and emails coa
She claims that "There was nothing unusually in my phone call or emails to Mrs Haden. In fact, forewarning people that you are about to take action against them unless is the ethical thing to do"  Really!  at 9.45 pm at night   when   this is what  the law society reported in their finding 

So why  not simply hang up  when I answered or say  sorry wrong number  but you went on to intimidate  and followed it up with threatening  emails  at 11 pm on Friday night!  You  used the names xxxxxxxxx and the email address karen161970@hotmail.com which I presume is  your middle name and date of birth .
You  never took any notice of  the letter  which the   registrar sent you in reply to  your complaint  see here 
You may not be aware of the significance of this  but when Neil Wells wrote the legislation for the animal welfare act he did so to facilitate his own business plan
AWINZ did not exist  despite the fact that Neil Wells had talked about it since  at least 1998 , Tom Didovich  was  working on this fraud with him  and paid for  the recruitment of trustees from council funds invoice-re-trustees  see also this file
In his application for coercive law enforcement powers on behalf of AWINZ   Neil Wells wrote on 22  november 1999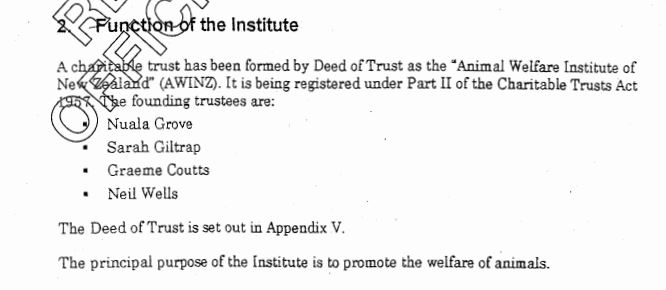 Now apparently, according to  you ,   I am a person of limited intelligence so I am asking you as a Policy analyst what   you think  a "charitable trust has been formed by way of trust deed " means ?
I think that it means that a trust exists, don't you ?  well  it might surprise you that when Neil Wells  made this application   it was three months  before the date   of the trust deed  he produced in 2006. The deed was "missing "until  june 2006 when miraculously there were two  ( but they were not the same )
Perhaps you can explain the legalities of a   group of people  applying for law enforcement powers through a trust which  does not exist and  does not have a deed,
How did the  trustees   pass a resolution  to  apply for   law enforcement powers ?
how  does the law of contracts apply in this instance  what liability would  there be  for the individuals in running such an organisation ..   NONE cause they were not involved
why did wells have to explain to these same trustees in 200  what being an approved organisation  meant, surely they would have known they  allegedly ran one for   6 years .. or did they ?
In correspondence to the minister   Neil Wells wrote in 2000.

A person such  as myself who according to your slanderous comment  has   " limited intellectual capabilities"  this means  that
there is a trust deed
it has a clause 20 (a)  see the trust deed he produced   it only goes to 19   there is no 20  or 20 (a)
there is only one copy( because if there had been two he could have sent a copy of the other one )
It is  not available because the original has been sent  for registration .(  he knowe that only copies were sent  he lied )
The reality is that Neil Wells  deliberately lied to the minister  not one of those statements is true .
Wells knew how to incorporate a trust and there by  become a body corporate   ( for your information that is the process by which it becomes a legal person  in its own right and has existence  apart from the trustees )  Wells had incorporated two  just months earlier  ARK ANGEL TRUST BOARD  and NATIONAL ANIMAL WELFARE TRUST BOARD
He knew that only copies  of the deed  were sent  and  in 2006  we had not only one trust deed we had two.. but wait for it they were  different  version 1  and version 2 
Version 2 was sent  to MAF  , the  front page and the signature pages are original and the middle  pages have been switched out.. Do policy  analysts  care about that, is that acceptable ? do you condone  that ?   are you fit to be a policy analyst ?Are you safe in a public role ?
All these things have been pointed out to you and Nick Wright over the  years but you and him  continued your vexatious attacks on me.
Have you not read section  4 of the lawyers and conveyancers act .. your duty is to the  rule of law   you were  an officer of the court , but you have stayed out of things  so that it would not reflect on your practicing certificate  you  are cunning .
You prepared the statement of claim  and Nick Wright  your ex husband another resource management lawyer took the matter to court  the intention was to get me to shut up and to change the name of our trust so that Neil Wells could cover up, it did not work   I wont be bullied
In my book that is using the law for an improper purpose . The law  society did not deal with you because it all happened in 2006  when the old legal practitioner legislation was still in place see the decision here  Decision 
It obviously became too much for Nick when he  became a committed patient  but despite this he continued to practice  law until  june 2011 when he was still acting past that date  despite not having a practicing certificate 

Nick  has now left law , I was particularly taken  with  the poem he read on his face book page  about the  wheels of sharp weapons returning.. so true
Getting back to you and your complaint   I fully addressed this with the private security Licensing authority  , But no matter what I  said the matter was set down for a " disciplinary hearing " even before  you had served papers on me   MY response   is here 
When ever you submit  more  information you introduce more  misinformation and childish action   as can be seen in her submissions in reply
On the one hand you are complaining that I was inaccurate,   for the  first time since 2011  you allege that there is an  issue, then when I  correct it for  you, you    scream to the PSPLA  .. "she has changed it  she is disobeying  the pspla."
For the record the PSPLA had no authority over me and my blogs they are not part of my private investigators business, In reality there is no difference to  the situation with Wyn Hoadley   see the decision re her  Hoadley decision  and her response Hoadley response
I have no legal  obligation to the PSPLA with regards to my actions  for companies which were not under my PI licence .
You are  right  not to  respond to   my  submissions, to do so would  cause you to put your foot in it further .
If you think I am defaming you   tell me   how and where      , too may of the complaints to the PSPLA  are too similar  you have been  there all along  ensuring that I am never out of court.   How childish can you get  for  the allegations about me speaking to your kids    They came to the door  in 2006  I asked for their mother..  you even managed to make that sound like  the crime of the century .
Not long after I  had an anonymous complaint  to the PPLA from Suzie Dawson  who coincidentally  claimed I had used  those same frightful words when her daughter answered the phone .. Have I been set up or what Suzie Dawson a blast from the past may she fare well in Russia
I will not give up until You are  convicted     as a lawyer  your obligation was to the rule of law  you  have been a lawyer off an on since   since 1996  you cannot plead ignorance  and I have every reason to believe  that  you have   coordinated the attacks on  me  to discredit me
It all started with the   Statement of claim which you  and your then husband Nick Wright  filed   for the  fictional AWINZ
The very first  paragraph to the court   is a lie   and the lies  just get better as they go along, there was no need to prove any of this   Nick just stood there  and lied  i was denied a defence  and that is called JUSTICE !
You did not check to see if AWINZ existed  You had evidence that we had legitimate  trust  had body corporate status  but you  gave the fictional AWINZ life by calling it  AWINZ 2000, in terms of corruption  you take the cake
Neil Wells  conspired with  MAF to ensure that information was withheld  until after the  court proceedings were concluded, he was then advised that the information was being released  this  vital evidence included the audit report  which  proved that AWNZ was a sham .

This  was later  confirmed by Neil Wells to the law society  with this letter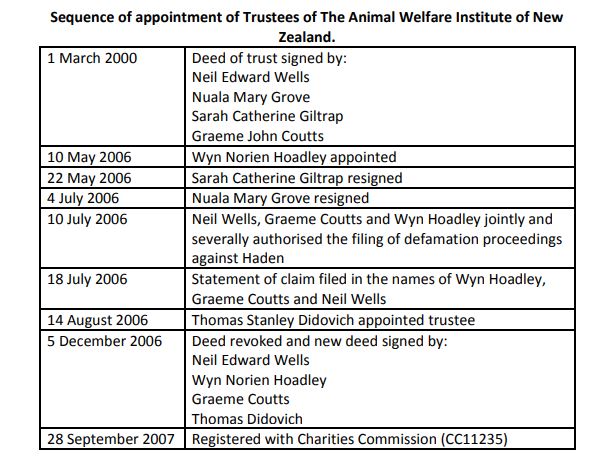 What is missing is that  the application for  approved status under the legislation which Wells had written  and advised on , was made  by AWINZ  on 22 November 1999.  so how could  trustees who have not formed a trust make such an application  ?
Quite clearly that application was not made by these trustees  only Wells signature was on the  application . AWINZ was treated by MAF and crown law to be a legal entity  in its own right . as you can see the  signatory of this crown law  opinion is none other than the solicitor for MPI  Peter Mc Carthy
the trust deed   which first  saw daylight  in 2006 after being reported missing at an alleged meeting  on  10 May  states  that the trustees  required to be reappointed after three years
the  alleged trustees of this  2000 trust did not  hold assets ,, no bank account existed until 2005    and no  meeting had occured  since it inception despite requiring to have four meetings per year . Perhaps you  can tell me how this fits in with a legitimate trust ?
Wyn Hoadley in her response to the law society Hoadley response  states " I had been approached several years prior to this by Mr Neil Wells regarding my possible involvement with AWINZ."  this again proves that AWINZ was nothing more than Neil Wells , how can one person  make such decisions without the other trustees in a properly run trust ?
Wyn Hoadley goes on to say 

So this  woman   who is supposedly a Barrister  seeks legal advice from a  resource management  law clerk working from HOME ! Yes they did expect it to be resolved  quickly because the tool of resolution was intimidation  your specialty
Wyn Hoadley also  falsely claims that  AWINZ  resolved to seek  professional legal advice .. so where is the resolution   it is not in the   minutes!  
Wyn  was also not appointed by any legal  method   she was appointed??? under a section which does not appear in the trust deed   and at a time the deed was missing.. so what was she   binding herself into ????  would you become a trustee of a trust when you don't know what the terms are ????   it simply defies belief.  These people are lawyers  !!!!!! or should I say Liars
By writing this open letter I will give you the opportunity to  address the   malicious attack on me  which you state in  paragraphs 22 and 23  of your complaint , ie  to  take away  any credibility my PI licence could  give.
The good news   is that  a PI licence doesn't give any credibility , take  Translegal   and its  director  Gary Swan for example they  have a PI licence   yet  swear affidavits of service for fictional document services , that is something  which is apparently condoned .see this  and these Translegal document server jailed .      Translegal services NZ ltd contracts criminals to serve documents.
Nor  does my PI licence give me any powers, the ability to find addresses,attention to detail   and ability to  find  information  is a skill I have,   a skill which apparently you  lack despite  you claiming that I have " limited Intellectual capabilities " the skill you have is in my opinion  in being a corrupt  former lawyer  specialising in intimidation  and  discrediting  people to  win at any cost.
I will be happy to publish any comment you wish to make    By not replying  within 5 days you are  confirming to the accuracy of this post
Historical references  https://bsa.govt.nz/decisions/3122-parre-and-canwest-radioworks-ltd-2005-016
Additional information added  2019 .

a decision from the Ontario  Supreme court has been forwarded to  us ONTARIO SOCIETY FOR THE PREVENTION OF CRUELTY TO ANIMALS   it highlights the issues of private law enforcement agencies having  equivalent powers of the police with regards to search and seizure.

AWINZ was such an organisation  except  it  went one step better, it was totally unidentifiable,  there was no   legal person  openly associated with it  so that it could not be sued. As such there was no accountability to the public , read the news items
Dear David
I am delighted to see your latest  news release in my in box Download Media Release Document
I have been a persecuted whistleblower for the past 11 years . I was heartened by the presentation given by  the  Transparency international  president  and I certainly hope that Transparency International New Zealand  accepts the importance of whistleblowers .
I was  not an employee of the organisation I blew the whistle on  but   in My line of work as a Private Investigator I discovered that our government  had given coercive law enforcement powers to a fictional organisation . I thought it would be simple to bring it to  their attention  and was not prepared for the onslaught that  followed .
For the past 11 years  , my family and   myself have  paid a very high price , I even tried to join transparency International but was rejected by your organisation because  " As noted in previous applications, the TINZ  Objectives, Guiding Principles and Rules of TINZ are not compatible with your actions and objectives. We do not undertake investigations on single cases of corruption or expose individual cases"
In desperation I setup  my own organisation which  now has a massive following   I called it transparency New Zealand LTD
The matter which I blew the whistle on was not rocket science. Its basic fraud   using a fictional identity
While the country  is  jumping up and down about an address in Mt Eden used for election purposes and some extra flat mates  we are rather ignoring this massive public fraud , how can we make fish of one and  fowl of the other.
The origins are with labour  and it continued  under national . Kennedy Graham once met me and we talked about y issue at length .. he did nothing  yet he is miffed with the relatively minor  indiscretions of  his leader .
The fact that this Fraud  has gone on for so long without any one looking at it  shows  that   the fraud situation in NZ is far worse than any one can imagine. This case proves  how in reality those in power condone fraud .
I hope that transparency International  looks  at the issues that whistleblowers face    , We don't expect you  to do anything more for us than  to  look at our  cases and see how they impact on the reality of the integrity of the  public service.
A public service that ignores and thereby conceals  corruption has no integrity   
Neil Edward Wells had close ties to  MAF ( now MPI )   he met with them regularly and  as a member of one of the  advisory boards saw an opportunity to write    the legislation  to update the Animals Protection Act 1960
In writing the bill he saw an opportunity  Not only  did he write the bill to update legislation  he also used it to  facilitate his own business plan  see here  the document  drawn up in 1996 clearly shows his intention to make  money from this.
He goes on to   write the no 1 bill for the  new legislation   without declaring his conflict of interest.
A second bill is introduced by National .
Both bills go before the select committee and again without declaring his conflict of interest  Neil Wells becomes " independent" adviser to the select committee .
Simultaneously  he was paving the way for his business to   line up with the  legislation which was being passed . Use of confidential information for private use
He set  up courses at UNITEC for  training the inspectors for  the new legislative requirements, a role he was to  take on personally  for $$$ .
He spoke of an organisation   which  would  have the same powers as the  RNZSPCA and  he called this AWINZ ( Animal Welfare institute of New Zealand ) .This organisation existed only in his mind.
When the act passed into law he made a fraudulent   application in the name of the animal welfare institute of New Zealand  see the application here 
AWINZ did not exist in any manner or  form, there were no trustees , there was no trust deed   yet he called himself a trustee and  made out through the application that AWINZ existed.
In 2006  I did a Pro bono job  for an employee at Waitakere city council , Lyn Macdonald ( the bird lady )  questioned why  the buildings and vehicles had been rebranded  see here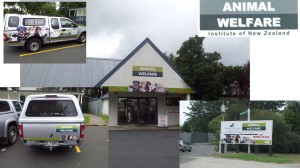 and why  she had to  " volunteer"  her council paid time to AWINZ and prioritise animal welfare over her council   duty;-dog control
Neither  MAF nor Waitakere  city council had a copy of the alleged  trust deed and  it was only then that Neil Wells  produced one  and I suspect that the  ink was still drying . He gave me a copy  see here and sent a different copy to  Maf  see here . Note that  both are different to the one attached to the application.   To me this  proves that the man had absolutely no hesitation in forging documents .
I have truckloads of documents and  have taken this  matter to  the Ombudsman, ministers  court  and have found  that  I have been under attack because  of it.
I have simplified the whole matter and ordinary people   get it  they understand but   those in MPI and   in so called positions of accountability  don't look at the  facts they look at the  reputation of the persons, some I fear are acting in self interest as some where at a previous time they had a finger in the pie and  covering up   also saves their own necks .
I have been at the receiving end of an 11 years smear campaign   while Neil Wells promoted himself as being  holier than though  . That was until he was proved to be corrupt  but   he then  had the advantage of   having his name suppressed.
The fraud in a nutshell 
Over the years I have learned to simplify it  , I also have more  documents available  now than I had in the early years  but ordinary people get it  so why do the ombudsmen lawyers   etc not understand   that
The application is fraudulent  and resulted in   a fictional organisation  getting law enforcement  powers.
The applicant   AWINZ    did not exist … no trust deed had been signed ,  no persons had ever met  to approve this  trust deed or  had agreed to be trustees to this deed
The  persons who were allegedly  trustees  had never met never passed a resolution   never consented to being a law enforcement authority , never took  part in the operations or decision  making or application for   " awinz  " to become an approved organisation .
Neil Wells concocted a trust in 2006 and backdated the trust deeds   and signed them  claiming that they had  gone missing.  But the date was out by three months   so  how  could a trust  which    allegedly formed 1.3.2000  make an application 22.11.1999. as can be seen the  deeds are different
Then he supplied a copy of the deed to Maf  except he had to change the details  of the deed again and  another deed was   concocted and sent to them.
With regards to the Waitakere city council
He made an application for   the position of dog and stock control manager  see here   and effectively  contracted to himself for the services of AWINZ  See the document MOU Waitakere    where Wells signs  this On behalf of the fictional  Animal welfare institute of New Zealand  with  Tom Didovich the person  whose job he was to take over .
Note: that there is no mention of  the conflict of interest  in the  application for the  job  , he treats AWINZ as though it is a legal person separate from himself  when in reality he is the only person associated with AWINZ  and   this is in reality a trading name for himself.
He rebrands the building  the Waitakere city council   dog control building  to appear to be his fictional organisation
there is of course much more   but his will do  this  relates to the public   and public wrong doing
this could  have been easily dealt with .
In the first place MAF did not check  they assumed and gave law enforcement powers to  a fictional organisation .
secondly like the  Joanne  Harrison matter  Maf relied on Neil wells  to  provide them with information and directions  to  ward me off .. I have the emails to prove it
Our  internal systems for dealing with this type of offence    do not exist  and  every one was quite happy to stand by while  I was beaten up from all angles.
No one knew how to investigate   the simple questions which should have been asked are
Did AWINZ exist  when it made the application …

NO

What structure was AWINZ..

it was a nothing  it was an unsigned  deed at best a trading name for person or persons unknown 

Who were the trustees ..

there were none there was no trust therefore no trustees.

But we now have a trust deed  dates 1.3.200  ..

but that is three months after the application how can a trust make an application before it is formed 

When did that deed first come to  light..

2006

Were any of the alleged trustees  apart from wells involved in the running of the approved organisation..

no

 Did Maf have consent from any one else  acting  on behalf of AWINZ apart from Neil Wells..

no

Should MAF have ensured that AWINZ existed  legally ..


yes   there was a Statutory need for accountability  how can there be accountability if the organisation does not exist 

122

Criteria

(1)The Minister must, before declaring an organisation to be an approved organisation for the purposes of this Act, be satisfied, by the production to the Minister of suitable evidence, that—

(a)

one of the purposes or roles of the organisation concerns the welfare of animals or a particular species of animal; and

(b)

the accountability arrangements, financial arrangements, and management of the organisation are such that, having regard to the interests of the public, the organisation is suitable to be declared to be an approved organisation;

How could they do this .. 

they had no idea about identities  even the lawyers   did not check   .. they took Wells word as a barrister for it 

was the trust  deed attached to the  application in 1999  and the one provided to Maf  in 2006 the same..

no    therefore consideration of the  unsigned deed by Maf  was irrelevant.

Why  did Maf not insist  on a  deed ..

Because Neil  Wells misled them and they  did not check

Why were the other alleged trustees not involved  ..

MAF should have contacted these persons  and  ensured that   they were  actively involved  

Why were legal names avoided  ? 

If legal names had been used   we would all have known who we were dealing with
With respect to Waitakere city council
Did  tom Didovich have the ability to allow a third party to use his  staff for  animal welfare purposes …

no

Didovich signed a MOU   should this have been   brought to the councils attention..

Yes

Wells applied for  Didovich's Job should he have declared the  Mou which he had signed ..

yes

Did Neil Wells work in a situation of  gross conflict of interest .. YES!!!!!!
Wells rebranded the building  was  the logo animal welfare on the building confusingly similar to the   logo of the fictional trust ?

definitely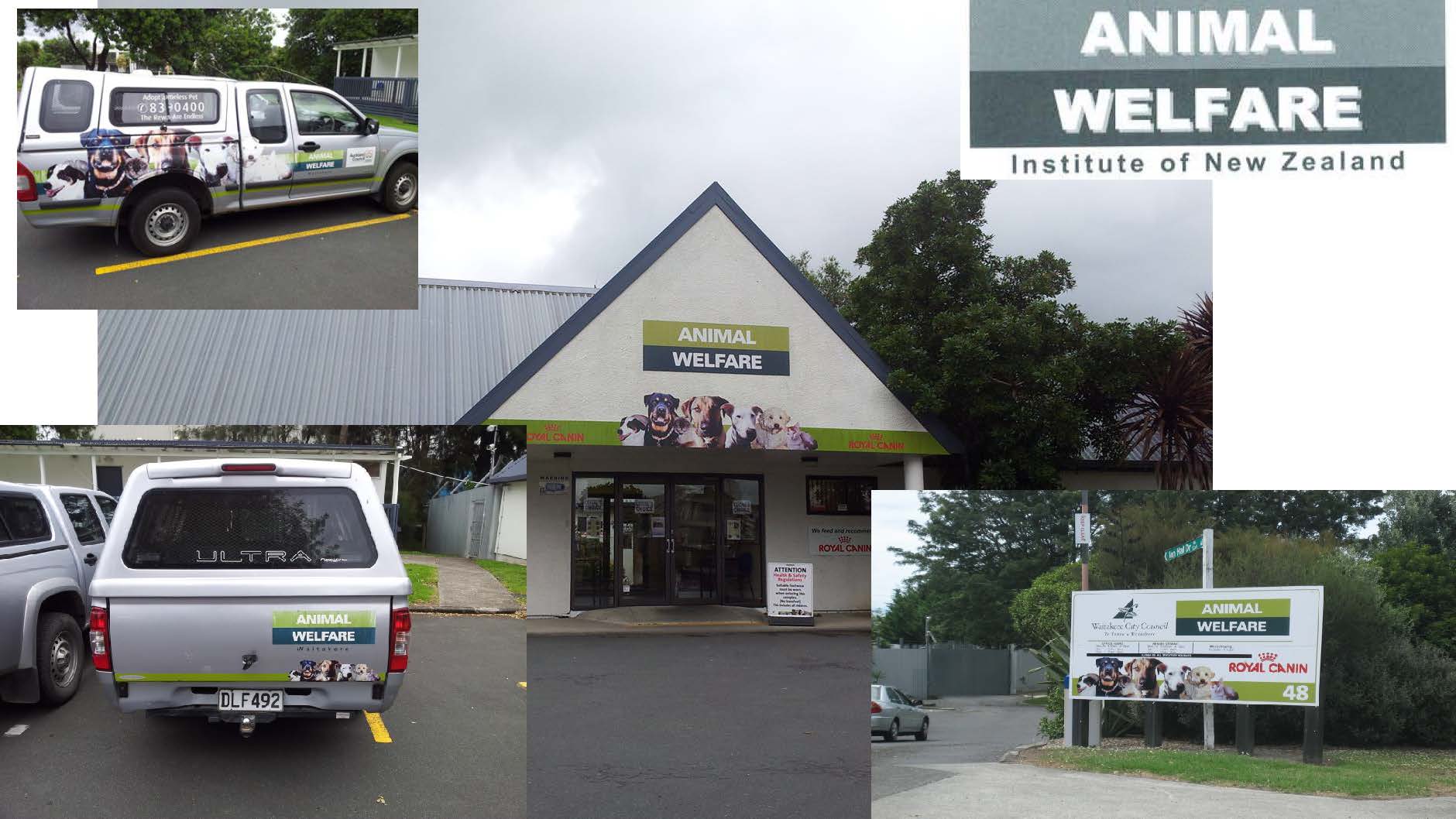 The evidence  will follow   there is a ton of it    the buildings above  are council buildings which Neil Wells re branded to appear like his  fake animal welfare trust
the logo at the top right is the logo he used on his  fake trusts letter heads . It made every one think that it was a real organisation   and owned the property  it was in fact the council pound. Where Neil wells  was manager  he got the job without disclosing that he had a conflict of interest  see his job application  here  and the  documents he had signed in his capacity  for the fake trust MOU waitakere 
MAF in a an audit had trouble differentiating  the  approved organisation from the council  see  the audit report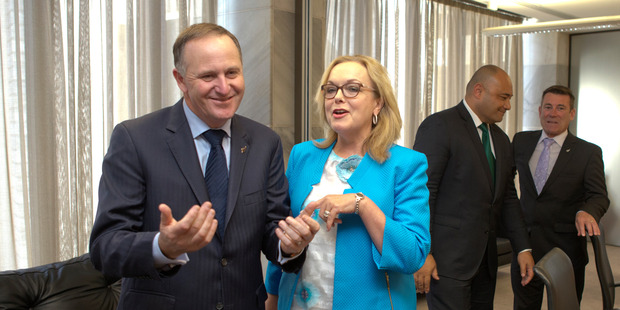 This post is prompted by the  Editorial: NZ needs to assure world of trust scrutiny.
It is one which I will forward  along with  other blogs to international agencies who may wish to question  how  one of the worlds least corrupt countries  can make this claim and I wish to reveal how trusts work in New Zealand
In 2006  I questioned the lack of existence of  trust , this trust just happened to be  one of two private law enforcement agencies, this trust  the animal welfare institute of  New Zealand  (AWINZ ) taught me all you need to know about NZ  trusts  and how loosely they operate
AWINZ operated  as an equivalent to the RNZSPCA  and enforced animal welfare law ,  It had  powers of search and  the ability to seize some ones prized pet .
I was asked the simple question , who is AWINZ ? when I discovered that it was nothing  but a sham  and  questioned the existence of a sham trust being a law enforcement authority  I was immediately sued,  denied a defence  and   was told to pay some $100,000  dollars to the  person who wrote the animal welfare bill and  was independent adviser to the select committee  in the process of making his business plan , law .
He then made an application , which in my days  as a police officer would have been considered fraud . ( this is due to the fact that the claim that  AWINZ  was a trust was totally false  the application made 22 November 1999  predated  he formation of any organisation  by that name  the earliest trust deed and one which Mr Wells relies upon was  dated 1.3.2000  and even those persons never met  or passed a resolution )
I have  for years  been beaten up   for blowing this whistle. Below I have a list of links of how I have beaten my head against a brick wall for many years  but for now I will reveal how New Zealand trusts work
 You need a trust deed  .. it doesn't matter when you sign it  or who signs it  as  long as there is a deed a bit of paper which looks convincing.
no one enforces the deed, no one cares if the so called trust  complies with its deed
If you want a new deed  you simply  write a new one and refer to an earlier deed which may or may not have existed  , Ird  does not care  I  rather suspect that most people at IRD are number crunchers and done understand the legalities of dates names and real persons  being involved in a trust .
there is more information on the deed with regards to the  identity of the  witnesses than  with regards to the  the trustees.  you can use generic names  and who could ever identify  the trustees
if a trust does not  meet  or hold any assets  or pass  any resolutions it is still considered a trust  and its identity can be used  to interchange with any other trust ( real or fictional )
the charities commission  are happy to grant charity status to anything  whihc meets their criteria , the fact that  there are no resolutions for the trust and  big gaping holes in   their existence is but a technicality
Let me explain in terms of the AWINZ  trust
As stated earlier Neil Wells a barrister at the time  made an application for law enforcement powers for AWINZ  he claimed on 22 November 1999 that a trust had been formed

No  executed trust deed existed and these people had not formally met together  or passed  any resolution
Maf and The dog control section of Waitakere council had signed agreements with the representative of AWINZ:- Neil Wells
in 2006  Neither MAF nor Waitakere city council had a trust deed or had seen one : basically no one had checked  the existence of AWINZ
when I proved that AWINZ did not exist  ( charitable trusts need to be registered ) a trust deed materialized dated 1.3.2000  whihc brings about the question how can  you make an application before a trust is  formed. ?
I was to get evidence that these people had never met   never held any assets , never passed a resolution.
By the terms of the deed the trust ceased to exist  three years after it was formed, continuance depended on reappointment of trustees and since they never met no one was  reappointed.

Wells sought charitable status in 2006  when new legislation came in. IRD rejected the trust deed   so he simply wrote a new one  and they claimed to be a continuation of the bogus 2000 trust 

this was totally acceptable to the lawyers charity commission and  MAF ( and later the government )
AWINZ was finally removed as  approved Organisation in 2010  .  the fictional  law enforcemnt organisation  operated  for  10 years  re branding council property  and using the  Council staff under Neil Wells control  as AWINZ officers  .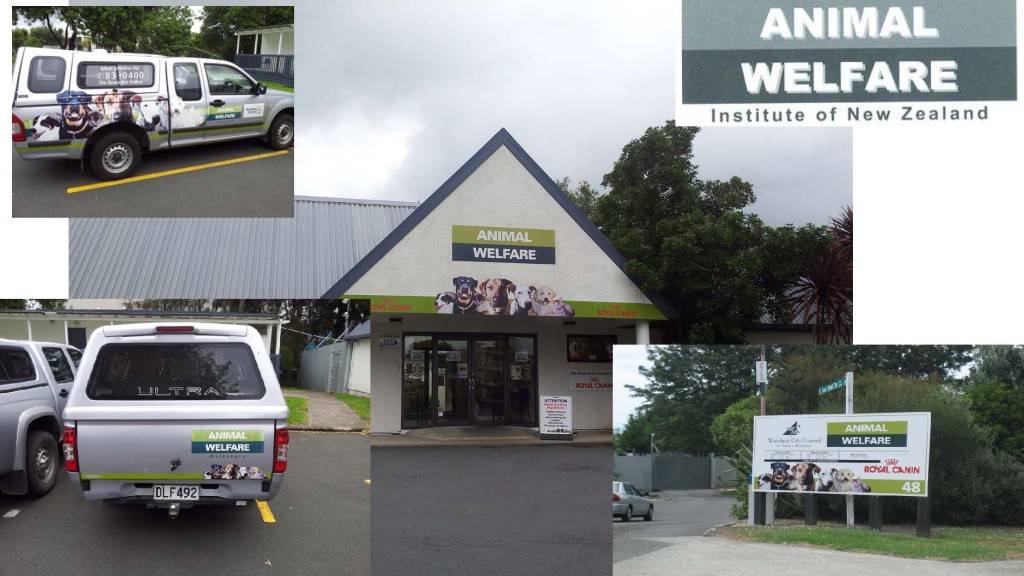 Neil wells still consults for government and makes submissions  strange  that he does not refer to the 10 years where he was the only person involved with AWINZ
this is how what I considered to be a fraud  worked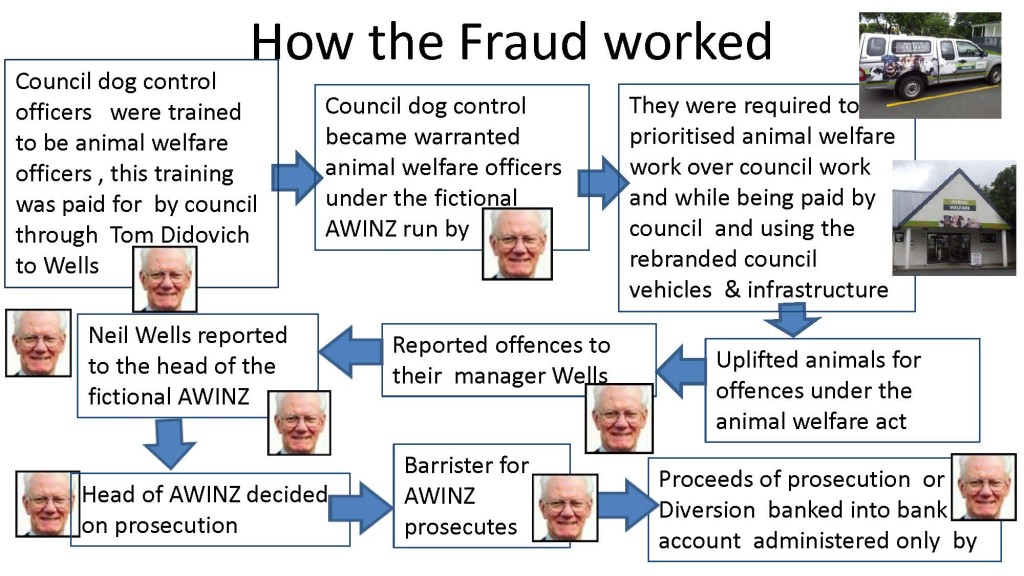 I have brought it to the attention of the prime minister , Transparency International NZ , Auckland Council  and again here , here , here, again here ,    here, here , here ,Auckland Mayor, the CEO of council , council lawyers and again here  and here  , here, here.
I have written to the lawyers involved and again here  and here, here, here , the law society by way of  regarding the lawyers  , the charities commission  and again here   and here
Maf and  now the ministry of primary Industries  repeatedly fobbed me off and actively concealed the fraud, after all they never checked to see if the trust existed before supporting the application for law enforcement status , I was later to find that the current lawyer for Maf was involved int he process earlier on when he was  working for crown law  so I guess his own work came under scrutiny therefore    concealment of the fraud was an act of self defence  complaints to Maf Here  , here, here , here, here,here, here, here and here
The people posing as trustees  here, and here,here, here
attorney general  here
I had questions asked in parliament  Here  wrote to ministers  here  and here 
notable blogs of the past   touching on the  corruption which  exist in New Zealand
Conclusion  :  Fraudulent trusts are condoned in New Zealand , I was silenced because I was exposing how slack our trust  administration was .
more to come   Court is used to   silence exposure of abuse of overseas trusts
Last week I was in Brisbane at a conference and work shop  co hosted by Griffith University  and transparency International –Using Anti-Corruption to Protect Growth and Development in the G20 and Beyond.
Much of the focus of the work shop was to  explore the  national integrity system  ( NIS ) and how various countries had interpreted the  guidelines and   come out with their reports.
While it was clear that  Transparency International  saw corruption as  the  key element it transpired that  TINZ ( Transparency International New Zealand ) had not included this in their assessment .
Suzanne Snively made two presentations at one she   pointed out that   TINZ is not funded and they have trouble getting  members, I guess this is evident when new members  sign up and immediately become directors .  She made no mention of the  Members who  were leaving because they were so overwhelmed out being outnumbered by  the Government agencies which  appear to control  TINZ and hence  the resulting finding that New Zealand has the least corrupt public sector in the world.  see the  NIS report here
We all do well if we blow  our own trumpet , any way  Suzanne's presentations are
Suzanne Snively and Daniel King – A national perspective
Suzanne Snively and Daniel King – Adapting the NIS to a 'developed' country: environment, business and the Treaty of Waitangi
When referring to the presentation of Finn Heinrich –  Where does it come from?  How does it work?   What is needed for the future? you can see that he refers to  two Crucial Ingredients  to provide Momentum for Anti-Corruption Reform  they are
Strong Evidence on Integrity System & Practice
Engagement with key  stakeholders in a country
Lets evaluate these criteria  against the current New Zealand Climate
Strong Evidence on Integrity System & Practice
Currently we have a spat  going on pre election  between our  two main parties. It is a Tit  for tat and   we are slinging mud to repel  corruption allegations, this is basically our anti corruption  system  at work, name calling at school play ground level.
The latest  spat   has occurred  after our minister of justice   took time out on her  ministerial trip to promote   milk  for a Chinese company of which her husband has been made director, I have reported on the matter in full   at this link 
The next blow came  to National  when Maurice Williamson was  discovered to have been supporting the citizenship of  Donghua Liu  against  official advice .
Last year the Mayor of Auckland   was caught with his pants down  and at the time  Mr key had this to  say "I've had plenty of people who've rung me up with information about Labour MPs," he said.
"And I've done the same thing to every person that's rung me. I've written it down, put it in my top drawer and kept it to myself. I'm just not interested in engaging in it."
http://tvnz.co.nz/politics-news/john-key-keeps-dirt-file-labour-mps-video-5655493
It is very  obvious  that  the top drawer has now been opened and  they have had to dig deep to find the  dirt which they  can throw back at labour.
The reality is that the   Prime ministers act of keeping  dirt in his top drawer is in itself a corrupt act as  each and every incident reported to him should  be passed on   for independent investigation  at the time the issue arises  and not held on to until a blackmail-able opportunity arises
There simply is no integrity in  stockpiling  dirt on the opposition – this allows  corruption to be traded off with corruption , each  act should be independently evaluated and the  perpetrators charged if evidence is sufficient.
Engagement with key  stakeholders in a country
While Whistleblowers are seen as essential any where else in the world  (Grzegorz Makowski – Cross-cutting problems in the NIS: corruption of anti-corruption policies; whistleblower protection; human rights protection) TINZ prefers to ignore us.  this is like   doing a   report on  the operations of a company and leaving out the  shoppers  .
There are two sides to any system, the one  looking out  and the one looking in.  the systems my look in place but if they are not user friendly or are designed to be counter productive against corruption then the system  has no integrity .
I would have thought that   it would be a serious matter for some one to make an application for law enforcement powers  using false information, after all people are  taken to task for benefit  fraud and the like every day  , but it appears that the bigger it is the more people   that are implicated and the  more systems that are shown to be  unsafe   then  more reasons exist to deny  what has happened and simply carry on.  look no issue .. too hard  lets move on .
The key  stake holders on the other hand who were engaged with  were the members of TINZ,  and the  funders  , these include Department of Prime Minister and Cabinet
  Moving on
TINZ   appears to be too closely aligned with government   so much so that    those ministers  who are engaging on corrupt practices rely on the  NIS   to refute any claims  e.g.
"Ms Collins says the Government values its close working relationship with Transparency International New Zealand and she looks forward to working through the report's recommendations."
Not bad since her ministry paid to  get the report done .
I have again asked Suzanne Snively if I can join TINZ  see my email here email application jun 2014 .. will keep you posted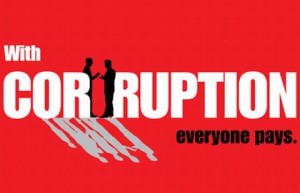 Open letter to Prime Minister.
I refer to the cabinet manual 2.53
"In all these roles and at all times, Ministers are expected to act lawfully and to behave in a way that upholds, and is seen to uphold, the highest ethical standards.

Ultimately, Ministers are accountable to the Prime Minister for their behaviour."
In 2001 the then minister of Agriculture, Jim Sutton gave approval for the Animal Welfare Institute of New Zealand to become an approved organisation under the animal welfare act 1999.
Section 122 of the act requires that the minister must be satisfied "by the production to the Minister of suitable evidence" that the "organisation "complied with the criteria as set out in sections 122 (1) (a) – (e).
It has transpired that the Animal Welfare Institute of New Zealand (AWINZ) had no legal existence, It had no members, structure or existence beyond that of only one man. There was no Organisation, no body of persons had held a meeting or made a decision to make an application for the coercive law enforcement powers.
I have over the years made a number of OIA requests from the MPI and have conclusively established that.
1. The application for approved status for the Animal Welfare Institute of New Zealand was fraudulent
a. Mr Neil Wells made the application on behalf of an alleged trust knowing that no trust existed .
b. The statement with regards to the trust having been formed by way of trust deed was false and known to be false by Mr Wells a statement he was to attempt to retrospectively cover up in 2006.
c. The persons named as the alleged trustees had never formally met together as a trust, signed a trust deed, or discussed the application for approved status under the provisions of the Animal Welfare Act 1999.
d. Section 10 of the application, the institute's compliance with section 122, sought to mislead and deceive the minister as an organisation which does not exist cannot comply with the criteria.
2. The minister relied on MAF advising him with regards to the trust deed, the reality was that there was no trust deed and no signed deed was ever considered or sighted. This ensured that the ministry staff evaluated the application on a worthless and meaningless document which had not been consented or agreed to by any persons.
3. Mr Neil Edward Wells who had appointed himself as Manager (10.4 of the application) was the former Head of the RNZSPCA, in 1996 he wrote a business plan for his own personal ambition to integrate council's dog and stock control with Animal welfare which was a central government concern. He called the service Territorial animal welfare service .
4. Mr Wells was well connected with the MPI (MAF at the time) and through this and his party connections (Labour) came to write the No 1 Bill for the new animal welfare legislation this bill was written with his personal business aspirations in mind.
5. Mr Wells served as an Independent Specialist Adviser to the Primary Production Select Committee during the consideration stages of the Bills but no record has ever been located of any declaration of his conflict of interest.
6. During 2000 Mr Wells and his associate Tom Didovich provided the minister and the ministry with information which appeared to be legitimate, however neither the minister not the ministry verified
a. The legal status or existence of AWINZ
b. The consent and knowledge of Waitakere council in providing funding, staff resources and infrastructure for the venture.
c. The knowledge and consent for the alleged trustees named on the fraudulent application
7. Records show that the policy advisors for the ministry of Agriculture were opposed to the granting of the application despite having previously assisted Mr Wells. MAF officials had voiced their concerns with regards to Mr Wells's undeclared conflict of interest.
8. Consent was finally given after the application went to the labour caucus after Neil Wells was able to comment on and amend the caucus papers and allegedly briefed his former work colleague, Bob Harvey who at the time was the president of the labour party and Mayor of Waitakere City Council.
9. In 2006 as a result of an enquiry from a Waitakere dog control officer I established conclusively that
a. There was no legal person by the name of the Animal Welfare institute of New Zealand
b. Neither MAF nor Waitakere council who both contracted to AWINZ held a signed trust deed.
c. The law enforcement authority AWINZ was not identifiable.
10. Despite AWINZ not existing the then Minister of Agriculture Jim Anderton did not consider that AWINZ no longer complied with section 122 and did not revoke the approved status, he too was deceived as to the existence of AWINZ due to a group of persons posing as AWINZ and despite lacking evidence claiming to be the law enforcement authority . These persons were Tom Didovich, Neil Wells, Graeme Coutts and Wyn Hoadley. Not one of these persons (other than Wells) had been a party to the application process or consented to it.
11. This deception continued through the next minister's term off office and David Carter was similarly deceived.
12. In a series Official information act requests I have established that MPI do not know who the legal persons were who represented the law enforcement authority and it would appear from the latest response ,that they did nothing to investigate the consequences of having a fictional law enforcement authority .
I have recently discovered submissions by Mr Wells for the Animal Welfare Amendment Act , curiously he does not mention his involvement with AWINZ at all  but in these he points out the seriousness of this situation by pointing out that New Zealand is only one of two countries to have a private law enforcement authority (the other is Australia).
Mr Wells in his submissions states "Legal commentators maintain that the enforcement and prosecution of criminal law (animal welfare offences are crimes) are the responsibility of the state and not private organisations that have no public accountability."
He goes on to state "There are (in NZ) three types of enforcement and prosecuting authorities — the Police, the Ministry for Primary Industry, and approved organisations. "
And "MPI does not have the resources to be able to deliver national enforcement and prosecution services on its own for all animal welfare complaints and is totally dependent on approved organisations. This creates an enormous risk for government."
AWINZ was an approved organisation yet it did not exist, no one knew who comprised it, ran it, apart from Mr Wells who was not given law enforcement powers in his own name but obtained it fraudulently in a fictional name and then acted on behalf of that fictional body.
The act, section 122, requires that the Minister must be satisfied – by the production to the Minister of suitable evidence – before declaring an organisation to be an approved organisation for the purposes of the Act.
For the decision of several Ministers to have been lawful evidence must exist which shows
1. Who the legal persons were who applied for the law enforcement powers and
2. The legal basis upon which the ministers granted law enforcement powers to a trading name for person or persons unknown and had belief that there was accountability to the public.
If that evidence does not exist then there is another option and that is that successive ministers were deceived.
If this is the case the government has two options
1. To condone fraudulent applications to the crown for law enforcement authority or
2. Instigate a full ministerial enquiry into the matter and hold all those who played a part in the deception accountable to the full force of the law.
The current Minister, Nathan Guy appears to have distanced himself from this matter despite repeated requests for him to conduct a ministerial enquiry into this deception. Every request I write to him is routinely handed over to the MPI. The MPI do not hold the evidence and quite clearly under the act it is for the minister to be in possession of the suitable evidence which satisfies him, it is therefore clear that if there is any evidence as to the legitimacy of the application of AWINZ and the existence of AWINZ then it must be held by the minister.
If the minister does not hold that information then the minister cannot condone a fraudulent act of this magnitude. It is also not a responsible action just to ignore the issue. (Ignorance of the law is no excuse Crimes act 1961)
Fraud is a crime and obtaining law enforcement powers for one of only two approved organisations is serious, it is even more serious when the law was enforced through this fraud and I have evidence that it was.
I did not intend to be a Whistle blower, I simply raised issues which I believed were in the public interest to raise in what was reported to be the world's least corrupt country. I asked
1. Why did the minister give law enforcement powers to a fictional organisation
2. Why was the manager of a council dog and stock control unit contracting to himself in a fictional name
Those two questions have devastated my life and that of my family, I have had a total cold shoulder from the government for 8 years now. I have been treated like the villain in a tactic which I now recognise as classic Darvo where the roles of villain and victim are reversed.
I have been persecuted thought the courts on defamation claims for which I was denied a defence of truth and honest opinion, skipped formal proof and went straight to sentencing.
My crime has been to speak the truth and speak up on a matter of serious public corruption, it has been 8 years I have had every bit of spin and every bit of avoidance, it is painfully obvious that no one knows who the law enforcement authority was and there was no accountability to the public.
I should not be the scape goat. If New Zealand wished to strive to be the least corrupt country in the world then it would instigate a full investigation into this matter and see that whistle blowers are compensated as intended by the United Nations convention against corruption.
While New Zealand is still covering up corruption it will never be able to ratify the convention. We cannot continue to pretend that there is no corruption the only way to deal with it is to meet it head on.
I therefore ask for you Mr Key to direct that the minister for MPI conduct a full investigation into this matter together with lawyers versed in criminal law and Trusts.
I am happy to assist I am a former Police Prosecuting Sergeant and am currently a licenced Private investigator, the matter is already well investigated and researched.
Additionally I request financial assistance to relieve the financial hardship which I am experiencing due to having blown the whistle. I would not be in the position that I find myself in today if the government had acted responsibly and relied on evidence rather than hearsay.
I will soon be attending an international anti-corruption conference and hope that I can report that NZ is taking corruption seriously. I will also send a copy of this to the United Nations for their reference and also publish this on www.transparency.net.nz
I see this as a true test of the ethics of our current government.
 To the trustees of the animal welfare Institute of New Zealand – Tom Didovich, Wyn Hoadley, Graeme Coutts Neil Wells.  And to the  party to litigation   Hoadley Coutts and Wells
23 December 2013
 Ben Atkins   of Brookfields  has told me to pay the $19,000 cost demand payable to AWINZfor the legal action  for obtaining  a judgement by fraud into  a bank account number National Bank of New Zealand  060 968 0067 4 77 00, this is  the bank account  used by the  charity  animal welfare institute of New Zealand, it is not   the account for  Hoadley wells and Coutts  parties to the  litigation .   

Before I pay this money into the account  I  wish  to inform all those associated with the charity, the person running  the account  and those  party to the legal  action ,of the implications of receiving these  funds which have been  directed to be paid for deceiving the court.
 For 8 years there has been much obfuscation about who AWINZ is.  I have evidence to prove that the charity the law enforcement authority   or the former trust.  The charity does not run its own bank accounts Neil Wells does and the trustees are not running the charity in any proper manner.  They are not even meeting.
 In 2007 there was no trust deed associated with the national bank account   I am certain that the banking ombudsmen will help sort that one out.
The  account was in the name of a person who does not exist- animal welfare institute of New Zealand .  Neil Wells was the only person running the account and the account was not a trading as account.
I will not pay into a bank account of a non-party without some assurances and without the full knowledge and consent of those whose account it is being passed off as being.  I will not hand over that sum of money and then find that those who have a judgement against me    demand the money again in their personal capacity. 
I am therefore looking for   a letter in which Neil Wells ,Wyn Hoadley and Graeme Coutts as   the defendants agree that the money is paid into a designated account of a non-party being the trust which they are  trustees of  together with Tom Didovich . ( the charity )
As the account is that used by a registered  charity, I request that all of the trustees of the charity  AWINZ consent to the money being paid into that account  and that they accept full responsibility as trustees for  receiving the money which  has been obtained through deception on the court and perverting the course of justice.
 I note that the lawyers have gone on leave and so   will deal with the parties involved direct as the lawyers appear to be totally confused as to who is who. The lawyers in any case were not instructed by the charity but  by Hoadley and Wells  at a time when no trust existed. I   will show there is no continuity to a previously formed trust.
In 2009  Hoadley Wells  Didovich and Coutts  all signed  a document namely a financial return on the charities commission which read
"On 30 July 2008 Judge Rod Joyce QC made an order in the matter A WINZ and Wells v Haden and Verisure Investigations Ltd that Grace Haden and Verisure Investigations Ltd pay the following:
Damages — $57,500, costs $40,500
On 20 November 2009 Justice Hansen dismissed an appeal by Haden in the High Court.
As at 16 December 2009 damages, costs and interest due stood at $117,903
The Trustees have entered a charging order of $100,000 on properties jointly owned by Haden.
Resolved 20 December 2009 "  
Now my issue is that  I have paid some $200,000  to Neil Wells  alone, not in his capacity as   trustee   and I have paid  $16,000  to Wyn Hoadley in her private capacity   and according to these "true and correct" accounts   you have a charging order over my property.
I would like to know which property you have a charging   order over and I would   like proof that it has been  removed, I also want  all references of any debt to the trust  removed as  I have never had a debt to the charity .
I also dispute that there is any money owing to the charity   and I do not wish to put money into the charities account   thereby giving reality to their fiction. I will put the money in that account if I get acknowledgment   from all the parties as to why I am placing into that account.
The whole thing has been Identity fraud 101 and    all those who go along with this are complicit in obtaining a pecuniary advantage through fraud and perverting the course of justice. Facilitating something is enough.. each one of you  is a party to this   fraud.
I  will expect a response from each of you  by 4 pm  31 December .
Before you sign your life away I  wish you to be aware of the evidence  I have  which   I will use next year  ( in private criminal  prosecutions if  necessary )  that   will prove that you  do not have a leg to stand on  for claiming to be the law enforcement authority   or the 2000 trust
In 2006 I  was approached by an animal welfare officer employed by Waitakere  city council  she wanted to know who she was volunteering her council paid time  to  as she was uncertain as to who AWINZ was. I found that AWINZ did not exist and no one had a trust deed.  AWINZ   was a law enforcement authority under the animal welfare act,
We registered a trust  called the animal welfare Institute of New Zealand  on 27 April 2006  and through this registration proved that no other  legal entity  existed by that name. Neil Wells wanted our trust gone and was informed of the process by the  registrar of  society's , he chose  litigation  in the district court  and coercive means.
AWINZ operated from Waitakere city council premises using the council staff to   run its business and prosecuted those who fell fowl of the animal welfare law.( this money went into the  same account which your lawyer  now  wants me to put nearly $20,000 in to- this  account  was operated By  Neil Wells alone).
The vehicles, signage   and buildings at council had been re branded by the Neil Wells to look very much like the Logo which AWINZ the law enforcement authority used. There was talk of the   council assets to be transferred to AWINZ as is recorded in the audit report page 4.
Neil Wells had been Manager since 2005 when he took over from Tom Didovich the previous manager who had corresponded with the Minister of primary Industries and had given consents and approvals on behalf of council for matters which council had not been properly   consulted on.
As a result MAF and the minister were of the belief that  it was the councils desire to  take on animal welfare functions  in reality   it was Mr Wells personal desire  one that he had recorded in a business plan.  
I asked    questions as to AWINZ role and contracts with Waitakere Council and the existence of   the law enforcement powers which were obtained after Mr Wells had written the animal welfare bill and consulted on it as independent advisor to the select committee.
In July 2006 Wyn Hoadley, Neil Wells and Graeme Coutts commenced legal action,   using clever ploys such as false standing and striking out my defence of trust and honest opinion in defamation proceedings they have managed   to re write history and    confuse facts   .
I now  don't know who I am dealing with  I believe that there are various parties all called AWINZ    and  various ones have used the bank account  which the   lawyer has given me a number for .
  The groups are
1.       The people who came together   paid for by Waitakere  council to form a trust with Waitakere  council in 1998
2.       1999.The AWINZ which Neil Wells and Tom Didovich told the SPCA existed in 1999, the  one that they  claimed funds from the  community well being fund for  or the one which gave a notice of intent  and a made an application to the minister
3.       2000 The  trust deed   for which there are two versions  One given  to me in 2006, the other sent to MAF in 2006  trust deed MAF version
4.       The AWINZ which monitored the Lord of the rings  and  gave the  false and title
5.        The AWINZ  which received law enforcement powers and the  Awinz which Wells represented when he signed   the MOU Waitakere  and  MAF
6.       The Awinz which met June 2004 which only Mr Wells   knows about.
7.       The AWINZ which opened the bank account and obtained the IRD number and obtained the $100,000 beauty with compassion.
8.       The  people who posed as AWINZ as litigants  June 2006( no trust deed existed  no  evidence of being appointed )
9.       You  . the people who signed a deed 5.12.2006   the  trust which became a charity   and  although you    were not connected to the bank account  let Neil wells and Christine wells operate the bank account which  you were supposedly trustees of.
Not all AWINZ's are the same   they share a common name but there has to be real verifiable evidence to connect them.
In 2012   I  took action  against Hoadley ,Wells and Coutts  for obtaining a judgement by fraud  but  because their lawyers obfuscation  and  reputation   had more  impact on the court than the 700 odd  government documents which I had collated ,  my claim was struck out   at a cost of  some  $35,000 this and the  preceding  matters won by deceit has resulted in payments of $200,000 which has  mainly been collected by Wells himself in his own capacity.
Wells has been hell bent on bankrupting me and liquidating  my company  we have had three  attempts at liquidation and  in the courts own words it has been done in a very aggressive manner.. so much for animal   welfare .. can't be nice to humans.
The  latest round the invoices were made out to AWINZ, for them to be made out to AWINZ that is  the charity  then the charity must  be   itself involved  in the   perverting the course of justice , and  I would very much like to establish if   all of you   that is the  December  2006 trustees  consider  all the AWINZ entities  1-9  to be  you .
According to the charities web site you are the trustees of The Animal Welfare Institute Of New Zealand  a charity registered 28/09/2007 after you all signed a trust deed on 5 December 2006.
First of all you need to grasp that AWINZ is not a  body corporate  it is nothing more than a  name adopted by various people, in this case you  and only from 5 december 2006 . The trust therefore provides no protection for you for any act done before that date or for actions outside the scope of the trust deed.   
AWINZ cannot sue or be sued only the people who comprise AWINZ can sue and each does so based on legal documents which   support their claim of being legitimate trustees.
I cannot see how you can be a continuation of a trust allegedly formed  1.3.2000   as those trustees never met Let's look at the audit report and associated document  in detail to establish some   facts which you yourself ( through the lawyers )  have promoted.
 The Affidavit of  Tom Didovich  which sets out the fact that he ( while holding he position of manager  Dog and stock control of Waitakere city ) drove to each trustee and obtained their respective signatures , this proves they never got together at the start and could not have  ratified the  deed.
the  2009  an audit report released by MAF- the audit was  conducted on AWINZ the law enforcement authority   looking at   section  4.1.2
"we found  that despite being set up in 2000 AWINZ did not hold any trust board meetings until June 2004 . Since its inception (and at the time of the audit) AWINZ has held 4 Trust
Board meetings – we found that four Trust Board meetings held since 2000,three of.
the meetings minutes were not signed by the chair  and the one minute that was signed was for a meeting which did not have a quorum of trustees "
Neil Wells kindly supplied the minutes to   the law society they can be located at the  following links  
The minutes which we don't have is the June 2004
We know that the 2000 trustees did not meet when they signed the deed( see Didovich 's affidavit ) , we know that there were only ever 4 meetings  the earliest was 2004.
The 2000 trust deed calls for the trustees to be reappointed   by 1.3.2000. This trust never met, did not have minutes, passed no resolutions held no assets and by its own terms ceased to exist 1.3.2003
Therefore the meeting in 2004   was by an unknown group of persons or person.
Now let's look at the   Application for approved status 22 November 1999 how could this application have been made by those whose only act was to sign a trust deed  1.3.2000 , it is  customary for people to sign  such applications  to show that they consent to  it being made in their names.. This is not for a Sunday school picnic this is for law enforcement powers.
How could your deed   5 December 2006 revoke that deed when it was defunct   from 1.3.2003, there was nothing to revoke
In correspondence with   the AWINZ lawyer  Ben ATKINS  it  has become clear that  your lawyers think that AWINZ became the law enforcement authority   as set out in paragraphs 50-52 of their submissions  which read
"In paras 57-59, Ms Haden alleges that Mr Wells deceived the Court in "many ways" and in particular, she alleges that Mr Wells misrepresented that an application to the Minister of Agriculture on 22 November 1999, was not the final application made. We assume that Ms Haden is referring to Mr Wells' evidence given in Court when he said that MAF could not receive an application as an approved organisation until 1 January 2000, when the Animal Welfare Act 1999 was passed. Mr Wells went on to stay that a formal application could not be lodged before that time and that when the Act was passed, a formal application was made, and the trust deed was signed (refer CB p 340, L8-23).  Note how your lawyers cleverly  still put the application before the  signing of the deed , things just don't happen in that order. 
Ms Haden's claims of perjury in this regard are simply without any foundation. Mr Wells was entirely open with the Court about the formation with the trust and the application to be registered as an approved organisation. He noted that the November 1999 application was made, and this was attached to Mr Wells' affidavit sworn 10 December 2007 (refer CB p 324, para 31 ). Further, the application was subsequently formalised, after discussions with government officials and further correspondence. In particular, Mr Wells sent a letter to the Ministry of Agriculture on 25 March 2000 to address various issues that had been raised, and to formalise the application (refer CB p 138- 144).
You will note that in the letter dated 25 March 2000 om page 7  Wells stated  "Having provided all the additional information requested  over the past 3 months we trust you are now in a position to provide  approval in  our original application of November 1999."
So how   can    the persons involved in AWINZ the law enforcement authority become involved without putting their names to the application?  The assurances were at all times that AWINZ was a body corporate a legal person in its own right… It never was… This has a major impact on   the administration of justice   it is creating a false person and by consenting to being part of this you are implicated and  for the actions for keeping that illusion alive  . The audit report quite categorically states bottom of page 5 AWINZ has not  been incorporated under the Charitable Trust Act 1957, as was originally expected . Neil Wells  deliberately deceived the  Minister  in his letter  25 March 2000
 "A signed copy of the Deed of Trust will follow. The original is being submitted to the Ministry of Commerce for registration as a charitable trust in accordance with clause  20 (a) of the Deed."
You will note that your deed or the deed of the defunct trust which you claim to have followed on from  , does not contain a section 20  a
Your trust and  the  2000 trust were never incorporated  so it was not your deed that was sent in to the  Minister  for registration  and  clearly was not the deed which Mr Wells was referring to.  So how could this be YOU !!!!!!
Conclusion: It is therefore   a different AWINZ    which   became the law enforcement authority
In the audit report Wells  contradicts his  own evidence to the court  Neil  is quoted as  saying on Page 4  "Neil Wells (AWINZ Trustee) explained in his original application for AWINZ to be an approved organisation under the Animal Welfare Act 1999 (dated 22 November 1999) that in 1996 AWS(animal welfare services made a strategic decision that "a not-for-profit body to act as the interface between community and service delivery" be formed. This strategy led to the formation of the animal Welfare Institute of New Zealand ("AWINZ"), whose objective was "to achieve a seamless transition for those officers of Waitakere City Animal Welfare Services who were currently warranted to be appointed as from 01 January 2000 or as soon thereafter as is practicable " the AWINZ trust  was established in March 2000."
Wells also claims    that the objectives of AWINZ "was " to achieve a seamless transition for those officers of Waitakere City Animal Welfare Services who were currently warranted to  be appointed as from 01 January 2000 or as soon thereafter as is practicable " You will note that there is no mention of this objective in the  trust deed    1.3.2000  which   you claim to  have as your origins that this objective is  expressed.
Neil Wells further stated that the principal purpose of AWINZ was to promote the welfare of.
Animals, and its aims were "to provide a national body to which Inspectors will be properly answerable". How can that happen   through a trust which   did not meet   at all!!!!!!  Look at yourselves   you don't meet you all know that  Neil wells is the  only person  who deals  with AWINZ the rest of you are there  to cover up .
 On that point  You  did not meet to change the  terms of the  trust deed which you signed, there are no minutes which show a resolution to change the objectives,  there are no meetings  after 5 Dec 2006   which  resolved  that you should become a charity .  I will get a full investigation into this you have been most fraudulent. Trustees have legal obligations   including the requirement of a meeting to decide to take legal action.
I believe that the only explanation is that the trust 1.3.2000 was not the law enforcement authority and Neil wells was   it all by himself and all the rest is a cover up to pervert the course of justice  something you have all conspired in.
There are many other   points I could raise which   have come to light due to the audit report    but I won't go into that now   after all it is Christmas.
Those who want to save their necks   can do so now. I will hand over   the  $19,000 +   subject to being told   by all parties to the proceedings  that they consent to  it being  put into the  charities account   and acknowledging that the charity is  receiving  the money and know that it is money obtained by crime  in light of  this  detailed  letter.
I will not be responsible for any accrual of interest due to your delay
I will release the money as soon as  I have the assurances  and  also an explanation as to why  the charity is claiming the funds as theirs in the annual report  when they are not a party to the proceedings and how   they came to put the caveat over my property  , or if they did not put a caveat over my property  why they  filed false accounts.
 If I don't hear by 31 december 4 pm   I will assume that You will not be responding   and won't   be making any  demands on me  due to the fact that   you  are collecting the proceeds of a crime.
   Since its Christmas. Anyone who does not  wish to   be  prosecuted criminally next year   can come clean, I am sure the police  can  deal with   the issue. Having the matter before the court has held it back  but    all that is finished now     . You have cost me well over $300,000, my family and my marriage   I am not about to walk away from the crime you  have perpetrated,  You have  won the  battle  but not the war .
You will be   made accountable for your action and the part you played.   Ignorance of the law is no excuse.  Those who facilitate corruption are art of it.
 You can't put your name to something and then say you are not involved.
 Grace Haden
Copy on transparency.net.nz  as usual.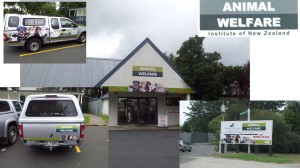 Sent: Monday, 14 October 2013 6:51 p.m.
To: Councillor Cathy Casey; Councillor Christine Fletcher; Mayor Len Brown
Subject: Congratulations and request for meeting
 First of all congratulations to all  of you.
 I hope that you have got a better Idea of what I have been up against these  past 7 ½ years.  The  corruption I questioned is  pretty much the same as  what the  prosecution has been for  on the north shore and the investigation is about  in  Auckland Transport .
 The manager  whose actions I questioned   contracted  council services to himself  using a pseudonym
 He also rebranded the council premises  as per  attached  and   if you look at the flow chart you will see how   the   fraud worked.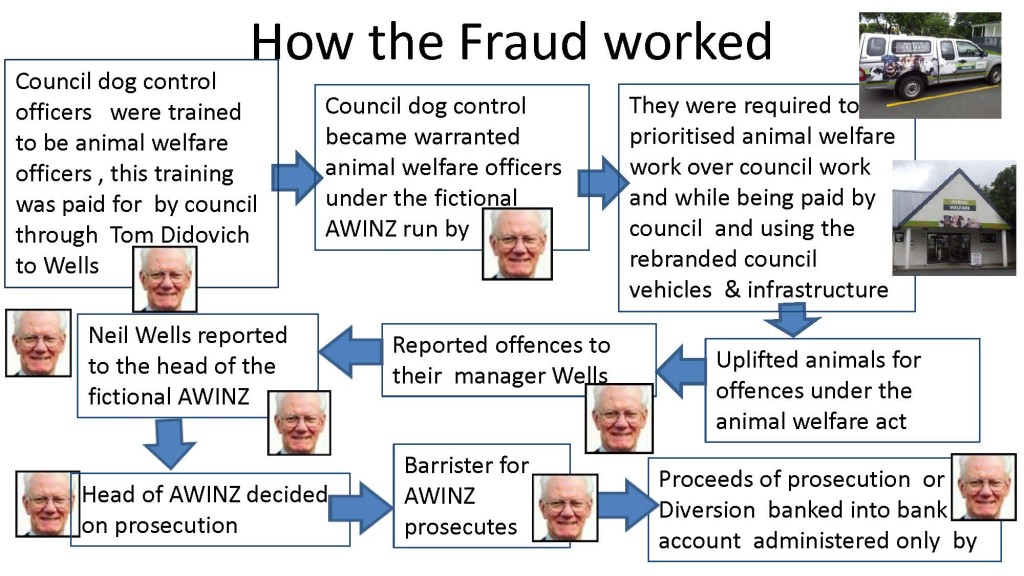 I have been told this is historic   but it was operating in 2010  and so were these other frauds which have been actioned.
 No whistle-blower should have to endure  what I have been exposed to .  I    request  an urgent meeting  so that  we  can  start dealing with this matter  before I have to sell my house  because of councils neglect to investigate.
 I look forward to hearing  from you all
 Regards
Grace Haden
To: Grace Haden; Councillor Christine Fletcher; Mayor Len Brown
Cc: Jazz Singh; Doug McKay
Subject: RE: Congratulations and request for meeting
Hi Grace,
 The last time you asked to meet with us, the advice that Councillor Fletcher and I received from legal counsel is that all of your allegations have been exhaustively investigated and there is no action that we as councillors can take.
If you have any new evidence, please provide that to our legal department.
 I am copying in CEO Doug McKay and Acting General Counsel Jazz Singh.
 Kind regards,
 Dr Cathy Casey
Councillor, Albert-Eden-Roskill Ward
Governing Body, Auckland Council
Sent: Tuesday, 15 October 2013 10:23 a.m.
To: 'Councillor Cathy Casey'; 'Councillor Christine Fletcher'; 'Mayor Len Brown'
Cc: 'Jazz Singh'; 'Doug McKay'
Subject: RE: Congratulations and request for meeting
 Thank you   Cathy
 I  have been  somewhat unfortunate to have had  Bias directed at me  by  your counsel Wendy Brandon .  I have sent her evidence  which any   competent lawyer would recognise as being   a  conflict of interest  in  a mangers role  however she responded that she  refuses to investigate .
 I have supplied tons of evidence  , I can conclusively prove that   there was no trust in existence and the manager  was using council resources and infrastructure for   self-enrichment. He was contracting to himself using a pseudonym.   I think the vital  ingredient  all  along has been is that Mr Wells is a colleague of  Bob Harvey   and there is also  involvement of  former mayor Wyn Hoadley .  This is serious corruption and the councils lack of action has had  major repercussions on me and my family.
 I should have been able to ask the simple question  Why is a manager contracting to himself  without  fear of losing my home.  Council  appear to have learnt nothing  from this  as I am dismissed as some  freak.
  Just in the past week  globally there have been a number of fraud incidents   where mayors and  councillors have been involved in fraud , it won't happen in Auckland  as   we have great control measures within  which ensure cover ups.  I have I believe conclusively  proved that 
Ruling-party mayor arrested in Venezuela crackdown
28 years in prison for corrupt ex-Detroit mayor
Greek ex-minister jailed for 20 years for graft
Spanish court convicts 53 in corruption trial
 Just because former mayors are associated with the fraud   does not mean that   there is no fraud.  I can  appreciate that there is a  huge amount of influence within council  which  has stopped this from being investigated. I am sure that  Waitakere council  fully knew  what was going on  but in  the words of mission impossible  they would have said " if you are exposed   we will disavow  any knowledge of your action. "  The on going proof of this is  the fact that I could not even get a straight  response to my LGOIMA requesting  why the  branding at the concourse changed from Animal welfare to animal management.  When council  knowingly conceals corruption  it condones  it .
 I have spent   nearly 8 years hitting my head against a brick wall.  The very people who should investigate   have not  done  so . I am a Fraud professional  I have the evidence – it is conclusive , real and verifiable .   I have given it to your lawyers  and your CEO multiple times   and I am  discredited in return..   A good policy is to attack the person when you cannot attack the issue , I am sick of being  discredited and I am sick of being bled dry  by  your former employee who is using the charitable  funds of a retrospectively set up trust to   do as much damage to me as possible.  A proper council investigation would have  prevented that- Most of the evidence is on your files!   That is why I am again  approaching the councillors.
 Cathy   it was good  to learn that you have a degree in  criminology  as such you may appreciate this perfect fraud .. it was a perfect fraud   until I came  along –  few people would have picked up what I discovered, my mistake was to ask the question of accountability from council. I was taken to court for defamation  and denied a defence of truth and honest opinion, NO EVIDENCE was ever produced  and the court simply skipped the formal proof   hearing, its like being sentenced without being found guilty ! .
 I have never done anything but speak the truth, the price I have paid is excessive  that is why I  stood  and I am sure with the number of hits on my site that I have drawn attention to the  issue .
 Wendy Brandon falsely claims that there is an injunction, there is no injunction against AWINZ.  AWINZ  (Animal welfare Institute of New Zealand )    does not exist, it  had an appearance of existing  and  it was your staff, buildings and vehicles which gave it that appearance.. very clever really.
The only injunction  is against me  saying nasty things about Mr wells, so I say nothing bad about  him and only  confine myself to producing  documents which show  what he  has done, I frequently ask him if there is anything I have published which he wasn't correcting  and not once in the past 7 years has he objected to anything or taken me back to court.
 Cathy  I  Made another Request for Auckland council to investigate corruption  last year  and the end result  was that Wendy Brandon had my emails diverted to exclude councillors .  You have all the evidence-   what  is the point   of  giving  you more when you won't look at what you have  .
 I even made a complaint  with regards to the conduct of  counsel to   council   but it appears to be   a diverted email which only  Ms Brandon received  see Urgent call for the suspension of Wendy Brandon there was supposed to be  an investigation into her blocking my emails   and  that   disappeared into thin air.    In return I was harassed by council and  a person claiming to  be  W  is posting  the obscene things directed at me on web sites belonging  to my associates .
 I  can go blue in the face    sending evidence to Ms Brandon    she  simply will not look at it   that is why I am addressing this to councillors  because  you employ the CEO and he employs the  counsel.    If counsel   does  not take   corruption seriously  then   that is an issue for the governing body.
   If you allow this  fraud to be concealed  then I can only ask   what else is going on., I am making a determined effort to  expose  the corruption in Auckland  council   and have already started  with my  latest  LGOIMA  where I have   addressed the issue of  some 55 million  of undefined " other " employee benefits   in excess of last years  8 million  " other benefits " which are shown  in  your annual report Council Employee Benefits v Mowing verges

Cathy  so here we go another three years of me being fobbed off.      What do I need to do  to get some one to look at the evidence.  I am very happy to sit   down with them  and take them through it    but in 7 years that has never occurred.
 In my normal transparent manner I will be publishing this on  Transparency .net.nz
 I won't hold my breath  I know  I  will be ignored again. After all electioneering is over   and   were back as usual.
 You will be  hearing a lot from me      I would  love to meet with you and Christine  as this is  a governance issue    it is very serious.
  Regards
Grace Haden

Good morning   Len
I  put a question to you last night with regards to  the corruption which I exposed at Waitakere city council.
At the council meeting earlier this year you said you  knew nothing about it but would not investigate due to it being historic
Last night at the meeting you stated  that  there were two sides to the story, thereby indicating  that you knew of  another side   which somehow implied  that  it exonerated the corruption
Your statement  indicated to  me that you know a version which I am not familiar with  which makes me a villain and Mr Wells   an employee acting legitimately   and I therefore  by way of privacy act request all information which   you hold or have been   told of  which  concerns the corruption in  the dog and stock control division of Waitakere  city council where  Mr Wells was contracting to himself  via the attached  MOU
To  spell it out  Mr Wells signed the attached  MOU with the previous  dog  control manager Tom Didovich.
Didovich plays a vital role in this corruption  he  had written to  the minister consenting  for   Waitakere and  North shore cities   to become a linked organisations  when in reality   MAF expected  this to be a council supported matter not something done in house in dog control   this is reflected in the cabinet papers as attached  and in the  audit report
Not only  did AWINZ not exist   ( basically that is proved by the fact that the audit papers shows that it only had four meetings  since 2004).  The trust was established  in 2000    by its own terms   it ceased to exist  1.3 .2003  see page 4 .
The audit report proves it never held  bank accounts  so we now have a trust which never  met and  did not hold assets.
It also did not make the application for approved status   on 22.11.1999    and it was not an oral trust as claimed by Neil Wells as the   trustees that Tom Didovich paid  him  to recruit were recruited under a different deed
It was Tom Didovich the manager of dog control  who witnessed the signatures of the trustees   on the deed  established  in 2000 and Paid Wells to train the dog control officers. He  acted without authority for and  on behalf of council  went on to become a trustee of  a  trust designed to  conceal the corruption in 2006 .
I hope that you do not condone  such actions
Under the privacy act I have the  right to  make corrections   and  quite obviously  you have the story  wrong.
I am extremely concerned that you  should think that there are two sides  as there is only one side portrayed in the documents I recovered from  council and MAF  and that is  that  Council has failed to investigate this  properly preferring to see me the whistle-blower as the villain
I will be putting this  email and my letter to you up on Transparency    and will be directing  everyone to it at each and every  candidate meeting.
I felt that you  got close to defaming me  last night   by suggesting that I knew of the other side.
I  was denied a defence for the defamation claim .Wells never  produced one bit of evidence.  It is being appealed at this very  moment   for  obtaining a judgment  by fraud.  .. the alleged  defamation  does not change the facts revealed in the documents held by council . if you can't find them I will be happy to supply them to you  . Your own documents will reveal corruption . Look at the  audit report they  expected AWINZ to be incorporated,  and to be  acting with  the councils consent .  council denied  any involvement.  The audit report  does not look for corruption   it only dealt with the  obligations of  AWINZ  as far as MAF was concerned.. no one went back to the   fact that AWINZ did not exist.. it was  quickly re created in 2006   to cover up
For ease here is the video The AWINZ story exposing corruption in council
It's  complex  but I can  simply take you through it   if I was to be given the chance.
No one should have to pay the price I have had to pay for questioning corruption in council , the questions I asked were legitimate and had foundation .
Regards
Grace Haden
VeriSure
     Because truth matters
Phone (09) 520 1815
mobile 027 286 8239
visit us at  www.verisure.co.nz