Samuel North was interviewed on   Concrete playground 
We would like to set the record straight   by providing facts .
Yup okay that was impressively disastrous. You've certainly picked up from there though, you established this place at 21, which is ridiculously young, what gave you the confidence to do that?
SN: My parents gave me really good support, they've supported me the whole way through it. Especially my dad, he's been in business before and really wanted me to do this I think. Probably not so young though. I could have waited a few more years but I was just too keen, too eager to own my own place, even if it was going to be something else. This place actually wasn't even supposed to be a restaurant – I just wanted to have a bar but it turned out completely differently.
Reality 
The chattels of Muse on Allen were purchased  using  Jozsefs money .  this is a copy of the sale and purchase agreement
as can be seen the place was purchased for $90.000  of which  $70,000  was  funds which  Jozsef introduced  see  here ( all enlarge on clicking )
In return  Jozsef received a 70 %  share holding 
Samuel $30 % based on the fact that HE was getting a loan from his parents and girlfriend as  can be seen  Samuel's total investment into Muse on Allen which he claims he owns  is   a staggering  $10,000  from his bonus bonds. 
What was behind that huge need to h ave your own place?
SN: I just really hated working for people to be honest. I hated getting told what to do all the time. It was driving me crazy. I was just like fuck, what am I doing? I just wanted to do my own thing. 
Reality  
 yes the  reality is that  this statement is true  and it would appear that this dislike of being told what to do extended to   working with some one who has  just purchased the chattels for the business .  How true "I just wanted to do my own thing."
Starting a business so young, was it kind of hard to get people to take you seriously?
SN: Yeah it was really hard, especially in the first year. I'd hired all these young people who were like fuck it, he's 21 what the fuck does he know? It made me realise that I needed to be hiring the right people who were going to support me and who wanted to listen to me. I find that actually hiring older and more mature is better. I've got a lot of older staff now. They're still in their like, thirties and twenties and stuff but they are passionate about the restaurant, the food and the service.
Reality  
 From what we have seen the person who  was calling all the shots in the restaurant was Malcolm North, he was   calling all the shots even before  he was made a director.    the scenario  goes   Samuel and Jozsef were directors. Samuel gets his  mother Debbie North , to be an alternate director  she  completes her own forms ( which is actually a no no  )  and uploads this to the companies register  and back dates it to the date of  the company formation. 
They now  use this as a two votes to one directorship and use this to    reduce Jozsefs share holding  without any new capital going into the business and without  any consent from Jozsef.  what they did is totally  against the  companies act . 
It is in reality Malcolm and Debbie   who were  directors with Samuel  in the first  year after passing resolutions  in private to get  Jozsef out .
In a herald  article   –Your Business: Young Entrepreneurs Samuel North is reported as  saying
The founder and head chef of Wellington-based restaurant Muse on Allen worked and saved hard for six years, and got a loan from his parents and help from his partner to set up the restaurant, which last year took out a top culinary prize – the Visa Wellington on a Plate Award.
Reality
As  we have shown earlier the opening accounts of Muse on Allen , they are evidence that  Samuel  put in $10,000.
Samuel Norths statement  above is  correct but it  conveniently leaves out the  $70,000  investment of his  business partner  who was then  in our opinion and no doubt in the opinion of any right thinking person " shafted."
The  financial accounts for Muse on Allen   show the  Loans from his parents  and Anabel Torrejos  and the share holding of Jozsef  but the companies records   up until  May this year showed Samuel as the only share holder. After that date they brought in Janine Corke a strategist of  Corum Limited   just days after she became a director  Jozsef was sued in the   district court . 
The shares Samuel North held were effectively stolen  from Jozsef  and  were never legally transferred and have certainly never been compensated for – there is no other way of saying but it is  Fraud  at the worst and a serious breach of the companies act at the least
Muse on Allen opened   in  September three months later Jozsef  was kicked out  and they  blamed him  for the company not   being profitable.. show us a company which  is profitable after  3 months .
Now Malcolm North on behalf of Muse on Allen  is  suing  Jozsef for the  losses in  what is reported in the press to be a " very successful " business owned and operated by  Samuel North , so successful that  the company is claiming to be insolvent  see  Statement of Claim. Goes to show  that  even after  three years  the company is still  running at a loss despite   all the glowing  press reports which say it is full night after night.. but then that is the power of advertising and a different story . 
Malcolm North supplied free of privilege the end of year accounts which   clearly show   that Jozsef  is a share holder   and  has  been totally alienated   from the company which Samuel  pretends that it is  his own- even   issuing a trespass notice against  Jozsef. annual accounts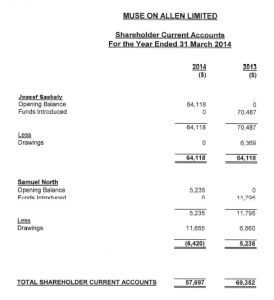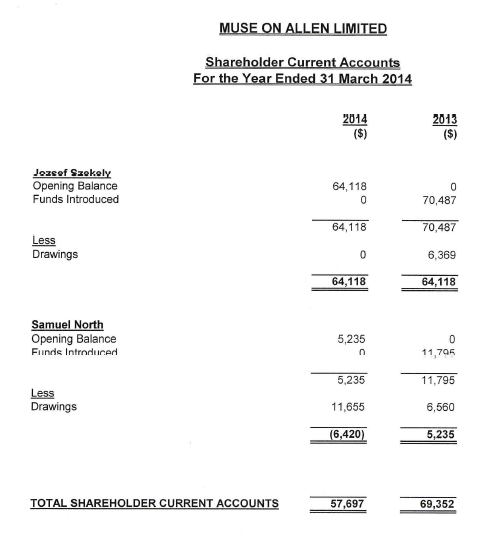 False allegations are now being made of contempt of court  this is because lies  have a way  of getting tangled  and drive  desperate people to making  desperate accusations.
Samuel and Malcolm  you could try    paying Jozsef back his   money  and  his costs that you have    trumped up through  delay tactics. 
Let  us look at the future  by  being responsible   with regard to what you have done in the  past ,  what you have done to Jozsef is not  right .
We also include  the  some real feed back  with Samuel North's responses   which  we captured before it was removed .. they  speak for themselves..click to enlarge they  originate from Trip advisor