The news item  says  that Penny Bright s not  going any where well  they are wrong, Penny has been admitted to auckland hospital and is undergoing tests for suspected  cancer  .  She needs  your help  to keep her house  she can't fight from a hospital bed
As we all know cancer  can be brought on by stress  or at the very least stress contributes to it,  Penny has had more than her fair share.
She is not on a benefit,  does not get a pension ( still too young )   and has  been the source of attack by  Auckland council CEO  Stephen town
Lets look at what is going down here. A council CEO earning over $690,000 per annum. Is putting a lady  out of  her  house valued at $1,040,000  according to Council rating valuation  of which $850,000 is land value.
It is Penny's freehold home, it is need of repair , she has   20,000  rates arrears   and that apparently justifies selling an asset   worth over a million dollars.
I can understand selling a house back in the  70s when our houses were worth  $14,000 and if he rates owed  crept close to the value of the house  , but  why not a simple caveat  ?  the council is piling on the  interests   but despite that  there is still a bit of a gap between the  sum owed and the value of the house .
So why throw some one out of her home  in a very non transparent manner  when  the person involved has been fighting  for transparency , to get the books opened   so that the  contracts that are issued by the council can be seen  and not concealed behind closed doors.
Is the council so desperate  or are they just wishing to   make a point , to me this appears to be a draconian measure  and I do  wonder if we live in the 21st century mind you  our  very first statute   is something  worth looking at   it appears to me that this  , the foundation for our rule of law  is  being sadly over looked  the rich get richer  and   by selling the house out from under Penny , Stephen Town   spent $207,133.62 rates payers money   to defend the defamation claim brought  Penny , has a lot to prove  who is boss . He is using the  law any way he can to prove his point  and to  keep the contracts he can award under wraps .
Penny is the first person who would be out there fighting  for your rights  please help her keep her  home  go  to the  Give a little page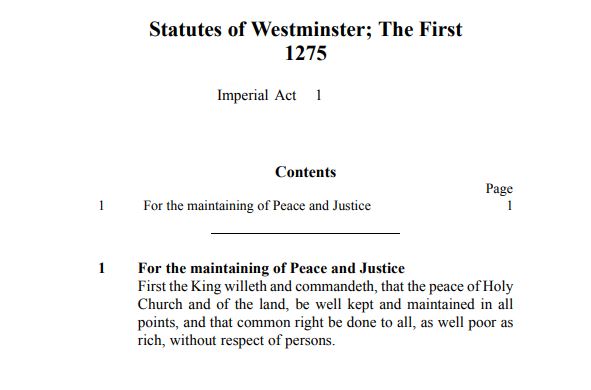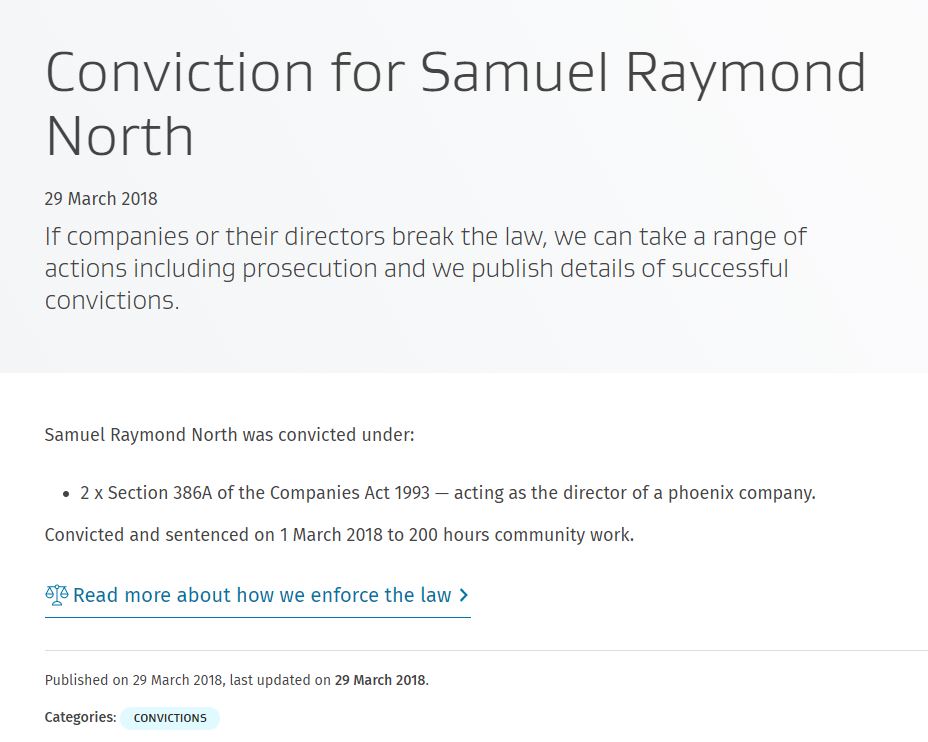 The conviction of Samuel North has been recorded by the companies registrar
section 386 A  of the companies act states
386A

Director of failed company must not be director, etc, of phoenix company with same or substantially similar name

(1)Except with the permission of the court, or unless one of the exceptions in sections 386D to 386F applies, a director of a failed company must not, for a period of 5 years after the date of commencement of the liquidation of the failed company,—
(a)

be a director of a phoenix company; or
(b)

directly or indirectly be concerned in or take part in the promotion, formation, or management of a phoenix company; or
(c)

directly or indirectly be concerned in or take part in the carrying on of a business that has the same name as the failed company's pre-liquidation name or a similar name.
(2)A person who contravenes subsection (1) commits an offence and is liable on conviction to the penalty set out in section 373(4).  ( A person convicted of an offence against any of the following sections of this Act is liable to imprisonment for a term not exceeding 5 years or to a fine not exceeding $200,000:)
The conviction was  for   setting up  and operating  Muse eatery through the   new company CATERING LIMITED  which took over he business,  the  processes and chattels of Muse on allen which  was liquidated by IRD.  Samuel   has since liquidated Muse eatery but not before he was seen asset striping CATERING LIMITED on the last day. see The Phoenix has flown .. Muse Eatery rumours of closure prove true
Malcolm North   , Samuels father   who works for the ministry of social development  was a director for the phoenix company  for a short while  when he was  a bankrupt .Malcolm  North was a director  from 28 Feb 2017 to 04 Apr 2017   he was a bankrupt    7 march to  20 June   the official assignee's report is worth reading  by any one who  is contemplating a business venture with  Malcolm North or Samuel North  . The official assignees report is located here   Malcolm North bankruptcy report it is worth noting
 The Bankrupt ticked "no" to having any real estate interests, however
attached to his Statement of Affairs was a piece of paper with details of his
property ownerships and their corresponding values. This information is
below:
30c & 30d Arawhata Street, Porirua  $370,000.00
10 Palm Grove, Lower Hutt $560,000.00
1/10 Makara Road, Paraparaumu   $430,000.00
The Bankrupt stated on his Statement of Affairs that he has been in business
as a director or manager of a limited liability company registered with the
Companies Office in New Zealand in the past three years. No further
information was provided by the Bankrupt as to the Company details that he
was manager/director of. The Official Assignee requested further information
from the Bankrupt. The Bankrupt advised it was an error and that he had not
been in a business as a director or manager in the past 3 years.
company office records show  him as being director of MUSE ON ALLEN LIMITED (3933441)  09 Jan 2013   to 11 Nov 2014  then again  17 Nov 2014  to  06 Dec 2015
he was then a director of CATERING LIMITED (5860509)     28 Feb 2017 to 04 Apr 2017
Throughout the administration, the Bankrupt has failed to co-operate with the
Official Assignee on a number of occasions. He has consistently raised issues with
the costs of his personal lawyer as well as the costs of The Official Assignee's
lawyers. This has resulted in the Official Assignee spending significant time
corresponding with the Bankrupt regarding matters that are not necessary for the
administration of the bankruptcy and have added unnecessary costs to the estate