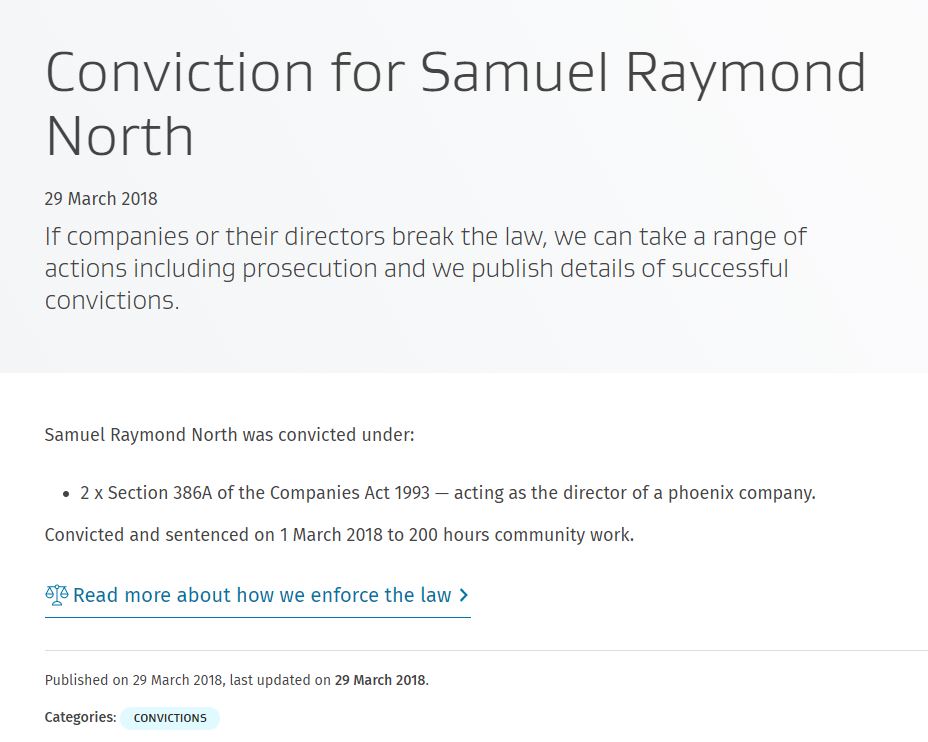 The conviction of Samuel North has been recorded by the companies registrar
section 386 A of the companies act states
386A

Director of failed company must not be director, etc, of phoenix company with same or substantially similar name

(1)Except with the permission of the court, or unless one of the exceptions in sections 386D to 386F applies, a director of a failed company must not, for a period of 5 years after the date of commencement of the liquidation of the failed company,—
(a)

be a director of a phoenix company; or
(b)

directly or indirectly be concerned in or take part in the promotion, formation, or management of a phoenix company; or
(c)

directly or indirectly be concerned in or take part in the carrying on of a business that has the same name as the failed company's pre-liquidation name or a similar name.
(2)A person who contravenes subsection (1) commits an offence and is liable on conviction to the penalty set out in section 373(4). ( A person convicted of an offence against any of the following sections of this Act is liable to imprisonment for a term not exceeding 5 years or to a fine not exceeding $200,000:)
The conviction was for setting up and operating Muse eatery through the new company CATERING LIMITED which took over he business, the processes and chattels of Muse on allen which was liquidated by IRD. Samuel has since liquidated Muse eatery but not before he was seen asset striping CATERING LIMITED on the last day. see The Phoenix has flown .. Muse Eatery rumours of closure prove true
Malcolm North , Samuels father who works for the ministry of social development was a director for the phoenix company for a short while when he was a bankrupt .Malcolm North was a director from 28 Feb 2017 to 04 Apr 2017 he was a bankrupt 7 march to 20 June the official assignee's report is worth reading by any one who is contemplating a business venture with Malcolm North or Samuel North . The official assignees report is located here Malcolm North bankruptcy report it is worth noting
The Bankrupt ticked "no" to having any real estate interests, however
attached to his Statement of Affairs was a piece of paper with details of his
property ownerships and their corresponding values. This information is
below:
30c & 30d Arawhata Street, Porirua $370,000.00
10 Palm Grove, Lower Hutt $560,000.00
1/10 Makara Road, Paraparaumu $430,000.00
The Bankrupt stated on his Statement of Affairs that he has been in business
as a director or manager of a limited liability company registered with the
Companies Office in New Zealand in the past three years. No further
information was provided by the Bankrupt as to the Company details that he
was manager/director of. The Official Assignee requested further information
from the Bankrupt. The Bankrupt advised it was an error and that he had not
been in a business as a director or manager in the past 3 years.
company office records show him as being director of MUSE ON ALLEN LIMITED (3933441) 09 Jan 2013 to 11 Nov 2014 then again 17 Nov 2014 to 06 Dec 2015
he was then a director of CATERING LIMITED (5860509) 28 Feb 2017 to 04 Apr 2017
Throughout the administration, the Bankrupt has failed to co-operate with the
Official Assignee on a number of occasions. He has consistently raised issues with
the costs of his personal lawyer as well as the costs of The Official Assignee's
lawyers. This has resulted in the Official Assignee spending significant time
corresponding with the Bankrupt regarding matters that are not necessary for the
administration of the bankruptcy and have added unnecessary costs to the estate