IN late 2019 when I started working with Janine and Barbara I encouraged them to ask questions and got them to file a police complaint.
The 5 dogs which were taken on the 4th August 2017 were not mentioned or acknowledged but extensively used for SPCA donation drives.
There was another raid on the 13th October 2017 and 15 dogs were taken two of which were in whelp.
Plowright interviewed Janine two weeks later, his interview did not raise any questions with regards to the care of the animals but was more about coercing the "voluntary" surrender of these dogs.
When this tactic failed, Plowright produced his first Inspectors Report on 8th December 2017.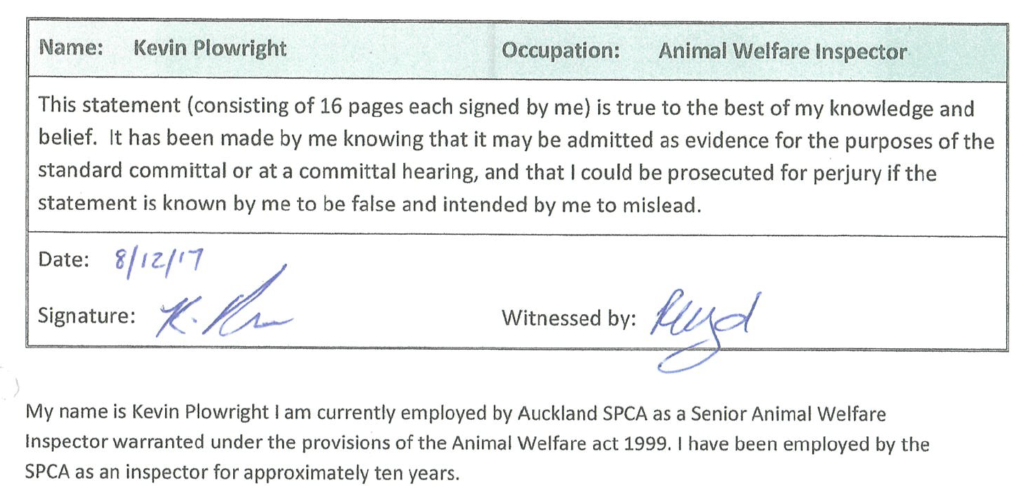 His co-inspector Laurie Jane Davis who also acts under the name Lori Davis then served Production Orders on the Vets which Janine and Barbara had used and also one on the New Zealand Kennel Club to obtain the pedigree papers.
This was followed up by the execution of Kevin Richard Plowright's Search Warrant on the 27th March 2018, the Search Warrant was dated 26th March 2017 a year earlier and therefore not valid.(they have to be issued within a defined period of time which is much shorter than one year)
Significantly the search warrant lacked any evidence that it was issued through any court or by any registrar

The first thing that Plowright did was to disconnect and disable the security camera, the hard drive went and has never been seen again, the claim by Plowright was that there was nothing on it.
The personal computers were cloned and documents which were in the house which recorded the events and notes for their defence were seized as were communications with their lawyer.
On 29th March 2017 Kevin Plowright returns some documents and a puppy.
1st May 2018 there was a TV campaign and photos of the dogs appear on the SPCA Facebook pages, the dogs displayed at their worst, the photos show very scared and very uncomfortable dogs at the SPCA.
At the same time the SPCA does a massive appeal and this all coincides with a Court action to dispose of the dogs.
18th May 2018 a further raid took place, Janine had taken 6 dogs to the middle of the farm for a swim and a run, as they were trained like athletes upon completion they were fed, watered and rested. She tied them up on 2m chains and soft collars under a canopy of trees, while she returned to clean the kennels. The Inspectors arrived and drove to the back of the farm and took all six dogs falsely alleging that these dogs had been housed out there for a week.
All this occurred while the Court was dealing with the disposal of the original 15 dogs, two of which have given birth to 10 and 11 puppies each during this time.
It is of note that the 20 puppies were disposed of unlawfully, I will deal with this later, but basically there was no provision in law which allowed for these pups to be subject to a Section 136A application.
Significantly the dogs were disposed of to the fictional Royal Society for the Prevention of Cruelty to Animals, so the question is… who got them? where did they go?
Charges were not filed until 2 November 2018 and Plowright "threw the book" at Janine and Barbara. The charges are totally unfair and lack detail.
e.g. 1. The Prosecutor is a fictional organisation.
2. While some dogs are named others are identified as
5 puppies wool shed
4 adult German shepherds
an adult German shepherd deer
three adult German shepherds in old runs
young male German Shepherd dog
female adult German Shepherd
three German Shepherd dogs crates
young male German Shepherd dog fence
All the dogs were microchipped, so how can someone file a defence for a dog which is not identified and not seized and allegedly committed an undisclosed offence in July to October 2017 and had the charges brought a year later. This is not in line with the Bill of Rights, where they have the right to be fully and fairly informed of the charges.
Significantly the unidentified dogs were not seized so one dog tied to the fence when Plowright arrived was worth seizing ( Monty ) and disposing of through the court but others (e.g. last one on the list )which was in identical condition and circumstances was left . The only difference with these dogs was their blood line .The seized dog had recent imported blood lines .
The ladies made their first appearance in Court on 17 December 2018. Merry Christmas but that was not the end of it.
24.01.2019 Plowright returned and took Champion Xena, who was having a break from her 7 week old puppies. He returned on 31. January 2019 and took Champion Hobby, Alex and Emma before returning and taking Champion Fenta on 21.02.2019.
I got Janine to make a Police Complaint about these dogs and they were miraculously returned on the 16th December 2019, a week after the second lot of seized animals were disposed of by the Court based on evidence by Plowright starting that Janine and Barbara were not suitable to have dogs returned to them.
I find it strange the contradiction ironic and I have to wonder why the RNZSPCA has condoned the unlawful action of Plowright in taking dogs without any apparent paperwork.
And I also have to question why there has been no apparent oversight of the prosecution by the SPCA , you would think that an organisation that is overseeing the prosecution would get their own name right. But I guess its been a very worthwhile exercise for fundraising and I fear that this is all the SPCA is interested .
Question for Tracey Phillips
Could you please provide information for Barbara and Janine that will identify the un named dogs and identify what the alleged offence is for each and every charge .
Currently the charges are typical of the one below given that the charges were filed in court some 14 months later with regards to dogs which were not sized how would they know which dogs these were?
what did they do , what didn't they do so as to have ( in the opinion of the inspector ) not ensured their physical and behavioral care ?
I have gone through the file and found no evidence which would support this charge ( and many others )
Criminal Procedure Act 2011
A charge must contain sufficient particulars to fully and fairly inform the defendant of the substance of the offence that it is alleged that the defendant has committed.
The above charge dos not disclose who the prosecution agency is and if you do not respond then this will be prima facie evidence that the RNZSPCA , its member societies or branches are not involved in the prosecution .
If the prosecution has been taken by The RNZSPCA then I like others reading this post would hope that you act responsibly and provide the evidence required to Barbara and Janine as they need to file a defence Section section 13 animal welfare act