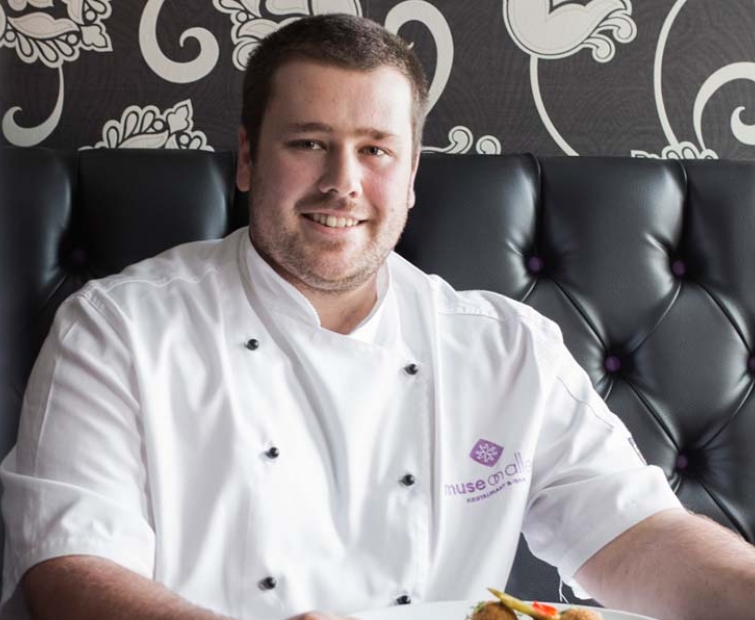 On 11 April the following headline appeared
its probably worth our while to have a closer look at this news item and see what we can confirm and what we cannot .. no refection on the press but rather the persons they spoke to
"Muse on Allen closed in February 2016, with owner Samuel North reopening Muse Eatery and Bar on the corner of Chews Ln and Victoria St, formerly home to 3C Bar and Restaurant.
this is confirmed from what was Muse on Allen"s Instagram account now called muse eatery and bar

The Instagram accounts are one and the same simply having gone through a name change as has face book
In September, North said his current business — Muse Eatery & Bar — was not connected to the liquidated business. It was owned by Catering Limited, of which he is the sole director.
see our post
we had our suspicions back when the company was first created ,then the information we have collated only goes to prove that Muse on Allen and Muse eatery and bar are one and the same right down to the glassware .
you just need to do a google the picture which comes up puts muse on Allen at 56 Victoria street click on the reviews and you will see that the reviews are for Muse eatery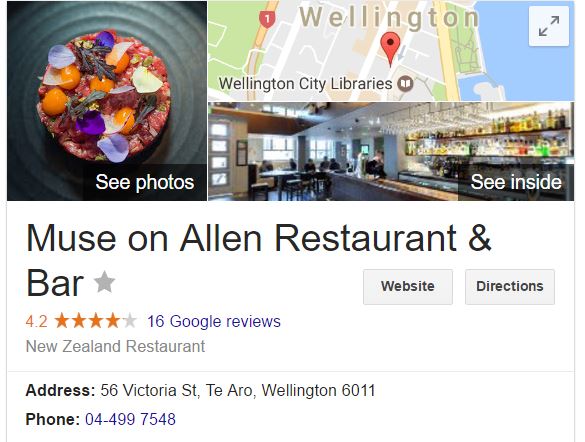 Muse on Allen was sold for some $5o,000 claims are made that "Muse on Allen" was insolvent from day one it appears to me that if it was bought for $100,000 and sold for $50,000 then why would you buy a bigger and better place if your first venture was such a staggering disaster .
but then there are always the perks take this recent transaction on Trade me for instance
Paco Jet for sale
Start price: $4,500.00
No reserve
Closed: Fri 10 Mar 2017, 3:23 pm
Listing #: 1273954444
This appears to be the one and the same as the Paco jet whose arrival was celebrated on 27 November 2014
as seen on this link ( picture below
It appears to me that this Paco jet belongs to Muse on Allen and is being sold By catering limited what is even more intriguing is that the trade me add gives the email address of info@muserestaurant.co.nz and has an invitation to come to Muse eatery to come and view.
this sale closed on Fri 10 Mar 2017
the profile for museeaterybar states that this is a person called Matteo I rather suspect its Samuel operating in an employees name the same employee who worked for him in Allen street . Hope the liquidators ask questions about this one it was being sold for about half price and what is Samuel doing selling Muse on Allen chattels worst of all if it is Matteo the chef what is he doing selling off company stuff / Questions need to be asked
other items being sold are Mon 21 Mar 2016 Chub safe
14 may 2016 11 Bar/Keg Beer Taps (Monteiths and more.)
1 june 2016 Skope 2 Door Freezer
The action against North — the sole director of the former Allen St business
It is true to say that Samuel was the sole director of the business in the end, both his parents had been directors and directorship games were played and are being played.
For example the new company was formed by Samuel 3 December 2015 he was the sole share holder.
On 22 April 2016 he got his solicitor Hoggard Law Limited to put shares into a trust .HANIA TRUSTEE (CATERING) LIMITED
On the 28th Feb 2017 Malcolm becomes director , he know that he was going to court the following week on a bankruptcy claim and as expected he was declared Bankrupt He again resigned 4 April 2017 and Samuel who had resigned 2 march 2017 became a director again on 13 march .
Insolvency Type

Adjudicated bankrupt on creditor's application

Estate Number

882658

Name

NORTH, Malcolm Leslie

Month & Year of Birth

June 1952

Address at Adjudication

27 Bathgate Street, Johnsonville, Wellington, New Zealand

Insolvency Status

Current Bankrupt

Adjudication Date/Time

07-Mar-2017 10:34

Court

Wellington High Court

Occupation at Adjudication

Employment Support Representative Ministry of Social Development

Employment Status

Currently employed

Multiple Insolvencies

No

Office for Enquiries

Wellington

Case Officer

MACPHERSON, Simon

Email Officer
I have to wonder if this resignation game had anything to do with the sale of assets of muse on Allen
there is one thing for certain these guys are playing games
North told the liquidators the business failed as a result of management conflict with business partners, an expensive lease and cashflow issues, the report said.
It would appear that the land lord is one of the persons owed money see the liquidators reports
here and here so how can an expensive lease be an issue if you did not pay the land lord
and how could cash flow issues exist when the restaurant was so successful that Samuel was going to open a second one soon as reported here . February 6 2016.
In an interview in concrete play ground in 2015 he also spoke of a new restaurant " And then perhaps another restaurant somewhere down the track. That's a definite possibility."
Well Samuel one has gone belly up so how did you manage to get the $$$ to set up the second ?
I very much suspect that there is not an honest way to achieve this and you are so right "My parents gave me really good support, they've supported me the whole way through it. Especially my dad, he's been in business before and really wanted me to do this I think." without your parents who helped you rip off a major share holder and kick him out of the company you could not have done it .
time will tell I think we are getting the the bit where it gets interesting.
I note Samuel liked this link dated 13 April
Does that mean that realizes that the writing is on the well , I wonder
stay tuned.
While researching a lawyer I had cause to look at the list of lawyers who have been censured, struck off or dealt with by the law society
I came across one item "Name suppression granted to censured lawyer" everything about it screams Neil Wells to me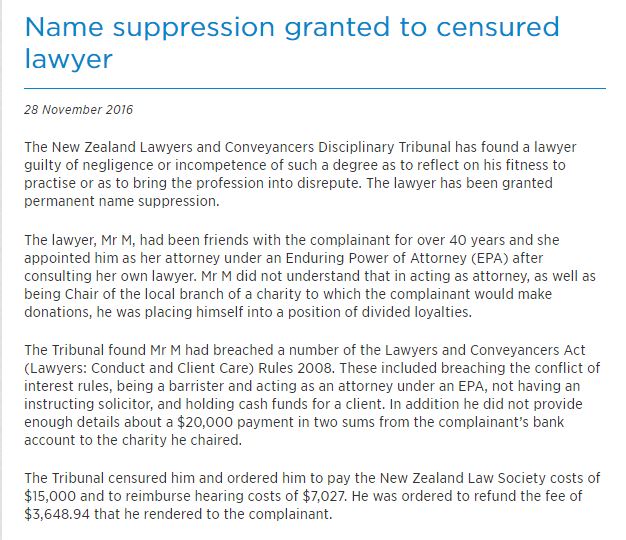 looking at the detail in this matter and snip bits that I have picked up over the years.
I have known all along that Neil Wells was counting on a hefty chunk of the estate of one old lady in Titirangi , the lady had no family and supported animal welfare.
Even in the early days she was involved with the various animal welfare projects in Waitakere city .
she wrote this letter in 1996 and there was a response from Tom Didovich . this was just afterNeil Wells had published his plans for his own business plan as set out in the territorial animal welfare services document he produced.
the letter indicated that that she had been told something and was checking it out for herself.
Neil Wells was also in the process of writing the No 1 bill for the animal welfare act , and into the bill he inserted the ability for other organisations other than the RNZSPCA to become law enforcement powers under the new legislation .
Neil Wells became " independent" adviser to the select committee and as soon as the bill became law he made an application under a false name .
He told the minister lies and misled Maf with regards to the structure and nature of the Animal welfare institute of New Zealand. he operated it from the council premises and rebranded the council buildings so that they looked as thought they were a private organisation.
In 2006 when I asked questions with regards to the lack of existence of AWINZ ( animal welfare institute of New Zealand ) Neil Wells concocted a trust deed for a similarly named trust he stuffed up on the dates and formed the trust for a date three months into the future of when the application was made . according to these affidavits the trustees never met and as a result two trust deeds materialized this one and this one you will note that the center pages of the second one are different .
So The old lady who I presume was his client in the censure matter was not the only one to be deceived , but she must have smelt a rat years later when Neil Wells moved to Te Kuiti and was telling people at the local SPCA that he was getting her money.
Neil Wells at the time was the chairman of Te Kuiti RNZSPCA and set in motion the charities demise .
In 2016 He did not renew his practicing certificate
I very much suspect that the item above relates to him. this fine upstanding citizen who lied to the minister is still being protected . he was held up as being a person with an impeccable nature and I am the tart who defamed him.
But How do you defend defamation when the statutory defence of truth and honest opinion are denied by the court.
Hardly a fair go is it. Andrew little would have lost too if he could not have had a jury or a defence. You denied me the defence of truth and honest opinion, broke my marriage up and you call yourself a christian.
Neil Wells when are you going to admit your sins You will be judged.
Its not how we are judged in this world its how we are judged in the next.. my conscience is clear how is yours Neil Wells?