Sir
New Zealand has one approved organisation under section 121 of the animal welfare act The criteria are shown in section 122
The SPCA is a private organisation which now totally lacks transparency and appears to be nothing more than an incorporated society of a bare minimum of members so that the power and control over the assets and functions are held by a select few
This comes after many of the smaller branches and member societies were persuaded to sign over their assets to the RNZSPCA. Ho wit used to be was that there were branches and member societies which each was an incorporated society with its own members . the members elected a board and a representative of the board was on the RNZSPCA.
It appears that the richest of all the Auckland SPCA took over the RNZSPCA and persuaded the branches to sign over their assets , this was all done in the guise of a better SPCA but ib reality it will prove to be a massive asset grab
Most of these smaller societies and member groups are now being closed their assets have been transferred to the RNZSPCA and this controls well over one billion dollars worth of assets and funds ( source charities register accounts ) The members were given free membership till 2019 and simply since then the majority of former SPCA members have lost their say in the society
There appear to three people at the heart of all of this who have total control of all the affairs of the SPCA David Broderick and Gordon Trainer who have a number of shared directorships and ownership of companies out side the SPCA all associated with finance and property and their right hand woman Andrea Midgen and even though she is allegedly an employee she is also shown as a board member .
What all three have in common is a solid background in finance and not in animal welfare this is all about $$$$$$$$$
Midgen went around the country and encouraged smaller SPCAs to hand over their assets which occurred in 2017
Significantly the Ontario SPCA lost its law enforcement powers and I would like the minister to review the criteria of section 122 in view of the dramatically changed structure and lack of transparency of the RNZSPCA .
It would be in the public interest for the minister to send a representative to the Manukau District court next week where there is a prosecution by the RNZSPCA I believe that evidence at this trial will prove that the RNZSPCA has no regard at all for the bill of rights and the rule of law
The trial that will occur next week is a copy cat of the scenario that senator Malcolm Roberts describes as occurring in Australia
A chronology of what occurred at the Volkerson Kennels, the number of visits in itself raise questions a as to the manner in which the SPCA is operating and with regards to its accountability to the public
Janine and Barbara have champion pedigree German shepherd dogs. They are not a puppy mill rather they are people with a passion for the breed . Their house is full of trophies and ribbons, Janine is a German Shepherd Judge Barbara has been breeding German shepherds since 1960s .
The farm was run with the aid of woofers and there were always plenty of people about to look after and care for the dogs .
IN 2017 They were breeder of the year with 8 Champions including Pirelli, Angelo, Tiana, Abba. Significantly they have unique imported blood lines which other kennels did not have.
on 28 July 2017 they were in the middle of cleaning the kennels when they were visited by Kevin Plowright and Lori Davis , they claimed that there were too many dogs and instructed them to build new kennels which were built and they were told to de stock which is outside the scope of the authority of the inspectors unless they can show that animals are being harmed
4 August 2017 they returned and criticized and intimidated Barbara a woman in her 80s and coerced her to hand over 5 dogs . No receipt was issued there was no paper work at all . After I came involved I sought out the documentation and we were supplied with this document which has not got a legal signature on it from any one authorized to surrender the animals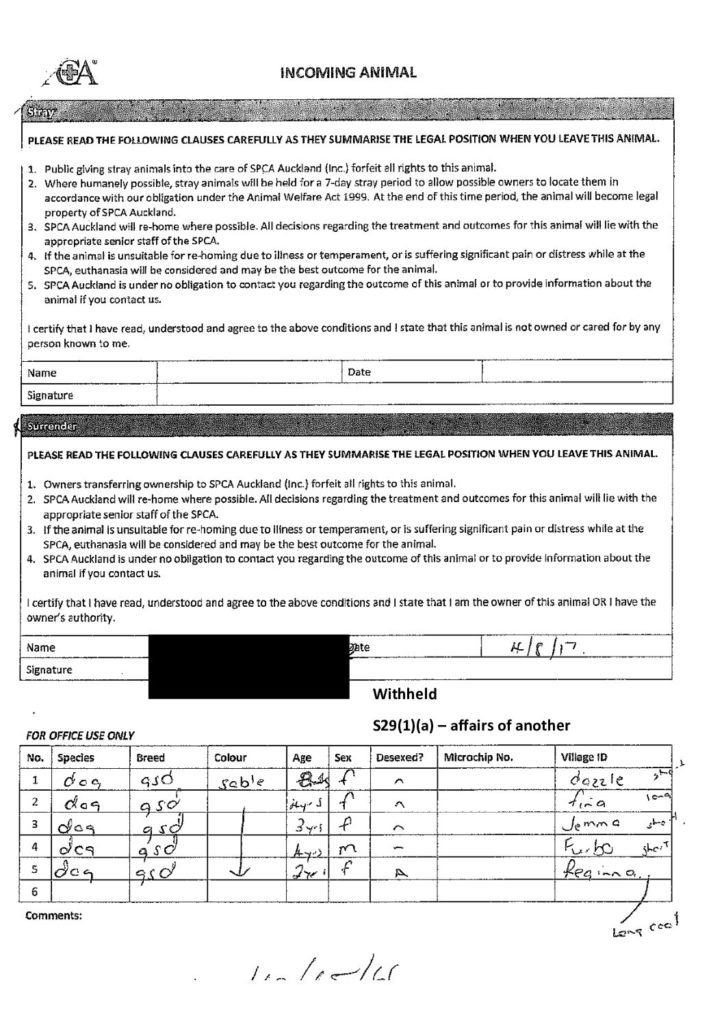 11 August 2017 return visit and micromanagement intent was to remove more dogs "We discussed with Mrs Glover and Ms Wallace regarding rehoming more dogs and we offered the ability to surrender ownership of more dogs to the SPCA, They both declined the offer."
Kevin Plowwright went of to Namibia for a spell so all was quite he came to the farm again on the 12th October left no documentation and came back and with reinforcements in 7 vehicles on 13 October and selectively took 15 dogs two of them pregnant bitches . They   took  the breeding age dogs   they didn't take the old ones or the young ones   and they knew which ones to take through microchip numbers .
Amongst the dogs taken was the champion Pirelli who was on a short leash at the time being groomed for a show that week .There is no law that stops a dog being on a short leash . Another dog was injured when they opened the shed with a sledge hammer and she panicked
24 October Lori Davis & Kevin Plowright arrived no AWS was given.
9 November 2017 There was a interview at the Auckland SPCA the encouragement was for us to surrender the dogs voluntarily see the transcript below this is not a normal interview for " offenders"
The interview lacks any reference to any offence and appears to be totally about securing the surrender of the seized dogs, there is mention of the costs incurred by the spca and there are offers to wipe these costs if we surrender the dogs He makes it clear that there were no decisions to file charges P 56 " If there's not, if there's massive stress levels on you for coping, for too many dogs, if your mother's not well, we would like to know that. So we would like to, part of this interview process is, is not, I can mention there's no course of action decided at this stage. Anything can happen from here."
Janine was threatened with the hefty penalties page 68 but when the interview failed to secure the surrender of the animals the inspectors belatedly started collating evidence
29 November 2017 One of the seized bitches gave birth Janine and Barbara were not allowed to see the pups the whole litter has been contaminated with Coccidia and they are all sick, all underweight and were deliver by caesarian section , they were x rayed at a very young age their vet records shock dog owners that the SPCA could treat pups in this manner
Desneys Pups were born 11 December one pup was born in the van village ID 293360 "Pup was born DOA on transport back from after hours. " what would any one be charged with if they transported a bitch in labour ?
the pups are recorded as having giardia and coccidia
These medical files are sad reading they show what the SPCA subjected puppies to in their care
Barbara and Janine never saw these pups and they were unlawfully disposed of through the crown solicitors who misled the court .Section 136A allows for dogs to be disposed of through the court if they have been seized and if they are subject to charges .. they were not seized and they have never been subject to charges
Christmas is always a good time to manipulate people events and it was in the Christmas Holidays 2017 that Plowright and co set about preparing their files , they got the vets associated with Volkerson to handover their records and got all the pedigree documents from Dogs NZ
Friends and associates of Barbara and Janine were subjected to visits from the SPCA and the dog control were instructed to uplift dogs from friends addresses where here was not even a cat
17 January 2018 document's were filed for the disposal of the dogs the applicant was the fictional royal society for the prevention of cruelty to animals,
08.02.2018 there was a further visit to the farm no action taken no animal welfare  notice  was given
27 March 2018 a search warrant was executed conveniently Barbara and Janine had all their documents on the dining room table preparing to fight for their dogs. All the documents were all taken as was their computer which has been cloned and their emails and passwords accesed.
The first thing that Plowright did when he arrived was to dismantle the security system , nothing was safe they took personal items , jewelry privileged communications with lawyers, medical records of the poeple who lived in the house, diaries and personal correspondence and all this was taken without a proper inventory and based on a false search warrant .
significantly we have never found out who issued the search warrant or been able to locate an affidavit for application the document executed was a year old and had copy written on it .
during the execution of the search warrant Barbara and her daughter were forced to sit on a bench and were not allowed to tend to their farm this was unlawful detention

29.03.2018 SPCA – Plowright returns some documents, a puppy uplifted 27 march young puppy picked up and returned 29.03.2018 there is no documentation re  the seizing of this pup just documentation returning it
03.04.2018 SPCA – Davis returns laptop, and other electronic devices a letter was supplied indicating that   a copy of all data had been taken from these devices
1 May 2018 SPCA  feature our dogs on a  very damaging  TV   program and publicly call the farm a puppy mill . this coincides with the hearing for the disposal of the dogs.
Correspondence from Inspector Greg Reid to The kennel club shows that the exposure is not coincidental and is which said ""This will while being a civil matter create a 'public exposure' which will probably coincide with carolyn's story being aired. That is what we are looking at I think."
There is a massive fundraising drive and one of the dogs featured is a dog which was one of the original five taken unlawfully in August 2017 .
18.05.2018 SPCA & Animal Control approx. 10 vehicles – taking note of all dogs in the kennels. the workers on the farm were in  the middle of cleaning and disinfecting each individual kennel. 4 vehicles then drove all over the property – 6 dogs seized   No section 127 notice was given just a section 129  saying that six dogs were seized  we were not told why they were seized or under which section of section 127(5)
The dogs taken had been out on a run and a swim and had been left under the trees to rest while the kennels were being cleaned , the SPCA made out that the dogs were left there for an extended period of time when the reality is that they were taken there for a morning run
22.08.2018 a notice of application for disposal order is filed for the  dogs seized in May , note that this  was done  three months after  seizing the  dogs where as the  other application was made  five months after  sizing them.  Again the application is in the name of the fictional approved organisation  
22.08.2018 SPCA Visit Plowright  & Vet Student  No name or identification – 1 vehicle + Lori Davis  Robbie in  2nd vehicle issued  section 13o  for  a calf   which was new born and noted the number of dogs23.08.2018 SPCA Visit Kevin Plowright  and Robbie Lloyd  to recheck the calf page 21
24.08.2018 SPCA Visit  Kevin Plowright and Lori Davis  no documents provided as to the reason for their  visit
5 September More face book and TV campaigns   this is now over a year since the dogs were taken and there have bene no charges and Barbara and Janine have no idea what offences are in the pipe line
11 October 2018 there is more face book propaganda about prosecuting he biggest prosecution ever throughout October there are Facebook posts alleging that the charges will be filed any day now and finally on 2 November charges are filed in the Manukau court
there are 79 charges many of them duplicates . the charges themselves raise a lot of questions why is the crown solicitor prosecuting when its against heir terms of office ? and why have they not checked the fact that the named prosecutor does not actually exist ? if this is the degree of scrutiny of he charges how can there be any reliance on accuracy ?
This from Anita Killeen's pro bono panel page 65 "We are very grateful to have a significant commitment of pro bono litigation support from Kayes Fletcher Walker, the Office of the Manukau Crown Solicitor. The firm support the work of the Pro Bono Panel in a number of ways including by acting as instructing solicitor, by providing legal
opinions on individual files as to whether the test for a prosecution is met, as well as appearing in court to assist Panel members on cases. The pro bono work that Kayes Fletcher Walker provides is a significant factor in the ongoing success of the Panel initiative and contributes to ensuring the consistency and high quality of SPCA Auckland's prosecution files."
The crown solicitors terms of office specifically prohibit them taking on private prosecutions but the court is repeatedly deceived in thinking that the crown is representing the SPCA
Walkers prosecution has not checked the file if they had they would see that the ladies have ben charged with a named dog and then again for an unidentified dog which in reality is a duplicate charge . But by have 79 charges you create a lot of work and it becomes overwhelming especially for an 83 year old this has been totally cruelty to humans
More evidence that the file was not checked was the charges for some of the dogs which relate to allegedly having a sick animal and failing to care for them the SPCA's own evidence show that he dogs were uplifted and taken to kennels and were not seen by a vet for 2 weeks . !!!!! they were seized on 13 October and seen by a vet on 27 October so how could they be guilty of having a sick animal ?
There was never any ability for an independent opinion by their own vets and often the only vet involved was a SAFE activist .
17 December 2018   the first appearance in court   right on Christmas
24.01.2019 SPCA Visit Kevin Plowright and Lori Davis  plus 2 other people  with no identification or names given arrived in  2 vehicles K Plowright took "Xena" who was running loose around the house on the lawn. Xena had a litter of puppies who were exactly 7weeks old to the day  AWS 129 Given , Xena   has simply disappeared  
01.02.2019 SPCA Visit Kevin Plowright, Lori Davis and  4 other uniformed unnamed SPCA women – 4 vehicles plus 3 vehicles parked up at the Mangatangi Fire Station Plowright said they were here to do a "Hands On Inspection" of all dogs, Emma and Alex were taken no documentation and no reason for taking the dogs
Alex and Emma both were left in SPCA cars in the blazing sun Alex for 1.5 Alex hours & Emma 1.75 hours before anyone of the 6 SPCA people gave the dog's well-being a thought.
05.02.2019 SPCA Visit Kevin Plowright and Lori Davis a letter is left
21.02.2019 SPCA Visit Kevin Plowright and Lori Davis, Senka Piri, 2x uniformed Women SPCA no identification or names given, SPCA turned up with 4 vehicles and took Fenta, it is recorded on the vet documents that the dog was taken as part of an investigation …this is not a reason why an animal can be taken
06.03.2019 SPCA Visit Kevin Plowright and Lori Davis, E OMalley, 2x Policemen from Tuakau, 1 1st year student, Robbie, 2x SPCA women Names given … to execute another invalid Search Warrant to view any dogs inside the home. Not signed, not stamped from District Court.
18.06.2019 SPCA Visit Kevin Plowright and Lori Davis, E OMalley, Maori guy scanning all dogs – 3 vehicles – scanned, photographed, videoed, vet checked each dog making notes re BCS, examined ears (no otoscope), teeth & gums, coat, felt each dog all over, all females stomachs were extensively palpitated to feel if there were any pups, checked to see if in season.
08.10.2019 SPCA Visit Lori Davis, E O'Malley, K Wright, Robbie Lloyd, Mike Loulanting, 2 Police Officers from Pukekohe called by Lori Davis, scanned all dogs microchips – 3 vehicles, photographed, videoed, vet checked each dog making notes re BCS, examined ears, teeth & gums, coat, paws, stretched and pulled the back legs out and the front legs forward, felt each dog all over, all females stomachs were extensively palpitated to feel if there were any pups, checked to see if in season, comments on sloping backlines of individual dogs.
16 December 5 dogs unlawfully taken in 2019 returned  by Tracy Phillips the head inspector of the RNZSPCA there has never been an explanation as to why those dogs were taken and why there was no documentation
The name has now been changed to the RNZSPCA when we know that the initial action was by the Auckland spa a different organisation all together but next week will prove interesting thee will be perjury and we need to ask why so much pressure is being put on Janine and Barbara to enter a plea of guilty when they are not .
I would not be supporting them if I did not believe in them I have been to their farm I have seen their dogs and for a cat lady I am impressed this is all about taking high value dogs I am sure that some have bene sold overseas where they would fetch significant sums
To me it seems odd that they allegedly abused their most valuable stock everything reeks of a dog snatch as evidenced by senator Malcolm Roberts
The change in structure and the lack of supervision of the inspectors and their ability to ignore the bill of rights has to be of concern . the mere fact that the prosecution charges were filed in the name of a fictional organisation has to bring about questions of supervision and over sight

The bill of rights is applicable to the SPCA and they have a duty to comply with it
Everything in this scenario is about an old lady who has quality pedigree dogs and the inspectors seeing a way to take them from her. Reid and Plowright have left the RNZSPCA and Tracy Phillips left not long after she returned the 5 dogs in 2019 I am certain that she could see what was wrong.
I therefore ask for an investigation into the SPCA , this is not the only matter like this there are others and this must not be allowed to go on .