Last year a number of news items  were prominent with regards to  the issues of dairy farming  and the effect on  waterways   see here   here   here and here 
Put simply, more cows have meant more nutrient and pathogen pollution of waterways. Across the whole country, the number of dairy cows increased by over two million between 1992 and 2011 – an 86 percent expansion. During the same period, average dairy herd size in New Zealand more than doubled from 169 to 386.
Now it occurs to me that   Mycoplasma Bovis  appears to be a blessing for  the greenies or is it simply just a convenient way to   reduce  cattle numbers ?  I have first hand evidence  of how  MPI can be manipulated and how  facts are irrelevant   to them.
Bryce Edwards  published a  great little article yesterday Political Roundup: The M. Bovis debacle deserves more debate. His opening statement  totally echos my experience with MPI
What has emerged from the debate over the Mycoplasma Bovis saga is that New Zealand appears to have been let down by authorities – especially politicians and senior government bureaucrats who have mismanaged the country's biosecurity, leaving farming in turmoil, and the taxpayer picking up most of the tab for their negligence.
I had cause to speak to a bovine vet the other day  and  he  confirmed that the tests of mycoplasma bovis  are  not particularly reliable,so a whole herd is put down because one cow tested positive, this could  have been a false positive  but who cares  lets put the whole herd down  at a time when Gypsy day is seeing  other herds migrate freely from one area to another .  Guess that fits with the agenda of culling as many   cattle as possible .
It has made me realise that the  characters in the old  TV series gliding on  are still alive and well  and working  at MPI ,  they may of course have taken the precaution to drink their tea and coffee  black .
My own experience with the incompetence of MPI  ( then MAF)goes back 12 years .
I questioned serious corruption which had allowed a person closely associated  with  key players in  MPI   to  write legislation for their own business plan , advise on it  as " independent  advisor" to the select committee and while MPI knew this person was severely conflicted they stood by and allowed him to  provide comment on caucus  papers which saw the government approve an application for coercive law enforcement powers to a non existent organisation  based on a fraudulent application.
MAF/ MPI are fully aware of it  and have refused to undertake  an investigation, my own opinion for this  is that the lawyer who provided a crown law opinion  was Peter McCarthy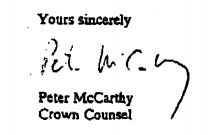 who gave a detailed legal opinion but didn't  even think about checking if the application he was commenting on was legitimately made and that AWINZ existed  .
As a whistleblower on the AWINZ matter I was crucified , the first thing MPI did was  to  attempt to prosecute me for  passing myself off  as a MAF officer, their evidence was so thin that  they resolved to warn me  despite the fact that  there should not have been an investigation  in the first place  . This was tied up with another substantial fraud  see Boss invents accountant to escape $60k debt – NZ Herald and Charges over alleged fake liquidator – NZ Herald
That was the  very first attempt to discredit me,   and   to   properly conceal the matter Peter Mc Carthy  was made chief legal officer  of MPI 
Despite  untold complaints to government , ombudsmen , state services commission , police ,SFO and untold ministers  this issue has been totally concealed while I   was refused a renewal of my  private investigators licence   and was labeled a " conspiracy theorist "
This has been  total bullying an  white washing of a criminal act .
Wells was able to  negotiate with  MPI to withhold information from me  so that  the complaints to the  law society etc  could be dealt with  without the inconvenience of facts  getting in the way also see here   and here .This crucial document was the audit report which totally expose AWINZ as a sham  but even despite their own findings  nothing was done but  AWINZ conveniently  stopped being an approved organisation  when the super city was formed.
You could have made a massive difference to  many lives by  asking questions in 2006 , instead I felt bullied by you  when you  concealed the corruption that was AWINZ.
AWINZ  was not   just any old organisation  there were only two private law enforcement organisations in New Zealand , AWINZ was one of them ( RNZSPCA the other )   AWINZ did not exist  you covered it up  and  12 years latter are still on the attack . I have had enough.
The purpose of this open letter is to get  some  issues into the open , you are a policy analyst employed by the  government directly  as a contractor  and  apparently as an employee For LINZ.
You are reportedly a lobbyist  and as such I see the  connection between  you and Wells .

see Lifting the lid on lobbying in politics ..When lobbyists are handed control
As such it is in the public interest that you  act  with integrity and  that your actions are exposed .
As to integrity  it is my   professional opinion is that your  does not reach the threshold for a public servant  It is my considered opinion that a person with integrity would not seek to  damage some ones reputation  so that  corruption could be  concealed.
I am no longer a private Investigator , you are very much the reason for this, by  giving up  my career I am free from the constraints of the Private security Licencing authority ( PSPLA)which I believe you and your associates have been stirring up for years  in an attempt to discredit me . You say so  yourself in the complaint to the pspla COMPLAINT DATED 23 JANUARY 2018
Your  complaint in January   was in my opinion  totally  malicious and vexatious  yet I was  supposed  to travel to Wellington  the following week  so that you   could have a go at me in person  at a " disciplinary "  hearing.  presumably for the  defamation claim     you were setting me up for.
You have also   alleged that you are preparing  a defamation prosecution  but refuse to say how I have defamed you  or given an opportunity  to  make a correction  .I stand by everything I say as truth and Honest opinion .
In short your  actions  with  the PSPLA  appears to me to  have been  for no other reason that to bully and intimidate me .
I have never met you  but for the past 12 years you have been beavering away in the  background to conceal serious government corruption . I suspect the link  with Neil Wells was that you   both advised on Policy and there appear secrets which need to be  kept , Like   protecting corruption rather than exposing it .
Last year I suspected  that Neil Wells was  the  corrupt barrister   who  is mentioned in this  decision for ripping off his client and then charging 7 grand to find the  money he  took , perhaps that unsettled you  because you   had gone all out to defend him  and  spent years with your former husband persecuting me, taking me to court for defamation when I was speaking the truth   but  by denying me  the  right  to a fair trial and a defence   you influenced the court and  a most defamatory judgement of me  emerged when the  judge believed the spin  the lies and  misinformation Nick Wright  put to the  court.
The  resulting Judgement has served you well     and has been rolled out by you and your mates for 12 years to create a false impression  that I am a nasty person, and you are the one who complains of defamation !  You have done everything you can    they should not believe my allegations of corruption.  It has worked so  far but then you  thought I would have given up by now , No I have not .  with the spotlight currently on  rape  through the me too movement , corruption will be next     this is  like being abused for 12 years   .
I suspect that  in fearing  that the tide was turning, you  made a complaint  against My Private Investigators licence , it was malicious vexatious  and as a result I have  given up  my licence as  it was obviously the draw card for your ongoing  attacks  by those I suspect that you have encouraged to  make complaints against me. Free from the PSPLA   I  have eliminated that  avenue for harassment .
You  first approached me at  9.45 Pm on Friday 2nd june  2006  you rang my home number   and told me  to change the name of the  legal trust which I was a trustee of  or you would make certain I would lose My Private investigator licence  , you followed this up   with  an email at 11 pm making  similar threats .
You were working from your home as a law clerk  at the time for Brookfields  which your then Husband Nick Wright was a partner  of  .
You now falsely  claim that you had a practicing certificate  but the law society  investigations  Here  and the decision here  prove  otherwise .
there is evidence that  you  lied to the  PSPLA when you said "I was not working as a law clerk in 2006.I was a lawyer. I had been a lawyer for about ten years, since late 1996." this    reflects on your level of  integrity

One  has to wonder  why Neil Wells a Barrister  and Wyn Hoadley  a barrister  would instruct a resource management law clerk working from home on an alleged defamation matter  and why she is now rewriting the past about her   status as a law clerk. !
The trust which I was a  trustee of was the Animal welfare institute of New Zealand  now called the  ANIMAL OWNERS SUPPORT TRUST, we had incorporated it to prove conclusively  that no other  legal entity existed by that name. The purpose of this was to support our suspicions that   the Approved Organisation  by the same name was a fraud.  see here Lifting the lid on lobbying in politics ..When lobbyists are handed control
You and Nick Wright contorted that to be something quite sinister alleging  that we were  competitors trading on the name and seeking to deprive   Wells of donations .  You had the ability to twist facts then   that skill you apparently have retained .
This post has been amended to remove the honest opinion of the writer at the time. . Documents in support as attached   .submissions in response and emails coa
She claims that "There was nothing unusually in my phone call or emails to Mrs Haden. In fact, forewarning people that you are about to take action against them unless is the ethical thing to do"  Really!  at 9.45 pm at night   when   this is what  the law society reported in their finding 

So why  not simply hang up  when I answered or say  sorry wrong number  but you went on to intimidate  and followed it up with threatening  emails  at 11 pm on Friday night!  You  used the names xxxxxxxxx and the email address karen161970@hotmail.com which I presume is  your middle name and date of birth .
You  never took any notice of  the letter  which the   registrar sent you in reply to  your complaint  see here 
You may not be aware of the significance of this  but when Neil Wells wrote the legislation for the animal welfare act he did so to facilitate his own business plan
AWINZ did not exist  despite the fact that Neil Wells had talked about it since  at least 1998 , Tom Didovich  was  working on this fraud with him  and paid for  the recruitment of trustees from council funds invoice-re-trustees  see also this file
In his application for coercive law enforcement powers on behalf of AWINZ   Neil Wells wrote on 22  november 1999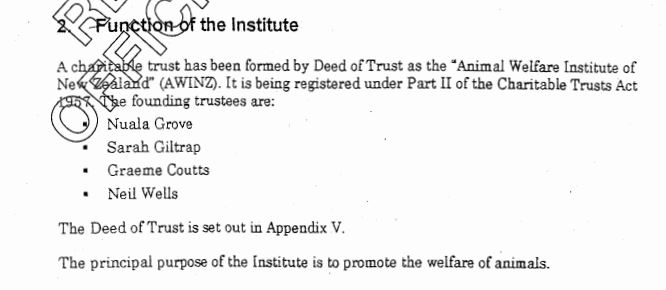 Now apparently, according to  you ,   I am a person of limited intelligence so I am asking you as a Policy analyst what   you think  a "charitable trust has been formed by way of trust deed " means ?
I think that it means that a trust exists, don't you ?  well  it might surprise you that when Neil Wells  made this application   it was three months  before the date   of the trust deed  he produced in 2006. The deed was "missing "until  june 2006 when miraculously there were two  ( but they were not the same )
Perhaps you can explain the legalities of a   group of people  applying for law enforcement powers through a trust which  does not exist and  does not have a deed,
How did the  trustees   pass a resolution  to  apply for   law enforcement powers ?
how  does the law of contracts apply in this instance  what liability would  there be  for the individuals in running such an organisation ..   NONE cause they were not involved
why did wells have to explain to these same trustees in 200  what being an approved organisation  meant, surely they would have known they  allegedly ran one for   6 years .. or did they ?
In correspondence to the minister   Neil Wells wrote in 2000.

A person such  as myself who according to your slanderous comment  has   " limited intellectual capabilities"  this means  that
there is a trust deed
it has a clause 20 (a)  see the trust deed he produced   it only goes to 19   there is no 20  or 20 (a)
there is only one copy( because if there had been two he could have sent a copy of the other one )
It is  not available because the original has been sent  for registration .(  he knowe that only copies were sent  he lied )
The reality is that Neil Wells  deliberately lied to the minister  not one of those statements is true .
Wells knew how to incorporate a trust and there by  become a body corporate   ( for your information that is the process by which it becomes a legal person  in its own right and has existence  apart from the trustees )  Wells had incorporated two  just months earlier  ARK ANGEL TRUST BOARD  and NATIONAL ANIMAL WELFARE TRUST BOARD
He knew that only copies  of the deed  were sent  and  in 2006  we had not only one trust deed we had two.. but wait for it they were  different  version 1  and version 2 
Version 2 was sent  to MAF  , the  front page and the signature pages are original and the middle  pages have been switched out.. Do policy  analysts  care about that, is that acceptable ? do you condone  that ?   are you fit to be a policy analyst ?Are you safe in a public role ?
All these things have been pointed out to you and Nick Wright over the  years but you and him  continued your vexatious attacks on me.
Have you not read section  4 of the lawyers and conveyancers act .. your duty is to the  rule of law   you were  an officer of the court , but you have stayed out of things  so that it would not reflect on your practicing certificate  you  are cunning .
You prepared the statement of claim  and Nick Wright  your ex husband another resource management lawyer took the matter to court  the intention was to get me to shut up and to change the name of our trust so that Neil Wells could cover up, it did not work   I wont be bullied
In my book that is using the law for an improper purpose . The law  society did not deal with you because it all happened in 2006  when the old legal practitioner legislation was still in place see the decision here  Decision 
It obviously became too much for Nick when he  became a committed patient  but despite this he continued to practice  law until  june 2011 when he was still acting past that date  despite not having a practicing certificate 

Nick  has now left law , I was particularly taken  with  the poem he read on his face book page  about the  wheels of sharp weapons returning.. so true
Getting back to you and your complaint   I fully addressed this with the private security Licensing authority  , But no matter what I  said the matter was set down for a " disciplinary hearing " even before  you had served papers on me   MY response   is here 
When ever you submit  more  information you introduce more  misinformation and childish action   as can be seen in her submissions in reply
On the one hand you are complaining that I was inaccurate,   for the  first time since 2011  you allege that there is an  issue, then when I  correct it for  you, you    scream to the PSPLA  .. "she has changed it  she is disobeying  the pspla."
For the record the PSPLA had no authority over me and my blogs they are not part of my private investigators business, In reality there is no difference to  the situation with Wyn Hoadley   see the decision re her  Hoadley decision  and her response Hoadley response
I have no legal  obligation to the PSPLA with regards to my actions  for companies which were not under my PI licence .
You are  right  not to  respond to   my  submissions, to do so would  cause you to put your foot in it further .
If you think I am defaming you   tell me   how and where      , too may of the complaints to the PSPLA  are too similar  you have been  there all along  ensuring that I am never out of court.   How childish can you get  for  the allegations about me speaking to your kids    They came to the door  in 2006  I asked for their mother..  you even managed to make that sound like  the crime of the century .
Not long after I  had an anonymous complaint  to the PPLA from Suzie Dawson  who coincidentally  claimed I had used  those same frightful words when her daughter answered the phone .. Have I been set up or what Suzie Dawson a blast from the past may she fare well in Russia
I will not give up until You are  convicted     as a lawyer  your obligation was to the rule of law  you  have been a lawyer off an on since   since 1996  you cannot plead ignorance  and I have every reason to believe  that  you have   coordinated the attacks on  me  to discredit me
It all started with the   Statement of claim which you  and your then husband Nick Wright  filed   for the  fictional AWINZ
The very first  paragraph to the court   is a lie   and the lies  just get better as they go along, there was no need to prove any of this   Nick just stood there  and lied  i was denied a defence  and that is called JUSTICE !
You did not check to see if AWINZ existed  You had evidence that we had legitimate  trust  had body corporate status  but you  gave the fictional AWINZ life by calling it  AWINZ 2000, in terms of corruption  you take the cake
Neil Wells  conspired with  MAF to ensure that information was withheld  until after the  court proceedings were concluded, he was then advised that the information was being released  this  vital evidence included the audit report  which  proved that AWNZ was a sham .

This  was later  confirmed by Neil Wells to the law society  with this letter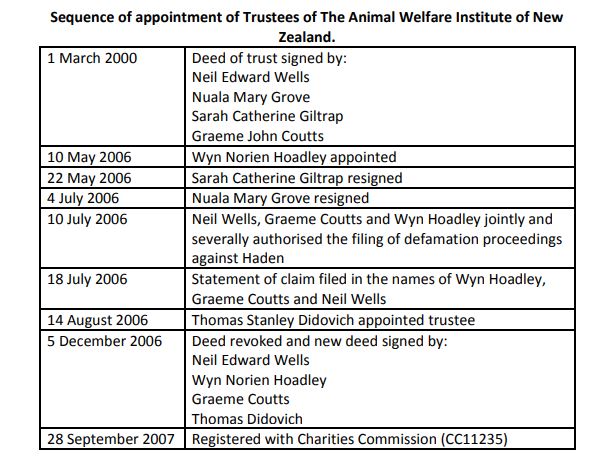 What is missing is that  the application for  approved status under the legislation which Wells had written  and advised on , was made  by AWINZ  on 22 November 1999.  so how could  trustees who have not formed a trust make such an application  ?
Quite clearly that application was not made by these trustees  only Wells signature was on the  application . AWINZ was treated by MAF and crown law to be a legal entity  in its own right . as you can see the  signatory of this crown law  opinion is none other than the solicitor for MPI  Peter Mc Carthy
the trust deed   which first  saw daylight  in 2006 after being reported missing at an alleged meeting  on  10 May  states  that the trustees  required to be reappointed after three years
the  alleged trustees of this  2000 trust did not  hold assets ,, no bank account existed until 2005    and no  meeting had occured  since it inception despite requiring to have four meetings per year . Perhaps you  can tell me how this fits in with a legitimate trust ?
Wyn Hoadley in her response to the law society Hoadley response  states " I had been approached several years prior to this by Mr Neil Wells regarding my possible involvement with AWINZ."  this again proves that AWINZ was nothing more than Neil Wells , how can one person  make such decisions without the other trustees in a properly run trust ?
Wyn Hoadley goes on to say 

So this  woman   who is supposedly a Barrister  seeks legal advice from a  resource management  law clerk working from HOME ! Yes they did expect it to be resolved  quickly because the tool of resolution was intimidation  your specialty
Wyn Hoadley also  falsely claims that  AWINZ  resolved to seek  professional legal advice .. so where is the resolution   it is not in the   minutes!  
Wyn  was also not appointed by any legal  method   she was appointed??? under a section which does not appear in the trust deed   and at a time the deed was missing.. so what was she   binding herself into ????  would you become a trustee of a trust when you don't know what the terms are ????   it simply defies belief.  These people are lawyers  !!!!!! or should I say Liars
By writing this open letter I will give you the opportunity to  address the   malicious attack on me  which you state in  paragraphs 22 and 23  of your complaint , ie  to  take away  any credibility my PI licence could  give.
The good news   is that  a PI licence doesn't give any credibility , take  Translegal   and its  director  Gary Swan for example they  have a PI licence   yet  swear affidavits of service for fictional document services , that is something  which is apparently condoned .see this  and these Translegal document server jailed .      Translegal services NZ ltd contracts criminals to serve documents.
Nor  does my PI licence give me any powers, the ability to find addresses,attention to detail   and ability to  find  information  is a skill I have,   a skill which apparently you  lack despite  you claiming that I have " limited Intellectual capabilities " the skill you have is in my opinion  in being a corrupt  former lawyer  specialising in intimidation  and  discrediting  people to  win at any cost.
I will be happy to publish any comment you wish to make    By not replying  within 5 days you are  confirming to the accuracy of this post
Historical references  https://bsa.govt.nz/decisions/3122-parre-and-canwest-radioworks-ltd-2005-016
Additional information added  2019 .

a decision from the Ontario  Supreme court has been forwarded to  us ONTARIO SOCIETY FOR THE PREVENTION OF CRUELTY TO ANIMALS   it highlights the issues of private law enforcement agencies having  equivalent powers of the police with regards to search and seizure.

AWINZ was such an organisation  except  it  went one step better, it was totally unidentifiable,  there was no   legal person  openly associated with it  so that it could not be sued. As such there was no accountability to the public , read the news items
 Just three weeks after  Samuel North closed the  doors to Muse eatery   the company catering Limited which  operated the business muse eatery  has  gone into liquidation  .
It would appear that the share holder
HANIA TRUSTEE (CATERING) LIMITED Hoggard Law Limited, 29 Hania Street, Mt Victoria, Wellington, 6011 , New Zealand
has placed the company into liquidation  and appointed their own liquidators .
Samuel North was the share holder of the company but   moved  the share holding into a trust in  april 2016  .  It has all been very predictable  and North continued to sell Grab one   and groupon deals  even after he knew he was closing, we  believe that this is  fraudulent.
Our suggestion is that if you  are owed money that you  attend the liquidators  watershed  meeting  when it is announced and  ensure that independent  liquidators are appointed ( as opposed to one  appointed by North )   .
When a company  appoints its own liquidators  the  liquidation is   likely not to be  as transparent  or fair as it would be  if the liquidator is working for  a creditor .
It is our honest opinion  that the Liquidators will   sell on the   Chattels, at a nominal price and  the phoenix will  fly again   when North purchases them .
Muse eatery opened its doors before Muse on Allen had even been placed in to liquidation and  it is believed that many of its  assets actually belonged to muse.
We have  been contacted  by many persons   who are  owed by North , North is avoiding service by debt collectors , there are  former staff members who  have unresolved  grievances .
Samuel north has removed the  face book page, the  linked in page  and the web site .
samuel north _ LinkedIn messages
samuel north _ LinkedIn liquidators
Muse eatery and bar_ Overview _ LinkedIn
the old web site is still viewable  here 
Muse eatery and bar former Muse on Allen relocated and opened its doors on the 1st of April 2016, housed in the restored heritage colonial carrying company building.
Any one knowing  where North is please send an email to us through our comment section  and we will share the information  but will keep your  details confidential
We will happily  collate information to  ensure that Justice is  done
https://i.stuff.co.nz/business/101640499/Wellingtons-Muse-Eatery-Bar-put-into-liquidation
Update
Samuel North  has engaged Stephen Iorns <stephen@iornslegal.co.nz>   and is bleating defamation
We Hope the   barrister gets  paid .


An email  from Malcolm North  has been  forwarded to me, it  is grossly defamatory  and bullying and  alleges  that Samuel terminated his lease.  we would like to hear from any one at MSD ( ministry of  social development), is he also a bully at work  because he certainly is in emails, again speculating and threatening  by stating " I have spoken to xxxxxx employer about his behaviour so don't expect him to be employed for much longer' it is noted that his email had this  disclaimer ——————————- This email and any attachments may contain information that is confidential and subject to legal privilege. If you are not the intended recipient, any use, dissemination, distribution or duplication of this email and attachments is prohibited. If you have received this email in error please notify the author immediately and erase all copies of the email and attachments. The Ministry of Social Development accepts no responsibility for changes made to this message or attachments after transmission from the Ministry. ——————————-" does that indicate that he sent the email from the ministy of social developments servers and using his Muserestaurant email address.  Not a good look
But getting back to the statement   that Samuel terminated his lease, this  generally requires a " notice period " so when di dhe give notice and how did this  line up with the  Grab one and groupon offers? https://new.grabone.co.nz/restaurants-bars-cafes/european-restaurants/p/muse-eatery-and-bar-13   and   https://www.grouponnz.co.nz/deals/muse-bar-and-eatery   
the pdf   copies downloaded tonight are  here  Muse Eatery and Bar • GrabOne NZ and here    Muse Eatery & Bar – Up To 60% Off – Wellington _ Groupon
We first heard the rumour that Muse was closing on the 18th  January , this is  just 10 days after   the   deals were offered on line  .  If you have an uncertain future   then 10 days out would you offer  deals . These offers are valid till end of march and  early april  as shown on the PDF's  so where are they  going to  be honoured if  Samuel knew all along that he had  terminated  the  lease .
at least 80 people  spent $99  on groupon  =$7,920    at least  10 people  spent $195  on groupon  =$1,950   total $9,870

86 people bought the  grab one deal at $69 =5,934  total for the two deals potentially outstanding  $15,804
We look forward to hearing from the landlord.   The land lord in Allen street was left out of pocket according to liquidators papers  time will tell if  the name of this land lord will ultimately  appear on the liquidation papers for catering company .
The web page which   was paid up  until the 16 th February was pulled  5 February and now defaults to  the web serves page , The face book page was taken down   last week .So if the web page and Face book pages were pulled  why not pull these deals ?   Why  leave them up why no formal announcement .
We have  heard from  reliable  sources  that  there  are substantial  debts .
Any one out of pocket  with a provable  debt please contact us we are coordinating  a group action .
we will keep you posted  we know there is more to come
Op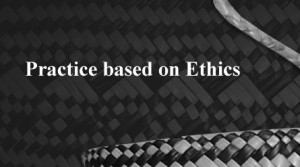 en letter New Zealand association of Counsellors 
From: Grace Haden
Sent: Friday, 11 December 2015 10:22 a.m.
To: 'ethicssecretary@nzac.org.nz' <ethicssecretary@nzac.org.nz>
Subject: harassment and bullying by Debbie Norths son and Husband.
I am a licenced Private investigator.
I have been assisting  a young  chef who has had all  his equity  in a company stolen  from him  by  Debbie North , her husband  and   son.
Jozsef   invested $64,000  in  a restaurant Muse on Allen     there were  two share holders Debbie's son  Sam  and Jozsef  30 % Samuel   70% Jozsef .
Debbie became an alternate director  but  exercised full director powers  and allowed her son to transfer  21% of the shares from Jozsef into his own name   contrary to the provisions of legislation and without any legal basis. This  reduced Jozsef's share holding to  49%.  No other money was invested into the company   apart from  funds  clearly introduced as LOANS by the  Norths and Samuels girlfriend    Annabelle Torrejos
Debbie   was  then party to  making her husband Malcolm a director   and the three of them removed Jozsef  as director   and then transferred the remailing shares to Samuel making him the 100% shareholder   of the company while he had not introduced any equity in to the company and   was in fact showing a deficit of some  $6000  of drawings against  equity in 2014
In court documents  she claimed this was  an  error   how ever this error has not been corrected by her  despite the fact that she filed the annual reports with the companies office 21 October 2013 and
09 October 2014 and failed to  correct the share holding   .   these are serious offences under the companies act
I was taken to court  for alleged Harassment after the  lawyer they employed to act  for the  company ( but  in reality only acting for  their interests) accused me of contempt.   I advised him that he had a legal duty to comply with the law and be independent  in acting for the company  and  so  I was taken to court for harassment .
The court action was in Wellington  ( I live in Auckland )    I   told the lawyers   who were taking this action that I would give an undertaking not  to contact  this  sensitive lawyer who  apparently  did not wish to  be independent and comply with the law .
The court date was concealed from me and I was advised  of the hearing at 9 am on the day of the hearing     and therefore could not make it to wellington on time.  I was  called a serial defamer and harasser   based  on  the lawyers submissions  and    have been ordered to pay $5000   for this privilege    I have asked  for this decision  to be recalled as   the process was not fair  and transparent.
The Bullying and harassment in this matter is  beyond belief.  I am not he only one subjected to it – Jozsef has had    abuse hurled at him and has been  physically threatened in court by Malcolm North .
After losing his  own restaurant  Samuel taunts him     by saying  what is it like flipping ham burgers..  and  making himself out to be the all successful chef  based on the fact that  he " owns " a restaurant which Jozsef  has  effectively  purchased the chattels for   before being kicked out three months into the  operation .
The police are only   good for writing  warning letters     and nothing  further   appears to be on their agenda   other than getting people to take things to court  where they are subjected to massive legal bills (  Jozsef has already paid out  over $50,000)
amendment:   It is  our honest opinion that  Malcolm has been attempting to  interfere with Jozsef's  employment   apparently by using his capacity  as Employment Support Representative in  the ministry of social development . This  honest opinion is based on events which occurred at Jozsefs work place   and   events which played out .   Malcolm has alleged that this statement is declamatory  but it is our  honest opinion that this is the case perhaps Malcom would like to explain why he met with Jozsefs  supervisor  and why  Jozsef was then put in the position that he was placed in . Honest opinion is never defamatory 
Jozsef  is under extreme pressure and I fear that the ongoing attacks on may have serious repercussions  . this has been going on  for three years
Even after the police  told  Samuel  and Malcolm not to send  any more emails they have continued to do so  making  false claims  and  bullying remarks about personal relationships  remarks which are    untrue and have no substance but are made  in an attempt to hurt  and denigrate
I find it ironic that Debbie works for the mediation service      and I see the ethics of her and her family  counterproductive to the aims and  values of your organization
Since Debbie made a claim to the court that   Jozsef's shares were  transferred in error  she should seek to correct it, instead she chose to resign as  director  and has allowed her husband and son to continue harassing   and bullying.
This has to  stop    and that is why I am bringing this to your attention
I have Lots of information about this on Transparency.net.nz  and in the interest of transparency  I will publish this letter there as an open letter  the public has a tight to know that you employ a  membership secretary who is  party to all of this .
I doubt that you will do anything  as  we appear to  be incredibly good at duck shoving in NZ  it is always someone else's problem  .  The problem in this case   is the lack of enforcement of our laws  once upon a time    people who committed these offences  were behind bars  now they  just   bully people    and hopefully  their victims will commit suicide  and  then they can say see  he/ she was mad all along.
This is why NZ's  suicide rate is higher than   our  road toll and drownings put together  .  You and any one reading this has to  act     we force people to go to extreme expense   to save the one or two toddlers who drown in  domestic pools each year  but we allow bulling in adults  and through lawyers to continue .
I do hope that you act.    I fear that you will not .
Regards
Grace Haden
Samuel North was interviewed on   Concrete playground 
We would like to set the record straight   by providing facts .
Yup okay that was impressively disastrous. You've certainly picked up from there though, you established this place at 21, which is ridiculously young, what gave you the confidence to do that?
SN: My parents gave me really good support, they've supported me the whole way through it. Especially my dad, he's been in business before and really wanted me to do this I think. Probably not so young though. I could have waited a few more years but I was just too keen, too eager to own my own place, even if it was going to be something else. This place actually wasn't even supposed to be a restaurant – I just wanted to have a bar but it turned out completely differently.
Reality 
The chattels of Muse on Allen were purchased  using  Jozsefs money .  this is a copy of the sale and purchase agreement
as can be seen the place was purchased for $90.000  of which  $70,000  was  funds which  Jozsef introduced  see  here ( all enlarge on clicking )
In return  Jozsef received a 70 %  share holding 
Samuel $30 % based on the fact that HE was getting a loan from his parents and girlfriend as  can be seen  Samuel's total investment into Muse on Allen which he claims he owns  is   a staggering  $10,000  from his bonus bonds. 
What was behind that huge need to h ave your own place?
SN: I just really hated working for people to be honest. I hated getting told what to do all the time. It was driving me crazy. I was just like fuck, what am I doing? I just wanted to do my own thing. 
Reality  
 yes the  reality is that  this statement is true  and it would appear that this dislike of being told what to do extended to   working with some one who has  just purchased the chattels for the business .  How true "I just wanted to do my own thing."
Starting a business so young, was it kind of hard to get people to take you seriously?
SN: Yeah it was really hard, especially in the first year. I'd hired all these young people who were like fuck it, he's 21 what the fuck does he know? It made me realise that I needed to be hiring the right people who were going to support me and who wanted to listen to me. I find that actually hiring older and more mature is better. I've got a lot of older staff now. They're still in their like, thirties and twenties and stuff but they are passionate about the restaurant, the food and the service.
Reality  
 From what we have seen the person who  was calling all the shots in the restaurant was Malcolm North, he was   calling all the shots even before  he was made a director.    the scenario  goes   Samuel and Jozsef were directors. Samuel gets his  mother Debbie North , to be an alternate director  she  completes her own forms ( which is actually a no no  )  and uploads this to the companies register  and back dates it to the date of  the company formation. 
They now  use this as a two votes to one directorship and use this to    reduce Jozsefs share holding  without any new capital going into the business and without  any consent from Jozsef.  what they did is totally  against the  companies act . 
It is in reality Malcolm and Debbie   who were  directors with Samuel  in the first  year after passing resolutions  in private to get  Jozsef out .
In a herald  article   –Your Business: Young Entrepreneurs Samuel North is reported as  saying
The founder and head chef of Wellington-based restaurant Muse on Allen worked and saved hard for six years, and got a loan from his parents and help from his partner to set up the restaurant, which last year took out a top culinary prize – the Visa Wellington on a Plate Award.
Reality
As  we have shown earlier the opening accounts of Muse on Allen , they are evidence that  Samuel  put in $10,000.
Samuel Norths statement  above is  correct but it  conveniently leaves out the  $70,000  investment of his  business partner  who was then  in our opinion and no doubt in the opinion of any right thinking person " shafted."
The  financial accounts for Muse on Allen   show the  Loans from his parents  and Anabel Torrejos  and the share holding of Jozsef  but the companies records   up until  May this year showed Samuel as the only share holder. After that date they brought in Janine Corke a strategist of  Corum Limited   just days after she became a director  Jozsef was sued in the   district court . 
The shares Samuel North held were effectively stolen  from Jozsef  and  were never legally transferred and have certainly never been compensated for – there is no other way of saying but it is  Fraud  at the worst and a serious breach of the companies act at the least
Muse on Allen opened   in  September three months later Jozsef  was kicked out  and they  blamed him  for the company not   being profitable.. show us a company which  is profitable after  3 months .
Now Malcolm North on behalf of Muse on Allen  is  suing  Jozsef for the  losses in  what is reported in the press to be a " very successful " business owned and operated by  Samuel North , so successful that  the company is claiming to be insolvent  see  Statement of Claim. Goes to show  that  even after  three years  the company is still  running at a loss despite   all the glowing  press reports which say it is full night after night.. but then that is the power of advertising and a different story . 
Malcolm North supplied free of privilege the end of year accounts which   clearly show   that Jozsef  is a share holder   and  has  been totally alienated   from the company which Samuel  pretends that it is  his own- even   issuing a trespass notice against  Jozsef. annual accounts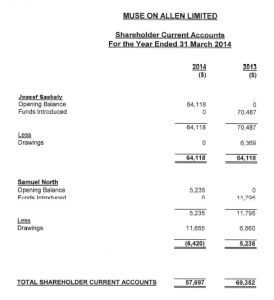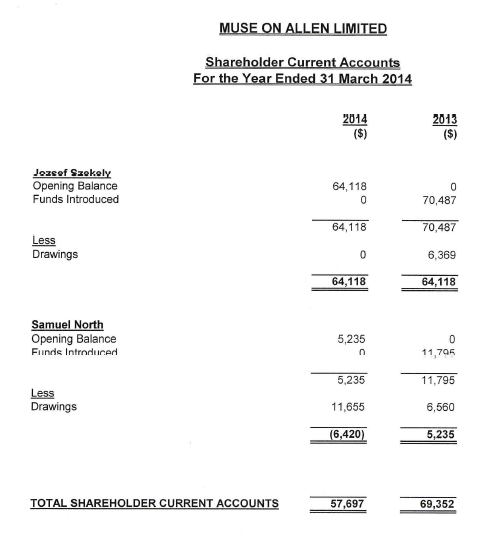 False allegations are now being made of contempt of court  this is because lies  have a way  of getting tangled  and drive  desperate people to making  desperate accusations.
Samuel and Malcolm  you could try    paying Jozsef back his   money  and  his costs that you have    trumped up through  delay tactics. 
Let  us look at the future  by  being responsible   with regard to what you have done in the  past ,  what you have done to Jozsef is not  right .
We also include  the  some real feed back  with Samuel North's responses   which  we captured before it was removed .. they  speak for themselves..click to enlarge they  originate from Trip advisor

Our post MUSE ON ALLEN we reveal the secret to Samuel North's success. Has met with total acceptance of  Malcolm and Samuel North  but no  so of the  lawyer for Muse on Allen   XXXXXXXXXXof  Johnston Lawrence limited
XXXX immediately filed documents  in which he again made very serious and   incorrect  allegations . see  Third Urgent Memorandum of Counsel – 090715   and Affidavit of Judith Louella Jane Burge sworn 9 July 2015
 this response was sent to court people have the right to defend themselves against  false accusations.  
From: Grace Haden
Sent: Thursday, 9 July 2015 12:04 p.m.
To: xxxxxxxx'; 'Stack, Michaela'
Cc: 'Jozsef Szekely'; 'malcolm north'; 'Samuel North (samuel@muserestaurant.co.nz)'; 'The Norths'
Subject: RE: CIV 2013-485-9825: Szekely v Muse on Allen Ltd
Good Morning Michaela
I refer you to    the latest post on  Transparency New Zealand  . Open letter to the minister of small business
I also advise the court that  Mr xxxxxxxxx is  willfully   misdirecting the court as per  His honour Justice Collins  minute  the documents  which were provided under rule 8.30 (4)   are held in the offices of Duncan Cotterill .  They have not  been made available to me .
The  documents on Transparency were provided by me  and as shown in the attachment that Mr xxxxxxxx attached to his legal secretaries  affidavit   the documents    came from the following sources
Page 1. Direct from the plaintiff he had this document in his possessing from the time he purchased  the assets.
Page 2  this is available on line  from the companies office   free of charge and available to the public
Page 3  this is a copy of  a document which Jozsef has had in his possession  from  a date prior to the court proceedings .
Page 4 -10 these are available on line  from the companies office   free of charge and available to the public
Page 11-54 . these are the documents  for  the district court proceedings in Which  Muse on Allen , whichis currently in liquidating court  took against Jozsef  for the losses which were incurred in the company based on  the 63.4% share holding which the  SOC alleged he has ,  being  the majority shares in Muse On Allen the very shares which were unlawfully transferred   by Samuel north  from Jozsef to himself.
Page 55    a document  available   through the land transport  register
I have repeatedly made Mr xxxxxxxxx aware  that   the documents did not  come  from discovery in the high court and indeed it is self evident that   they  were   served free of  confidentiality   By Malcolm North in the  district court .
I appreciate that this may not  be convenient for Mr Abricrossow  but he should not be using his office to  conceal fraud  and the evidence is obvious that a fraud has occurred  in that  Jozsefs shares  have been  deceitfully  removed and withheld  using the court.
I remind Mr xxxxxxxxxx that   he should be acting in accordance with Section 4 of the lawyers and conveyancers act.
We have not  breached   the  discovery in  the high court   and it is an abuse of process form Mr xxxxxxxxxx that allege that .
Regards
Grace Haden
From: malcolm north [mailto:malcolm@muserestaurant.co.nz]
Sent: Thursday, 9 July 2015 6:10 p.m.
To: 'Grace Haden'
Subject: RE: CIV 2013-485-9825: Szekely v Muse on Allen Ltd

Hello Grace

Thanks for the update you haven't taken any notice of me at all about your grammar ,punctuation and spelling.
Response :Thank you Malcolm     did I mention that English is my second  language .
On 9 Jul 2015 9:19 pm, "malcolm north" <malcolm@muserestaurant.co.nz> wrote:

Thanks for that .Probably why you can't understand Szekely walked out of the Restaurant after  eleven weeks .Funny how you haven't told anyone this.
Response :Did he walk or was he pushed.  I suspect he walked just like pirate's made their victims walk the plank.   Yes its all Jozsef's  fault because he wouldn't put up with the bullying.   Bullies always blame their victims.
On 9 Jul 2015 11:01 pm, "malcolm north" <malcolm@muserestaurant.co.nz> wrote:

He walked.
Response : Yes he walked….. Straight to his lawyers   see letter here letter from lawyer 16Jan
Note: Samuel did an interview in   Concrete Playground     these are extracts show how he started Muse on Allen    the reality is reflected in the fact that   he  transferred the share holding of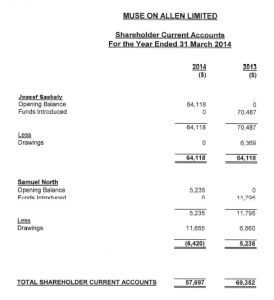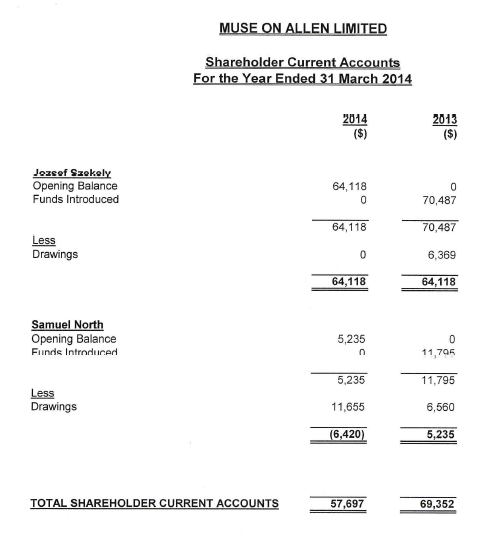 another  chef into his own name  and then  denied  Jozsef  any rights    .  The accounts  in 2014 show that there were two share holders in the accounts  although Samuel was  listed as the 100% share holder on the companies  office site .
Jozsef had $64,118   equity in the company  while  Samuel owed the company $6420     yet Samuel  went out a bought a 207 BMW SUV loaned against the company BMW
Remembering  this read the article below    and remember that Samuel is being acclaimed  as begin the youngest Chef in Wellington to OWN a restaurant .. He actually OWNS NOTHING  and OWES   it all to  Jozsef
The opening accounts  speak volumes    prizes fro those who spot the contributions by Samuel click to enlarge 
This is the real secret to opening your very own  restaurant. its called other peoples money  .
In our professional opinion  it is  fraud when you get   a person to invest in a company   they are the majority share holder  and then you  move  all their shares into the name of a person who makes a living off the company .   At the same time   the  majority  share holder is excluded  and    is sued   for   the losses incurred by  the company.
to  put the icing on the cake  the losses  include the purchase of  a  2007 BMW which the person who has no share capital in the company but  who has claimed all the shares as his own, uses as his own .
Any way back to   Concrete playground 
Yup okay that was impressively disastrous. You've certainly picked up from there though, you established this place at 21, which is ridiculously young, what gave you the confidence to do that?
SN: My parents gave me really good support, they've supported me the whole way through it. Especially my dad, he's been in business before and really wanted me to do this I think. Probably not so young though. I could have waited a few more years but I was just too keen, too eager to own my own place, even if it was going to be something else. This place actually wasn't even supposed to be a restaurant – I just wanted to have a bar but it turned out completely differently.
What was behind that huge need to have your own place?
SN: I just really hated working for people to be honest. I hated getting told what to do all the time. It was driving me crazy. I was just like fuck, what am I doing? I just wanted to do my own thing.
Starting a business so young, was it kind of hard to get people to take you seriously?
SN: Yeah it was really hard, especially in the first year. I'd hired all these young people who were like fuck it, he's 21 what the fuck does he know? It made me realise that I needed to be hiring the right people who were going to support me and who wanted to listen to me. I find that actually hiring older and more mature is better. I've got a lot of older staff now. They're still in their like, thirties and twenties and stuff but they are passionate about the restaurant, the food and the service.
We also include  the  some real feed back  with Samuel's responses   which  we captured before it was removed .. they
speak for themselves..click to enlarge they  originate from Trip advisor
Open letter to  Craig Foss Minister of small business
Good Morning Minster
I am  approaching you in your capacity as  minster for small business and wish to bring to your attention a major flaw which I have identified in  the enforcement of the companies act with regards to small businesses.
We appear to have entered  a phase where economics  are  considered before justice  and  this  is distinctly in favour  of those who  breach the provisions of the companies act.
I am a licenced Private Investigator / Former long serving  police and  prosecuting sergeant .  Earlier this year  a young man approached  me  when  his lawyers advised him that after spending $50,000  with them  to seek justice it would take another $42,000  to  get the matter to trial and since it appeared that the company  was insolvent  there was no point in pursuing the matter .
In brief the circumstances are my client  Jozsef Gabor SZEKELY  and Samuel Raymond North are chefs, together they  purchased a  restaurant  for $90,000 they set up a company called Muse on Allen Limited and were 70/30   share holders .
Jozsef is an immigrant to New Zealand  . Samuels Father,  Malcolm North  is an Employment Broker for the ministry of  Social Development.  Malcolm  helped and supported the two boys in getting the business started   but it now appears that as far as Jozsef was concerned there as an ulterior motive, that was   to provide his son with a company financed by some one else.
Samuel gave the company key to his mother she used this  to  appointed herself as director and backdated this to the companies date of formation.
Samuel   reduced Jozsef's shares  to 49% ,  then appointed his father as director, removed Jozsef and  finally transferring  all the shares into his own name. this was all done contrary to the act and without the injection of more share capital
This occurred in January 2013   less than  6 months after the company was formed.  Jozsef immediately went to see  lawyers .  It was correctly identified as fraud  but  could not get the police to take a complaint .
The lawyers took the matter to court under section 174  of the companies act   and  Jozsef  spent most of his time  earning money to pay the  lawyers.
Malcolm   represented the company in court and even  posed as though he was counsel  this   caused  Jozsef's expenses with the lawyers to go out of hand .
The company would not  give Jozsef any of the documents which a shareholder is rightfully entitled to but they were released to  Jozsef's lawyers under confidentiality  and   copies remain in  their office  and no duplicates have been released.
When the lawyers withdrew Jozsef approached me,  I attempted to get the registrar to correct  the  on line register  based on a set of accounts which we had obtained outside the discovery process.
The registrar   however would not act as they claimed that  redress was available through the courts .
I acted as a Mc Kenzie friend for Jozsef and  supported him in representing himself in court ,the matter was   to have  been set down for a formal proof hearing  but now   the company  has engaged counsel ( instructed by the   very directors who  have  breached the companies act  in so many ways )  and it is set for a three day trial in September  on the matter of   Jozsef being a disadvantaged shareholder.
In early June   we were advised  By Malcolm North  that the former lawyers for the company   have taken the company to  liquidation court and the company could    be wound up  before the hearing.
Jozsef has not only lost his $64,000  investment in the company but has paid $50,000  in an attempt to  have his rights enforced.
The  final straw came  when   the company sued  Jozsef on 19 June   in the district court  for the losses  which the directors  have incurred in the company since unlawfully  removing   Josef's shareholding .
The whole purpose of a limited liability company is that    the   losses are limited to  that of the shareholders  equity  yet   Jozsef now finds himself burdened with a second set of court proceedings.
So we now have an ironic situation   where by   Josef's shareholding has been removed from him  and he is  being  held responsible for losses in the company due to being a share holder
I have prepared   and  filed an extensive  complaint with the   registry integrity  , there are some 30  serious companies  act offences  which  the directors and their associates have committed.  Yet  in again a parallel move they are attempting to hold  Jozsef   for contempt of court  for allegedly  using the accounts  and the  documents which  have never been copied  or  been  outside his lawyers office  .
The entire process has been total bullying  and  abuse .
Those who invest in NZ companies  should not   be subjected  to  this lunacy, it destroys confidence in small business and shows that there is  a major flaw in the system which  allows  people to effectively steal shareholders  equity and use it for their own means.  The law is there  to  protect persons such as Jozsef and  ot should be affordable and expedient.
Samuel North   has  a deficit of  shareholders equity in the company yet drives around in a  late  model BMW  vehicle  owned by the company  while  the  only person to have invested in the company is being  hammered in the court
We request urgent intervention in this matter  where by the registrar   seeks to hold the  company and its directors  accountable to the act.
We need a system  which  prevents   this type of scenario from repeating .
In the interest of public  confidence in small business ,we hope that you can open a ministerial  enquiry into this matter  so that   this   cannot happen again.
I am happy to  supply the complaint to the  registrar and  the evidence  on your request .
Regards
Grace Haden