Yesterday we discussed the ability for council to charge penalties on installments today we take it a step further – what legal right do they have to charge penalties on GST which they are collecting for the government ? We believe that they don't have any right to do this at all below is how we come to that.
Taking a rates notice which we have here for example
The rates for the financial year 2014-15 are $4510.81 this has a content of $588.36 GST
The current instalment is $1127 and has a GST content of $147
The rates notice states

Pay on time to avoid penalties

"' It pays to pay your rates on time, as you will be charged a 10 per cent penalty on any part of your current instalment that is overdue.

You will also be charged a 10 per cent penalty on any part of your rates (and penalties from previous years) that have not been paid by 5 July, and again by 5 January, of the current financial year. Any payments that you make towards your rates will be credited towards the oldest amount due first"
The operative words are any part of your rates. The Gst is the GST portion of your rates. The rates is what is set and what the GST is payable on .
The the act states penalties Must not exceed 10% therefore they can only charge a penalty of 10% on the rates being 1127-147, the penalty on the rates to be lawful can only be 10% of $980 being $98 .
By charging penalty of $112.70 they are charging a penalty rate of greater than 10% (11.5% in this case ) which is and $14.70 over charge per instalment and not made lawfully .
This is of course also subject to the ability for council to charge penalties on instalments as discussed previously
If council can only charge penalties once the years rates are due being 30 June 2015 then by imposing penalties on rates which are inclusive of GST ,they will be collecting a further $58.80 per year ( presuming that you then pay just prior to the 30th June )*
Strangely enough this sum is more than the sum which they give you for early payment .
Where this really gets tricky is in compounding penalties on the Gst of previous payments/ years .
Then there is also the question is GST Payable on the penalty or is GST Payable only on the rates portion ?
We will put that to council to work out, they have an obligation to us after all to be open transparent and accountable and presumably that is why we pay crazy high wages to those at the top so that this kind of thing does not happen ???
*based on instalments being 29 August 2014,26 November 2014, 26 February 2015,27 May 2015 note that even by instalments all rates due are paid a month early .
Transparency International New Zealand has tried so hard to ignore the corruption in New Zealand but has finally conceded that we have it. In their latest news letter they mention no less than three items .
New Zealand Shell Companies Involved in Huge Money-laundering Operation
New Zealand shell companies may have played a part in the biggest money-laundering operation in Eastern Europe. A recent investigation by the Organised Crime and Corruption Reporting Project (OCCRP) exposed an enormous US$20 billion ($24.4 billion) transfer of dirty Russian funds, dubbed 'the Laundromat'. Read the story by Richard Meadows in stuff.co.nz.
Evidence of corruption a National scandal – Harre
Internet Party leader Laila Harre will take evidence of corruption to international forums if there is not a full Royal Commission to investigate the growing evidence of the systematic use and abuse of democratic institutions and processes for political gain
Money, politics and scandal in New Zealand's election
Post election, Washington based Lisa Rosenburg of the Sunlight Foundation, and former legislative assistant to Senator John Kerry, suggested that New Zealand will need to address weaknesses in its political finance system to retain "its squeaky clean reputation and its first place as the least corrupt nation…" sunlightfoundation.com/money-politics-and-scandal-in-new-zealands-election
The article by Richard Meadow refers to web site Naked Capitalism. In a recent article on that site Richard Smith states
GT Group was linked to the biggest money-laundering operation in US history.
It does not take much searching to find that a variety of GT group companies which survived being struck off have found a new registered office at the EQUITY GROUP , others have been registered again using the names of the struck off companies as shown below.
Companies registered to the premises of Equity group frequently use the very same directors identified as proxy directors in international press . In this case we look at Leah Toureleo of B.p. 1487, 1 Port Vila, Pot 540208, Port Vila , Vanuatu who is as is mentioned in the Richard meadows story NZ firm named in huge European scam
Leah Toureleo has the following active companies
PHOENIX INTERNATIONAL GROUP CO., LIMITED (3934638) Registered Company
— Leah Toureleo appointed as a director on 27 Jul 2012 overseas registered company about to be struck off the address 24b Moorefield Road
Seems to be another busy little office it is a medical center see this interesting post http://www.blakjak.net/node/1312
GOLDAGE GROUP CO., LIMITED (3934658) Registered Company
—Leah Toureleo appointed as a director on 27 Jul 2012 overseas registered company about to be struck off reg office Room 4, 221a Dominion Road, Auckland, only two companies registered here and both about to be struck off
IRVINESTON LIMITED (3239028) Registered Company
—Leah Toureleo appointed as a director on 14 Nov 2013 Registered Office
TROPIC ALLIANCE LIMITED, 7 Rose Road, for more on this address see naked capitalism
DORNOCK LIMITED (3239007) Registered Company
—Leah Toureleo appointed as a director on 14 Nov 2013 Registered Office
TROPIC ALLIANCE LIMITED, 7 Rose Road,
the director of tropic alliance lives in Inga 9a-31 Zaubes, Riga, LV1013 , Latvia
Now these next four companies have something in common they all had the receptionist at this former law firm as their director , she resigned last year when she was warned her about the dangers of being a proxy director ( see news links below ) these companies continue to exist with Leah Toureleo as their director
WELKIN BUSINESS LIMITED (3665631) Registered Company
— Leah Toureleo appointed as a director on 29 Mar 2013 owned by Trust NZ holdings – director xxxxxxx
SELBY LIMITED (3665671) Registered Company
— Leah Toureleo appointed as a director on 29 Mar 2013 owned by Trust NZ holdings – director xxxxxxx
This is a phoenix company of SELBY LIMITED(2466848) (NZBN: 9429031562881) Struck off NZ Limited Company it was registered to 1504 B, 363 Queen Street, Auckland, New Zealand which was pat of the Taylor group. the new company was incorporated by EQUITY TRUST INTERNATIONAL LIMITED just a few months after the companies office struck the other off
4-WAY LOGISTICS LIMITED (3589351) Registered Company
— Leah Toureleo appointed as a director on 29 Mar 2013 owned by Trust NZ holdings – director xxxxxxx
MAXIMUS CORPORATION LIMITED (3589616) Registered Company
— Leah Toureleo appointed as a director on 29 Mar 2013 owned by Club property (xxxxx) this company is a phoenix company for
MAXIMUS CORPORATION LIMITED (2454570) (NZBN: 9429031578738) Struck off NZ Limited Company Level 4, 44 Khyber Pass Road, Grafton, Auckland, 1023, New Zealand, this company was originally set up by the Gt Group
The receptionist had one further company that she was director of this company now has the wife of the director of this this companies director who is also a lawyer this company is Eurostone Holdings Limited
for News items on Glenn Smith 69 Ridge Road, Lucas Heights, North Shore ( Company Net ) see
Web of intrigue – crime – national | Stuff.co.nz
New Zealand as a rogue financial state
NZ shell companies in Kyrgyz corruption | Stuff.co.nz
New Zealand, Fresh From Its Service to Mexican Drug Lords …
Complaint – Securities and Exchange Commission
Traseks Ltd., is a corporation incorporated under the laws ofPanama on
February 9, 2009, with its principal place of business located at 69 Ridge Road, Albany,
Auckland, New Zealand. Traseks, Ltd. received $976,302, wired during April through
July 2009 from Rockford's Bank ofAmerica and Banco Popular Bank Accountsto an
account in its name at JSC Multibanka in Riga, Latvia.
Reserve Bank warns public – money – business | Stuff.co.nz
RBNZ warns on dodgy 'Bancorp' pyramid scheme claiming …
Reserve Bank warns public – Stuff
1766 defunct New Zealand companies at 69, Ridge Road, Albany,
News items re proxy directors and activities of companies of Leah Toureleo see below and at this link click here
Sep 2, 2010 … Lu Zhang, 28, is accused of 75 offences of making false statements in company registration forms after she declared her office address was her …
www.stuff.co.nz/…/Company-director-with-alleged-arms-links-in-court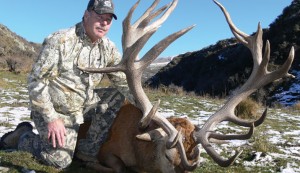 Transparency international New Zealand was funded by the government to do an integrity report on our public service.
We found that the finding that we had " the least corrupt public sector " came about due to a number of factors.
Corruption was not defined or looked at – due to the assumption that as"the least corrupt country " we must be doing things right .
Transparency Internationals New Zealand itself having given NZ the status of being perceived to be the least corrupt so as to encourage business growth in NZ
see correspondence with the minister Judith Collins Please provide the evidence to support that New Zealand is the least corrupt country in the world.
and the response from the companies office
the following is a news release
We repeatedly hear that Shanghai Pengxin has purchased land in New Zealand previously the Crafar farms and now poised to buy the Lochinver Station.
It is time that we got our facts right as to who actually owns the property and just a tiny bit of research brings massive concerns.
There is no company in New Zealand called Shanghai Pengxin and no land in New Zealand owned by a company of that name
There is however an entity called PENGXIN NEW ZEALAND FARM GROUP LIMITED which owns some 76 titles according to Terranet .
PENGXIN NEW ZEALAND FARM GROUP LIMITED has one director, Chinese billionaire Zhaobai JIANG, the company's sole shareholder is MILK NEW ZEALAND HOLDING LIMITED which in turn is also directed by Mr Jiang.
But look at the shareholding of MILK NEW ZEALAND HOLDING LIMITED and it is allegedly owned by Milk New Zealand Investment Limited Suite 1, 139 Vincent Street, Auckland Central.
Strangely enough Milk New Zealand investment does not exist on the New Zealand company register.
The question is how can a non-existent company make an application to be a shareholder?
According to the lawyers for the company's registrar takes applications on face value, this is the reality of the integrity systems which Transparency New Zealand reported on recently .
It was these very same integrity systems which Judith Collins attributed to New Zealand being perceived as the least corrupt.
If we don't look we don't see
If we don't define it we cannot have it
Will there be an enquiry into the company structure of PENGXIN NEW ZEALAND FARM GROUP LIMITED ?
Grace Haden Independent candidate for Epsom.
see anticorruption.co.nz
Open letter / OIA to Minister of Justice
This letter has been published on www.Transparency.net.nz and broadcasted via social media
I also refer to a previous open letter to you "What justice system " and statement you made in this news article where you stated "it's a court of law not a court of justice".
I have become aware through being sued in our courts for speaking the truth and for exposing serious corruption that our courts are on a par with our casinos.Except that our casinos have more security issues in place to prevent abuse.
We apparently fare no better than the Wild West it appears to be a free for all in our courts with no ENFORCEABLE systems or processes to give those taken to court any protection .
When truth and evidence are not factors we cannot have justice. The justice sector by not providing prosecutions for perjury is failing the people
It appears to me, that the course of justice has been averted. Those in the middle income group who own their own houses are a very good target. Their houses are now worth going after and what better way than to bring a massive financial burden on to them, costs which no one can possibly budget for.
This means that those with means and those who are lawyers themselves can totally abuse the court system for their own advantage and write the costs off as a tax advantage while forcing the other party to hire a lawyer .
If you do not hire a lawyer and defend yourself you become prey to the dirty legal tricks which deny justice and which is apparently allowed in our Legal system .
Our Justice sector fails in its task to "to make society safer and provide accessible justice services."
Court has become a tool of oppression , why use a baseball bat to steal some ones wallet when you can use a lawyer and get their house and anything done through a lawyer is apparently legal .
Truth, evidence and integrity have no place in our courts and it appears that you can bring civil claims based on nothing but hogwash . Once the papers are served it is for your opponent to spend funds on lawyers, money which they cannot recover due to the oppressor cleverly hiding all their assets before they start.
I have experienced instances where the civil jurisdiction is being used to pervert the course of justice.
Police simply won't act if a matter is before the court and without evidence the civil jurisdiction supported by the total lack of rights to the Universal Declaration of Human rights
Some Lawyers appear to use the court to pervert the cause of justice by using the civil jurisdiction to conceal criminal offending.While it is a crime to beat someone up with a baseball bat it appears to be sanctioned if done with a lawyer and legal tactics.
The fact that immense stress and bullying has health repercussions is not even considered a factor and neither must the person being beaten up show any emotion because that is another black mark against them.
I am a former police prosecutor and through my involvement in the Civil court have found that our bill of rights in New Zealand does not afford the right to a fair and public hearing by an independent and impartial court to those in the civil jurisdiction this is totally out of step with the Universal declaring of Human rights .
I have previously made an OIA request with this regard and your staff have responded .
I would By way of OIA request further Documentation and discussion papers which examine
1. Why criminal judgements confidential when all civil judgements are published, are both not equally accountable to the public records act.
2. Why convictions in the criminal jurisdiction are not a matter of public record and accessible to all yet civil matters gets full and permanent publicity
3. Criminals have advantage of the clean slate act yet those in the civil jurisdiction are accountable to the decisions for ever , this appears to be a disparity has this been considered and discussed if not why not
4. What the threshold for perjury is and to what degree that drifting from the truth is acceptable before any one is prosecuted, and who prosecutes when the police are under resourced and overburdened?
5. What consideration the minister of justice has given to the use of the civil jurisdiction to pervert the course of justice in the criminal jurisdiction? – To this end, those engaged in crime tend to have more funds than whistle-blowers. Any one coming across a crime has a choice of becoming an accessory by concealing it or speaking up. When they speak up they find themselves under attack from the "would be" criminal and legal tactics rather than truth and evidence are used to financially cripple them. Law is not affordable to the average person and the costs of being taken to court is crippling it is a tool by which the rich and the corrupt can beat up those who are trying to survive. An hour for a lawyer is a weeks wages for the average New Zealander . Law has got out of hand.
6. If the minister of Justice has no way of delivering justice has the minister considered ways to put justice in place or otherwise renaming the ministry.
Our courts need to give protection to the citizens of this country. To allow the courts to be used in appropriately is an abuse of process which I believe the Minister of Justice should seek to prevent.
I look forward to your response.
I am standing as an Independent for Epsom and will make this an election issue.
Update see response from Judith Collins re justice
I recently did an official information act request to Judith Collins seeking her source of information for being consistently quoted as stating that New Zealand is the least corrupt .
In the response she states that this is the perception index yet far too often she makes the statement as though it is fact and not a mere illusion One such instance is in her address to parliament where she erroneously interprets this to mean " Corruption free "
"New Zealand's reputation for being corruption-free is one of its biggest assets internationally. People who do business and invest in New Zealand know they can trust our laws and our Government to protect their rights and freedoms. New Zealand's ranking by Forbes as the best country for doing business is in part due to the high trust in our public sector. Well done, New Zealand."
If the 'corruption free " statement was made by a company it would be held accountable under the fair trading act.
National are slapping themselves on the back for the low levels of corruption by actively concealing corruption and preventing people from speaking about it as is evident in this question by MP Grant Robertson 29 May 2014:
I would ask why it is that I am unable to ask a question that is legitimately to the Minister of Justice about the question of corruption and bribery—and I quoted from a Ministry of Justice fact sheet, which describes that as abuse of one's position of power—and I am not allowed to ask questions about Ministers who bullied somebody—
Ross Robertson will retire for Government this year without seeing his bill Members of Parliament (Code of Ethical Conduct) Bill [PDF 148k] being passed.
Current chair of GOPAC (Global organisation of parliamentarians agaisnt corruption ) is Andrew Little , he has a hard job a head of him when our minister of justice states that we are corruption free and also states ( at 1.05 )that in New Zealand there is no court of justice . To me this is a contradiction of terms .
My petition for a commission agaisnt corruption was presented this week . I have little doubt that it will be viewed seriously for as long as we do not label or define corruption we wont have any .
I have still to hear form John Key with regards to my request to him, I suspect that this has been filed in his drawer until one day he needs to pull it out in a tit for tat trade off against an opposition minister .
National appears to thrive on corruption and to act in the name of corruption would be to clip their own wings .
I have come to the conclusion that a government which will not let you question corruption must be corrupt . Time for a change me thinks.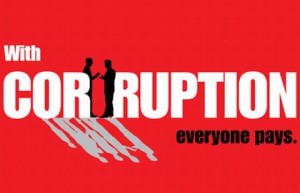 Open letter to Prime Minister.
I refer to the cabinet manual 2.53
"In all these roles and at all times, Ministers are expected to act lawfully and to behave in a way that upholds, and is seen to uphold, the highest ethical standards.

Ultimately, Ministers are accountable to the Prime Minister for their behaviour."
In 2001 the then minister of Agriculture, Jim Sutton gave approval for the Animal Welfare Institute of New Zealand to become an approved organisation under the animal welfare act 1999.
Section 122 of the act requires that the minister must be satisfied "by the production to the Minister of suitable evidence" that the "organisation "complied with the criteria as set out in sections 122 (1) (a) – (e).
It has transpired that the Animal Welfare Institute of New Zealand (AWINZ) had no legal existence, It had no members, structure or existence beyond that of only one man. There was no Organisation, no body of persons had held a meeting or made a decision to make an application for the coercive law enforcement powers.
I have over the years made a number of OIA requests from the MPI and have conclusively established that.
1. The application for approved status for the Animal Welfare Institute of New Zealand was fraudulent
a. Mr Neil Wells made the application on behalf of an alleged trust knowing that no trust existed .
b. The statement with regards to the trust having been formed by way of trust deed was false and known to be false by Mr Wells a statement he was to attempt to retrospectively cover up in 2006.
c. The persons named as the alleged trustees had never formally met together as a trust, signed a trust deed, or discussed the application for approved status under the provisions of the Animal Welfare Act 1999.
d. Section 10 of the application, the institute's compliance with section 122, sought to mislead and deceive the minister as an organisation which does not exist cannot comply with the criteria.
2. The minister relied on MAF advising him with regards to the trust deed, the reality was that there was no trust deed and no signed deed was ever considered or sighted. This ensured that the ministry staff evaluated the application on a worthless and meaningless document which had not been consented or agreed to by any persons.
3. Mr Neil Edward Wells who had appointed himself as Manager (10.4 of the application) was the former Head of the RNZSPCA, in 1996 he wrote a business plan for his own personal ambition to integrate council's dog and stock control with Animal welfare which was a central government concern. He called the service Territorial animal welfare service .
4. Mr Wells was well connected with the MPI (MAF at the time) and through this and his party connections (Labour) came to write the No 1 Bill for the new animal welfare legislation this bill was written with his personal business aspirations in mind.
5. Mr Wells served as an Independent Specialist Adviser to the Primary Production Select Committee during the consideration stages of the Bills but no record has ever been located of any declaration of his conflict of interest.
6. During 2000 Mr Wells and his associate Tom Didovich provided the minister and the ministry with information which appeared to be legitimate, however neither the minister not the ministry verified
a. The legal status or existence of AWINZ
b. The consent and knowledge of Waitakere council in providing funding, staff resources and infrastructure for the venture.
c. The knowledge and consent for the alleged trustees named on the fraudulent application
7. Records show that the policy advisors for the ministry of Agriculture were opposed to the granting of the application despite having previously assisted Mr Wells. MAF officials had voiced their concerns with regards to Mr Wells's undeclared conflict of interest.
8. Consent was finally given after the application went to the labour caucus after Neil Wells was able to comment on and amend the caucus papers and allegedly briefed his former work colleague, Bob Harvey who at the time was the president of the labour party and Mayor of Waitakere City Council.
9. In 2006 as a result of an enquiry from a Waitakere dog control officer I established conclusively that
a. There was no legal person by the name of the Animal Welfare institute of New Zealand
b. Neither MAF nor Waitakere council who both contracted to AWINZ held a signed trust deed.
c. The law enforcement authority AWINZ was not identifiable.
10. Despite AWINZ not existing the then Minister of Agriculture Jim Anderton did not consider that AWINZ no longer complied with section 122 and did not revoke the approved status, he too was deceived as to the existence of AWINZ due to a group of persons posing as AWINZ and despite lacking evidence claiming to be the law enforcement authority . These persons were Tom Didovich, Neil Wells, Graeme Coutts and Wyn Hoadley. Not one of these persons (other than Wells) had been a party to the application process or consented to it.
11. This deception continued through the next minister's term off office and David Carter was similarly deceived.
12. In a series Official information act requests I have established that MPI do not know who the legal persons were who represented the law enforcement authority and it would appear from the latest response ,that they did nothing to investigate the consequences of having a fictional law enforcement authority .
I have recently discovered submissions by Mr Wells for the Animal Welfare Amendment Act , curiously he does not mention his involvement with AWINZ at all but in these he points out the seriousness of this situation by pointing out that New Zealand is only one of two countries to have a private law enforcement authority (the other is Australia).
Mr Wells in his submissions states "Legal commentators maintain that the enforcement and prosecution of criminal law (animal welfare offences are crimes) are the responsibility of the state and not private organisations that have no public accountability."
He goes on to state "There are (in NZ) three types of enforcement and prosecuting authorities — the Police, the Ministry for Primary Industry, and approved organisations. "
And "MPI does not have the resources to be able to deliver national enforcement and prosecution services on its own for all animal welfare complaints and is totally dependent on approved organisations. This creates an enormous risk for government."
AWINZ was an approved organisation yet it did not exist, no one knew who comprised it, ran it, apart from Mr Wells who was not given law enforcement powers in his own name but obtained it fraudulently in a fictional name and then acted on behalf of that fictional body.
The act, section 122, requires that the Minister must be satisfied – by the production to the Minister of suitable evidence – before declaring an organisation to be an approved organisation for the purposes of the Act.
For the decision of several Ministers to have been lawful evidence must exist which shows
1. Who the legal persons were who applied for the law enforcement powers and
2. The legal basis upon which the ministers granted law enforcement powers to a trading name for person or persons unknown and had belief that there was accountability to the public.
If that evidence does not exist then there is another option and that is that successive ministers were deceived.
If this is the case the government has two options
1. To condone fraudulent applications to the crown for law enforcement authority or
2. Instigate a full ministerial enquiry into the matter and hold all those who played a part in the deception accountable to the full force of the law.
The current Minister, Nathan Guy appears to have distanced himself from this matter despite repeated requests for him to conduct a ministerial enquiry into this deception. Every request I write to him is routinely handed over to the MPI. The MPI do not hold the evidence and quite clearly under the act it is for the minister to be in possession of the suitable evidence which satisfies him, it is therefore clear that if there is any evidence as to the legitimacy of the application of AWINZ and the existence of AWINZ then it must be held by the minister.
If the minister does not hold that information then the minister cannot condone a fraudulent act of this magnitude. It is also not a responsible action just to ignore the issue. (Ignorance of the law is no excuse Crimes act 1961)
Fraud is a crime and obtaining law enforcement powers for one of only two approved organisations is serious, it is even more serious when the law was enforced through this fraud and I have evidence that it was.
I did not intend to be a Whistle blower, I simply raised issues which I believed were in the public interest to raise in what was reported to be the world's least corrupt country. I asked
1. Why did the minister give law enforcement powers to a fictional organisation
2. Why was the manager of a council dog and stock control unit contracting to himself in a fictional name
Those two questions have devastated my life and that of my family, I have had a total cold shoulder from the government for 8 years now. I have been treated like the villain in a tactic which I now recognise as classic Darvo where the roles of villain and victim are reversed.
I have been persecuted thought the courts on defamation claims for which I was denied a defence of truth and honest opinion, skipped formal proof and went straight to sentencing.
My crime has been to speak the truth and speak up on a matter of serious public corruption, it has been 8 years I have had every bit of spin and every bit of avoidance, it is painfully obvious that no one knows who the law enforcement authority was and there was no accountability to the public.
I should not be the scape goat. If New Zealand wished to strive to be the least corrupt country in the world then it would instigate a full investigation into this matter and see that whistle blowers are compensated as intended by the United Nations convention against corruption.
While New Zealand is still covering up corruption it will never be able to ratify the convention. We cannot continue to pretend that there is no corruption the only way to deal with it is to meet it head on.
I therefore ask for you Mr Key to direct that the minister for MPI conduct a full investigation into this matter together with lawyers versed in criminal law and Trusts.
I am happy to assist I am a former Police Prosecuting Sergeant and am currently a licenced Private investigator, the matter is already well investigated and researched.
Additionally I request financial assistance to relieve the financial hardship which I am experiencing due to having blown the whistle. I would not be in the position that I find myself in today if the government had acted responsibly and relied on evidence rather than hearsay.
I will soon be attending an international anti-corruption conference and hope that I can report that NZ is taking corruption seriously. I will also send a copy of this to the United Nations for their reference and also publish this on www.transparency.net.nz
I see this as a true test of the ethics of our current government.

In the famous Gettysburg address Abraham Lincoln stated
"government of the people, by the people, for the people, shall not perish from the earth"
Well he was wrong , the year was 1863 and New Zealand was still in its infancy and no one would have thought that this would be the country where democracy would become a farce.
We vote for the members, in a competition where by money rules , those supported through secret trusts and large businesses have the biggest adverting budget and we all know how effective advertising is
Once into office the debt to the sponsors needs to be re paid . There are several ways of doing this so as to make it look like it is an open an transparent process
One way is through the New Zealand Business and Parliament Trust.
This is a charitable trust which was set up in 1991 by PATRICK LEDGER GOODMAN and DRYDEN THOMAS SPRING "To advance and encourage business understanding of Parliament and parliamentarians' understanding of the business community of New Zealand'
( a quick look at their backgrounds shows that they are very well connected
GOODMAN one of the wealthiest families in New Zealand and Australia, with an estimated worth of $A770 million see also Goodman dynasty cooks up recipe for success
SPRING held a number of directorships including Nufarm Ltd., Maersk NZ Ltd., Affco Ltd., Fletcher Building Ltd., Sky City Entertainment Group Ltd., Northport Ltd., Deputy Chairman of Goodman Fielder Ltd., Chairman of Ericcson NZ Ltd. Chairman Of Tenon Ltd., Deputy Chairman Of Ports Of Auckland Ltd., Deputy Chairman of The Rural Banking and Finance Corp of New Zealand. He was formerly a member of The APEC Eminent Persons Group, which in 1993 drafted the APEC Vision of Free and Open Trade in the Asia Pacific, a member of APEC Business Advisory Council, Chairman of Asia New Zealand Foundation,
the members are listed here
Each business has an MP assigned to them ( called associate members ) they are listed here some companies e.g. Fonterra has several MPs .
So while we the mere mortals who believe we live in a democratic society have difficulty in accessing our MPS this is not so for big business.
There does not appear to be any legislation which supports MPs membership to this trust and I have done an OIA to clarify this .
I have also asked if we can set up an organization along the same lines which educates MPs with regards to corruption
until we get an independent commission agaisnt corruption we will have
Government of our businesses by those who have been sponsored by businesses to support businesses.
I also have to wonder why David Cunliffe was the only one to disclose his role in the New Zealand Business and Parliament Trust.
Open letter to the Directors of Transparency International New Zealand
The Governance body of Transparency New Zealand Limited hereby wishes to express concerns with regards to the " integrity " of your organization
You may or may not be aware that Transparency New Zealand was formed when Director Grace Haden was declined membership to TI-NZ on an application which stated that she was a Former police prosecuting Sergeant , Member of the certified fraud examiners association and a licensed private Investigator.
Transparency New Zealand and Transparency International NZ are very different in that TI-NZ wishes to sell New Zealand to the world as the least corrupt country, while Transparency New Zealand wishes to expose corruption so that it does not spread.
We often hear of people who have had cancer and ignored it , their fate is all too often sealed , then there are those who identify cancer early and act , they generally have a much better prognosis ( depending on the type of cancer )
Corruption and cancer are pretty much the same thing. Cancer is caused by the corruption of cells.
We cannot deny that corruption exists , we cannot simply pretend that it is not there and above all we must never reward bad behaviour e.g. by claiming that those who in reality conceal corruption have integrity ( your integrity study )
While Transparency International New Zealand deals with perceptions , Transparency New Zealand deals with reality .
The reality is that every day peoples lives are destroyed by our unjust legal system which has no accountability and has become a tool which criminals use to commit and conceal crime.
Our very own minister of Justice said this week that we have a legal system not a justice system
The old saying that it is a court of law not a court of justice is some what cynical and unfortunately is true
yet TI- NZ states " The judiciary provides a system of justice in accordance with the requirements of a legislative framework." page 107 Integrity Plus 2013 NZ NIS ..

So could some one please explain why TI-NZ believes that the court deliver justice when the people know it does not and this belief even extends to the minister of justice ! TI NZ state " The court system is seen to be free of corruption and unlawful influence." It is obvious from that statement that no one involved in the integrity survey has spoken to any of the actual court users especially those involved in the family or civil courts
While Transparency New Zealand 's stated objective is to seek accountability and is true to that objective , this does not appear to be the case with TI-NZ with its objectives.
1. TI-NZ claims to be "nonpartisan " but it wont let me or any other person who is in any way associated a victim of corruption join, RI NZ simply does not want to hear about the prevalence of corruption in New Zealand . There by proving that TI NZ only accepts members who claim that there is no corruption in New Zealand . yet its membership is full of government bodies and members of the universities .
2. TI-NZ will undertake to be open, honest and accountable in our relationships with everyone we work with and with each other..
yet Susan Snively on her linked in profile claimed to be the director of a company which did not exist Suzanne Snively ONZM _ LinkedIn. oops typo
Former director Michael Vukcevic slipps an LLb into his cv oops typo again
The profile of director Murray Sheard falsely portrays him to be a current lecturer at Auckland university in conflict with his linked in profile.. another typo ?
The web site of transparency International has been set up by an American resident also named Snively and using a company which there is no record of . ? Nepotism and use of another fictitious company again. But who would notice as the web site states that you need less due diligence in dealing with New Zealand companies.
3. Transparency International New Zealand appears to be supported by Business, government departments and academics amongst the members are the SFO, office of the auditor general , ombudsmen , Human Rights Commission, Ministry of Social Development, NZ Public Service Association, Ministry for Justice, Statistics New Zealand
School of Government, VUW
Ministry for Justice
Statistics New Zealand
The Human Rights Commission
Ministry of Social Development
The Treasury
Inland Revenue
Department of Internal Affairs
Corrections
Department of Conservation
Ministry of Transport
Civil Aviation Authority
New Zealand Transport Authority
Maritime New Zealand
Te Puni Kokiri
The State Services Commission
The Ombudsman
Ministry of Pacific Island Affairs
The New Zealand Defence Force
Department of Prime Minister and Cabinet
The Serious Fraud Office
Crown Law
NZ Public Service Association
The Gama Foundation
Bell Gully
VUW School of Government
PwC
Deloitte
KPMG
Human Rights Commission Launch Day
School of Government Institute for Governance and Policy Studies Wellington
Wellington Girls College
Thorndon New World
NZTE
Institute of Directors
BDO Spicers
Russell McVeigh
Chapman Tripp
Gibson Sheat
Susan Gluck-Hornsby
Chen Palmer
Juliet McKee
Claudia Orange
Te Papa
4. the objectives of TINZ appear to be to encourage business growth and a very dangerous claim is made that "Trading partners recognise cost savings for dealing with New Zealand through less need for due diligence, lower contracting costs, and a culture intolerant of corrupt middle men with whom to transact business."
Transparency New Zealand believes that this statement is tantamount to entrapment as first you are ripped off and then you find you can do nothing about it. this all happens very publicly with hoards of people standing about saying I see nothing.
Transparency New Zealand advocates the " trust but Verify " approach to any dealings with any company or person anywhere .
5. TI-NZ claims to be "A caretaker of New Zealand's high trust, high integrity society" But apparently as mentioned before they do not lead by example. We question what High integrity is when by our experience you simply cannot report corruption .
There is also a difference in what our definitions are of certain terms as illustrated in the FAQ section of the transparency international NZ web site
How do you define corruption? click link for TINZ,s definition
Transparency New Zealand :Corruption is dishonest activity in which a person acts contrary to the interests of the University and abuses his/her position of trust in order to achieve some personal gain or advantage for themselves, or provide an advantage/disadvantage for another person or entity.
It also involves corrupt conduct by an organization , or a person purporting to act on behalf of and in the interests of the organization , in order to secure some form of improper advantage for the organization either directly or indirectly.
Corrupt conduct can take many forms including:
conflicts of interest ( government departments paying for " integrity" reports )
taking or offering bribes
dishonestly using influence ( promoting business in New Zealand though claims that there is no corruption )
blackmail
fraud
theft
embezzlement
tax evasion
forgery
nepotism and favouritism( this includes having a relative designing a web site through a fictitious company )
NOTE: Corruption does not include mistakes or unintentional acts, but investigations are required to determine intent.
What is "transparency"?click link for TINZ,s definition
Transparency New Zealand : Being open , truthful and lacking concealment .
What is bribery? click link for TINZ,s definition
Transparency New Zealand : Bribery is an act of giving money or gift giving that alters the behavior of the recipient. Bribery constitutes a crime and is defined by Black's Law Dictionary as the offering, giving, receiving, or soliciting of any item of value to influence the actions of an official or other person in charge of a public or legal duty.
The bribe is the gift bestowed to influence the recipient's conduct. It may be any money, good, right in action, property, preferment, privilege, emolument, object of value, advantage, or merely a promise or undertaking to induce or influence the action, vote, or influence of a person in an official or public capacity.
What is fraud? click link for TINZ,s definition
Transparency New Zealand:Fraud is a deception deliberately practiced in order to secure unfair or unlawful gain . Fraud included Identity fraud and the use of " organizations" which do not exist. In New Zealand one of the largest vehicles for fraud are trusts .
Transparency New Zealand is extremely concerned with the conduct of TI-NZ . We suspect that the directors have handed over the reins to just one person an economist who misunderstands the importance of corruption prevention . We suspect that her objectives are to assist business development and growth rather than combating corruption . We believe that Susan Snivley is an excellent business woman with an objective of bringing in money rather than an objective of independence.
True corruption prevention comes from Accountability , I gave this example of accountability to a director of TINZ recently with regards to Suzanne Snively LinkedIn profile which claimed she was the director of transparency International Limited
We believe that Susan Snively wished to create a false perception of her abilities , she was blowing her trumpet too vigorously and duplicated some of her roles and presented those as though they were different entities.
Because no one checks in New Zealand when may have believed that she could get away with it.. this is often the case.
Corruption = Monopoly + discretion – accountability
Susan had control over her Linked in account .. Monopoly
She and she alone had discretion of what was presented.
We are holding her accountable
= Linked in profile changed. and no corruption

I also gave an example of perception
When I was on Police patrol in Rotorua , I saw a decapitated cat on the road, I made a comment to the driver about the grizzly find.
He disagreed with me and said that it was nothing more than a plastic bag.
Because our views were so different we went back and on close inspection found that we were both right, it was a cat with its head stuck in a plastic bag.
The reality was that he cat lived to see another day . Happy ending !!!!
When you deal with perceptions you cannot just look from one side. You have to look at the facts and consider the views of many and not just a few.
You cannot promote the lack of corruption by will fully being blind and intentionally ignoring the corruption which is occurring.
To examine the corruption which is occurring and to call for accountability for those involved is what will prevent corruption from blowing out of control.
What good are laws which are not enforced, codes of conduct which are ignored , and processes which are flawed.
ACCOUNTABILITY is what we should be insisting on , and by doing a report showing e.g. that the auditor Generals office is doing fantastic work , when they are openly ignoring corruption and fraud, does not serve NZ .
A report which has been funded by the party concerned is not an impartial report.
The office of the auditor general is a member of transparency International and has given $15,000 and $30,000 in two consecutive years ( I have not checked beyond that ) when you get $30,000 from someone and want to get $30,000 again next year you will give them a favourable report. This process is akin to reverse bribery where the state is paying someone to give a glowing report .
Being no partisan and apolitical is not enough TI NZ should be totally Neutral and not be acting for an on behalf of businesses in New Zealand to encourage business growth.
I look forward to working with Transparency International New Zealand to truly strive to make New Zealand Transparent by focusing on ACCOUNTABILITY . I would like to start by making Transparency International Accountable to their code of ethics and the definitions of fraud and corruption which I have provided above.
We look forward to hearing from the directors of TI-NZ and we undertake to publish their response .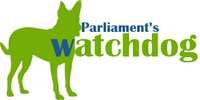 Transparency International ( New Zealand) has recently undertaken a national integrity survey.
A quick look at their web site http://www.transparency.org.nz/ flashes up messages such as" Least corrupt public sector in the world "."New Zealand's high trust public sector is its greatest competitive advantage"
The integrity survey cost $174,320 , the accounts do not reveal who the recipients of that payment was but I do believe that a sizable chunk of it went to the chair person Susan Snively .
the survey was funded in the following manner
Income
National Integrity Systems Assessment
Donation: Gama Foundation $15,000
Office of the Auditor General $30.000
The Treasury $30.000
Ministry of Justice $30.000
Statistics New Zealand $15.000
States Services Commission $10.000
Ministry of Social Development $10.000
Other $55.000
now look at the pillars of the integrity system they are
Legislature (pillar 1)
Political executive – Cabinet (pillar 2)
Judiciary (pillar 3)
Public sector (pillar 4)
Law enforcement and anti-corruption agencies (pillars 5 and 9)
Electoral management body (pillar 6)
Ombudsman (pillar 7)
Supreme audit institution (pillar 8)
Political parties (pillar 10)
Media (pillar 11)
Civil society (pillar 12)
Business (pillar 13)
looking in particular at the Supreme audit institution you will note that the $15,000 donation in 2012 and the $30,000 donation 2013 have not been wasted.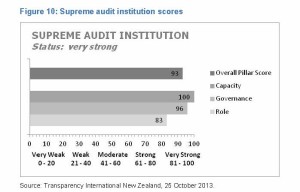 When you see high scores like that you could be mistaken in thinking that this is the reality . The reality is that Here in New Zealand we are very good at manipulating data .
Three pages worth looking at at the auditor generals we site
how fraud was detected , Fraud types and methods of committing fraud
Fist of all How fraud was detected
Internal control systems were deemed to be the most effective method of detecting fraud . This is best assessed in conjunction with the Price Water House coopers publication prepared on behalf of the auditor general page 85 is particularly interesting in that it shows a very low percentage of entities having a whistle-blowers hotline.
But internationally Whistleblowers are Still the Best at Detecting Fraud.
It is no surprise that this is not the case in New Zealand as the systems are not in place for whistle blowers according to the auditor generals own figures .
What I notice here is that all the frauds are $$ based. In true auditor style we need figures. but not all frauds occur in such a way that good book keeping can pick them up – there is a very large field called Identity fraud which is not represented in the tables and I wonder if it is at all considered.
Again we have the word theft occurring repeatedly , Theft generally implies that you have something and next it is gone without your permission.
The frauds which are very prevalent in New Zealand are identity frauds perpetrated through fictitious organizations and secret trusts.
Money is moved from one entity into a seemingly legitimate trust and then the trust is split off and dissolved in a very non transparent manner
The fraud which has impacted on my life is one where a person pretended to be a trust. a fictitious trust obtained law enforcement powers and the one person carried out the duties of this fictional trust using the staff and resources of a council . This type of fraud is apparently condoned by the auditor general as shown by this correspondence.correspondence with the auditor general
The office of the auditor general claims to be Parliaments watch dog it would appear that this watch dog is asleep as the office of the auditor General in New Zealand condones fraud as follows
1.

Making a false application to the minister 22 November 1999 this document in itself is a fraud on the government .. using a document for a pecuniary advantage. AWINZ does not exist it is not a legal person in any manner or form.

condoning a criminal act.
2.

Central government giving coercive law enforcement powers to an entity which does not exist and no one checks for its exists, even when they know it does not exist they continue to pretend that it does.

condoning a criminal act.
3.

MPI not having the slightest idea of what a trust is and how a trust should function, and allowing the false application to be justified because 6 years later they received a trust deed which was signed 3 months after the application was made. The fact that the people who had signed that deed had never met or made a valid decision between, was totally beside the point.

condoning incompetence .
4.

MAF ( now MPI) not being in possession of a trust deed with the party to whom law enforcement powers had been given and then getting a trust deed which was altered or fabricated, and ignoring this despite having this pointed out to them. Deed provide June 2006 this is the deed MAF have on file

condoning incompetence .
5.

Using fictions names for contracts to local and central government. Mou Waitakere & MOU MAF

condoning a criminal act.
6.

Council employees contracting to themselves Mou Waitakere ( Mr Wells became both parties to this contract). c

ondoning a criminal act.
8.

Council manager writing to the crown consenting to the use of staff and resources to fictional third parties North shore city and Waitakere city

condoning this corrupt action.
12.

The processes within the government department and councils are such that they serve to conceal fraud as the very persons involved and implicated for their lack of diligence are put in charge of the release of information, additionally Mr Wells was consulted on what was released to me and what was not there was no impartiality between the department/ council and third parties

condoning this incompetent practice .
Why do we have to pretend to be the least corrupt why cant we deal with the reality , Corruption happens, dont condone it deal with it that will ensure that corruption does not ruin lives .
By outsourcing your services to private enterprise teh office of the auditor general has lost control over the process , but in the end its the perception that is worth preserving and that is why the office of the auditor general is a member of transparency International New Zealand , that is as good as any watch dog being a member of the local gang.
so much for the rules of independence
I have it in black and white Auckland council have no policy with regards to trading with undefined or unidentifiable entities.
My long over due LGOIMA was addressed last night the actual response is here EY report response
I have referred to the actual report previously in the post The Ernst and Young report into Len Brown not worth the paper it is written on
The reason I asked about who the report was written by was because the report did not disclose who EY was and as I pointed out the report on its last page provides the definition for EY as being
EY refers to the global organisation and may refer to one or more of the member
firms of Ernst & Young Global Limited, each of which is a separate legal entity. Ernst & Young Global Limited, a UK company limited by guarantee, does not provide services to clients. For more information about our organisation, please visit ey.com.
© 2013 Ernst & Young, New Zealand.
All Rights Reserved.
If you visit the companies register you will note that there are several EY companies
ERNST & YOUNG NOMINEES (20067)Registered NZ Unlimited Company 7-Jul-67
ERNST & YOUNG LIMITED (437730) Incorporated 30-Nov-89
ERNST & YOUNG CORPORATE NOMINEES LIMITED (955165) Incorporated 15-Apr-99
ERNST & YOUNG TRANSACTION ADVISORY SERVICES LIMITED (953248) Incorporated 20-May-99
ERNST & YOUNG GROUP LIMITED (1221939) Incorporated 28-Jun-02
ERNST & YOUNG LAW LIMITED (2494153) Incorporated 20-May-10
Go to the intellectual property office and you will find that the trade mark EY is registered to EYGN Limited which is not even registered in New Zealand but is apparently registered in Nassau in the Bahamas. The general disclaimer with regards to that company can be found here
The person at Auckland Council who dealt with the request could well have assumed who the company was which prepared the and assumed wrong we will follow up requesting evidence .
As a private Investigator myself I find it most disturbing that a report has been issued which has no evidential value at all for the quoted price of $198,751. I have to wonder if that is before or after GST .
The law issue
I requested the legal basis on which this report was commissioned
the response states
The report was commissioned in accordance with s12(2)(a) and 12(2)(b) of the Local
Government Act 2002 (LGA). Additionally, the Chief Executive has broad power
under s42 of the LGA to ensure the effective and efficient management of the
activities of the local authority.
This response totally circumvents the requirements of the code of conduct elected members set out in part 8 and has requirement for an independent panel .
The sections which have been quotes in the response are nothing more than a brush off
12

Status and powers

(2) For the purposes of performing its role, a local authority has—

(a) full capacity to carry on or undertake any activity or business, do any act, or enter into any transaction; and

(b) for the purposes of paragraph (a), full rights, powers, and privileges.
and section 42 sets out the general duties of the Chief executive
But when a specific duty is placed on the CEO that takes prescient over any general responsibility in this case the obligations were to the provisions of the code of conduct and an independent panel should have been appointed not an organsiation which had a pecuniary interest in supporting the Mayor .
Item 2 time sheets
In an open transparent and democratic society one would expect a bill for $198,751 to be explained . Private investigators work at $150 per hour this represents over 33 weeks of work , how many people worked on it and WHERE IS THE EVIDENCE .
The report is such that it has no accountability paying 200,000 for which amounts to unsubstantiated opinion is reckless.
Item 3 Engagement agreement dated 26 October 2013
I have to question the terms of any agreement between EY and Council. the previous CEO Doug Mc Kay was a member of the committee for Auckland and met with the members of this elite group behind closed doors without any requirement to report back to council see Download View as HTML
Membership to the committee for Auckland was justified as follows
Membership to this committee is an operational issue and was approved by the Chief
Executive, or his staff, within delegated financial authority. As such, no Governing Body
approval is required, nor is the Chief Executive required to report back to the Governing
Body.
Once we drew the attention of the CEOs placement on this committee to the attention of he world Stephen towns name was removed from the membership of the committee for Auckland .
Doug Mc Kay who was concurrently with being CEO of Auckland council a director of another committee for Auckland member BNZ .
It appears to me that a CEO who does not appear to know what conflict of interest is , spent more time instructing his fellow members of the committee for Auckland than properly consulting with the executive body of council who employed him.
We await with baited breath to see the path the new CEO follows, his removal from the membership of the committee for Auckland is a step in the right direction