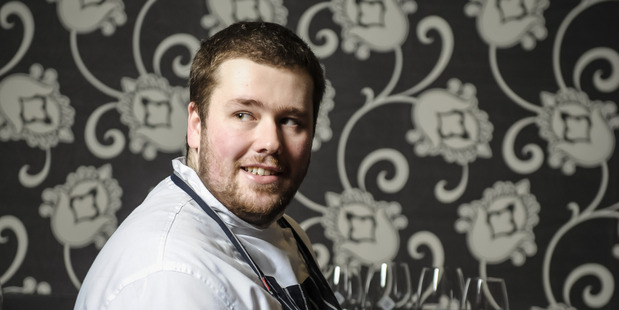 Restaurateur Samuel North has been in the news  many times , each time there is a common thread  and that is – he is identified as- the youngest chef  in Wellington to  have his own restaurant .
Transparency New Zealand will today   examine the truth behind that statement  and others  which we have located in the news.
For convenience we have prepared a file with the relevant documents  they can be found here  samuel north evidence  (  most of the originals of these documents are available on the companies register , the others have been filed in  the Wellington district court with the exception of the  car registration which comes from the on line register)
Page 1  this  is the sale and purchase agreement    the lawyer involved  for Muse on Allen   was  the North's own lawyer  .The company was set up with two directors and two share holders   Jozsef Gabor SZEKELY     who owned 70 % of the company page 2    and Samuel Raymond NORTH  who owned 30%  of the company  .
Malcolm North  was involved from day one and took charge,  he drew up a  Partnership agreement     and as can be seen  Samuel's total contributions  was to be $10,000  as opposed to  Jozsef who invested $65,000 .page 3
Jozsef understood  that  all would be equal partners  but that was not to be,   as it was later revealed that  every one except  Jozsef  introduced their money into the company  by way of loans . Jozsef on the other hand was    recognized in the accounts as a share holder .
Debbie North Samuel's mother   requested to be an alternate director for her son   instead she  completed her own directors documents  and uploaded them on to the companies  site back dating  them to the date of the companies formation Pages 4 &5 
On 3 November 2012  the dominion post published a review of  the restaurant Muse on Allen: Food fit for the gods
On 19 December 2012 Samuel  without complying with the required legislation  and without any  share holder transfer   documents  reduced Jozsefs 70% share holding to  49%  Page 6.
Another great  review was published by Raymond Chan on  4 January   2013 acclaiming both chefs.
On 9 January 2013  without   following the required procedure for appointing a director Samuel prepares a directors consent for his father  Page 7  and up loads this to the companies register Page 8
Malcolm North, Debbie North and Samuel North  are  now all directors  and have  a meeting at their home on the 10 January  they resole to remove Jozsef as director   Page 9 
24 February Samuel North  transfers all of Jozsef's shares to  himself .  page 10
Jozsef   who consulted Lawyers on the  10th of January  2012   has spent  two years in court  attempting  to  get justice.
It has been a stalling game one intent on  costing Jozsef big $  and now when the end is in sight Malcolm North advises that the company is in liquidation court.
Malcolm North has also  been passing himself off as counsel in court documents  see here 18 Amended Statement of Defence   In this document Malcolm  also states
 The Companies Office records stating otherwise are in error, and that the plaintiff remains a shareholder in the company,  and 

The amendment of the Company's Office register on or around 24February 2013 was an error, and the plaintiff remains a minority shareholder of the Company.
despite  making this statement  the companies register has never been corrected.
On 19th June   2015   despite  Jozsef being denied any rights  of a share holder, Malcolm files documents in the District Court pages 11- 54.
In the statement of claim  he alleges that Jozsef  as a 63.2% share holder is responsible for the corresponding  % of losses in  Muse on Allen  for the 2013 & 2014 financial years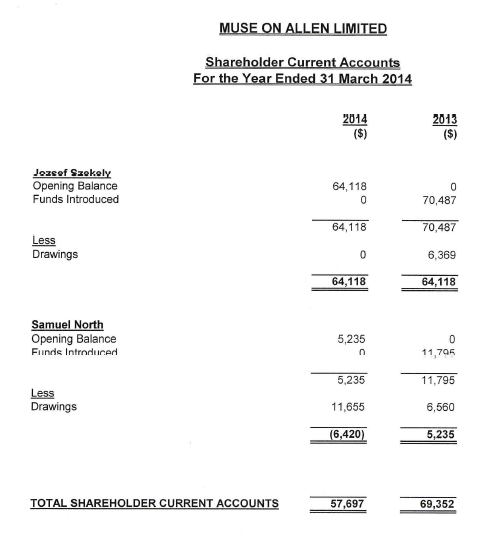 .
this would have to be  a first in New Zealand  where a company sues its only solvent  share holder for  the loses which the management  has incurred after denying the share holder any rights.
The accounts attached  speak volumes   especially the share holder accounts   they show  that Jozsef has paid up share capital of $64,118  and  Samuel North  has a deficit of $6420.
No other persons are shown as share holders   and no  other share capital has been introduced.
The accounts clearly show however that the   funds introduced  into the company by Samuel's parents and  his girlfriend Anabel Torrejos  were introduced as LOANS. they have never been  recorded as share holders.
We wish to make it clear that these documents came to us without any restriction  or confidentiality and as can be seen  they clearly identify Jozsef as the  majority share holder.
As a share holder and in this case the only paid up share holder he has every right to the accounts .
On a  % share holding basis    it is obvious  that the sole owner of Muse on Allen is Not Samuel North but Jozsef  .
We believe  that what has happened in  Muse on Allen   totally undermines the  confidence that   should be had in the integrity of  our companies.
Jozsefs battle to  be recognized as share holder continues  but in a bizarre twist Malcolm North advised   Jozsef on 8 June 2015   that the company is  currently in insolvency court  being  sued  by Kensington Swan , their former lawyer. The date for the hearing has been delayed allegedly in the hope that  they can repay the  debt which we believe is some $24,000.
In the mean time  Samuel North is driving about town  in  a Black BMW X3 2007 Reg HYE837 Page 55   .similar to the one pictured for which he has raised a loan through the company ( see corrections  on Samuel North  responds )
Now that you have these facts   you  can look at the following articles in a different light , we particularly  like  the  concrete playground  article   it speaks volumes and is well  worth reading   and now that  you  know the truth you  will have more insight.
Other less colourful articles are below  they all    assert falsely that Samuel  is the sole owner of   Muse on Allen  Limited. 
11 august 2013 Muse on Allen takes Top Honours– Wellington has a new rising star on the food scene, with the 22-year-old head chef and owner of Muse on Allen taking out this year's MiNDFOOD Wellington On a Plate Award……Muse on Allen's 22-year-old head chef and owner, Samuel North
04/09/2013  Young upstart of the restaurant scene   Samuel North is not your typical restaurateur. At just 22, he's thought to be the youngest chef running his own dining establishment in Wellington. In fact, he was 21 when he launched Muse on Allen in the former site of Satay Kampong restaurant at the top of Allen St…..In his most recent job at the White House as chef de partie, he read about Martin Bosley starting a restaurant at the age of 21, and says: "I was inspired by that. I thought I could do that. I started looking at places up for sale. We looked at 19 different places before we found this one."  
August 9, 2013MiNDFOOD Wellington On a Plate Award Winner Announced 22 year-old Samuel North, chef & owner of Muse on Allen, takes out the MiNDFOOD Wellington on a Plate Award….Wellington has a new rising star on the food scene, as the chef & owner of Muse on Allen takes out this year's MiNDFOOD Wellington On a Plate Award…..Muse on Allen's 22-year-old head chef and owner, Samuel North,
21 July 2014 Theatrical dish coasts into Dine award final Samuel North, 23, the head chef and owner of Muse on Allen in central Wellington, has had his restaurant nominated as one of five finalists in the Visa Wellington on a Plate Award.
06/08/2014 Fresh faces of food SAMUEL NORTH, OWNER AND HEAD CHEF AT MUSE ON ALLEN  Samuel North was just 21 when he opened his own restaurant, Muse on Allen in 2012. By that time he'd already chalked up six years behind the stoves of a whole bunch of kitchens from Wairarapa to Hunter Valley. "I think I may have been the youngest chef to open a restaurant in town. There was this big hype when I opened it because I was so young and a lot of people thought I'd fail, " he says
Oct 13, 2014   NZ Herald -Your Business: Young Entrepreneurs
"The founder and head chef of Wellington-based restaurant Muse on Allen worked and saved hard for six years, and got a loan from his parents and help from his partner to set up the restaurant, which last year took out a top culinary prize – the Visa Wellington on a Plate Award."
Oct 13, 2014   NZ Herald -Your Business: Young Entrepreneurs   "I have no credit cards, no bank loans – nothing," he says. "The banks ran a mile when I put the idea to them. It's pretty funny looking back at it now; there was no way they were taking the chance on me – and I can't blame them."
March 2013 social cooking :Samuel North  Info:At just 21 years old, Sam was considered to be the youngest Chef to be running his own establishment in Wellington, when he opened Muse on Allen 2 years ag0
31 July 2014  Lettuce take a moment with… Samuel North  "Samuel North is no stranger to success. At the age of twenty-one, Sam opened his very own Restaurant, Muse on Allen."
August 13, 2014  48 hours in the capital: Where to eat in Wellington  Head chef and owner Samuel North is, amazingly, only 22, and made a name for his new restaurant
31 January 2015  Grab one  Owner and chef, Samuel North, won this year's MiNDFOOD Wellington On a Plate Award, which recognises the top level of creativity and skill among Wellington's chefs, along with their ability to showcase local ingredients through Dine Wellington's festival programme.
18 April 2015  Muse and a little Singin' in the rain   Muse is the establishment of Samuel North, a young chef in Wellington with a bucketful of talent.
08 July 2015  Producers "live and breathe" their craft….Muse on Allen chef and owner Samuel North 
Muse on Allen Restaurant and Bar -Wellington on a plate
More soon
A Ted talk  has been forwarded to us  by a member , it is extremely relevant  it is only 10 minutes long   and a must see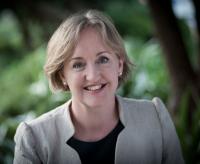 Good morning Minister
Last week I made submission to the select committee on the anti corruption and money laundering bill
I note that in the bill we do not define corruption
This makes our anti-corruption initiatives extremely effective as you cannot have something which is not defined.
As such the following are NOT examples of corruption in New Zealand
1. Having a business plan to amalgamate local government duties with those of central government for private pecuniary gain then writing the bill for and advising on legislation to facilitate this
2. Making an application for law enforcement powers under that legislation pretending to be a trust when no trust exists .
3. Deceiving a minister by making false claims so as to get the law enforcement approval
4. Getting law enforcement powers for a fictional body by pretending that it is a legal person when it is not.
5. Operating that Fictional law enforcement body from council premises using the staff vehicle and infrastructure for private pecuniary gain
6. Setting up a pretend trust in 2006 to pretend to be applicant and issuing court action to cover up
7. Deceiving the court through lawyers and denying the defendant a hearing or the right of defence of truth and honest opinion so as to re write history using a court judgement obtained through deceit
Through the journey I have found that we effectively try to Kill off Whistle-blowers , through stress financial hardship and making their life hell on every front as such a simple question of " why does that law enforcement authority not exist as a legal person ?" has cost me my family , my marriage, nearly 10 years of my life well over $400,000 hard cash and goodness only knows how much in lost earnings.
I took on a lawyer who has since been found by the courts to have been " incompetent " he is now suing me because I complained of double billing. I made a complaint about a billing issue 4 years ago , it is still not resolved and instead the lawyer has taken me to court in a series of actions seeking to bankrupt me when he has overcharged me some $28,000.- message- don't complain about your lawyers double billing – he will sue you and make your life hell .
I am a licenced Private investigator and former long serving police officer , I know a thing or two about fraud and corruption and I know that it is impossible to report fraud and corruption in New Zealand because it damages our clean green image.
I have found the greatest issue to be that lawyers are not held accountable to the rule of law, and crooked lawyers have a licence to use our legislation in the most convoluted manner to cover up fraud and corruption . The law society has conflicting roles of member society and lawyers authority , nothing is going to change until those conflicting roles are separated .
The so called public watchdogs, are under resourced and under staffed by competent personnel and we function be throwing up walls for people to bang their heads up against until they either drop dead or go away.
My matter is well researched, I have a ton of documents, from the government's own files , No government authority has ever looked at them , they all claim it has been through court and it is therefore settled.
This proves that using the court to conceal fraud and corruption in new Zealand works and makes this even more serious.
I have even gone to the extent of filing a petition for a commission against corruption only to find that Mike Sabin, who was on the wrong side of the law himself , threw it out because my evidence disclosed fraud.
It appears that peoples reputations are paramount, that is their reputations not mine – My crime is to have exposed corruption and I have paid a very high price .
I request that you use my scenario as an investigation into corruption in New Zealand , it proves that it exists at every level and that we would sooner shoot the messenger than deal with the real issue.
Are you the minister who will turn corruption in NZ around ? I hope so for all our sakes
Regards
Grace Haden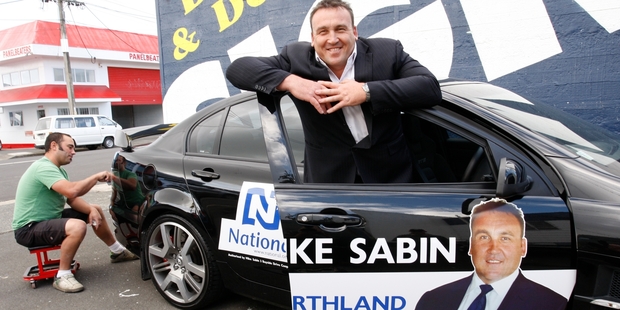 From: Grace Haden
Sent: Tuesday, 3 February 2015 2:20 p.m.
To: 'select.committees@parliament.govt.nz'
Cc: 'jonathan.young@parliament.govt.nz'; 'lindsay.tisch@parliament.govt.nz'; 'ian.mckelvie@parliament.govt.nz'; 'phil.goff@parliament.govt.nz'; 'Kelvin.Davis@parliament.govt.nz'; 'david.clendon@parliament.govt.nz'; 'Mahesh.bindra@parliament.govt.nz'; 'KanwaljitSingh.Bakshi@parliament.govt.nz'; 'Andrew Little'
Subject: Petition for a commission against corruption
Good afternoon
Last year Andrew Little presented my petition for a commission against corruption
I am a former police officer and now a private Investigator who has found herself at the fore front of corruption In New Zealand because I believed the spin that NZ was corruption free.
I thought it was the proper thing to do, to draw attention to the fact that a man had written legislation for his own business plan, advised on it at select committee level and then using a false name  applied for the coercive law enforcement powers which he had helped create.
The powers were under the animal welfare act and he claimed that he made an application on behalf of a trust called the Animal welfare Institute of New Zealand(AWINZ ) . The trust was fictional, the minister was misled and no one checked that the Animal welfare institute of New Zealand existed.
In 2006 a lady working at the Waitakere city council dog control unit asked me if I could find out who or what AWINZ was. The council vehicles and the buildings had been rebranded to have the appearance of belonging to AWINZ, the council officers were required to Volunteer their council paid time to AWINZ and prioritize animal welfare over dog control . The prosecutions were performed by the council dog control manager who was one and the same as the person who had written the bill which ultimately became foundation for the law. This was a classic case of public office for private pecuniary gain – which is deemed to be corruption by international standards.
Through my journey with corruption many people have come to me and have told me of the brick walls which they , like me have encountered. The police say they had no time , the SFO say not serious or complex, the ombudsmen took 2 ½ years to get a document then went quite ,the office of the auditor general total ignored it .. IT HAS NEVER BEEN INDEPENDENTLY INVESTIGATED except by the society for promotion of community standards , who confirmed what I had alleged.
In having my petition rejected, I have struck yet another brick wall and again things are done with an appearance of legitimacy but without any real legal foundation and ability.
Mike Sabin rejected the evidence of my petition on the basis of standing order 236 b . this quite clearly states that the evidence is considered to be an irrelevant or unjustified allegation can be expunged. It does not state that all of the evidence can be thrown out and indeed there are various issues raised in my evidence not just that of AWINZ .
236 Irrelevant or unjustified allegations
When a witness gives evidence that contains an allegation that may seriously damage the reputation of a person and the select committee is not satisfied that that evidence is relevant to its proceedings or is satisfied that the evidence creates a risk of harm to that person, which risk exceeds the benefit of the evidence, the committee will give consideration—
(a) to returning any written evidence and requesting that it be resubmitted without the offending material:
(b) to expunging that evidence from any transcript of evidence:
(c) to seeking an order of the House preventing the disclosure of that evidence.
It concerns me that Mike SABIN was so actively involved in the removal of this petition and in light of the events of the last week it is entirely possible that a conflict of interest existed.
Mr SABIN does not state that the allegations are irrelevant or unjustified , and 236 b clearly states "to expunge that evidence from any transcript of evidence " this does not give open licence to dispose of all of the evidence.
Additionally my evidence does not make it clear that the matter has been" thoroughly investigated" my evidence is that it has never been investigated by the proper authorities .
As a former Police officer Mr Sabin is well versed at writing complaints off but this is a matter before parliament , it needs to be dealt with according to the rules and I do not see that 236(b) can have all the evidence expunged.
Additionally standing Orders have ways of dealing with evidence which could have impact on persons reputation . I have deliberately not named any one however the evidence in support which were obtained from government and council files show who the players are in the game. The Animal welfare institute of New Zealand does not have legal existence hence does not have any legal rights and therefore cannot have a reputation .
It is precisely the use of such fictional personas which makes fraud prevalent in new Zealand , this practice is being condoned and this is exactly why we need a commission against corruption . It is a huge elephant which is being ignored.
I request that the committee review the manner in which this petition has been disposed of and ensure that it was done lawfully if they up hold the decision. I am happy to resubmit eh evidence with names removed if that assists .
Additionally under the OIA I request the names of those who sat on the committee with Mr SABIN and voted on dumping the petition and writing the letter attached above and the minutes pertaining to this .
I will be publishing this letter on www.transparency.net.nz as the public have a right to know .
Regards
Grace Haden
Phone (09) 520 1815
mobile 027 286 8239
visit us at www.transparency.net.nz
There is  a  very big anomaly in New Zealand with regards to law firms , they are not readily identifiable and even the law society has trouble telling you  what is a law firm and what is not a law firm.
Lets look at  some entries on their register  at a listing for  Stewart and associates Equity law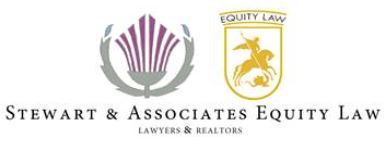 You wont  find it on the companies register and even the registration   on the  solicitors roll is deceptive  as the address is in Auckland  and the phone number is in Alexandra.
Also you have to  wonder how an organization can operate   from a Po Box. .. bit cramped we would have thought .
Try to physically locate it  and you will never  find it  as the " organisation "  doe not  exist   and  it is indeed a  fictional law firm .
This fictional law firm,   fictional entity   is however the  instructing solicitors  in  court action  agaisnt us . The law firm  only has one  lawyer  a  young lady   named Julia Leenoh.   Julia is not her real name and neither is Leenoh apparently  as she  does not appear to have obtained her degree in that name    and appears to be   Joo Yeon Lee
Now this  fictional  law firm   came  about apparently  through the  " merger"  with Equity law  .
Now  the objective of this blog post is to identify  who or what  Equity law is .. I warn you  you are going to get dizzy .
It is of note that when the proceedings were commenced against us the   fourth plaintiff was identified as  Equity Chambers we then received a memorandum   to say
"This document notifies you that the fourth Plaintiff was incorrectly named as Equity Law Chambers.  It should instead be amended to Equity Law Barristers Limited, as incorporated company, having its registered offices at Level 4, Khyber Pass Road, Grafton, Auckland. "
We had rather foolishly  thought that equity law    was  equity law barristers  as  all the  signage in the building  indicate
equity law  as being inthe building  and when  our director had close relationships with the  law firm  it appeared to be a law firm .
let us look at the  history of Equity law .. assuming that it is the company  Equity  law barristers Limited
the company was formed  19 Dec 2006   as Equity law  2007 Limited
Captures from the  way back machine  show the very first  we presence  that they captured  on 17 August 2007
the  web site  was registered 20:19 27/3/2007 to  equity law  Limited  we note that there is no such company as  Equity law limited  but even the registrar of  domain names agrees that this must be the company which owns the web site   becasue the other associated companies did not exist  at that time
Equity trust International Limited  was incorporated 26 may 2008
Equity trust International tax agents  Limited  was incorporated  15 November 2011
Going back to  Equity Law 2007 Limited  we note that it had two directors
These two persons are also involved in the   legal action against us .
Action was originally taken  agaisnt a member  and  when     the plaintiffs agreed it was an error they eventually  submitted  proper documentation   which   shows the other plaintiffs signatures.
this is the signature of the  second  Plaintiff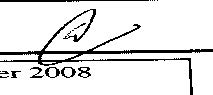 now look at the   initial filing  documents of the  company for this  same person    and the signature is  some what  different  the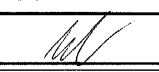 full document is on this     link it is the fourth  document from the bottom  this   and the share holder link is this the  actual signature for the share holder is   this
Our research shows that  the  actual signature is the very first one
to us it appears  that  a law  firm has been   set up  using fraudulent signatures. But could it even have been a law  firm ?   seems like no one can tell us.  Now  The   director of  the firm   claims that Equity law is a trading name he used.  so the plot thickens. perhaps we will never know.
The  dubious signatures are  a bit ironic  as  a  member of the chambers was Frank Deliu  who defended Lu Zhang  "
Lu Zhang, 28, is accused of 75 offences of making false statements in company registration forms after she declared her office address was her residence in 75 companies she registered.

She was charged after a plane loads of weapons, including rockets and grenades, from North Korea bound for Iran was seized in Bangkok last year.
another  new item is also worthy of reading  this is an extract
"Former fast-food worker Lu Zhang, 28, was the sole director of Queen St registered SP Trading Ltd, a company that hired a plane discovered at Bangkok airport last December flying 25 tonnes of arms from North Korea to an unknown destination, believed to be Iran.
Zhang pleaded guilty yesterday to 74 charges of giving false residential information to the Companies Office, which registered multiple companies with her as a director. She could have faced up to five years in jail and/or a fine of $200,000, but was convicted and discharged.
Her lawyer, Frank Deliu, revealed that the Chinese ambassador in Wellington, Xu Jianguo, had written to Zhang's immigration consultant, former immigration minister Tuariki Delamere, who had briefed him on what was happening. Mr Xu's letter was included in affidavits."  see article
it is interesting to note that  Tuariki Delamare operates  a  floor below that of Equity law   see this
The   entire building appears to be abuzz with   inter connected activity   just recently  the bank Breder Suasso  was found operating on the second floor  with a fake reception  see the news item here
The fourth Floor  of  44 Khyber pass   used to be just the law firm  and the travel agent next  door  but now  we have  a  raft of activity  there including  forex traders  and  Equity trust International  which sets up  new Zealand companies for   foreigners   .
The instructing solicitor  in the action against us is Greg Stewart , although he works in Alexandra he is the director of this company  and also  supervised Julia Leenoh    from his desk in Otago .
we have now   got a most  confusing situation   where by  the court papers filed Greg Stewart claims  that  Equity   law barristers limited was not the law firm    called equity law   in one lot of proceedings  and  claims that it was  in  another lot of proceedings.
the Statement of Claim and the  Bundle for defence part 1 and Bundle for defence part 2  AND Bundle for defence part 3    and the defamation defence COMBINED are at the links
they have been served on the lawyer  who is appearing on the matter   and who  has been signing the submissions  but refuses to file a representation . this is Michael  Locke  we believe he is the one and the same   who  appears on the insolvency web site having been   recently released from bankruptcy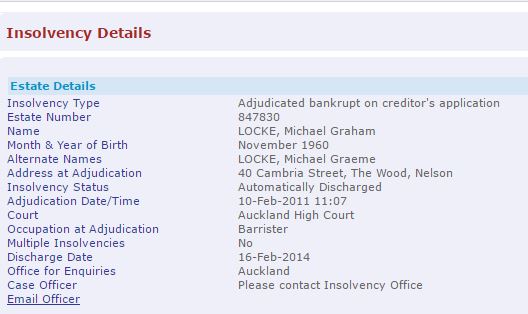 .
The plaintiffs    have been attempting to  silence us  because  the truth is  inconvenient
our revelations   that the  former lawyer  did not have a proper  law firm,   and the fact that the   associated  trust firm passes itself off as a ;w firm is of concern.  as  are the mention of 10 million dollar bank accounts, solicitor escrow accounts and  the offer of passports   from the Dominican republic, St  Kitts  and Nevis  as second passports to  open up the world for  would be investors.
Interesting holiday reading of  what he  world  so called second least corrupt country facilitates.
We stand by our research   the truth is the truth .
Transparency International are running an excellent campaign called  Unmask  the corrupt .Ironically this is what we have been doing and   have been sued for , that is because  we have been doing it on our own.
There is a vast difference between Transparency International and  their NZ branch  , The New Zealand branch  dedicates it web site to showing how well we are doing at being  " corruption Free"  while the rest of the world actually  fights corruption.
We often point out that  if you ignore cancer you will  succumb to it , the same is true of corruption.
We have New Zealand companies involved in international  trade, not  all of it legitimately  see this news item.
Naked Capitalism a web site operated  overseas  by a number of  top  class   journalists  and  connected  to the international consortium of investigative  journalists have  published a number of articles  with regards to   the activity of  Money laundering in New Zealand  see this post entitled "New Zealand, Fresh From Its Service to Mexican Drug Lords, Helps Out the Russian Mafia" and a more recent onesNew Zealand's GT Group in Romania, Moldova and the UK,
While New Zealand's Company Law Reform Stalls, GT Group Helps a Thieving Ukrainian Despot
New Zealand: Pseudo-Financial Companies, and GT Group, Both Still Going Strong.
NC's Guess About a Sean Quinn-GT Group Connection Just Got a Bit More Solid (But a Bit More Ho-Hum, Too)
At Least Half of the 21,500 Companies Revealed by the Guardian/ICIJ Offshore Investigation Have Connections With Rogue Agent GT Group
What is significant is that    the Government thinks that they have closed  down the GT group  but many of  the companies once administered by a new zealand company  .Just one such example is GT GLORIA TRADING
This company  overseas companies and  has a disproportionate Russian representation .
Even many of the people involved   are what we call name shifters and so are the companies themselves , this is  so that you never really know who you are dealing with  .
Alex Bushe  of equity law  also appears to be one and the same as    Alexander BUSHUEV, who  is the director of a number of  Equities companies SEDLEX LIMITED (5058320) – Director & Shareholder GLOBAL WEALTH GROUP LIMITED (5433544) – Director & Shareholder FIDELIS INTERNATIONAL TRADING LIMITED (5318101) – Director & Shareholder BLACKLIST DEBT RECOVERY LIMITED (4361899) – Director & Shareholder STEIGEN MAKLER LIMITED (5170404) – Director & Shareholder DRAGON GROUP LIMITED (5433581) – Director & Shareholder
another such person is  Gregory Shelton  who also appears to be the one and the same as Grigori CHELOUDIAKOV who   took over the shareholdings of several companies including    IMEXO PRANA  and   CRESTPOINT TRADE
Both of these companies had  former director   latvian  Inta bilder  and are  associate to the companies involved in this news item NZ shell company linked to alleged $150m fraud  AND SEE the latvian proxys
So needless to say  we  whole heatedly support the  initiative of  Transparency International in the UNMASK THE CORRUPT  CAMPAIGN .
Yesterday we discussed the ability  for council to   charge penalties on  installments  today we take it a step further – what legal right do they have to charge  penalties on GST which they are collecting for the  government ?   We believe that they don't have any right to do this at all  below is  how we come to  that.
Taking a rates notice which we have here for example
The rates for the financial year 2014-15 are $4510.81 this has a content of $588.36 GST
The current instalment is $1127 and has a  GST content of  $147
The rates notice states

Pay on time to avoid penalties

"' It pays to pay your rates on time, as you will be charged a 10 per cent penalty on any part of your current instalment that is overdue.

You will also be charged a 10 per cent penalty on any part of your rates (and penalties from previous years) that have not been paid by 5 July, and again by 5 January, of the current financial year. Any payments that you make towards your rates will be credited towards the oldest amount due first"
The operative words are  any part of your rates.  The Gst is the GST  portion of your rates. The rates  is what is set and  what the GST is payable on .
The the act states penalties Must not exceed 10%   therefore they can only charge  a penalty of 10% on the rates  being 1127-147, the penalty on the rates to be lawful can only be 10% of $980  being $98 .
By charging penalty of $112.70 they are  charging a penalty rate of greater than 10% (11.5% in this case )  which is   and $14.70 over charge  per instalment  and  not  made lawfully .
This is of course  also subject to   the ability  for council to  charge penalties on   instalments as discussed previously
If council can only charge penalties once the years rates are due  being 30 June 2015  then   by imposing  penalties on rates which are inclusive of  GST  ,they will be collecting a further  $58.80  per year ( presuming that you then pay  just prior to  the 30th June )*
Strangely enough  this  sum is more than  the sum which they  give you for early payment .
Where this really gets tricky  is in compounding penalties on the  Gst  of previous payments/ years .
Then there is also the question is GST Payable on the  penalty  or  is GST Payable only on the rates portion ?
We will put that  to council to work out, they have an obligation to us after all to be open transparent and accountable  and presumably that is why we pay crazy high wages to those at the top so that this  kind of thing does not happen ???
*based on  instalments being  29 August 2014,26 November 2014, 26 February 2015,27 May 2015 note that   even by instalments  all rates due are paid a month  early .
Transparency International New Zealand has tried so hard to ignore the corruption in New Zealand  but has finally  conceded that    we have it.  In their latest news letter they mention  no less than three items .
New Zealand Shell Companies Involved in Huge Money-laundering Operation
New Zealand shell companies may have played a part in the biggest money-laundering operation in Eastern Europe. A recent investigation by the Organised Crime and Corruption Reporting Project (OCCRP) exposed an enormous US$20 billion ($24.4 billion) transfer of dirty Russian funds, dubbed 'the Laundromat'. Read the story by Richard Meadows in stuff.co.nz.
Evidence of corruption a National scandal – Harre
Internet Party leader Laila Harre will take evidence of corruption to international forums if there is not a full Royal Commission to investigate the growing evidence of the systematic use and abuse of democratic institutions and processes for political gain
Money, politics and scandal in New Zealand's election
Post election, Washington based Lisa Rosenburg of the Sunlight Foundation, and former legislative assistant to Senator John Kerry, suggested that New Zealand will need to address weaknesses in its political finance system to retain "its squeaky clean reputation and its first place as the least corrupt nation…" sunlightfoundation.com/money-politics-and-scandal-in-new-zealands-election
The article by Richard Meadow refers to web site Naked Capitalism.  In a recent article   on that  site  Richard Smith   states
GT Group was linked to the biggest money-laundering operation in US history.
It does not  take much searching to  find that a variety of   GT group companies  which survived being struck off  have found  a new registered office at  the EQUITY GROUP , others have been registered  again using the names of the struck off companies as shown below.
Companies registered to the premises of Equity group  frequently use the very same  directors  identified as  proxy directors  in  international press   . In this case we look at Leah Toureleo  of  B.p. 1487, 1 Port Vila, Pot 540208, Port Vila , Vanuatu  who is as is mentioned in the  Richard meadows story NZ firm named in huge European scam
Leah Toureleo has the following  active companies
PHOENIX INTERNATIONAL GROUP CO., LIMITED (3934638) Registered Company
— Leah Toureleo appointed as a director on 27 Jul 2012 overseas registered company   about to be struck off the address 24b Moorefield Road
Seems to be another busy little  office   it is a medical center  see this interesting post  http://www.blakjak.net/node/1312
GOLDAGE GROUP CO., LIMITED (3934658) Registered Company
—Leah Toureleo appointed as a director on 27 Jul 2012   overseas registered company   about to be struck off reg office Room 4, 221a Dominion Road, Auckland, only two companies registered here and both about to  be struck off
IRVINESTON LIMITED (3239028) Registered Company
—Leah Toureleo appointed as a director on 14 Nov 2013 Registered Office
TROPIC ALLIANCE LIMITED, 7 Rose Road, for more on this address see naked capitalism
DORNOCK LIMITED (3239007) Registered Company
—Leah Toureleo appointed as a director on 14 Nov 2013 Registered Office
TROPIC ALLIANCE LIMITED, 7 Rose Road,
the director   of tropic alliance  lives in Inga 9a-31 Zaubes, Riga, LV1013 , Latvia
Now these next four companies have something in common they all had  the receptionist at  this  former law firm  as their  director , she resigned last year when she was warned her about  the dangers of being a proxy director ( see news links  below )   these companies   continue to exist with Leah Toureleo as  their director
WELKIN BUSINESS LIMITED (3665631) Registered Company
— Leah Toureleo  appointed as a director on 29 Mar 2013 owned by Trust NZ holdings   –  director  xxxxxxx
SELBY LIMITED (3665671) Registered Company
— Leah Toureleo  appointed as a director on 29 Mar 2013 owned by Trust NZ holdings   –  director  xxxxxxx
This is a phoenix company  of  SELBY LIMITED(2466848) (NZBN: 9429031562881) Struck off NZ Limited Company it was  registered to 1504 B, 363 Queen Street, Auckland, New Zealand which was pat of  the Taylor group.  the new company was incorporated  by EQUITY TRUST INTERNATIONAL LIMITED just a few months after the  companies office struck the other off
4-WAY LOGISTICS LIMITED (3589351) Registered Company
— Leah Toureleo  appointed as a director on 29 Mar 2013 owned by Trust NZ holdings   –  director xxxxxxx
MAXIMUS CORPORATION LIMITED (3589616) Registered Company
— Leah Toureleo  appointed as a director on 29 Mar 2013  owned by Club property (xxxxx)  this company is a phoenix  company for
MAXIMUS CORPORATION LIMITED (2454570) (NZBN: 9429031578738) Struck off NZ Limited Company Level 4, 44 Khyber Pass Road, Grafton, Auckland, 1023, New Zealand,  this company was  originally set up by the Gt Group
The receptionist had one further  company  that she was director of this company  now has the  wife of the  director of this this companies director     who is also a  lawyer this company is Eurostone Holdings Limited
for News   items on   Glenn Smith  69 Ridge Road, Lucas Heights, North Shore  ( Company Net ) see
Web of intrigue – crime – national | Stuff.co.nz
New Zealand as a rogue financial state
NZ shell companies in Kyrgyz corruption | Stuff.co.nz
New Zealand, Fresh From Its Service to Mexican Drug Lords …
Complaint – Securities and Exchange Commission
Traseks Ltd., is a corporation incorporated under the laws ofPanama on
February 9, 2009, with its principal place of business located at 69 Ridge Road, Albany,
Auckland, New Zealand. Traseks, Ltd. received $976,302, wired during April through
July 2009 from Rockford's Bank ofAmerica and Banco Popular Bank Accountsto an
account in its name at JSC Multibanka in Riga, Latvia.
Reserve Bank warns public – money – business | Stuff.co.nz
RBNZ warns on dodgy 'Bancorp' pyramid scheme claiming …
Reserve Bank warns public – Stuff
1766 defunct New Zealand companies at 69, Ridge Road, Albany,
News items  re proxy directors and activities of companies  of  Leah Toureleo  see below and  at this link click here
Sep 2, 2010 … Lu Zhang, 28, is accused of 75 offences of making false statements in company registration forms after she declared her office address was her …
www.stuff.co.nz/…/Company-director-with-alleged-arms-links-in-court
Open letter / OIA to Minister of Justice
This letter has been published on www.Transparency.net.nz and broadcasted via social media
I also  refer to a previous open letter to you "What justice system " and statement you made in this news article where you stated "it's a court of law not a court of justice".
I have become aware through being sued in our courts for speaking the truth and for exposing serious corruption that our courts are on a par with our casinos.Except that  our casinos have more security issues in place to prevent abuse.
We apparently fare no better than the Wild West it appears to be a free for all in our courts with no ENFORCEABLE systems or processes  to give those taken to court any protection .
When truth and evidence are not factors we cannot have justice. The justice sector by not providing prosecutions for perjury is failing the people
It appears  to me, that the course of justice has been averted. Those in the middle income group who own their own houses are a very good target. Their houses are now worth going after and what better way than to bring a massive financial burden on to them, costs which no one can possibly budget for.
This means that those with means and those who are lawyers themselves can totally abuse the court system for their own advantage and write the costs off as a tax advantage while forcing the other party to hire a lawyer .
If you do not hire a lawyer and defend  yourself you become prey to the dirty legal tricks which deny justice and which is apparently allowed in our Legal system .
Our Justice sector fails in its task to "to make society safer and provide accessible justice services."
Court has become a tool of oppression , why use a baseball bat to steal some ones wallet when you can use a lawyer and get their house and anything done through a lawyer is apparently legal .
Truth, evidence and integrity have no place in our courts and it appears that you can bring civil claims based on nothing but hogwash . Once the papers are served it is for your opponent to spend funds on lawyers, money which they cannot recover due to the oppressor cleverly hiding all their assets before they start.
I have experienced instances where the civil jurisdiction is being used to pervert the course of justice.
Police simply won't act if a matter is before the court and without evidence the civil jurisdiction supported by the total lack of rights to the Universal Declaration of Human rights
Some Lawyers appear to use the court to pervert the cause of justice by using the civil jurisdiction to conceal criminal offending.While it is a crime to beat someone up with a baseball bat it appears to be sanctioned if done with a lawyer and legal tactics.
The fact that immense stress and bullying has health repercussions is not even considered a factor and neither must the person being beaten up show any emotion because that is another black mark against them.
I am a former police prosecutor and through my involvement in the Civil court have found that our bill of rights in New Zealand does not afford the right to a fair and public hearing by an independent and impartial court to those in the civil jurisdiction this is totally out of step with the Universal declaring of Human rights .
I have previously made an OIA request with this regard and  your staff have responded .
I would By way of OIA request further Documentation and discussion papers which examine
1. Why criminal judgements confidential when all civil judgements are published, are both not equally accountable to the public records act.
2. Why convictions in the criminal jurisdiction are not a matter of public record and accessible to all yet civil matters gets full and permanent publicity
3. Criminals have advantage of the clean slate act yet those in the civil jurisdiction are accountable to the decisions for ever , this appears to be a disparity has this been considered and discussed if not why not
4. What the threshold for perjury is and to what degree that drifting from the truth is acceptable before any one is prosecuted, and who prosecutes when the police are under resourced and overburdened?
5. What consideration the minister of justice has given to the use of the civil jurisdiction to pervert the course of justice in the criminal jurisdiction? – To this end, those engaged in crime tend to have more funds than whistle-blowers. Any one coming across a crime has a choice of becoming an accessory by concealing it or speaking up. When they speak up they find themselves under attack from the "would be" criminal and legal tactics rather than truth and evidence are used to financially cripple them. Law is not affordable to the average person and the costs of being taken to court is crippling it is a tool by which the rich and the corrupt can beat up those who are trying to survive. An hour for a lawyer is a weeks wages for the average New Zealander . Law has got out of hand.
6. If the minister of Justice has no way of delivering justice has the minister considered ways to put justice in place or otherwise renaming the ministry.
Our courts need to give protection to the citizens of this country. To allow the courts to be used in appropriately is an abuse of process which I believe the Minister of Justice should seek to prevent.
I look forward to your response.
I am standing as an Independent for Epsom and will make this an election issue.
 Update  see response from Judith Collins re justice