The state of corruption In New Zealand
Sir
I am the director of Transparency New Zealand Limited . My company  actively exposes corruption In New Zealand . It was formed after Transparency International New Zealand refused  me membership  because it  claims that
"the TINZ  Objectives, Guiding Principles and Rules of TINZ are not compatible with your actions and objectives. We do not undertake investigations on single cases of corruption or expose individual cases."
Unfortunately I believe that  by looking at  corruption in New Zealand we can learn from it  and  prevent  it from growing.
Ignoring corruption is like ignoring cancer,  ignore it long enough and it will kill you
I was  very impressed with your presentation at  Massey University, Palmerston North  .
The views you promoted on Behalf of transparency International  resonated with me  and  I felt sad that  Transparency International New Zealand  does not hold the same values as  the  international body .
You   regarded whistleblowers as  essential to  uncovering corruption  but the  local professor   quickly added that   whistleblowers are  regarded as tell tales and then there were some comments   by him abut obtaining information   unlawfully.
I can assure you that the truck loads of information I have collated have  been acquired lawfully and it sets out a  major issue  which we have in New Zealand   and that is the use of trusts.
We use trusts to the extent that we invent trusts  and  although the invented trust is totally bogus   they appear to be able to act like   legal persons , no one checks.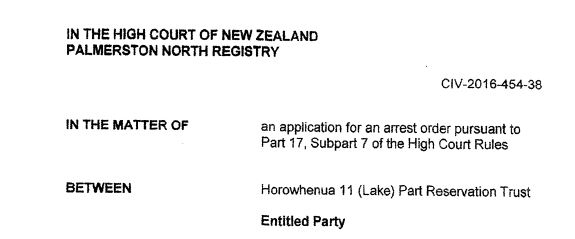 In this example  a  fictional trust obtained an arrest warrant the full document is here 
more   about this is found in Anne's book  available for download   at Annehunt.co.nz 
When  fictional  " trusts" have a standing in court and  can  have an order  issued to infringe on the rights of a  natural person  then there is something   seriously out of wack
It shoudl be the lawyer's responsibility to ensure that  such action does not  find itself in court and   he and he alone should be held accountable  to the full  force of the law.
In another matter A fictional trust   obtained law enforcement powers  the fraudulent application is here 
This application was made by a corrupt  Barrister   who has  advised Government and   was heavily involved in drafting the legislation  to facilitate this fraud
He had a business plan see here  and wrote the legislation and advised on it to facilitate this plan
He and his corrupt  lawyer took  action against me  for defamation  for saying that the trust was a sham.   I was denied a defence of truth and honest opinion   and through the false allegation that a similarly named " trusts " created retrospectively   ws one and the  same  he misled the court   and  effectively the fiction became reality .
I see the courts reliance on the word of lawyers  as the   single largest contributor to corruption in New Zealand .  Things are sanitised and legitimised through the courts  by misleading the court .. no evidence is ever required.
Trusts in New Zealand are therefore the  no 1 vehicle of choice for fraud and money laundering  , if our courts and lawyers don't check to see if a trust exists then  its open slather .  In the case of  animal welfare Institute of New Zealand (AWINZ)  I asked the solicitor general to investigate the trust  and the various  trusts that have been set up to    jump through time   and vacuums to give the illusion of reality.
If a trust does not have to have a legal structure which commences and  continues in any verifiable  form then   we are dealing with  fiction .
New Zealand is very much a Victorian colony  which is coming of age   through the use of computers . that is why   whistleblowers are silenced here.
You raised a question with regards to John Key  and asked why had no one investigated him.   The answer is simple   you just need to look at what I have suffered  and you  soon realise that  if you even ask one question out of place you will be discredited   and your life will be in tatters . Your comment and my  research on Key since  leaving the meeting  has made me realise why no action has ever been taken with regards to AWINZ,  for 11 years I have said it is a blue print    and sure  enough  it has been . If a fictional trust  can be a law enforcement authority then it can be anything.
In 2014  , Andrew Little presented my petition for a commission against corruption to Parliament  , I was the lead petitioner . I was asked to present evidence as to why we needed such a commission and   I supplied my evidence   it is at this link   you will see that I touched on panama, I was taken to court with regards to my discoveries of these panamanian companies and  Hungarian alcoholic directors , I was silenced .
I provided evidence of  fake liquidators  fake directors  and showed that the  crown  solicitor's dropped 22 charges of fraud of  Terry Hay a well connected   american  for   fraud under the companies act
items 56  in that report relate to TINZ role in  corruption today
Transparency International New Zealand in my opinion serves only to ensure that New Zealand status as least corrupt is preserved.  To do this  they actively ignore   corruption  and pretend that   it does not occur.
Transparency International New Zealand  gets funding  from the key public service agencies to do the integrity reports on the public sector.
Quite personally I think that that is a conflict of interest and corrupt .
The reality is that New Zealand is in my experience rotten to the core  we have cheated on  our exam cards (  the  perception index)  and that makes us  among the most corrupt of  them all .
When simple corruption  is covered up  at high levels  and they have to go as far as to discredit you  then you know that the corruption is deeper than any one imagined.
I  look forward to a response from you and look forward to being able to work with transparency International to  address corruption in New Zealand and not be part of the   problem by concealing it.
Of course, those are hardly the only issues that need fixing. Prime Minister John Key of New Zealand has been curiously quiet about his country's role in enabling the financial fraud Mecca that is the Cook Islands.
7 May 2016  Why was John Key singled out by Panama Papers hacker?
7 May 2016 Panama Papers whistleblower confused – John Key
8 May 2016  Taxing times: The ghosts of wineboxes past 
5 october 2016 John Key keeps lid on hidden billions
21 march 2014  John Key dismisses rumours surrounding resignation
READ MORE:
* Panama Papers source breaks silence, denies being a spy
* The Panama Papers New Zealand link revealed
* New measures to combat cybercrime outlined by Government
* Prime Minister John Key's lawyer asked about foreign trusts
* NZ trusts at the centre of Malta money scandal
* Government now says NZ trust examination likely
* More NZ links to Panama Papers to come
* Q&A: Panama Papers' fallout has only just begun
Documents obtained by the Australian Financial Review show:
 A Mexican construction tycoon dubbed the 'Duke of Influence' joined a rush of foreign money into tax-free New Zealand trusts.
Juan Armando Hinojosa Cantu, who built his fortune from billions of dollars in Mexican government contracts, was investigated for lavish housing deals with Mexican political figures.
On July 1 last year, Cantu's Miami lawyer said his client had "circa $US100 million" to put into three New Zealand trusts.
Maltese investors who had been turned away from nine banks in the Caribbean, Miami and Panama eventually found a home for their money in New Zealand trusts.
Demand for New Zealand trusts went into overdrive late last year with Mossack Fonseca staff in Panama urging New Zealand staff to "chase the money".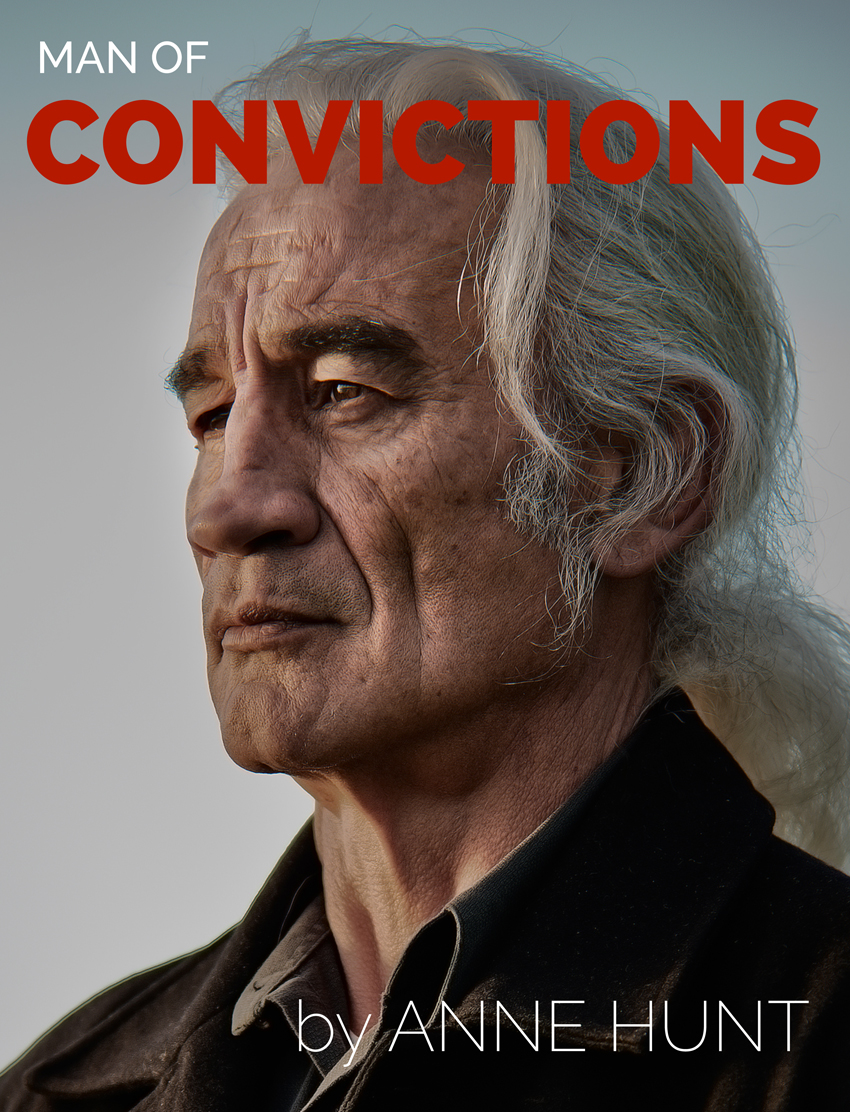 The Opening words of Anne's Report  could well be my own  with a minor  change, hers are with regards to Phil Taueki  and mine With Neil Wells
"The crime I discovered is serious. Why the cover-up? It piqued my curiosity. No self-respecting "Investigator" can resist the temptation to ferret out the facts! "
Anne makes this comment on her web page which   provides a down load for her latest book   a man of convictions http://www.annehunt.co.nz
the only difference between Phil and Neil is that Phil is a victim of   this type of fraud and Neil Wells is a  corrupt  former barrister who perpetrated this identity fraud on the public .
I have spoken to Anne many times  she was a fabulous  support  while I was going through the darkest days  of my AWINZ journey( Neil Wells )  .
There is a strange bond between  those of us who have gone through the mill  so to speak and we have all learned a lot about injustice , the  tricks played in court  and  the dirty tactics.
So when  Anne  sent on an email  with regards to Philip Taueki's plight  I couldn't help but get involved. I  smelt a rat  .
I asked Anne to keep my involvement quite   so I worked in the background as I feared that if I was to be connected with the  matter then it would blow up  out of proportion as other matters  which I have  been  seen to be connected with have. Its all over now  so I can come out of the wood work  , but you  can appreciate that Neil wells would not like to think that this was again another   fake trust and once people cotton on to the use of fake trusts his own might be looked at .
This trust however was  allegedly a Maori trust  so I  completed a crash course in Maori trusts  and identified the fact that there were a number of  court actions which had been  brought against Philip by fictional trusts.  It was  the Animal Welfare Institute of New Zealand all over again.
Much of the court action had been brought by "HOROWHENUA 11 (LAKE) PART RESERVATION TRUST" My investigations showed that  it  had no claim on the land, it was  a trading name which  has not been defined.   It has no standing before the court and cannot  seek to have a lawful  owner removed from his own  land . Basically it was  just a group of people  hiding behind a BS name .
Fortunately there is no corruption in New Zealand  we just have systems  where checking is the last thing that is done and  we  operate entirely on assumptions .Lawyers  will take instructions from any one with dosh which means at the worst  that   someone living overseas using a fictional name can make your life hell here on a bogus claim.
It is time that lawyers who do not check if
1. their client has standing  and
2. that there is a valid claim
If neither exist then the lawyers  should be charged with  offences under the  lawyers and conveyancers act .
Anne acknowledges my work  in the tributes, strangely enough I have  have just been removed s a PI for not acting in the public interest .. My crime  I told  David Abricossow  to act  impartially for his client the  muse on Allen  and  directed him to the provisions of the lawyers and conveyancers act  ….makes you wonder  doesn't it  .
Download the book its free    and promises to make good reading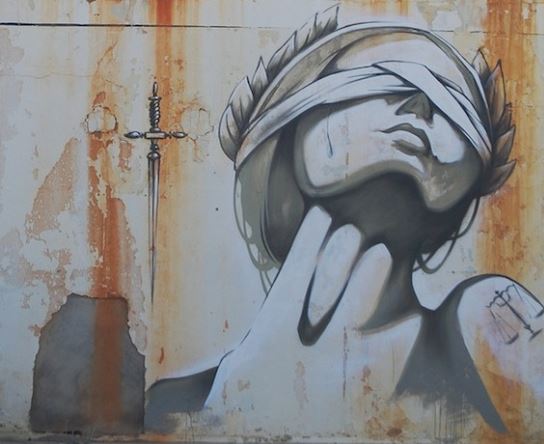 It's a new life for me
And I'm feeling good
Last week my world was shattered, for the past 14 years I have been a private investigator   before that  I was  a mother and before that a Police officer of 15 years standing.
I received the call in the morning telling me that  the reserved  decision was going  to be  released .  I didn't  know what to think  deep in my mind I knew that were desperate to strip me of my private investigator's  licence. The words of the PSPLA still rang in my ears… as long as you  blog and  report Lawyers to the law society you will not  have a licence.
So they had to dig  deep and they did it   see here decision second appeal
My entire ability to earn a living has been judged on one incident   where a lawyer  was in my professional appion not working according to the rule of law
But   fast forward  past the boring bit of how it happened and I am pleased to say I am reinventing myself as a
Every cloud has a silver lining  and  by being an investigative reporter I have no obligations to the Private Security Personnel and Private Investigators Act 2010
Meaning of private investigator

no person is a private investigator within the meaning of this Act by reason of the fact that—

(4) (a)

he or she seeks, obtains, or supplies any information—

(iv)

for any purpose relating to the dissemination of news or other information to the public or to any section of the public
The background to  the  lack of transparency and lack of justice   in losing my licence is here , they had to dig deep and this is what they had to  pin it on. the lawyers have not even been dealt with for misleading the court and I am already executed
David Abricossow of Johnston Lawrence law firm was representing the company Muse on Allen  Limited . (Muse on allen features on this site  a share holder had $64,000 transferred out of his name and  was kicked out of the company whihc had been purchased of  some $95,000 .)
Abricossow  saw it  fit to make a false allegation of contempt of court with regards to my  actions , he falsely alleged that I had distributed  documents which had  been provided by way of confidential discovery  in  the high court  proceedings . These documents were sitting in lawyers offices in Wellington, I had not seen them  nor did I know  what they were .
So by means of  what I believe to be a brilliant set up,   Malcolm North of the ministry of social development who claimed to be a director of the company , provided  Jozsef who I was  helping  with   documents which alleged that  he was responsible  for  losses in the company .   Statement of Claim without privilege  he also provided these privilege free documents.
It was obvious that the company was insolvent, trading while insolvent and incurring more debt that  at this stage they appeared to be holding Jozsef accountable for  so  the strategy was to limit the damage and  inform  creditors of the company   that  Jozsef did  not have any control over the company , his shared has been stolen from him, he was being held accountable  for the company debts and did not  consent to  the company incurring any more debt.   and that is  how Abricossow  came to make an allegation of contempt of court against me , it would appear that Malcolm north had provided  the documents  freely   one day yet on another   claimed they were confidential .
I made a complaint to the directors of  Johnston Lawrence with regards to  the false  allegations  of contempt   they addressed the issue by   alleging  harassment
The  harassment  proceedings were  set  down in Wellington I lived in Auckland
The proceedings  were more  in line with strategy  rather than rule of law   and when I thought there was an agreement for a consent order without  apportioning  blame they did an about turn on me and I found that I had to be in Wellington   at very short notice   like  Hours  away .
The judge refused to allow me to  attend by video conference   and held the hearing without me.
New matters were raised  particularly defamation , this was claimed  in letters which were only between myself and Abricossow and   by some what twisting matters . the reality is that defamtion has its own  act   and  under that act there is   a thing which I have never experienced.. the ability   to prove the truth of the statement or opinion.
without  your right to  that defence you are toast.  You are also toast when defamation is alleged  in your absence.
So his honour  decided that on the  basis of continued defamation I had Harassed David Abricossow  .
Because the   decision is under the harassment act  it is not published  but to overcome that  they published the decision  and called it  Lane V Haden   making it appear that I   am a serial harasser  ( a term  which Malcolm North the  recent bankrupt  likes to use )
I  asked for the decision to be recalled based on the legal grounds   that defamation was introduced at the final submissions, I was not given an opportunity to  address those allegations  and  defamation should have been pleaded separately .  So  one of the other  directors of  Johnston Lawrence trundles off to he court  and  misled the court with regards to defamation  and the  decision  stood.
so  I have made a complaint with the law society and the LCRO   nearly 2 years later these complaints  are still  being dealt with  but in the mean time the action of these lawers is enough to put me out of  my life time of work
I know that eh  disgraced barrister   Neil Wells is involved  because Malcolm North admitted to  communicating with him.
I suspect that Neil Wells  and Wyn Hoadley had engaged  Ron Mc quilter  and  a mate of Mc Quilter  Trevor Morely  a former president of the NZIPI   has been involved with the Norths  see here
From: Trevor Morley [mailto:twam@clear.net.nz]
Sent: Saturday, 2 May 2015 4:36 p.m.
To: Malcolm North
Subject: Message from Grace HADEN.

Good afternoon Malcolm,

When we spoke on the telephone and you sought my advice re the serving of a trespass notice, you mentioned that you had heard from a Grace HADEN.  My understanding of what you told me was that the service of the trespass notice and the matter that she was involved with and yourself were two entirely different matters.

 It would seem I may have misunderstood you.

 Irrespective of that, I certainly did not expect you to mention to her (or anyone else for that matter) that you have been in contact with me.

 Just so that there is no further misunderstanding(s) Malcolm I would be grateful if (a) you did not, at any time in the future, mention my name to someone without first confirming with me that it was proper and appropriate to do so, and (b) please do not communicate with me at any time in the future about whatever the matter(s) are that you are involved with necessitating the involvement of Ms HADEN.

 I am sending a separate and brief e-mail to her requesting that she does not communicate with me in any way, shape or form about whatever it is that she needs to communicate with you about.

 Thanks.

 Kind regards,

 Trevor W.A. Morley.
Trevor was the chair person of the NZIPI  when I was secretary  he changed the constitution so that he could remove two members  who they could not get rid of under the rules
I left the NZIPI after that  as  I believe that   if you have not got legal grounds for removal then  you don't change the rules retrospectively  .
Morley provided a lot of in put into the  the private  investigators new legislation  and now I have been  designated an unfit  person   based on  the subjective opinion .
I can  keep on fighting  but    want to  use my time constructively , I have asked for the judgment to be recalled but doubt if this will happen
on the basis of the above  incident with  a lawyer  I have at 64  lost my ability to earn an income  in my chosen profession  FOR EVER .  compare this with lawyers    and you see this
No right to justice for me     Ron , Twam Neil    you may think that you have achieved your objective, I am no longer a private Investigator  but I am now  a Public investigator  / Consultant   and Investigative journalist
May Transparency rule
Verisure  will continue to operate   we are investigators  just not Private  lets face it Hr specialists, lawyers   health and safety  people the whole  world investigates without a licence  so  why should I fight for mine.
it  was the last thing they held over me  I am free to speak up  and I think it is one hell of an indictment on the NZ  IN- justice system
The world justice forum is currently  under way  the forum is being attended by a colleague who will be distributing the following
 It is time New Zealand woke up  to the corruption which is occurring, ignoring it does not make it  go away . cancer ignored will kill you and so will corruption     https://worldjusticeproject.org/our-work/engagement/events/world-justice-forum
A whistle-blowers story from New Zealand
A short introduction by Grace Haden for the World Justice forum 10 July 2017
New Zealand is supposedly the least corrupt country in the world on the perception index.  This is probably because New Zealand excels in Perception.
New Zealand still lives in the Victorian era, front parlour looks great but in the back we hide things from  view.
I am a former Police Sergeant, I work as a private investigator, I am currently before the court on 5 counts of breaching a suppression order.   I was charged six weeks ago and today received the first publicly available copy of the order which I have allegedly breached. My crime was to identify the Barrister who has made my life hell for 11 years as the lawyer who was given name suppression for ripping off his client  and old lady who I know he has been targeting for years.
The police were quick to move on charging me but in 11 years they have never looked at the serious corruption which I uncovered. They even charged me before they even knew an order existed.
I run a web site called www.transparency.net.nz, I do this because transparency International in New Zealand is all about keeping the " least corrupt " perception alive   so that they can attract more business to New Zealand. They receive funding from the public service sector so they  can  boast how well  they do and because there is no corruption in New Zealand we don't need the usual safe guards
New Zealand is reputedly the country that is easiest to set a business up in, it is also a country in which the same simple companies structure will see you cleaned out.  No one checks and the registrar seldom prosecutes. I am currently dealing with a company where   the person who invested lost all their   funds with a stroke of a pen
In my time as a private Investigator I have seen false companies, false liquidators   and   the big one that I am being prosecuted for  is for  identifying a corrupt  barrister who  wrote legislation for his own business plan, advised  on it as " independent " adviser to the select committee then  made a fraudulent application   and told lies to get it past the post . He operated this from a local council's premises which he rebranded to look like his fictional trust.  In 11 years no one has looked at the mountain of evidence   and when he was recently   found guilty of serious offences under the lawyer's legislation he was given name suppression.   I recognised the scenario as being him speculated and am being prosecuted despite never having seen and order.
One law for all is not what you get in New Zealand, you must pitch your offending just right     be certain it does not include injury, no speeding or breaching any unseen orders.  But you can successfully use false identities and rip people off for any sun under two million dollars and get away with it.
I  presented evidence for a petition  for a  commission against corruption  , the petition was thrown out because the  evidence disclosed corruption  see it here http://www.anticorruption.co.nz/wp-content/uploads/2015/01/Evidence-in-support-of-the-Petition-of-Grace-Haden-and-others-5-11.pdf
Please keep tabs on   our web site and you will see how the law does not work in New Zealand, the structure is there, the perception is there but then perception is not reality
Grace Haden
Dear Sirs .
There is one fundamental  issue with the   complaints system in New Zealand .. it is  out of date  and does not appear to  comply with   the   standard for complaints AS/NZS 10002:2014
I note that the Good administration guides  are all about 5 years  old and probably out of  line with the  Changes to the Ombudsmen Act and official information legislation  document dated   May 2017.
Just recently I blogged  about  the reliance  by authorities on the   unreasonable complainant conduct manual 
and commented that this manual was pretty much identical to the one used in  New South Wales  , the fundamental difference is that  here in New Zealand whistleblowers  are often  labeled unreasonable complainants, in an attempt to  drive home the message the  complainant will  provide more evidence  and where the toll of whistleblowing   is starting to show the whistleblower may resort to highlighting text,  bolding it and  in conversations may raise their  voice due to frustration .  the  easy course to take is to   say AHAH  an unreasonable complainant.
In New South wales the  complainant  can go to the  Independent commission against corruption  who will   independently  investigate the   matter .
In New Zealand you go to the Police who  say it is too serious  and the   SFO  who say sorry not serious enough .
It appears some  australian states have adopted  the  standard for complaints AS/NZS 10002:2014 and have published a document    in 2015 and 2016 which guides Public sector agencies through   the complaint process.
The publications can be found at these links
[PDF]complaint management framework – Ombudsman SA     www.ombudsman.sa.gov.au/wp-content/…/Complaint_Management_Framework.pdf
[PDF]Complaint management framework and model … – NSW Ombudsman https://www.ombo.nsw.gov.au/__…/Complaint-management-framework-June-2015.p…
[PDF]Good Practice Guide to Handling Complaints – Parliament of Victoria  https://www.parliament.vic.gov.au/…/Tabling_copy_VO_Report_A_good_practice_g…
[PDF]Effective complaint handling guidelines – International Ombudsman … www.theioi.org/downloads/…/Effective-complaint-handling-guidelines-Third-edition….
and the company registration   also has  its policy
[PDF]Complaint management policy – ASIC   download.asic.gov.au/…/complaint-management-policy-for-external-publishing-final….
In New Zealand  we appear to be hell bent on " writing complaints off "  covering up   and doing what it takes to preserve our corruption free image .
As a whistleblower with over 11 years experience of  banging my head on a brick wall I have also noted that   identity fraud in New Zealand  is only dealt with by the  department of internal affairs .  the companies office on the other hand unlike ASIC  , looks at compliance and does   nothing   about the use  of "trading names " and   similar names
My complaint about the   approved organisation  Animal welfare institute was   thrown out by your office because no  one identified the fact that  the court had been seriously misled  through the introduction of a  trust  which bore the same name as the   fictional  law enforcement authority .
the Animal welfare institute of New Zealand ( AWINZ )   was an undefined trading name    it was a  falsely portrayed as being  a legal entity  by a lawyer who has now been proved to be corrupt .
He set up a trust with the identical  name   and misled the court and MAF   by switching one for the other  and thereby  pulled off the perfect fraud .
MPI never checked if AWINZ existed  and processed the   application with an unsigned trust deed.  they didn't even question  why  the subsequent deed that was provided to them 7 years later  differed from the signed copy which i was given for court.
Nor did they question why  The minister had been told on the  25th march 2000 that the  deed had been sent on for registration    when in reality  it had never  been incorporated in any  way .
Also   a simple check of the trust deed  would have revealed the out right lies as   there is no 20 (a)  in the   deed.
MAF at the time were clearly out of their  depth  and had not the faintest idea what a legal entity was  and how  they should deal with an unincorporated trust . They relied on Mr Wells  experience as a barrister and was prone to drafting documents for the ministry 
Mr Wells who  wrote  the  No 1 bill for the  animal welfare act and inserted the provisions of an approved Organisation to fulfil his own business plan in to the  new legislation on which he advised as "independent advisor "to the select committee without apparently  declaring his conflict of interest.

He made a fraudulent application to MaF  claiming that AWINZ existed as a trust  and was in the process of being registered  quite clearly this was a lie  as the trust deed showed  the trust was formed after this date   and   AWINZ was never incorporated  it was at all times an undefined trading name which  was given  legal existence without  actually having any  . What made this  so  important was the fact that this  was  a  Prosecuting authority under statute .  
It would have been impossible for anyone  to  hold AWINZ accountable ,  new trustees were  magically switched in in 2006   to   give it a pseudo appearance of legitimacy . I say magic  as  no real or legitimate process was involved . But MAF was very happy to  cover it all up  .
I  Brought it to the attention  of the council , Maf  and  a multitude of government  departments  and 11 years on I am still being persecuted . Government departments  like the companies office  look for compliance  they don't prosecute that is  why it is so  open to abuse .
Whistleblowers in New Zealand  are treated very poorly     to blow the whistle means to devastate your life.  it is therefore  essential that we have proper  complaint procedures and   staff who know what they are doing and  don't ask the alleged  offender for  guidance.
I may have forwarded one or two of her very early Emails for Mr Wells' awareness/comment/response.
they also state that MAF needed to   provide assurances to the minister that  AWINZ accountability  met  requirements of the act.. how could they possibly have achieved this  when the organisation was a total fiction  ?  This is Wells  OIA request

The significance of the  existence of an entity also goes to the heart of  any agreements .Here Joanne Tuckwell states
and it  states "This Memorandum of Understanding between the Animal Welfare Institute of New Zealand
(AWINZ) and the Ministry of Agriculture and Forestry (MAF) "
definition " "AWINZ" means the Animal welfare institute of New Zealand.     – this shows that MAF clearly thought that AWINZ was a legal person in its own right  But Neil Wells signs as trustee  and conceals the reality that   the application was not made by any trust (  there was no trust meeting  which  would have allowed him to  sign for the other trustees, the trustees of he 200 deed never met  )   and that AWINZ is not a legal person in its own right .
Now that  Neil Wells has been proved to be deceitful and a person  who is less than honest in his roll as barrister ,  I hope that    this may be used to  test out a robust complaint procedure.  11 years  of  victimisation for whistleblowing is enough  .
Please  implement the   standards adopted by australia and enforce them .
It is unreasonable to treat whistleblowers as unreasonable complainants no one should have to go through what I have been subjected to  .
I look forward to  finding some Fairness  .
The headline reads Kiwi whistleblowers left vulnerable by 'weak, patchy, and out-of-date' legislation
How true   but then there  are also a large number of  whistleblowers  who are not even covered  by this legislation and  when it comes to ranking  second rate citizens those who  blow the whistle on  wrongdoing in the public sector are  at the bottom of the list .
The whistleblower legislation only relates to employees see Protected Disclosure act 
If you are not an employee and report corruption in New Zealand   then you are treated as an unreasonable person  and  the ombudsmen has put out a manual to deal with  people just like you  .
By being labeled as an unreasonable person  no one in government has to listen to you or look at your evidence as you are after all  Unreasonable .  It is apparently Quite unreasonable in New Zealand to  say   sorry but I think this is corrupt .
That which is not seen , is not questioned   is therefore never unravelled  and  so New Zealand remains corruption free , all nicely concealed.
The unreasonable conduct   leaflet deals with   people who  get angry and frustrated  so all  the   Public sector agency has to do  is  throw up brick walls and leave the  person banging their head against it.  Eventually the person will scream  " my head hurts "  and the  agency can then point and say see I knew it all  along an unreasonable complainant.
If you visit the page  Good administration guides you will note that

Good decision making  is 10 pages long

Effective complaint handling 23 pages

and Managing unreasonable complainant conduct is 123 pages long

the  ironic thing is that there is no corresponding manual for  unreasonable conduct from public sector agencies.
As a Private investigator I have found that the no 1 failing of our public sector agencies  is the failure to  verify .
No one checked to see if the animal welfare institute of new Zealand (AWINZ)existed  before giving it  law enforcement powers ,
the lawyers   prosecuting me for defamation never checked that  a trust deed for AWINZ existed or if this was actually the law enforcement trust which they were representing and not a similarly named trust set up with the intention to conceal the fact that AWINZ was fictitious
 The police did not check to see if there was actually an order before charging me with 5 counts of breaching an order made under section 240  Lawyers and conveyancers act  .
 and I could go on
The  runner up failure  goes to failure to  stick to the law. 
the law applies to us not the the government agencies they have the ability to make things up.. might is right
And in  number three place  there  is  lack of  accountability everyone is looking after their mates  after all that is what mates are for  and in NZ our public service is practically incestuous and   funds  Transparency International to ensure that  integrity is always  rated as high.
To understand why this is  you have to first accept that New Zealand has adopted a business  approach to governance , like a large  supermarket installing  self checkouts  the approach is that the  inevitable losses are cost less than the the wages of  the staff  which would otherwise be employed.
It is therefore   better to ignore the  corruption than it is to deal  with it.. prosecution is not cheap and exposed corruption  could damage  the nations reputation and affect the share market which we  are so focused on .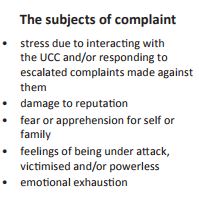 This aspect is is  covered in the UCC manual  at figure 1  as can be seen this list  is  far longer list than the effects on the person  with a bit of luck they may commit suicide and the problem will be gone but the $$$ saving is there.
So all you need  is for the complainant  to be under a lot of external pressure  e.g being sued for defamation and being denied  a defence of truth and honest opinion  , hitting a brick wall  with public sector  agencies who are determined to cover up the wrong doing and/or neglect  of their  fellow workers   and the   whistleblower  is left to be attacked for ever more.
When the complainant thinks that the   public sector agency  is not grasping what is going on and sends in more evidence they are doomed  as one of the criteria for listing a person as a UCC is in chapter 4 ,
This document is by no means  unique it appears that it was  totally copied from the NSW ombudsman's office.   The difference is that there they have a commission against corruption …  in New Zealand we don't  and  there is no one independent who looks at   the complaints of Whistle blowers .. Its all too easy Whistleblowers are deemed  Unreasonable complainants and persecuted .
In My case it has been going on for 11 years  and it is still  going on with   unseen cowards beavering away in the background making certain that I stay silent.The police have said it is too serious for them and the  SFO say that there is not sufficient capital involved . All along my character has been under attack  I  am  bad and the perpetrator of this massive  public fraud (which is now  culminating in turning the RNZSPCA's member societies and  branches into one large expectorate ) has been concealed because the lawyer involved is Holier than thou
I recently read  a Law society article Censured Lawyer  gets name suppression I wrote an article  speculating on who this was  as  due to the circumstances of the events it appeared to me that this was the one and the same person who had sued me for defamation  and  misled the court over the identity of  the Animal Welfare Institute of New Zealand a law enforcement authority which had no legal existence  but which had been given   coercive legal powers  following a fraudulent application  for Approved status under the legislation  which this  censured lawyer had written.  The legislation was initially  to  fulfill his business plan of creating a  inspectorate that could prosecute people for animal neglect, that all sounds pretty good   but  now that the RNZSPCA has filed its constitution  show its objectives  as being to give animals a better life  . This  would mean that i am a prime candidate for prosecution  as my cat  always believes that what she is getting is  not good enough .
The animal welfare bill was  initially written by this corrupt lawyer , he later advised on the  the two bills which were considered  and did not declare his conflict of interest , he created offences which are  strict liability and  Basically subjective  being that they are in the opinion of the  inspector . It is an extremely dangerous piece of legislation  especially in the hands of a private body .
12 

Animal welfare offences

A person commits an offence who, being the owner of, or a person in charge of, an animal,—(a)fails to comply, in relation to the animal, with section 10; or(b)fails, in the case of an animal that is ill or injured, to comply, in relation to the animal, with section 11; or(c)kills the animal in such a manner that the animal suffers unreasonable or unnecessary pain or distress.
10 

Obligation in relation to physical, health, and behavioural needs of animals

The owner of an animal, and every person in charge of an animal, must ensure that the physical, health, and behavioural needs of the animal are met in a manner that is in accordance with both—(a)good practice; and(b)scientific knowledge.
11 

Obligation to alleviate pain or distress of ill or injured animals

(1)The owner of an animal that is ill or injured, and every person in charge of such an animal, must ensure that the animal receives treatment that alleviates any unreasonable or unnecessary pain or distress being suffered by the animal.

(2)This section does not—(a)limit section 10; or(b)require a person to keep an animal alive when it is in such a condition that it is suffering unreasonable or unnecessary pain or distress.
the  real clincher comes in section 13
13

Strict liability

(1)In a prosecution for an offence against section 12, it is not necessary for the prosecution to prove that the defendant intended to commit an offence.
Penalties

A person who commits an offence against section 12 or section 14(1) or section 14(2) or section 21(1) or section 21(2) or section 22(2) or section 23(1) or section 23(2) is liable on conviction,—(a)in the case of an individual, to imprisonment for a term not exceeding 12 months or to a fine not exceeding$50,000 or to both; or b)in the case of a body corporate to a fine not exceeding $250,000.
The act is water tight  relies on the opinion of the inspector  and  has virtually no defence.  If you go to a lawyer and make an appointment   for next week you are too late as your defence has to be filed within  7 days .
The legislation is a licence to print money ,  You cannot turn off the life support of a loved one   but if you  think your dog is comfortable and want to keep  it alive you  will be prosecuted for not  having put him down .
When you have been  attacked by a person as long as I have you get to know the way they work  and think  and I recognise the fact that the Animal welfare institute of New Zealand was the trial for amalgamating  the SPCA's  and the things which have been done over the years  have been trials to  set this one spca in action .
An associate of mine had his horse seized by Sarah Elliott- Warren  who had been  working for AWINZ , was a lecturer at Unitec   teaching  animal welfare inspectors, went to the SPCA  and took over the management of several SPCA's. The reoports that I had with regards to the horse was that $3,000 grazing fees were demanded  when the  horse was grazed  by Elliot on  family property, when the owner could not find the cash  the horse was put down . The protocol for disposing of animals is  set out here 
Sarah  worked on the lord of the rings project  for the fictional AWINZ   this is the american humane societies    letter regarding the investigation where  animals were both hurt and   died .
The Letter  where this  excerpt appears is here 
it also goes on  to say "There appears to be a very unusual relationship between the SPCA and AWINZ. If the SPCA has
' tent". for reward, a warranted inspector to AWINZ and that inspector was present in order to exercise powers under the AWA, then in my view the arrangement is against the spirit of the AWA."
The fact that  the  barrister  who wrote  the legislation and   has set the  SPCA up for this change ( he states that he was responsible  for amalgamating them all under the RNZSPCA )  is less than honest can be found here  and here
When you read these decisions you will note   that this man  is playing the poor   "stressed out me" card ,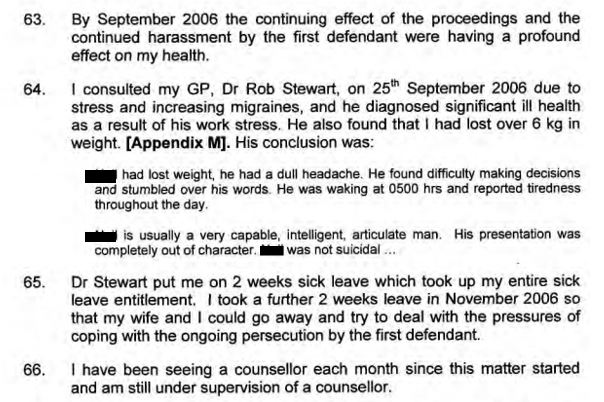 He did exactly the same in  2008  when he  attacked me  and has  kept up his attack all these years .
In reality  reading the decision he ripped his client off to the tune of  20,000  he was  wanting to  transfer the rest of her assets   to his   animal welfare charity which  did not exist .
He still operates other  charities which  other trustees believe were wound up .
The  one spca is not about   better care for animals it is about $$  and this corrupt  former  Barrister is totally behind this .
I have been blogging about this  for years  fallen on deaf ears he remains the hero  Me the villain even to the extent that I am now charged with 5 offences of breaching a fictional order  for suppression .
The   connections between  AWINZ and the RNZSPCA  have always plagued me and the fact that there is now a very desperate attempt to silence me   makes me believe that my suspicions are well founded . All I had available to me when I named the  Barrister was this 
I would love some one to tell me where  the suppression order is in the decisions  relating to mr M  especially the suppression order under section  240, this again is a  claim fabricated by the corrupt mr M  see here
In 2010  I wrote about the Blurred boundaries RNZSPCA and AWINZ and  I also explained the missing  funds  from the waikato RNZSPCA in various articles
It will come as no surprise that this  same bent  former lawyer set up the programme for training the  Inspectors who   are all too keen to  take on the role as the SPCA as a law enforcement body . He is still connected Graeme coutts a "trustee" of the the  cover up trust AWINZ  works  alongside the RNZSPCA on the same floor, Tom didovich another trustee  worked for  the SPCA . Arnja dale   who has now been appointed Chief Scientific Officer is one and the same Arnja who took over  the Unitec inspector training from  the corrupt  barrister .
It appears to me that there are a lot of people stuck in jobs with limited financial future , By developing the inspectorate  they will be writing their own  salaries .The point they miss is that  their  direction will depend on making animals  suffer , there is therefore no  $$ incentive for them to teach people to look after animals  as they  would be out of a job .
I have seen the spin and the secrecy behind this   but then  I am probably an unreasonable person  so lets ignore  me and just wait and see .
I was sent an email a few days ago , it drew my attention to the  filthy letter which had been posted by someone  and attacking Paula Bennett, the letter was allegedly  written by one Ashley Farrell and   was nothing more than a verbal attack and provided no evidence of  any alleged wrong doing other than the writers say so .
It appears that  no attempt has been made to deal with these historic  allegations through any  accepted  means  and  to me they  appear to be nothing more than  what I expect to be one of many attacks on   National  .
The web site behind this  appears to be  http://mediawhores.co.nz, this site was originally set up in 2012 as part of the occupy auckland  movement .  the address  of the registrant  shown at that time was   aotea square.
At about that time I was being  defamed by a Suzie Dawson who also ran a website registered to aotea square , I asked her to remove the content and  she responded  by making false allegations to  the private security   authority   alleging that I was stalking her and her daughter.
The last I heard she was   in Russia  and now from the safety of russia , has taken over  as the  so called leader  of the  Internet party and thus far its only candidate   .
The internet party currently appears to have Sarah Illingworth (Internet Party Communications Director and Party Secretary) promoting the party from the safe distance of the UK   For detail , please see her CV. She states that she physically  resides in the UK  but falsely gives an address in wellington  on the web site  this address  belongs to none other than the web registrant Jo Booth

the company the  web site is registered to is  IP Phase 1 Ltd  which according to the  companies register was struck off 17 May 2017.   as an  Activist working for "TRUTH and JUSTICE " Suzie  you have bombed out  rather badly here .Suzie Dawson on her Face book page posted this .

Her old web site media savvy  in my opinion  very much resembled the  mediawhores web site   and with the type of thing being posted I am not surprised that she  is domiciled in Russia
The person allegedly behind the  mediawhores web site is Cohen GLASS 
He had a company WIRELESS MEDIA LIMITED this site is still live and is registered to Vocus Communications   which is he same company as mediawhores is registerd to . The address for  wireless media is 17B Farnham Street which appears to be a postal  depot .
The new director for the company ethos media   which  Glass  set up  on 30 march 2016  has now been handed over to  a new director
Sarah Edmonds  who resides in a hotel in  Hamilton and used the same post office box company as her registered office .
Cohen  resigned as director and share holder  and  six share holders replaced him I wonder if the shareholders know that the director is  elusive, ethosmedia.co.nz is registered to  Julian Glass  who uses the same address  and  phone number as Cohen Glass
Knowing what I know about  Suzie Dawson   and her associates I would not be at all surprised if the current attack on Paula is  being carried out   through anonymity and stool pigeons    by the internet party .  It's just my honest opinion, I can feel it in my bones and its something that I know Suzie would  do   after all she did it to me .
Update
we have received this  email
—–Original Message—–
From: Wireless Media [mailto:info@wirelessmedia.net.nz]
Sent: Monday, 6 November 2017 11:20 a.m.
Subject: Formal notificuation of defamation

Hello

Somebody has sent me this link this morning to your website

http://www.transparency.net.nz/2017/07/04/who-is-behind-the-attack-on-paula-bennett/

It contains defamatory, misleading and false information.

Cohen Glass is not the "man behind" the Media Whores website

Cohen Glass works for Wireless Media.

Wireless Media is the domain holder of around 350 NZ domain names, including mediawhores.co.nz

They are a client of ours and nothing more, just like the others.

What they choose do with that domain name is none of our business.

You have also tried to associate the company Ethos Media Ltd which is a separate legal entity altogether and nothing to do with media whores or wireless media. Thus you have completely made up that association. We have notified Ethos Media Ltd of this today also.

And we certainly had nothing to do with the political take down of Paula Bennett.

Please be formally notified of this defamation.

You have 1 week to correct the information, or our next letter will be couriered to you and will be a demand/ claim for damages in thw vicinity of $100,000 (yet to finalized/ calculated).

Jim

Administrator

Wireless Media

—

Wireless Media

Ph 09-889-3615
We have responded
Dear Jim of   Wireless media
I have no  Idea who you are and how  The transparency web site has defamed you
Please provide me  with full particulars of  the alleged defamatory statements and provide evidence as to  how we were wrong and knew our publication to be wrong
Could you also provide your full name and your association with the  alleged defamed person / entity, we will  be happy to receive your input and adjust the site appropriately .
It would appear that wireless media is a trading name  could  you please advise  the entity which uses this name , it is of concern to   transparency that  a fictional " person"  appears to  be the holder of so many   domain names , it may be  something which we will have to take up  with the domain  commissioner.
Our comments 
Sarah EDMONDS  resigned her position as  director  on 28 september  and the  director of  ethos media is again Cohen James Glass
4 Sunderland Street, Westport, 7891 , New Zealand…
Wireless media  directed  and owned by Cohen JAMES  Glass   was liquidated   and left substantial debts   see liquidators report here 
Interesting that    wireless media has continued to hold  so may clients   despite leaving its creditors out of pocket
now I wonder who  JIM could be .  could that be  Cohen James  Glass????
Many years ago a lawyer asked me to help him locate a director and liquidator of a firm called  fresh prepared limited 
The director was allegedly   Sanjay Patel 133 Captain Springs Rd, Onehunga.  Consent of Director
Sanjay Patel appointed a liquidator Babuhai Patel who happened to use the PO box right next to  that of the former proxy director  Lynn Pryor
Both Sanjay and Babuhai  were fictional   and  Terry Hay and  Lynne Pryor  were both charged with  fraud offences  .
The 22 fraud offences for Terry Hay are here 
Hay  skipped the country and  Pryor was convicted of one charge  as the blame was shifted onto Hay .The news items are here Charges over alleged fake liquidator and Boss invents accountant to escape $60k debt.
Hay being well connected   got the  charges dropped  21.1. 2013 see here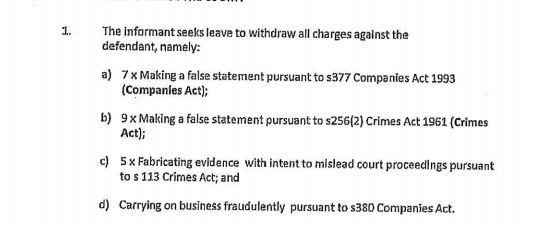 He wasted no time promoting himself as a successful  business man  no doubt including  teaching the tricks of  the trade  with regards to the  NZ companies office
Today I  discovered that  Hay has featured in the New Zealand courts again,  funding  litigation again .
This  time in   employment matters where  LSG sky chef  inherited  employees from the  firm   one being  Terry Hays brother in law.
the employment court  matter can be found here
The person posing as  director a Mr Drake who last claimed to live in Honolulu ( if he exists) moved the  address of service  of the company from  viaduct  harbour avenue  to Stewart Island.
A simple phone call  to   the lodge revealed that this  man of mystery had once again  fooled the   companies  registrar  .
so much  for having to have a Local director  all it takes  is an address which you can pick up from the internet and your away.
Terry  Hay registered as the shareholder as Terrance Hays
The registrar is once again   looking to remove the company from the  register ..  for  rich foreigners our company office is nothing  more than a useful tool  to  use  and abuse  from a safe distance away .
While Mr Hay was  comfortably ensconced in his Honolulu home  he sues the arse off unsuspecting Kiwis , some how that is so  wrong .
Its time we did more than register  companies .. how about checking and  stringently enforcing the company rules .
Companies  , trusts and societies are totally abused .   No one checks  and whistleblowers get shot  .. so    wonder why its so open to abuse.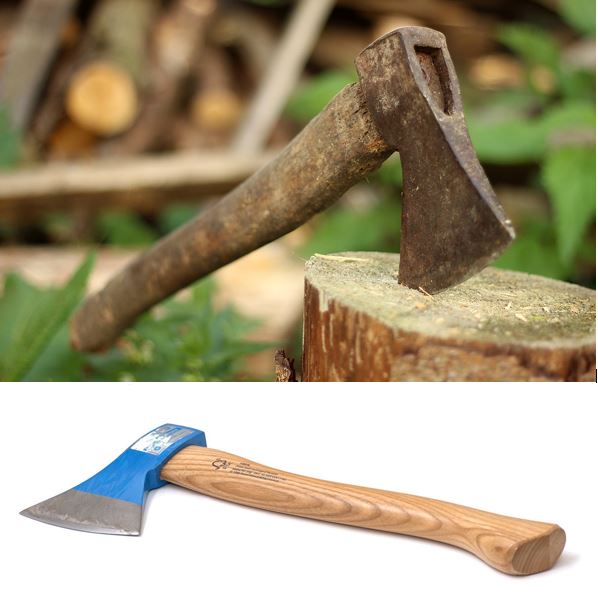 There is an old Hatchet that has been in our family  for many years , it  has been handed down from father to son and has served  loyally each generation . The head was sharpened a few times and then the handle broke  so  it had a new  handle  , then the head   was beyond sharpening and it  got a new head , I think it has had five new Handel  now and three new heads.  But its still the same old trusty Hatchet.. despite the fact that the handle is now  varnished and the head is blue .
What has this got to do with the SPCA.. well everything
Look up Wikipedia  this is the definition shown
A Society for the Prevention of Cruelty to Animals (SPCA) is a common name for non-profit animal welfare organizations around the world. The oldest SPCA organization is the RSPCA, which was founded in England in 1824. SPCA organizations operate independently of each other and campaign for animal welfare, assist in the prevention of cruelty to animals cases, rehabilitation and finding homes for maltreated and unwanted animals that can be reestablished into new homes. Policies regarding animal euthanasia, handling feral cats, and similar issues vary by organization.

As you can see this fits in pretty closely with the old constitution purpose which has existed since 1995
The Objects for which the Royal Society is established are:
(a) To prevent cruelty to animals by:(i) Encouraging and sustaining an intelligent public opinion regarding man's duty to animals;
(ii) Enforcing where practicable the laws which exist for animals'protection;
(iii) Promoting further legislation for the protection of animals, as may be appropriate;
(iv) Any other ways and means as the Royal Society may deem appropriate.
(b) To co-ordinate the activities of the various Branches and Member Societies;
(c) To promote Branches in districts where there is no Branch or Member Society in existence;
(d) To generally do all such acts and things as shall or may be for the benefit of Branches or Member Societies or in the interests of animals and their welfare
the new constitution which has just been adopted MJC-101622-1-4205-1 RNZSPCA Constitution Final Adopted 17 June 2017
4. Purposes
4.1 The purposes of SPCA are to create a better life for, and prevent cruelty to and neglect of, Animals and in particular to:
a. be the lead organisation for Animal welfare in New Zealand;
b. educate New Zealanders about their Animal welfare responsibilities including developing and delivering programmes and activities;
c. establish and maintain facilities and provide services primarily throughout New Zealand and, if it considers it necessary to do so, also Australia and the Pacific Islands, to improve the welfare of Animals using standards, policies and practices based on best practice and scientific knowledge;
d. promote and advocate for Animal welfare legislation and standards;
e. act as an Approved Organisation under the Animal Welfare Act 1999, including taking action against those who fail to comply with their legal obligations relating to the physical, health, and behavioural needs of Animals.
the proposed branch constitution   is also has the objects   changed  MJC-101622-1-4206-1 RNZSPCA Branch Rules Final 17 June 2017  but   since they  are looking at winding up the   branches  the  wording of the constitution is   basically irrelevant as  once   this is adopted the  branch will be wound up and  cease to exist  under the  one policy  following this transition MJC-101622-1-4207-1 RNZSPCA Transition Regulations Final
A new CEO  is being recruited Final Position Description CEO SPCA to do the  dirty work  of  transitioning from a society which exists to prevent cruelty  to animals to one which    rely on  animals suffering for an income stream.
To me this appears to be a juxtaposition , as the stated  aim of "act as an Approved Organisation under the Animal Welfare Act 1999, including taking action against those who fail to comply with their legal obligations relating to the physical, health, and behavioural needs of Animals"   cannot occur  unless  animals are harmed  and since there is a financial benefit in enforcing  the act the SPCA may no longer act  to PREVENT   cruelty  as  from an accountants point of view   the $$$  occurs when animals are harmed.
Mr Trainer is an accountant,  ex  Ernest and Young , is he going to spend  some of the 25 million on educating people and  prevention methods or is he  going to make  $$$ for the society by prosecution  ?   What would an accountant  do ????
Of course  they would "promote and advocate for Animal welfare legislation and standards;" as this will ensure more  stringent levels of compliance   and more $$$
I have to wonder why  Andrea Midgen  wore two hats for this time, was it because  her two hats suited this part of the transition , despite it  being a gross  conflict of interest, why not    advertise for an  independent CEO  10 months ago  ????All too contrived my  my sense of comfort.
So if you are the   applicant  for the position of  the new CEO  responding to this email please be aware that you will be  assisting in the destruction of  what was once a  trusty old society .
From: RNZSPCA Board Secretary <Board.Secretary@spca.nz>
To: Gordon Trainer <Gordon.Trainer@spca.nz>
Cc: Kira Schaffler <kira.schaffler@spca.nz>
Date: 23 June 2017 at 14:06
Subject: Message from Gordon Trainer, RNZSPCA President – Recruitment: RNZSPCA CEO

Recruitment – RNZSPCA CEO

To: Centre Managers/CEOs, Chairs
CC: National Office staff and RNZSPCA Board

 Please forward this email to your Committee/Board and to the staff/volunteers in your Centre

 Dear all

Following the strong vote in favour of the One SPCA entity at the AGM on Saturday 17 June, the Board has decided to initiate the process for the recruitment of a permanent CEO for the RNZSPCA. As you are aware Andrea Midgen has been 'double-hatting' for the past 10 months as both the CEO of Auckland SPCA and the Acting CEO of RNZSPCA.

The CEO of RNZSPCA is probably the most critical role in our new structure and it would be highly advantageous to have a confirmed CEO in the role during the months leading up to "Day 1" (1 November 2017) to ensure strong and focused leadership during the transition phase to One SPCA.

We have made a decision that, in the first instance, we will open this role to applications from internal candidates only, i.e. employees within the SPCAs across the country. If we are unable to find a suitable candidate from amongst our ranks we will then go to the wider external market.

As you can see from the attached position description this role requires (amongst other things):

–          Strong leadership skills and proven experience in managing and developing leadership teams

–          Experience in leading change

–          Good all-round management competencies

–          Strong financial and commercial acumen and experience, and

–          A collaborative working style with a track record of building effective relationships.

We have asked Kira Schaffler as the Project Manager for the One SPCA project to coordinate the initial steps of the internal recruitment process. Kira has extensive experience in the recruitment and appointment of executives and will provide a strictly confidential coordination point for initial applications.

Our planned timetable for this process is as follows:

| | |
| --- | --- |
| Internal candidates submit their CVs to Kira Schaffler. All applications will be treated in the strictest confidence | By 14 July |
| Remuneration, People Dev & Nominations Committee (sub-Committee of the Board) interviews short-listed candidates and recommends preferred candidate to the Board | By 28 July |
| Appointment of CEO | By 11 August |

Please forward this email to your staff and volunteers in your Centres. It's important that all employees are kept informed about the recruitment process for this key leadership role in our future SPCA.

If you have any queries about the process please contact Kira Schaffler on 021 924 845 or kira.schaffler@spca.nz who will be able to answer your questions on a strictly confidential basis.

Regards

Gordon Trainer

RNZSPCA President
I wish to file this formal complaint with the charities Services  
on the grounds
significant financial loss to the charity, or the illegal or corrupt use of the charity's funds or resources;
serious harm to beneficiaries (especially to vulnerable beneficiaries);
charities deliberately being used for private pecuniary profit or to abuse New Zealand's tax laws;
where a charity's independence may be compromised;
serious wrongdoing by a charity, its officers/trustees or employees, that damages or has the potential to damage its reputation and/or the reputation of the charitable sector;
serious non-compliance in a charity which could constitute serious risk to  public interest;
damaging public trust and confidence in Charities Services  as an effective regulator
I am a  member of the Hawkes bay  branch of the RNZSPCA ,  That branch is one of  the many members which make up the RNZSPCA.
Recently I attended a meeting of  Taupo residents  and Taupo branch members who were concerned   about being disenfranchised  from  their  society  .
What the Taupo  members and I have in common  is that as members  we have not been able to vote on  the one SPCA proposal
It appears  that there is a group of people who  have taken upon themselves to promote  the one SPCA concept  but have manipulated the   branches and  member societies in such a way as to ensure that their  objective of   disestablishing the   smaller society and taking their   assets is achieved.
Andrea Midgen  has now filed a new constitution which was allegedly passed last week in circumstances  which stretch  the  concept of democracy  as delegates  for at least 15  societies   had no mandate  from the members who  they purported to represent .
The new constitution for he RNZSPCA  which went  live today   differs entirely from the   previous  constitutions and  has  adopted new objectives for  the society  this now reads
4.1 The purposes of SPCA are to create a better life for, and prevent cruelty to and neglect of, Animals in New Zealand and in particular to:

a. be the lead organisation for Animal welfare in New Zealand;

b.educate New Zealanders about their Animal welfare responsibilities including developing and delivering programmes and activities;

c.establish and maintain facilities and provide services throughout New Zealand to improve the welfare of Animals using standards, policies and practices based on best practice and scientific knowledge;

d.promote and advocate for Animal welfare legislation and standards;

e.act as an Approved Organisation under the Animal Welfare Act 1999, including taking action against those who fail to comply with their legal obligations relating to the physical, health, and behavioural needs of Animals
Since the  objectives of the society  have changed  they may now  no longer qualify for charitable status
I note that   in particular they wish to provide a better life for animals  ..  this probably needs to be read in conjunction with this  you tube recording which  demonstrates the   wastage of   donated charitable funds.   Providing a better life could include buying a better car for the owner of the  animal  something which according to this  recording  has happened in the past .
To be the lead Animal welfare  organisation .. sounds like empire building, in the other  hand Andrea Midgens boss, Gordon trainer has already registered a company called  SPCA Aotearoa.  this brings about a potential of conflict of interest for her  as acting CEO of the RNZSPCA and raises the question  is she acting for the RNZSPCA or for her employer  the  Auckland SPCA and sole  share holder of  SPCA Aotearoa  Ltd
Gordon Trainer  is the sole director  of SPCA Aotearoa  Ltd  he  is also the only person  from the Auckland SPCA  who   has  control of some sort of the   25 million dollars which unsuspecting benefactors have left the the SPCA and which has found its way to the   Auckland SPCA. In  the mean time  smaller branches burdened by extra financial  commitments by being billed to take on an employee of the RNZSPCA choosing , have been   wound up
educate New Zealanders about their Animal welfare responsibilities  , they are currently  euthanizing more animals than ever before  , they  are spending more on   human  resources  and corporate wages  particularly looking at getting the inspectorate   going and prosecuting more new  Zealanders.    so is education  going to be through prosecution ?  It has to be of note that it is the SPCA   and not the RNZSPCA  who have the team of lawyers on board .
.establish and maintain facilities and provide services throughout New Zealand to improve the welfare of Animals, since the one spca movement began a number of  local SPCA"s have  been  disestablished , their buildings sold  and   as a result  there are fewer SPCA'a than before , e.g. Te Kuiti, Waikato  , Te Awamutu  etc
promote and advocate for Animal welfare legislation and standards  again their objectives appear to be more in line with a law enforcement authority than a charity  whose beneficiaries are animals
act as an Approved Organisation under the Animal Welfare Act 1999, The government  has responsibilities for animal welfare this is primarily   performed through the MPI and the police .   A former  RNZPSCA  president , Neil Wells ,who was also a barrister wrote the bill for  animal welfare act and was  Independent adviser  to the select committee  and  did not declare his conflict of interest when he included  the provisions for the concept  of  Approved organisations.
Mr Wells went on to   set up his own " approved organisation  The animal welfare institute of new Zealand   which in reality did not exist and was just a trading name for himself.  He relied on  what I have found to be a fraudulent application, followed by misleading information to the minister there is more just search this site  using the  key word AWINZ
The persons who have been behind this drive for the  SPCA to develop the inspectorate just happen to former  MPI inspectors . this   whole concept is not about  being a charity but  about starting a law enforcement group  using  the 25 million or so ,this has been   side lined into trusts.
These funds  which were given to the SPCA have been deprived  from the true  beneficiaries , the animals.   there appears to be a massive misappropriation of charitable funds  because  people dont realize that the SPCA  has been hijacked.
The new powers are equally   frightening
establish a Board, commissions, committees. forums, and other groups, including consultative groups,and to delegate its powers and functions to such groups;

be an Approved Organisation under the Animal Welfare Act 1999 with such powers and .authority as specified under that Act

invest, lend, advance or otherwise deal with monies and secure the payment of such monies with or without charges, or guarantees; ( these are charitable funds ! )

produce, develop. create, own, licence and otherwise exploit. use and protect Intellectual Property;

purchase or otherwise acquire all or any part of the property, assets and liabilities of any one or more companies, institutions, trusts, incorporated societies or organisations whose activities or objects are similar (in whole or in part} to those of SPCA, or with which SPCA is authorised to merge or amalgamate,or for any purpose designed to benefit SPCA;
And this is the bit where   I believe SPCA aotearoa comes in
establish, acquire, carry on or participate in any business or enterprise which fulfills the Purposes of SPCA (in whole or part);

q. be a member of, affiliate or be associated in any other way with, any organisation which has objects which are similar, in whole or in part, to the Purposes of SPCA; and.
With the   change in the objectives   the transformation is complete   below is the  former purpose  for comparison
OBJECTS

The Objects for which the Royal Society is established are:

(a) To prevent cruelty to animals by:

(i) Encouraging and sustaining an intelligent public opinion regarding man's duty to animals;

(ii) Enforcing where practicable the laws which exist for animals'protection;

(iii) Promoting further legislation for the protection of animals, as may be appropriate;

(iv) Any other ways and means as the Royal Society may deem appropriate.

(b) To co-ordinate the activities of the various Branches and Member Societies;

(c) To promote Branches in districts where there is no Branch or Member Society in existence;

(d) To generally do all such acts and things as shall or may be for the benefit of Branches or Member Societies or in the interests of animals and their welfare.
Evidence  that the RNZSPCA has not  been acting  in accordance with its former objectives  can be found   by looking at
the increase of euthanasia this is not in the interest of animals
the closure of branches which could have been saved  with charitable funds which according to this recording have been misappropriated 
the   replacement of volunteers with paid RNZSPCA staff and then passing  the   costs on to the branch so as to  cause financial hardship  which is then used to  wind up the   society
the unlawful " administration of  incorporated societies "
by denying members the right to contact  other members and by  calling only a SGM when it suits the RNZSPCA but not  calling a  AGM in three years ( Taupo) or allowing  new people to become members.  This is not  acting in the benefit of branches
there is a gross conflict of interest between the  Auckland SPCA   and the RNZSPCA  . there has been a  historical    fight for power , it now appears to me ,  that the  Auckland SPCA   which has posed as the SPCA see here   has succeeded   in taking control of money and is now taking over the  RNZSPCA  and  will pass that control   through to   itself  by virtue of  this new constitution .
all that is required is  for the  smaller branches to   wind up and the Auckland SPCA will   take over  the RNZSPCA  and put it under the umbrella of SPCA aotearoa.  Public money  corporate wages private gain and a private law enforcement power  with strict liability offences and a  licence to print money .. certainly not  acting charitably  in my opinion
Constitutions  for branches taken into administration , (for which there is no legal provision) , have been unlawfully filed  to ensure that the latest constitutions  state  that on winding up or dissolution the assets go to the RNZSPCA.
I have been told that  well over 2 million dollars of charitable funds have been used for this restructuring. Money which could have been put to good use  by saving branches which have been closed down   by  people other than the members.
The new constitution allows for the   new organisation , (that is what it is   as the  whole constitution appears to have been replaced in one go) to pick and choose its members
the emphasis is  on   the inspectorate   and it is  not  coincidental that   Mr Wells who wrote the legislation also set up the training program at Unitec for inspectors,  so by  becoming inspector focused there is a financial spin off for others  but what has been forgotten is that before a prosecution can occur  an animal has to suffer . so the  society for prevention of  cruelty no longer fulfills its   traditional  role  having instead become an enforcement agency  and therefore by definition is no longer a charity .
Power tends to corrupt, and absolute power corrupts absolutely.
I therefore request an urgent revue of the RNZSPCA   with regards to its charitable status, misappropriation of charitable fund and the grounds stated above
I have posted this on transparency in the interest of transparency .