Just Over 15 years ago I exposed serious corruption . I have since learned that corruption favours the governmet and it therfore appears to be condoned at all levels
Over the years I have experienced first hand the dirty tactics which have been deployed so it appears to me that a good place to start is by Taking each subject and exposing it so that others don't have to learn the hard way
Petition of Vince Siemer: Require all Supreme Court judgments published on Courts of New Zealand promptly
Petition request
That the House of Representatives pass legislation mandating the Supreme Court of New Zealand publish every judgment on the Courts of New Zealand website promptly, when issued and, if any of the judgment is suppressed, to publish the reasons for suppression and make evident the extent of the redactions ordered.
Petition reason
Currently, the Supreme Court of New Zealand issues some judgments off the record, either by omission from the official record or by informal email. None are accessible by members of the public. In the past six months I have surmised the existence of two major judgments that have been concealed from the public due to their absence from the sequential numbering system on the Courts of New Zealand website. They are [2020] NZSC 97 & [2021] NZSC 11.
Sign the petition here https://www.parliament.nz/en/petitions/sign/PET_111140
Note
This section establishes as the court of final appeal for New Zealand a court of record called the Supreme Court of New Zealand.
court of record noun
a court whose judgments and proceedings are kept on permanent record and that has the power to impose penalties for contempt.
Judgments
Judicial Decisions Online provides a searchable database of judgments and decisions from the High Court (from 2005), Court of Appeal (from 2003), and Supreme Court. All decisions are published unless they are subject to a suppression (automatic or judge-ordered) or relate to bail applications or bail appeals.
If a judgment from the High Court or Court of Appeal is considered to be of public interest, it is published in the Judgments section of the Courts website and retained for 90 days. All decisions from the Supreme Court are permanently available on the Courts website. Substantive judgments are published with a media release.
You can subscribe to receive an email alert when a judgment of public interest or a Supreme Court decision is published on this website.
Why there is an issue with unpublished decisions
Vince and I Have both been charged and convicted of breaching suppression orders for un publicised decisions. We have a right to know if a decision is confidential and why , both of us had our convictions over turned but we should not have been convicted in the first place . Open transparent justice means exactly that
see the documents here
Neil Wells appeared before a tribunal and was found liable for the charge relating to his client
https://www.justice.govt.nz/assets/Documents/Decisions/2016-NZLCDT-24-Waikato-Bay-of-Plenty-Standards-Committee-v-Mr-M.pdf
https://www.justice.govt.nz/assets/Documents/Decisions/2016nzlcdt34-waikatobayofplenty-standardscommittee-v-mr-m.pdf
nothing in these documents show that there is a suppression order for Neil wells who had misappropriated funds from his client the law society publication was very detailed and through this we identified him I was convicted of five charges and Vince for one
these are the court of appeal documents which overturned our convictions .
VINCENT ROSS SIEMER v NEW ZEALAND POLICE [2020] NZCA 178 [21 May 2020]
HADEN v NEW ZEALAND POLICE [2021] NZCA 94 [26 March 2021]
When the court acts in secrecy and people are convicted because of secrecy nothing can be fair .
In an open transparent justice system we have the right to know what is happening and why decisions are made
FYI request

Dear Ministry for Primary Industries,
IN November 1999 Neil Wells who has now been acknowledged to have been a corrupt lawyer , made an application for the coercive law enforcement powers provided by the animal welfare act.
Neil Wells had drafted and advised on the legislation and basically wrote it to facilitate his own business plan see here http://www.anticorruption.co.nz/wp-conte…
He made a fraudulent application claiming legal existence of AWINZ your own records prove that on 1 may 2007 MAF recognized that AWINZ had no legal existence http://www.transparency.net.nz/wp-conten…
MAF had entered into a MOU with AWINZ http://www.transparency.net.nz/wp-conten… as if it was a body corporate in its own right
Evidence that it was not a body corporate is found here http://www.transparency.net.nz/wp-conten….
In 2006 I reported to MPI that AWINZ had no legal standing as an entity . MAF did nothing except be obtrusive and believe Neil Wells , MPI has continued to be obstructive, I personally attribute this to the conflict of the chief legal officer who was a crown solicitor at the time of the application and failed to check the legal standing of AWINZ , hence and investigation into AWINZ would highlight his oversight at the time http://www.transparency.net.nz/wp-conten…
I realize that I have had all the documentation and the documentation that I have proves that MAF and now MPI condoned this public fraud and allowed a fictional organisation to continue to administer animal welfare law on the public
By way of OIA I would like to know the legal means by which the MPI can condone fraudulent applications for approved organisations and how it possibly thought that an organisation which did not exist and had no evidence of existing could possibly have responsibilities to the criteria provisions of the act.
I further request all documents in which MPI consider the consequences of contracting to a undefined name and discussions where by a decision was made not to investigate this public fraud and conceal it
If MPI considered that this was not fraudulent then I would like to see all documentation which they relied on that proved that AWINZ had legal existence
The situation is ironically that AWINZ could not have got a bank loan for $10 yet MAF gave it coercive public law enforcement powers. While this is bad it does not compare to the 15 years of the concealment of this corruption by failing to investigate the fraudulent application
The public need to have confidence in the MPI and this fraud has been ignored for too long, I am still under attack by one of the lawyers who was instrumental in the initial cover up I am a whistleblower and want the attack on me to stop by getting the government department which had responsibility to the public to act responsibly .
The manner in which AWINZ had been dealt with brings into question
the competency of MPI to supervise the one and only approved organisation which now has a changed constitution and appears to be acting in conflict of interest and using their inspectorate to promote the interests of animal welfare activists .
Yours faithfully,
Grace Haden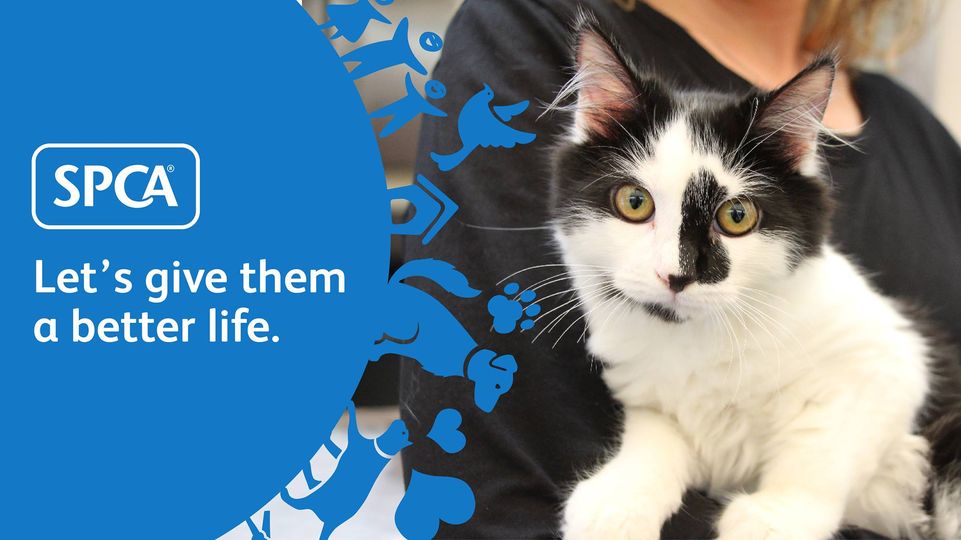 This is an article which has been sent on to me by the The SHG – for Rspca problems their face book link is here
The same problem applies to NZ , the SPCA is no longer about abuse it is about giving animals a better life , Hands up ay one who wouldn't want a better life . The organisation is riddles with animal activists and it is no longer the caring nurturing volunteer organisation which once existed now it is about $$$$$$$
This is from the SHG "In our system of government, we have over generations learnt the lesson of the importance of the separation of powers, we keep the police separate from the courts, the legislature from the bureaucracy. We ensure all range of government inspectors from work safety, health and environment are under the control of the government and not private industry, but for some reason we have let the fox into the hen house when it comes to the RSPCA overseeing an industry they oppose.
In simple terms the RSPCA is seriously conflicted as they continue to expect to play the role of a political activist organisation, lobbying against various forms of commercial animal production – while also acting as the industry police officer. It's an untenable situation which government needs to address."
this is the original post
In the October 1, 2020 edition of the Farm Weekly the RSPCA published two articles commenting on live exports and WAFarmers one by their CEO Richard Mussell titled 'Winding back reforms is short-sighted,' and the second by their President Lyn Bradshaw "Animal Welfare Views'.
Both articles attempted to portray the RSPCA as the reasoned voice of animal welfare, a trusted agency of experienced, knowledgeable, professional health inspectors who are only interested in the welfare of animals.
And so they largely are, but they are also a professional lobbying outfit that uses donated money to attempt to change government policy and one of those policies is to ban the live export trade.
In our system of government, we have over generations learnt the lesson of the importance of the separation of powers, we keep the police separate from the courts, the legislature from the bureaucracy. We ensure all range of government inspectors from work safety, health and environment are under the control of the government and not private industry, but for some reason we have let the fox into the hen house when it comes to the RSPCA overseeing an industry they oppose.
In simple terms the RSPCA is seriously conflicted as they continue to expect to play the role of a political activist organisation, lobbying against various forms of commercial animal production – while also acting as the industry police officer. It's an untenable situation which government needs to address.
The RSPCA can't have it both ways, they can't act as a political organisation similar to Greenpeace working to shut down commercial activities, all the while being funded by the government to undertake contracted inspection services. It's like giving Greenpeace powers to enforce compliance in our commercial fisheries, or the Wilderness Society inspection powers of landholders. That is not how western democracies operate.
In this modern world no government would consider handing over statutory powers and responsibilities for animal welfare to an organisation that is run by a board of passionate but also politically motivated volunteers who have strong views at odds with the government that funds them, a government which claims it supports the live export trade (albeit with ever increasing regulatory restrictions).
Just as no government would today consider giving responsibilities for the inspection and enforcement of standards for children, the aged, the sick, the incarcerated, the fish or the environment to a society of passionate people with no authority other than being badged by the Queen as Royal.
These responsibilities sit with the Crown – that is the State Government and its public servants not with Her Majesties loyal subjects. That's the basis of the separation of powers, we vote in governments to regulate the affairs of the state not sub them out to non-elected and unaccountable groups of people.
So why does the RSPCA have the powers to investigate animal welfare breeches, in short it's a relic of the past from the days when the churches and welfare organisations looked after the sick and the elderly, ran schools and orphanages free from any state based rules or regulations.
But those days are long gone, now government retains the sole power to ensure standards and compliance.
WAFarmers has argued that the RSPCA is so conflicted and so underfunded and so out of step with modern governance practices of independent compliance and enforcement that their future role should be reviewed and wound back to focus on offering shelter not policing.
If the RSPCA really cared about animals it would welcome a no holds bared inquiry into its role and responsibilities with a special focus on its future ability to adequately fund and administer best practise animal welfare support across the state.
With a budget of just $8 – $10m a year almost all of which is heavily reliant on donations it knows it is woefully underfunded and worse has been racking up a rolling series of cash deficits, with last years a record $1.8m.
But despite its desperate financial position it has failed to gain the government funding needed to fill the gap, and worse faces serious future funding shortfalls as the economy goes into recession.
A new animal welfare compliance structure is needed. One that can provide a world class service from one end of the state to the other something that the RSPCA is clearly unable to do as its cash crisis has left it with a city centric focus and a clear reluctance to investigate and invest resources into animal welfare issues in some of our more remote communities.
The RSPCA needs to refocus and invest its commendable care efforts into shelters leaving government to undertake all the inspection and compliance work. This in turn will free the RSPCA to focus its limited resources on shelters and allow it to peruse its political campaigns without being at risk of being accused of a conflict of interest.
To be clear WAFarmers has no problem with the RSPCA being a strong advocate for animal welfare and continuing its vital work caring for neglected animals. It has every right to continue as an active political organisation competing for the communities and politician's attention alongside of all the other animal rights organisations such as the Animal Liberation Front and Direct Action Everywhere.
What they can't do is continue to use the governments stamp of approval via its government powers and contracts for fund raising campaigns which in turn support their lobbying campaigns against Live Exports and other commercial farming activities.
If they really cared about animal welfare they would join with WAFarmers and sit down with government and map out a plan to hand back their compliance powers to government in return for a substantial increase in taxpayer funding of the government's own animal welfare inspectors, and more support for the RSPCAs shelter work.
All government inspectors be it in health education or animal welfare need to be professional public servants, working free of any perception of conflicts of interests and appropriately paid with appropriate resources to do the job properly.
The RSPCA will need to acknowledge that its long term plan of waiting and hoping for more donations or govt funding is not a viable way forward, neither are its attempts to claim it can manage its conflicts of interests. It's time to trade their powers for the government to do more.
The organisation also needs to stop running the argument that the powers need to stay with the RSPCA because they could never trust a future Liberal minister to direct the Department to ignore animal welfare issues.
Such a view is naive in the extreme of the powers of a government minister to direct their department are actually very limited and ignores the common sense approach that past Liberal Ministers of Agriculture like the Hon Ken Baston have taken in supporting the RSPCA via initiating the last independent review into the organisation back in 2015.
But even this review which was very sympathetic to the RSPCA and saw many of its key recommendations adopted has still left the RSPCA struggling for the government funds needed to do the job properly. Government sources claim that DPIRD would need an additional $10m a year to effectively cover the animal welfare of companion animals. At the moment the RSPCA gets less than $500,000 to cover the whole state.
Only government has the bank balance and the core powers to do the job properly and while the RSPCA remains in this space it allows government to walk away from the real and growing issues in animal welfare, the vast majority of which are linked not to farm animals but domestic and companion animals.
For too long the State has gotten away with outsourcing animal welfare and for too long have the elites in the RSPCA hung onto the power they have been granted by the state.
WAFarmers would like to see an open and frank discussion on the merits of government bringing in-house all the compliance powers as part of the current review into the Animal Welfare Act and just as it does with a whole range of other emergency services, out sourcing the helping hand side, such as the running of shelters to non for profits like the RSPCA.
This will leave the RSPCA to continue on with their political campaigns against live exports, dog racing or anything else they want banned, free from any charges of conflicts of interest, and most importantly it will ensure the animals particularly the companion animals that are being abused in the remotest parts of WA are given the same level of protection as those in the inner city.
David Slade – President Livestock Section WAFarmers
Trevor Whittington – CEO WAFarmers
IN late 2019 when I started working with Janine and Barbara I encouraged them to ask questions and got them to file a police complaint.
The 5 dogs which were taken on the 4th August 2017 were not mentioned or acknowledged but extensively used for SPCA donation drives.
There was another raid on the 13th October 2017 and 15 dogs were taken two of which were in whelp.
Plowright interviewed Janine two weeks later, his interview did not raise any questions with regards to the care of the animals but was more about coercing the "voluntary" surrender of these dogs.
When this tactic failed, Plowright produced his first Inspectors Report on 8th December 2017.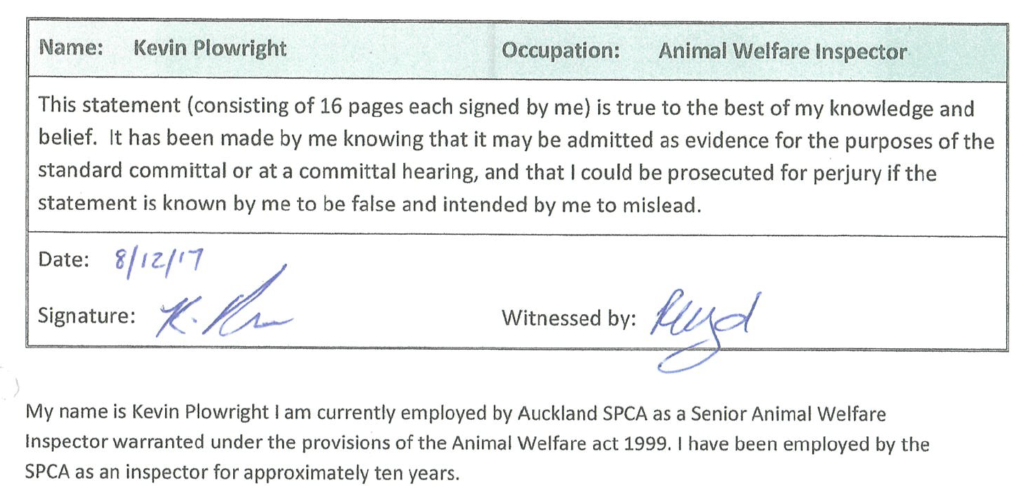 His co-inspector Laurie Jane Davis who also acts under the name Lori Davis then served Production Orders on the Vets which Janine and Barbara had used and also one on the New Zealand Kennel Club to obtain the pedigree papers.
This was followed up by the execution of Kevin Richard Plowright's Search Warrant on the 27th March 2018, the Search Warrant was dated 26th March 2017 a year earlier and therefore not valid.(they have to be issued within a defined period of time which is much shorter than one year)
Significantly the search warrant lacked any evidence that it was issued through any court or by any registrar

The first thing that Plowright did was to disconnect and disable the security camera, the hard drive went and has never been seen again, the claim by Plowright was that there was nothing on it.
The personal computers were cloned and documents which were in the house which recorded the events and notes for their defence were seized as were communications with their lawyer.
On 29th March 2017 Kevin Plowright returns some documents and a puppy.
1st May 2018 there was a TV campaign and photos of the dogs appear on the SPCA Facebook pages, the dogs displayed at their worst, the photos show very scared and very uncomfortable dogs at the SPCA.
At the same time the SPCA does a massive appeal and this all coincides with a Court action to dispose of the dogs.
18th May 2018 a further raid took place, Janine had taken 6 dogs to the middle of the farm for a swim and a run, as they were trained like athletes upon completion they were fed, watered and rested. She tied them up on 2m chains and soft collars under a canopy of trees, while she returned to clean the kennels. The Inspectors arrived and drove to the back of the farm and took all six dogs falsely alleging that these dogs had been housed out there for a week.
All this occurred while the Court was dealing with the disposal of the original 15 dogs, two of which have given birth to 10 and 11 puppies each during this time.
It is of note that the 20 puppies were disposed of unlawfully, I will deal with this later, but basically there was no provision in law which allowed for these pups to be subject to a Section 136A application.
Significantly the dogs were disposed of to the fictional Royal Society for the Prevention of Cruelty to Animals, so the question is… who got them? where did they go?
Charges were not filed until 2 November 2018 and Plowright "threw the book" at Janine and Barbara. The charges are totally unfair and lack detail.
e.g. 1. The Prosecutor is a fictional organisation.
2. While some dogs are named others are identified as
5 puppies wool shed
4 adult German shepherds
an adult German shepherd deer
three adult German shepherds in old runs
young male German Shepherd dog
female adult German Shepherd
three German Shepherd dogs crates
young male German Shepherd dog fence
All the dogs were microchipped, so how can someone file a defence for a dog which is not identified and not seized and allegedly committed an undisclosed offence in July to October 2017 and had the charges brought a year later.   This is not in line with the Bill of Rights, where they have the right to be fully and fairly informed of the charges.
Significantly the unidentified dogs were not seized so one dog tied to the fence when Plowright arrived was worth seizing ( Monty ) and disposing of through the court but others (e.g. last one on the list )which was in identical condition and circumstances was left . The only difference with these dogs was their blood line .The seized dog had recent imported blood lines .
The ladies made their first appearance in Court on 17 December 2018. Merry Christmas but that was not the end of it.
24.01.2019 Plowright returned and took Champion Xena, who was having a break from her 7 week old puppies. He returned on 31. January 2019 and took Champion Hobby, Alex and Emma before returning and taking Champion Fenta on 21.02.2019.
I got Janine to make a Police Complaint about these dogs and they were miraculously returned on the 16th December 2019, a week after the second lot of seized animals were disposed of by the Court based on evidence by Plowright starting that Janine and Barbara were not suitable to have dogs returned to them.
I find it strange the contradiction ironic and I have to wonder why the RNZSPCA has condoned the unlawful action of Plowright in taking dogs without any apparent paperwork.
And I also have to question why there has been no apparent oversight of the prosecution by the SPCA , you would think that an organisation that is overseeing the prosecution would get their own name right. But I guess its been a very worthwhile exercise for fundraising and I fear that this is all the SPCA is interested .
Question for Tracey Phillips
Could you please provide information for Barbara and Janine that will identify the un named dogs and identify what the alleged offence is for each and every charge .
Currently the charges are typical of the one below given that the charges were filed in court some 14 months later with regards to dogs which were not sized how would they know which dogs these were?
what did they do , what didn't they do so as to have ( in the opinion of the inspector ) not ensured their physical and behavioral care ?
I have gone through the file and found no evidence which would support this charge ( and many others )
Criminal Procedure Act 2011
A charge must contain sufficient particulars to fully and fairly inform the defendant of the substance of the offence that it is alleged that the defendant has committed.
The above charge dos not disclose who the prosecution agency is and if you do not respond then this will be prima facie evidence that the RNZSPCA , its member societies or branches are not involved in the prosecution .
If the prosecution has been taken by The RNZSPCA then I like others reading this post would hope that you act responsibly and provide the evidence required to Barbara and Janine as they need to file a defence Section section 13 animal welfare act
There appears to be a lot of interest in hanging Barbara and Janine because the jury on social media have already gone off half cocked and made their decision.
I am not involved in the Court process and my only objective is to see transparency, accountability and a fair process. I have not charged for my work nor for my research, which is extensive. I have no confidentiality agreements in place or confidentiality obligations.
I was contacted by Janine in October 2019 not long before a trip to Auckland. While I was in Auckland I visited their farm and their home, it was then that I decided to support them as so much is so wrong.
I became involved with the Animal Welfare legislation when back in 2006 I questioned why one of the two approved organisations the Animal Welfare Institute of New Zealand, did not exist.
We proved conclusively that this "organisation" had no legal existence despite having been given coercive law enforcement powers under the Animal Welfare Act.
MPI totally covered the corruption up and to date this corruption has been both concealed by the authorities and condoned.
Once you suffer injustice and see how it occurs you see other things so much more clearly, its like magic… the magic is gone when you know the trick behind the slight of hand.
So lets start with the very first visit by the SPCA at Volkerson
28 July 2017 Kevin Plowright and Lori Davis visited the farm and decided that there were too many dogs there. Barbara was told to build better kennels and was given until 31.12.2017 to do this.
4 August 2017 Plowright and Davis return and Barbara is given 5 minutes to hand over 5 dogs. The dogs had been out on the farm exercising and working and Fiena the Long Coat GSD had been running around in the mud which was plentiful at the time.
The dogs were taken away without the owners being given an opportunity to wash them. Feinas photo was used on Seven Sharp and even on a news item in October 2020 incorrectly alleging that this dog was seized in October 2018.
Does a dog need to be well groomed at all times or are they allowed to run free and be shown at their worst because it suits the SPCA?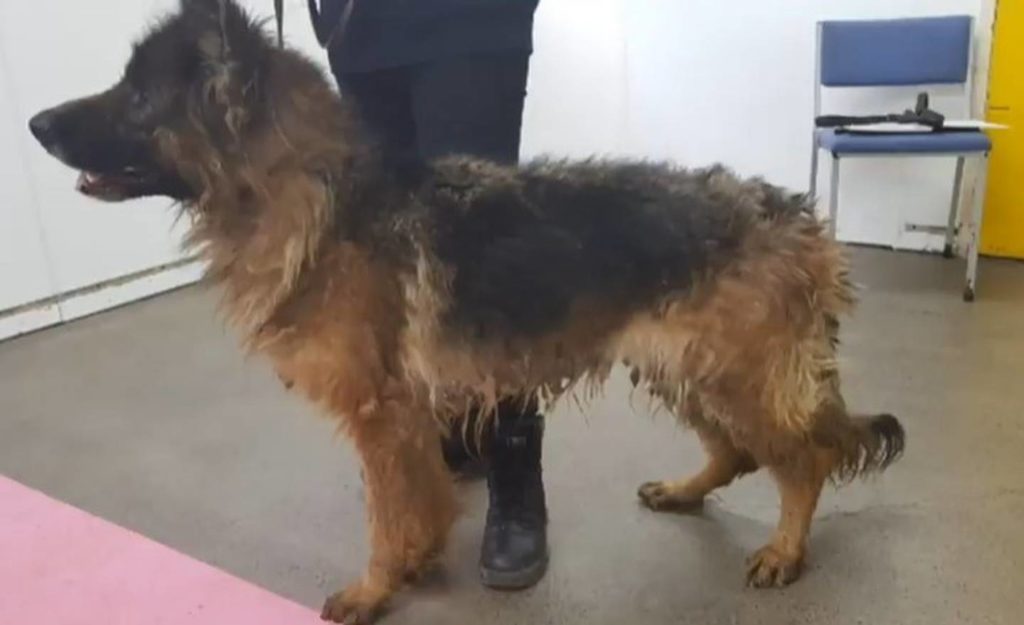 No charges have ever been filed with regards to these dogs and no paper work was ever completed. The dogs were taken and the signature on the surrender form has been entered by some one not authorized to surrender the dogs.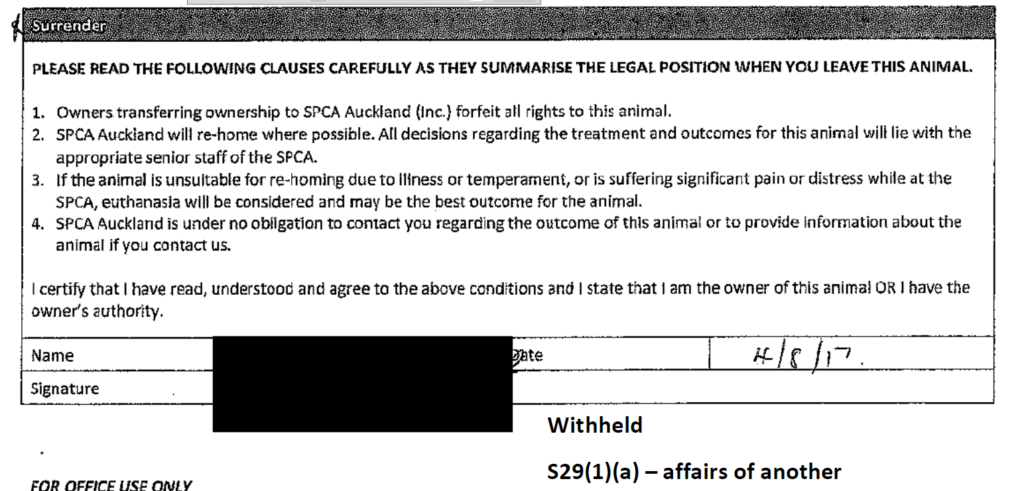 No mention of seizing the dogs was made on the official documentation.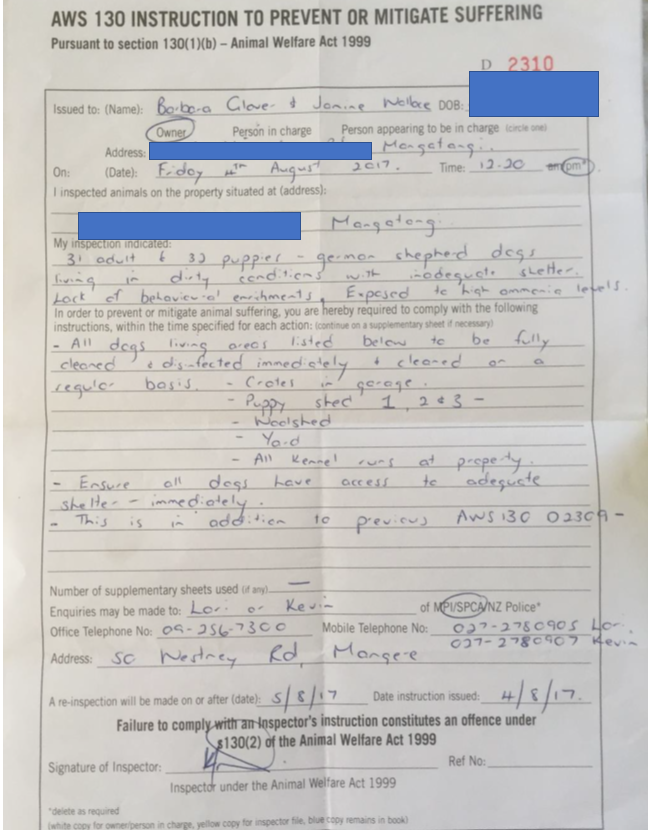 These dogs were handed over by an 80 year old lady who felt grossly intimidated and who believed that she had no rights. It opened the door to repeated visits.
Question for Tracy Phillips
Nothing in todays questions relate to any matters before the court we therefore look forward to answers .
do you condone taking animals and not giving the owner the opportunity to know what their rights are with respect to their dogs or even giving them the opportunity to sign the surrender form?
2. Is this action considered legal and or ethical ?
3. These five dogs are not the subject to any charge but have been used extensively by the SPCA for fundraising and allegations that the dogs were abused , these dogs still belong to Barbara , ownership has not passed so when are they going to be returned?
4. And what is being done with respect to the forged signature on the surrender form ?
5. whose signature is it and
6. why was it concealed from the information request ?
Good afternoon Tracy
I am writing to you in connection with the prosecution of Barbara Glover and Janine Wallace as reported in the Herald today 
I am a former police prosecuting Sergeant and am a retired Private investigator. I have done a lot of work with the Animal Welfare Act and I was contacted by Janine last year and was asked to look at the prosecution for the Volkerson dogs.
I did not know Janine or Barbara and my first step was to visit their farm and see what was going on. I never intended to become involved to any great extent but what I have seen with regards to this prosecution has struck me as very very wrong and there is so much that simply does not stack up.
Because of the multitude of issues and the need for accountability and transparency I have decided to ask the questions which the lawyers are not asking. It is easy for people to make the assumption that an organisation like the SPCA would not take a prosecution unless it is serious but I certainly have not seen any evidence of any animal neglect or mistreatment and would not be sticking my neck out if what I had seen had supported the actions of your inspectors.
There is obviously a lot of public interest and I am concerned with the online bullying which has gone on and the manner in which these ladies have been executed before they have even been to court. In fact the manner in which they are being treated is grossly inhumane.
In my day in the police no single person ever dealt with a prosecution, there was always oversight of the file by a more senior person in the police. This file is akin to one person " throwing the book " at two ladies for trivialities.
I further concerned that it appears that this file is being prosecuted by a person who has left the employment of the SPCA and that there is no legal organisation which has charge of the file.
The whole thing appears to have been passed to the Crown Solicitor to prosecute. The involvement of the Crown Solicitor in itself is a concerning matter as this is a Private prosecution and is in breach of the Terms of Office of Crown Solicitor (at point 16).
The inspector who was involved from day one was Kevin Plowright he left the SPCA on 21 June 2019, so the prosecution file has lacked oversight by the officer in charge since at least that date and probably before that when Plowright was overseas see https://www.spca.nz/news-and-events/news-article/ronas-roar
It occurs to me, that the timing of the events with Volkerson, the publicity and fund raising capacity that this gave for the SPCA and the winning of the 2017 Rona's Roar prize by Kevin Plowright may well be more than meets the eye.
Getting back to the identity issue
According to the Bio on the Detector Dogs website, Kevin worked with Neil Wells in Waitakere City Council where Wells operated the "approved organisation" which was AWINZ for some 10 years ( there have only ever been two approved organisations one the RNZSPCA the other was AWINZ )
Kevin was warranted as an AWINZ ( Animal Welfare Institute of New Zealand ) inspector from 2002-2005.
AWINZ was a fictional organisation, it did not exist in any legal manner or form but no one in MAF( Ministry of Agriculture and Fisheries ) at the time or since has cared about this. A fictional organisation which had coercive public law enforcement powers has been totally condoned.
Kevin is a protégé of Wells and would be aware of the significance of using the correct name for an organisation and he has seen that fictional organisations are condoned.
Kevin Plowright was employed by the Auckland SPCA from 2005 – 2007 and again from 2010 to 2019. The Auckland SPCA is an incorporated society officially known as THE SOCIETY FOR THE PREVENTION OF CRUELTY TO ANIMALS AUCKLAND INCORPORATED (222889) this is its constitution
The Royal New Zealand Society for the prevention of cruelty to animals is the approved organisation under section 121 animal welfare act which gives the SPCA its inspectorate powers which by virtue of section 190 is passed on to its member societies
The Auckland SPCA is a member society of the RNZSPCA see the constitution of the RNZSPCA society number 218546 schedule 2

It Is very clear by this that the SPCA Auckland and the RNZSPCA are two distinctly separate organisations to the extent that the constitution of the RNZSPCA defines.
SPCA Auckland as The Society for the Prevention of Cruelty to Animals Auckland Incorporated (registration number 222889). and the "RNZSPCA" and "SPCA" mean the Royal New Zealand Society for the Prevention of Cruelty to Animals Incorporated and includes its officers, employees and Board Members, unless specified otherwise.
The charges however has been laid as follows:
"I, Kevin Plowright of the Royal Society for the Prevention of Cruelty to Animals (Auckland) have good cause to suspect that has committed the offence specified below."
Question for Tracey Phillips. I will have questions for you from time to time in this open manner and undertake to put your responses up publicly and un changed. Because of the multitude of issues I will tackle them one by one. Today the question of identity.
Who or what is the Royal Society for the Prevention of Cruelty to Animals (Auckland) ? There is no such organisation and fictional organisations are not capable of taking a prosecution see Section 16 Criminal Procedure Act
The contact person is the Crown Solictor who appears to be ducking for cover and we have now been told officially through the court one thing one week and an another the following week.
Tracey it is apparent to me that neither the RNZSPCA nor the SPCA Auckland has oversight of the file and no one has been able to fully and fairly inform Barbara or Janine what the specific allegations are with regards to each alleged offence.
If you looked at the file as closely as I have, you will notice that evidence is rather sadly lacking and given that all the inspectors involved have left the RNZSPCA, we need to identify a person representing the alleged prosecuting body, and for them to take charge and ensure that the file is of prosecution standard and that each charge can be sustained.
As the most senior inspector we presume that the responsibility must fall on your shoulders.
The papers are reporting this as an RNZSPCA prosecution. However based on the court papers it appears that it is a prosecution by a fictional organisation and as such the charges cannot stand .
It also appears that no one in the SPCA Auckland or the RNZSPCA has had oversight of the prosecution and that Kevin Plowright has prepared the file and handed it on to Luke Radich the relative of Jenny Radich through the Anita Killeen pro bono prosecution scheme .
Please advise urgently .
RESPONSE
From: Tracy Phillips <Tracy.Phillips@spca.nz>
Sent: Thursday, 29 October 2020 10:17 am
To: grace@verisure.co.nz
Subject: RE: Open letter with regards to Volkerson prosecution
Tena koe Grace
As the matter is before the courts I am not in a position to comment.
Kind regards
Tracy
From: grace@verisure.co.nz <grace@verisure.co.nz>
Sent: Thursday, 29 October 2020 10:35 am
To: 'Tracy Phillips' <Tracy.Phillips@spca.nz>
Subject: RE: Open letter with regards to Volkerson prosecution
Thank you Tracy
but we don't even know if the prosecution is a legitimate SPCA prosecution or even if the SPCA is involved
We doubt that the board of the RNZSPCA or the board of the Auckland SPCA supported the prosecution and wish to have the identity of the prosecuting body confirmed
I certainly hope that you do not condone a prosecution is in the name of a fictional organisation



Post script
Tracy left the RNZSPCA Nov. 2020 and in December 2020 commenced work for Maritime NZ

Dogs New Zealand is the latest fictional organisation to take on life of its own. It is nothing more than a trade mark . Few people realise that a trade mark is like a car, it is vehicle for business. It can be assigned it can be used but it is a thing and has as much capability of sending out letters in its own name and invoicing and fining people as your car does .
All over New Zealand Dog breeders are being duped with the latest list of fines and penalties and being rejected on any appeal , few realise that the name Dogs New Zealand has no physical ability to set up the so called breeders code, and least of all, enforce it .
I decided to look into the back ground and first port of call was the register for incorporated societies .Put in the New Zealand kennel club ( as dogs New Zealand wont bring anything up ) and you will find the list of filed documents
The only constitution which has any legal binding is the latest constitution filed in the registry . You will note that this document dated 2018 makes no reference to Dogs New Zealand or any code of conduct , process for making rules and regulations, process for enforcing them .
By going back through the documents you will find that the original documents were robust and contained all the rules and regulations in the constitution and were passed by the executive council with due process.
In 2014 the rules still contained a large section entitled Discipline and settlement of Disputes at section 35 . The following year it was simply struck from the rules see here and again when the constitution was filed again a week later here
There has been nothing in the constitutions since which provide for any process of making dispute and settlement regulations and it is of note that there appear to be no members of the executive who have authorised the correctness of the filed constitutions ,this has all been done by staff members ie employees.
In my experience I have seen many instances where incorporated societies have been taken over by its staff . It is the executive that makes the rules and they appoint the ceo who then employs the staff to carry out those directions , not the other way round .
So often the executive have no idea which way is up , they are elected by the membership , or in this case the delegates and too often are then pretty much told what to do by staff.
It is unclear as to how DOGS New Zealand came about and its even more puzzling as to how ti took on life of its own .It is a registered trade mark but we do not know by whose authority and when it was resolved by the executive to adopt it , the possibility is that the exectutive have no idea how it evolved either .
What can you do .. each of you belongs to a kennel club which has a delegate on the NZ Kennel club , I believe that you should raise it with your club as a concern that the kennel club is acting unconstitutionally
Ask for a copy of the minutes of AGM's going back to 2014 to verify that the constitutions were changed with proper authority and consensus , to check when and how the rules which are being enforced on you were passed and what legal authority those rules have
Seek evidence that the clubs were consulted on the changes which relate discipline and penalties and the consultation process which had been undertaken with executives, delegates and members.
Those on the executive council https://www.dogsnz.org.nz/dogsnz/executive-council need to be held to account for the unconstitutional actions of the Trade mark and those using the trade mark as though it is a legal person .
A copy of this post will be sent to all members of the executive council and I ask that you all spread the word to the breeders to seek fairness , transparency and accountability
https://d.tube/#!/v/veritas11/QmYG5y53VFjjHP2t5ZqkH8xoYSMyHwbA1pSHyX3fFt6gw7
When documentary videos are taken down and reputable people are sent to jail for speaking up then this signals , to me at least that this is a documentary worth watching
It is indead food for thought and any educated person using logic and reasoning will be able to come to their own concluson about what is going on
In my book it is a must watch especially when there is such a massive drive to conceal and bury her work on line and to discredit her to the level of a fruit loop when what she is saying is in my opinion and based on my medical laboratory background, totally plausible .
As a whistleblower myself I know the signs well. I was discredited, I have been to court for speaking the truth and even now there are those who try their damndest to have my posts removed from the internet.
Where is the freedom of expression and the freedom to impart information, if her information was not hitting the nail on the head , why the massive reaction ?
That is why I say see for yourself make up your own mind be informed from all sides.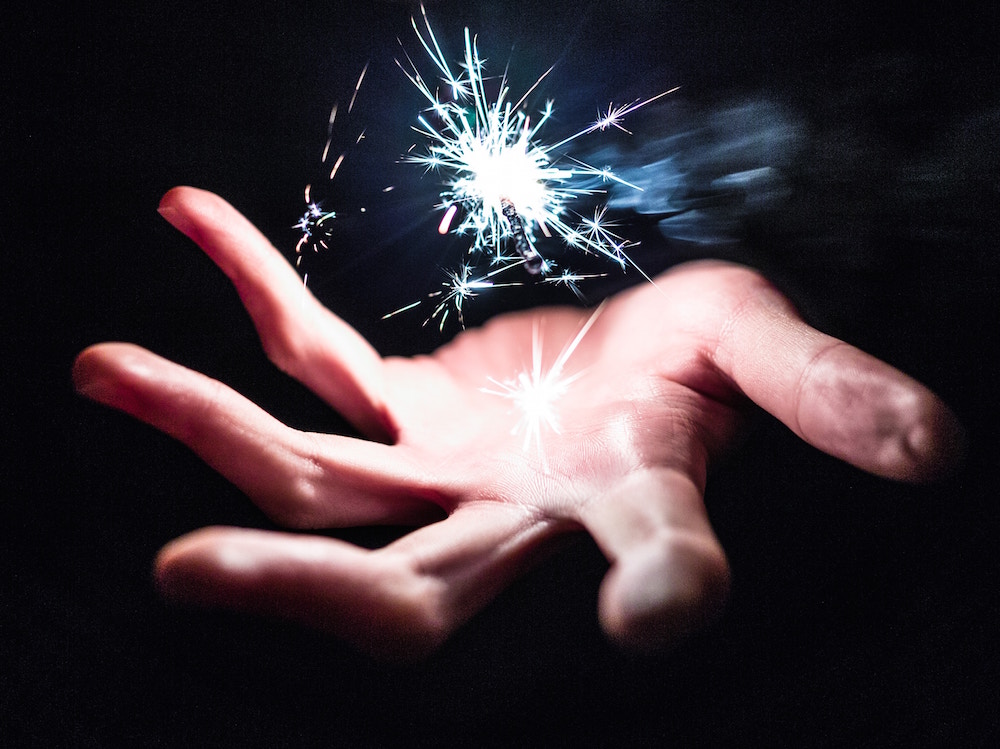 We all know that there is no such thing as magic . Magic in my definition is to do something seemingly impossible
We are told that our justice system is robust and that there is fairness in our courts but what few realise is that the civil jurisdiction has far less constraints on it than the criminal jurisdiction .
Section 27 of the bill of rights "Every person has the right to the observance of the principles of natural justice by any tribunal or other public authority which has the power to make a determination in respect of that person's rights, obligations, or interests protected or recognised by law."
But only those charged with offences have "the right to a fair and public hearing by an independent and impartial court" section 25
For many lawyers court action is war, and as you know all is fair in love and war .
I was once a police prosecutor and believed that they system we had was fair , perhaps that was because I was an honest cop and thought the same of my colleagues, but times change standards change and a wider perspective allows you to see the full picture .
when I found myself in the civil jurisdiction on a claim of defamation and passing off , I discovered that lawyers are simply able to make things up
This is the statement of claim ,I was not allowed to defend it and the corrupt Barrister Neil Wells who was behind this public fraud swore it as true
The statement of claim was allegedly drafted by a woman who was not a lawyer at the time , the charitable dollar was used to prosecute it and it was all signed off by a former crown prosecutor, with a reputable name who had obviously not looked at the allegations and the evidence to support it see details at this link more background
Clues to our legitimacy to hold and have our name is on the front page of the intituling the first plaintiffs
NEIL EDWARD WELLS of Huia, Auckland, Council Officer and
Lecturer, WYN HOADLEY of Castor Bay, Auckland, Barrister and
GRAEME JOHN COUTTS of Avondale, Auckland, Recruitment
Consultant as trustees of the ANIMAL WELFARE INSTITUTE OF
NEW ZEALAND, AN UNINCORPORATED CHARITABLE TRUST
the third defendant
ANIMAL WELFARE INSTITUTE OF NEW ZEALAND, AN
INCORPORATED CHARITABLE TRUST having its registered office at , Epsom, Auckland
Only through incorporation does a group of persons become a body corporate , Wells was aware of this he provided the law society with copies of minutes in 2011 these stated it clearly "Registration as Charitable Trust and tax exempt status with IRD..AWINZ has not been registered under the Charitable Trusts Act to date, this needs to be organised. IRD approvals required.
this contrasts with the application he submitted to the minister in 1999 and the letter which he wrote in march 2000 when he gave the minister the assurance that he could not send a copy of the trust deed as it had been sent off for registration .
There was never a trust deed produced that showed all three people as a trust and evidence was later to be found that the trust deed which they did produce was a total fake , the people named on this trust had never met and had never passed a resolution and the trust by its own terms expired in 2003 and since there was no meeting there was no re appointment of trustees
But why should all this stand in the way of obtaining a incorporated name through court action All done by way deceiving the court and attacking my reputation and character .
All this was achieved without evidence, simply as perjurious statement of claim and bull doze a head as if all the crap is true lawyers don't fact check those with the money can get anything past the post .
The major flaw in our legal system is that Judges believe lawyers .Like any good magic trick it all begins with distraction by planting ideas in your head until our courts start calling for evidence and for a lawyer to fact check the claims then there will be no justice
The court must not be a tool where by the corrupt can obtain what they want and neither should the court be complicit in this , when there are no safe guards and the court can re write history based on the verbal garbage a lawyer presents then there is something very wrong. Its not about winning at all costs its about upholding the rule of law and to facilitate the administration of justice in New Zealand something that many lawyers over look guess there are no $$$ in that so they help Goliath strip david of his pebbles and slingshot and say justice has been seen to have been done .. or any way lets pretend it has.