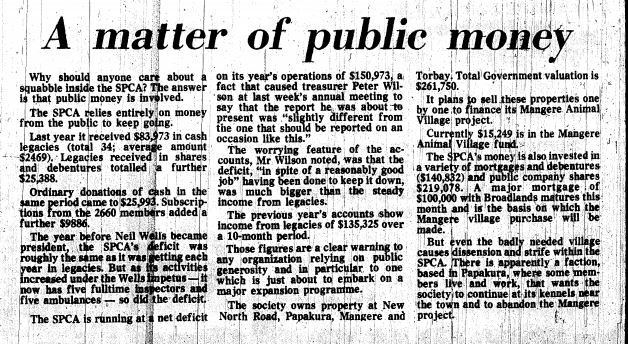 This week the RNZSPCA will vote on amalgamating the branches and the member societies into one organisation . It is a foregone conclusion fed by misinformation and stealth in taking over branches on the false presence that the branches are obliged to comply with the directive of the RNZSPCA .
What has to be remembered is that each branch , each member society is a firstly a legal person in their own right and secondly affiliated to another group of their choosing . The only persons in charge of an incorporated society are its members.
It also has to be recognised that there is a distinct difference between the RNZSPCA and the SPCA .
THE SOCIETY FOR THE PREVENTION OF CRUELTY TO ANIMALS AUCKLAND INCORPORATED formed on 19-OCT-1926 incorporation number 222889
THE ROYAL NEW ZEALAND SOCIETY FOR THE PREVENTION OF CRUELTY TO ANIMALS INCORPORATED Incorporated 11-SEP-1933 number 218546
7/7/78 the SPCA village was built
A rift occurred at about this time and Neil Wells left the SPCA see PDF version here 2 December 1978
and the following year a new group started. 15/3/79
During this time Neil Wells was still the president of the Royal new Zealand federation here he is signing the rule changes for the royal federation this is filed on the THE ROYAL NEW ZEALAND SOCIETY FOR THE PREVENTION OF CRUELTY TO ANIMALS INCORPORATED document page suggesting that he federation may have had a name change in 1981 when Wells again signs the documents.
Strange then that in his cv he makes no mention of the federation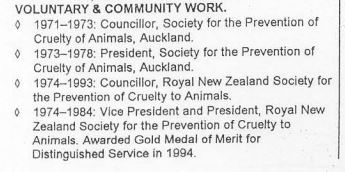 1989 finds him in the office of the world society for protection of animals and in 1993 Wells resigns after another row as head of ethics and sets up as barrister sole .
IN 1994 he approaches the Waitakere city council with his idea of combining animal welfare and animal control and suggests to the council that they could set up an SPCA type organisation
Wells is well connected to government through his former business partner Bob Harvey, Harvey is now the Mayor of Waitakere city council and later as president of the labour party Bob seemingly facilitates AWINZ in being granted law enforcement status .
to be continued