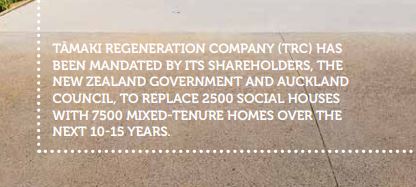 There appears to be an awful lot of confusion with the  Tamaki Regeneration  project
first of all  the web site is called http://www.tamakiregeneration.co.nz/ but the web site is owned by Tamaki Redevelopment Co
Tamaki redevelopment company limited was set up in in 2012 following the signing of a heads of agreement between auckland council and    two ministers of  the crown
Tamaki Redevelopment company was set up with share holding from the crown and   council and the shareholders adopted a Constitution this 31 page document was  drafted and filed by the company secretary  Simpson Grierson . The comprehensive constitution was amended in 2014 to this version Amendment of Constitution a 27 page document , we are uncertain as to the input of the crown shareholders into that document , it was again filed by the undefined  trading name  simpson Grierson .On 14 March 2016 the  constitution is replaced by the 25 page document  Revocation and Adoption of Constitution what is of note   is that this constitution unlike the two former ones has no obligation to the heads of agreement .
on 11 November 2015  Tamaki Redevelopment company limited  became the sole  share holder of a new company called Tamaki Regeneration  Limited and of a company called THA GP  Limited .
THA Gp limited subsequently became   the  general partner in a limited partnership  called Tamaki Housing association  Limited partnership (  19 january 2016)  these bodies remain as  subsidiaries of Tamaki Redevelopment company limited  and we will just put them to one side for now
we  will now look at   the  government  web sites and   special announcements
9 FEBRUARY, 2016 John Key  Prime Minister's Statement to Parliament

 In March this year, 2,800 Housing New Zealand homes will be transferred to the Tamaki Redevelopment Company.This will result in at least 7,500 new homes in that area over the next 10 to 15 years, of which more than a third will be for social housing.The transfer of Housing New Zealand properties to community housing providers in Invercargill and Tauranga will happen later this year.
25 FEBRUARY, 2016  Bill English Speech to the Auckland Chamber of Commerce and Massey University – State of the Economy

The Tamaki Redevelopment Company will become the owner of 2,800 former Housing New Zealand houses at the end of March, which the company plans to redevelop into around 7,500 houses.
Note that  up to this stage the   housing new zealand stock was going to be transferred to Tamaki Redevelopment company Limited  which has   been abbreviated in correspondence as TRC
then on
31 MARCH, 2016   Bill English, Nick Smith Auckland's Tāmaki housing transfer confirmed

The ownership and management of about 2800 Housing NZ properties in Tāmaki will today be formally transferred to the Tāmaki Regeneration Company (TRC), which is jointly owned by the Crown and Auckland Council

TRC was established to lead the Tāmaki Regeneration Programme
Note that he states that the houses will go to Tamaki regeneration Limited, but he called it Tamaki Regeneration company  TRC.   He goes on to say
The Tāmaki Housing Association, a subsidiary of TRC, will tomorrow become the new landlord for Housing NZ tenants who live in the areas of Glen Innes, Point England and Panmure," Housing New Zealand Minister Bill English says.
But  Tamaki Housing is a subsidiary of  Tamaki redevelopment company  limited  TRC not of Tamaki regeneration limited TRL  he then adds to the confusion and states
TRC was established to lead the Tāmaki Regeneration Programme
Yes Tamaki Redevelopment company limited was set up to  lead the regeneration  programme     not TRL  which at this date  was   a subsidiary of TRC .
On 14 April the shares of Tamaki regeneration limited are increased from 100  to   1631161218 and the shareholders are updated Particulars of Shareholding
What is of concern is that it appears that the ministers   believe that  the  properties are going to the company of which council and  crown are the share holders , the company which was set up for the transformation project  the company which is the ultimate holding company for Tamaki Housing Limited partnership . but..
The reality  is that the  assets have gone to an entirely different company one which  the  crown had no input in to the constitution, a company which is a stand alone . 
Now let us look at the  annual reports of tamaki redevelopment company  Limited   this is the 2015 report note that the company is referred to  as TRC .
The annual report states
page 5
The New Zealand Cabinet agreed that the ownership and management of approximately 2,800 social homes currently held by Housing NZ in
Tāmaki will be transferred to TRC by 31 March 2016
Page 6
On 1 April 2016, TRC will own and manage all current social homes of approximately 2,800 in the Tāmaki area.

We are respectful of the responsibility and mandate provided to us by Shareholders to look after the most vulnerable families in our rohe. At the same time, this will be an opportunity to catalyse community led action and move at pace to achieve our objective of making Tāmaki an awesome place to live. 
and
Whilst Housing NZ and TRC have different mandates, the commitment by both organisations to ensure a seamless transfer and prepare TRC for
1 April 2016 is unwavering. 
In the  2016   annual report  the  confusion continues the report is entitled TĀMAKI REDEVELOPMENT COMPANY
ANNUAL REPORT 2016  .
page 2
TĀMAKI REGENERATION COMPANY (TRC) HAS BEEN MANDATED BY ITS SHAREHOLDERS, THE NEW ZEALAND GOVERNMENT AND AUCKLAND
COUNCIL, TO REPLACE 2500 SOCIAL HOUSES WITH 7500 MIXED-TENURE HOMES OVER THE NEXT 10-15 YEARS.
There is no such company as tamaki regeneration company  limited.  There is Tamaki regeneration Limited  company number 5840214 
and Tamaki redevelopment company limited 3937662
The name Tamaki regeneration company is  used twice   and in both  instances it is tied to the  abbreviation TRC
page 9
Tāmaki Regeneration Company will bring about transformational change to achieve four equally important objectives – social transformation, economic development, placemaking and housing resources.

Through its shareholders, the New Zealand Government and Auckland Council,TRC will replace 2500 social houses in the suburbs of Glen Innes, Pt. England and
Panmure creating 7500 mixed-tenure homes over a period of 10-15 years.
Tamaki regeneration limited  the  owner of the properties  has no share holding  of council
to add to the confusion on page 18  a  TRC legal group is created. a legal group  has no statutory definition or legal existence   .
Tamaki regeneration Limited is referred to as TRL  .  Through the annual report  references are made to the transfer of the properties to  TRC ( pages 6,10,12,23)   this is incorrect they  were transferred to TRL
The confusion is such  that  courts have been misled  with regards to ownership   see  Open letter to Robert Gapes Simpson Grierson
this has resulted in  a fundamentally flawed decision  due to the court  basing the decision on the   lawyer's flawed  submission.  The lawyer a member of simpson Grierson law firm, the  company secretary   told the court that  Tamaki regeneration limites was a subsidiary of tamaki redevelopment company limited.   we ask How can a lawyer  and the company secretary  get it so wrong and what does this say about the integrity of the  management of the company's affairs  by the secretary .
Of even greater concern is that  it appears that the Ministers  and   treasury were not involved in the setting up of this new crown entity  and had no input into the constitution.
Considering the fact that 2800  houses were transferred into this company of mixed identity and dubious origins  it is something that  we the public need to be concerned about
we note that in the  2015  annual report Mr Holyoake page 6  states "TRC and its partners must also own the lapses or mistakes."   we therefore hope that   full transparency is applied and that  this  mess is  corrected to remove  any   doubt as to  who had a mandate to receive the houses  and how they came to be in the possession of a company other than the one  Government intended the stock to go to .
We note that  several of the directors are property developments  and one states as his  interests " Potential development opportunities in and around Glen Innes"  an other lists directorship in Tāmaki Investment Trust Company Ltd
To those who care about   crown assets  it would appear that  foxes are guarding the  hen house   we have to ensure that they   do not  get fat  and  accountability and transparency is how we wish to achieve that .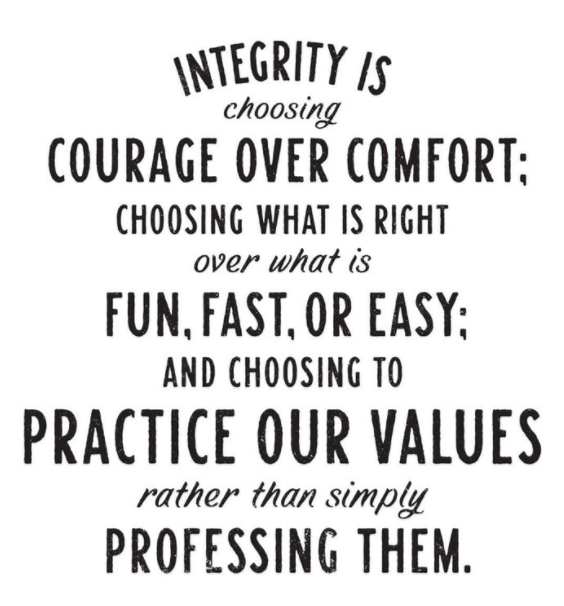 Further open letter to David Mc Neill  Corruption , Whistleblowers  and Transparency
David,
Since responding to your reply  to  my first open letter  a number of people have approached me and  have asked me to put questions to   you as a director of transparency  International .
Could you  any  one else from Transparency International NZ please respond  with your observations
You state" I can certainly see great misdeeds have occurred." and then you  ask  "If Neil Wells is so horribly corrupt, who is he exploiting now?"
These statements indicate to me that  you  and Transparency International New Zealand may have missed the point on this entire issue.
it is not about me , it is not about Neil Wells
   it is about corruption in our public sector , how it is concealed  and  about our ministers in ability to act responsibly when  issues of corruption are brought to their attention   .
Unfortunately  Transparency International New Zealand claims that we have the least corrupt  Public service in the world , if this was the case I would  still expect to  find corruption   but I would  expect that there were  policies and  methods  in place throughout  the  public sector which would ensure integrity   and  systems of accountability .
Jose Ugay  , your international president used an equation  which I have been fond of
Corruption = monopoly + discretion – accountability .
If you were to apply this to our public sector  you would  quickly find that   accountability  is  almost totally absent and discretion being  the use of the  unreasonable complainant conduct manual  , totally out of hand
I have actually come across  items where it stated  that  due to the relatively  corruption free environment  such policies are not required .This was all driven by the fact that New Zealand was perceived to be  the least corrupt .
Of the 2013 Integrity report  ,which I believe Susan Snively was paid for  for  compiling,   she said
Our report finds that the mechanisms that support a high integrity and high trust society, and that facilitate social and economic development, remain generally robust but are coming under increasing stress. There has been complacency in the face of increased risks".
It was not  coincidence that TINZ was at the time   funded by  the very organisations on whose behalf the report was being written.  see here  To me this appears to be a conflict of interest  which in itself is corrupt .
Now if  TINZ  had taken the trouble to  listen to the  issues which I and other  whistleblowers  had raised  rather than treating us as a villains then  the person  conducting the integrity review could have included some very valid points. But then    the results would not have  been so glowing .
In an impartial and thorough  evaluation of integrity in the public service an  important aspect would be   to monitor  public service deals with complaints, this can be done by listening to  whistleblowers and evaluating their  experience based on the evidence  that  they have to support their claim  .
The reality is that the public sector does not know  what  investigation is . As a result they investigate the persons  and not the issue. 
It appears to me , on what I have seen and experienced ,that the public service definition of investigation is about speaking to the persons involved and  short cutting the process by accepting what they are told by their trusted colleague , evidence  plays almost no part and assumptions , preconceived ideas and  perception of integrity of persons  are  what is accepted and  considered. Of course if they want to get rid of  the person involved then   any complaint will do .
The person "investigating" and coming to an adverse  conclusion could of course be  implicating his /her work mates and in a way the investigator  becomes the whistleblower  and become  unpopular at work  .
So what does the public sector do they turn to   manuals , so they go to the " Good administration guides" published by   your gold  partner   the ombudsman's office .
There  a number of documents are available including Good decision making 10 pages Effective complaint handling 23 pages   and Managing unreasonable
complainant conduct  138 Pages Yes that's  right there is no manual on how to investigate
What do you think the "Go to" resource  will  be , which one   allows them to  get the head ache off the desk  and Write off the matter ?.. yes that's it  "the  unreasonable complaint manual"   its the thickest and  was copied from Australia minus the  essential resource  "Unreasonable Complainant Conduct Model Policy"  .
In NZ  and our manual  simply refers  the user to locate the  model policy on  the Australian web site. This essential  part of the  document which is missing in NZ  stipulates that  each organisation  should rely   on their organisations own policies for  unreasonable complainants.
So with that part missing  so are the policies in our  public sector  and there is no go to person to decide who can make the call  on unreasonable complainants and   how they are defined.
While I accept that there are fruit loops out there  at all times it could be the complaint and not he complainant who is evaluated.  and if a complaint is properly  and fairly  evaluated then people  don't get cross if they are shown   why their complaint comes unstuck .
But we work  in terms of economy  and its not economic to look at ll complaints  so    throw up a brick wall and  very soon you will have enough to designate the complainant as an unreasonable person.  Problem solved
The essential  Unreasonable Complainant Conduct Model Policy  which is missing in New Zealand  specifies
3. Avoiding misuses and overuses of UCC policies
Organisations also need to take steps to ensure that their UCC policies are applied cautiously and sparingly.
So this is how the " investigation  " in our public sector  is conducted
Get complaint
go to the person  allegedly accused and run it past them
accept what they say about the person making the complaint who    after consulting the   alleged perpetrator has been made out to be a troublesome person  and   go to the check list
 The manual says .."All complaints are considered on their merits".   the  perpetrator has already given a good  explanation… therefore the complaint has no merit
The manual says…"Unreasonable complainant conduct does not preclude there being a valid issue"..  well how can there be a valid issue when the   complainant  is reportedly just a nasty person  the whole thing has to be a set up and we know  the  alleged perpetrator and trust him / her
The manual says"The substance of a complaint dictates the level of resources dedicated to it, not a complainant's demands or behaviour."  Substance  has already established from our trusted colleague and  based on what he/she tells us there is  no substance
For good measure   the complainant is evaluated against the Why do some complainants behave unreasonably? page 14  and the early warning  signs UCC? page 16   and I can assure you that a genuine whistleblower  , on issues of genuine public interest  can tick  many of these boxes
So let us see how this applied to me
I had been on a trust  with Neil Wells  , I was treasurer and he was using trust resources and used the trust for his own benefit , I did not know this at the time but I was asking questions   due to the trust being  in danger of becoming insolvent  .
He removed me from the trust  by telling lies .  I  sent him a fax to his work place , Waitakere city council dog control   to express my opinion that he was the biggest bully I had ever known .
Lyn Macdonald   who worked at waitakere city council as a dog control officer  saw that I was a private Investigator  , she too had been bullied by wells and he later   got her kicked out of her job for associating with me .  she asked me to find out  who or what AWINZ was  , she had been a dog control officer for many years but was now required to prioritise  animal welfare  over her council paid duties.
I  searched for AWINZ but could  not find  any record of it existing , I did a OIA with MAF and a LGOIMA with council  I found that although both had a MOU  with  AWINZ( MOU Waitakere          MOU  MAF) neither had a copy of  a trust deed .
I obtained other documents from MAF which indicated  that  AWINZ had to be a real  or legal person .  This was 2006 and  registers were not that easily searched  so with  others we formed and  incorporated a trust called the animal welfare Institute of New Zealand .  we did not expect to  be successful  but we were, this proved  conclusively that   the entiy  which Neil wells claimed to  operate was fictional.
Here I have to explain something about names  and trusts
an unincorporated trust    can be a group of people  who are trustees in a trust which they  then give a name , the legal name for that trust is  (the names of all the persons ) as trustees in the .. trust.
An incorporated trust    can use the name of the trust and  trade  in that name without referring to the  trustees  as the  trust is registered and becomes a legal entity in its own right , our trust was incorporated ANIMAL WELFARE INSTITUTE OF NEW ZEALANDNeil Wells had  previously registered ARK ANGEL TRUST BOARD and the NATIONAL ANIMAL WELFARE TRUST BOARD both were registered in mid 1999 these  were all legal persons  in their own name .
The application. 

which Neil Wells  filed  with MAF  to obtain law enforcement  powers under the legislation  which he had  drafted and advised on  was fraudulent  it categorically stated
since the trust had not been   formed  but  was allegedly in the process  of being incorporated  the application should have been in the names of  the four people  shown  as trustees of AWINZ  and each should have  at least signed the trust deed  and  each would have to take  responsibility for their role in running a law enforcement body by signing a document  committing to that role.
The reality was that the  trust did not exist   as there was no trust deed .

Wells covers this up in a letter to the minister   In this short paragraph   he  tells the following lies 

Originals are not sent only copies he knows this because he has just incorporated  ARK ANGEL TRUST BOARD and the NATIONAL ANIMAL WELFARE TRUST BOARD
The deed are not registered with the ministry of commerce .
the trust deed  which was allegedly signed three weeks earlier   only goes to 19
Just this little bit of information should make   the investigators look more closely  but Wells was  well connected to MAF and was  known to ministers  he was even able to write caucus papers .
When I   raised concerns  with AWINZ not existing he created a trust to cover up   he selected the people wisely
Graeme Coutts  .. a non questioning JP  who worked in the office beside  Wells and beside the  RNZSPCA  his name had been on the original application .
Wyn Hoadley  QSM..    great to have someone with a queen's award they are always  reputable
Tom Didovich .. the previous manager of Dog control  who had written letters outside his field authority claiming to give approval on behalf of council  . Tom Didovich  was in this up to his neck  and went out to get the  signatures of the   alleged trustees when the deed was    missing.. probably  missing because hit had never been signed .
So  in my situation
I was  made out  by wells as some fruit loop  who  was disgruntled about her removal from a trust
Wells was a respected barrister  wrote legislation and  lots of friends in very high places
so  Maf and  Council threw up brick walls   and  I became frustrated, My marriage fell apart due to action which wells took on the side line and  also  his  desire to bankrupt me which was stated in 2007 to  Joanna Tuckwell  who was so obliging that she regularly communicated with wells with regards to my requests and complaints.
Wells took me to court for  defamation ,  his lawyers  Brookfields  did not check to see if there was a trust deed  before commencing proceedings  ,  Nick Wright a resource management lawyer  started the proceedings in a unethical  manner by making threats  , they  then ensured that my defence of truth and honest opinion was struck out , the   fed the court  a lot of BS  and Voila  a judgement which   they could wave around to   discredit me and  use to apparently legitimise  AWINZ .
every one happy  except that Wells  kept attacking me subversively  and saw to it that  I lost my ability to earn a living   through private investigations .
when he appeared before the lawyers and conveyancer tribunal he sought name suppression as he was still fearful of being caught out  and  knew that I would use that decision for his corrupt conduct  to   have the investigation into AWINZ opened.
Had the public sector   acted with integrity  they would have left people aside and investigated the  Very simple  issue
Did  AWINZ exist …No it did not   no one had a trust deed prior to 2006    By that stage  it had  been acting as a law enforcement authority for 6 years
Was the application  for approved status  fraudulent… Yes it  was
can you see   that we have a problem ?
If we conceal corruption and give  the public sectors resources  which help  conceal corruption  then we have no corruption  .
You report  that there is integrity in the public sector  and by   refusing to look  beyond the perception  which you help create . whistleblowers  and their families have their lives destroyed .
You don't have to   support our complaints but if you are going to evaluate  integrity in the public service, then you have to ensure that   proper  and fair complaint measures are available  and that    the issues are dealt with   .
I am by no means alone , those of us who are more prone than other to speaking up  are  easily Labeled  Uncooperative complainants  because that way we remain  the least corrupt  and after all ask any economist  .. that's good for business.
so in the end the question is
are you going to look at the integrity of the public service  with regards to how they  deal with  complaints
Are you going to allow whistleblowers to  be members of transparency International New Zealand
will you monitor   the complaint making process ?
will you be impartial or is the income from your sponsors
Where is the transparency in your accounts     you have $400,000 of your 500,000   expenses written off as  other expenses .. does this include wages .. who to  how much   and  why be conflicted   when  you could be making a real difference to corruption in New Zealand instead of being part of the problem .
I received a reply from TINZ  director  David McNeill in response to my post Open letter to David McNeill Director Transparency International New Zealand
the email can be found here response from TINZ director David McNeill
In the interest of transparency  I publish my response
From: Grace Haden [mailto:grace@verisure.co.nz]
Sent: Wednesday, 9 August 2017 11:37 a.m.
To: 'David McNeill' <dm@ti.org.nz>
Subject: RE: open letter to David Mc Neil
Thank you for your response David
I am sorry  that you don't  agree  with the methods I use to pursue my case but after 11 years  I   think I have tried everything to bring this matter to  the attention of the authorities and misters .
Should bringing corruption to the attention of the government be this hard ?
If it is ignored  what does it say about our values?
The only reason I have kept on  with it is because it has cost me so much  it cost me my marriage and my family not to mention the obscene sum of money which  was  taken t from me through  the subsequent   fraud on the  court where Wyn Hoadley Barrister, Graeme courts  JP and Tom Didovich the  conflicted  former manager Waitakere city council dog control  along with Wells set up  a similarly named trust and passed themselves off as the   law enforcement authority  .. a total legal  nonsense  but the names were the same  so it  was OK
I acted in good faith on a matter of public interest which I raised with the purest of intentions after a council employee had come to me .
In becoming a vocal  whistle-blower I also became a go to person  for  those  with  issues of their own  . In  the 11 years at the coal face of corruption I have found why corruption is so prevalent in New Zealand    and I thought that this information would be of use to TINZ.
How can you  work on the  issues of integrity , change of policy and political attitude if you yourselves remain  uninformed of what is occurring and shun whistle-blowers.
You ask "If Neil Wells is so horribly corrupt, who is he exploiting now?"   well the short answer is   that he  died  last week  but the legacy of what he  set in action lives on.
He has proved that  in New Zealand
writing legislation for your own business plan is condoned.

you can be an independent adviser to the select committee on matters in which you have a  personal  financial interest.

 you can make  a fraudulent application for  Law enforcement powers and influence the decision makers

Those investigating  an application for statutory powers do not check if the organisation exists or any alleged fact

Obtain your own legal opinion for government   and have input into it

You can draft your own documents for    the  government

You can  contract to  councils and government department using a fictional name MOU Waitakere          MOU  MAF

That he can influence the government department   to such an extent that  the  Whistle-blower is discredited and  no one verifies   that  a fraud has occurred or not .
Simply put he has proved that   if you make it easy for the public servant  ,  have their trust and liaise with them frequently and meet with minister  then   you can get them to accept anything  and they   won't check.  Rule number one  never verify . Being a barrister helps   after all   a man of the law  knows and would never be corrupt   .
Ironically today there is an article in the newspaper  "SPCA confiscates man's dog based on 'hearsay', he claims "   this is very relevant  currently the RNZSPCA is  undertaking a very  dodgy " amalgamation "  and will be focusing on the inspectorate  which   will see more personal properties raided by persons who are privately  employed.  But that is not for now
You say "We see the global trend towards tip-offs and leaks being more effective than formal whistleblowing"    Please tell me the difference  . If I am screaming corruption now it's probably because  after 11 years of hitting my head against a wall and having my reputation maligned  it's the only thing left to do .
You state "Transparency International NZ "approaches corruption in a different way, attempting to give the whole system more tools & techniques for exposing and preventing corruption. '  How can you prevent corruption when  you   don't know  what the symptoms are  ?
Cancer left untreated will kill you  corruption left untreated will   kill our country and indeed will have killed many  in its path . I know this  as at one stage I was suicidal .
My criticism  of  TINZ   has been that you   prefer not to know about corruption  and  appear  hell bent on  portraying New Zealand as the least corrupt  to enhance business interest.  When I heard Jose  Ugaz  speak  I was  heartened I would never have  thought that you belong to the same organisation .
You have no idea  how difficult it  is  to see transparency International run programmes such as WHISTLEBLOWING FOR CHANGE, etc  yet be shunned by  your local branch .
ON  https://www.transparency.org/topic/detail/whistleblowing/ the following appears
This opens  up onto  https://www.transparency.org/whatwedo/activity/our_work_on_whistleblow

ing
" Through our Advocacy and Legal Advice Centres, located in nearly 50 countries, we advise whistleblowers in making their disclosures and work to make sure that their disclosures are duly addressed by appropriate authorities."
The international body recognises the importance of Whistle-blowers
" There is growing awareness of the important role whistleblowing plays in stopping corruption. "
yet TINZ say   this approach is wrong."
"We see the global trend towards tip-offs and leaks being more effective than formal whistleblowing."
I did not wake up one day  and decide to become a whistle-blower.
I  was a mother   had a family of three teenagers thought I was happily married , I helped a lady at Waitakere city council and my  whole life  changed . this should not happen to any one  !
I found something that was  very wrong  and  raised questions with MAF and  Waitakere city council  which I thought  were the appropriate bodies
Rather than checking out my claims they colluded with the perpetrator  who then took me to court  for defamation, deceived the court  and  got a judgement  against  me by denying me  the statutory right of defence. That judgement has been waved about ever since  to discredit me.
My marriage was simultaneously attacked and my funds were frozen I could not fight back .Lawyers cost money  . when My  matrimonial property was settles I got a lawyer  he happened  to be Evgeny orlov  who fleeced me  and was himself embroiled in   matters relating to the panama papers . He  had no credibility with the court and was at one stage struck off , just my hard luck that he was my lawyer .
In 2007 Mr Wells wrote to  MAF   that   he intended to bankrupt me . over the years  he advised them as to what to and  was kept in the loop with every OIA  I made and allowed to make comment . see here for another example
The down side of publishing on transparency NZ has been that it allowed Wells and Hoadley to  engage a Private investigator who   then  assisted in muddying the waters. The intention was to  deny me  my PI licence .  five years later they have succeeded putting me out of  work at age 64  from a career which  is an extension of my police  career which commenced when I was 21
I was discredited  even to my own children . what I have been fighting for is  to get my  reputation back
While Neil Wells  was portrayed to be good I was made out to be a sinister person
Just prior to his  death I found a news item  on the  law society news  Censured lawyer gets name suppression , I recognised  the   events  and from this  have speculated that Mr Wells was  actually a corrupt barrister  . I was charged with  alleged  breach of  a suppression order   , the police didn't need evidence to charge me , it took them 6 weeks to find  something that  could at a stretch be an order but in reality is vague .
Our biggest issue with corruption in New Zealand is that we  thrive on perception  , make someone out to be bad and they are bad forever and no one will ever look at  the evidence .
Evidence  is what   Jose Ugaz   felt  is essential in proving corruption  but  evidence  plays no part in our courts.
Barristers such as Neil Wells and their legal representatives have the ability to influence the court   without any evidence  this is reflected in a speech made in  2014 by : Justice Helen Winkelmann – Chief High Court Judge of New Zealand (Helen Winkelmann's 2014 Address).
"There is also another aspect to the adversarial model which depends upon legal representation. It is the reliance that judges place upon counsel to never knowingly mislead the court in matters of fact or law. This duty of counsel enables the system to function efficiently and maintains its integrity. It frees the Judge from having to conduct his or her own inquiries to independently check the veracity of what they are told by counsel. For counsel this duty flows from the fact that counsel are officers of the court. It is also a manifestation of the obligation on all lawyers to uphold the rule of law, an obligation now given statutory recognition in the Lawyers and Conveyancers Act 2006"
David  the process of   holding lawyers accountable to the rule of law   is long and  again the lawyers  word is preferred over  the   complainant.
I have lost my  PI licence , the matter is still under review by the LCRO,  I  was accused of harassing a lawyer  for telling him that he had an obligation   to the rule of law and could not use his office for fraud.
Such is  New Zealand  today   have not even touched on to another raft of issues.
I am sure that we could work well together    we would  both  like to see corruption contained  and by providing policies that work   much grief can be avoided.
I wonder if the  Joanne Harrison matter could have been  prevented if the lessons which could have been learned from AWINZ had been  implemented.
No one should have to go through what I have had to endure   there is only  one way forward and that is by providing transparency  .
I would like to join TI NZ   we can learn from each other .
Regards
Grace Haden

Phone (09) 520 1815
mobile 027 286 8239
visit us at www.transparency.net.nz
When it comes to back ground screening I tell people that the corrupt  usually don't do things by  half measures.  what is the point  of  inflating your  Cv just a bit when  you can be dynamic and give yourself a degree which will  take you to the top .
And so it is  with perception ratings.  If we acknowledge that there is fraud and corruption then the perception  of  being fraud and corruption free  is destroyed  .
"Our public-sector agencies have focused successfully on developing processes that prevent corruption and these contribute to New Zealand's stand-out reputation for a trusted public sector" says Transparency International New Zealand (TINZ) Chair, Suzanne Snively. "New Zealand trades on its low corruption reputation and we are increasingly finding how to transfer these behaviours from our public to our private sector to leverage off this enviable reputation for integrity."
It is ironic however that Transparency International New Zealand    prepares the integrity    report  with funding from theses very sectors .partners / sponsors 
The reality was seen this week when the police    acknowledged that
It appears that  the investigation into Joanne Harrison has lifted the lid on corruption in New Zealand. within a few days  we got interesting head lines
Fuji Xerox NZ voluntarily suspends competing for government contracts
FujiXerox NZ corruption scandal grows in spite of New Zealand's silence
Binnie: Bain case tarnished NZ's reputation
Immigration NZ staff investigated for corruption and fraud after visas issued to family, friends
New Zealand: thousands of bottles of allegedly fraudulent wine exported
Patrick Gower: Metiria Turei's political fraud is ripping off the New Zealand public
The hypocrisy of NZ's approach to fraud
"A number of victims of these frauds suffer significant loss. Some of these people would have lost a significant portion of their retirement savings, a lot of these files aren't minor files."
And there is another side to it too  Victims  and whistleblowers are attacked  in an effort to ensure that the fraud  goes undetected.    In my experience it appears that  the fraudsters get far more  support from the police than the   person discovering/ reporting/ victim  the  crime does.  I often wonder how  lack of   action on fraud  impacts on our  overly high suicide ratings.
These are true stories  I know they are true because they happened to me , I know suicide is a factor  because there were times when it appealed to   me thanks to neil  Wells Wyn Hoadley , graeme Coutts and tom Didovich
I am ex police   and found myself  working as a private investigator  right in the line of fire
Lulled into the  false sense of security  that NZ  has no  tolerance for corruption   I raised the fraudulent application of AWINZ  to be a law enforcement authority  with   MPI and Waitakere city council . Neil Edward Wells a  barrister who  is now known to  have been  corrupt , had written legislation for his own business plan made an application for law enforcement powers for a fictional organisation  he then had the   council buildings re branded with the name of his  fictional organisation  and worked in a situation of severe conflict of interest using council resources infrastructure and  staff to operate his  own business.
11 years later  and this still has not been independently investigated by the authorities and in a move akin to Joanne Harrison neil edward Wells was able  influence the staff   at MPI  so that the matter was not investigated.  he took me to court  for defamation for claiming that the  trust was a sham ,  I was denied a defence of truth   and honest opinion  , my family was torn apart  and now 11 years later I have been taken to court by the police for speculating that Neil Wells was  the  lawyer  in a law society  news publication .
Not long after I had raised this  issue  I  assisted a lawyer in locating the director and Liquidator of  Fresh prepared Limited 
The  liquidator and  director were both fictional , they had been created by a   Hawaiian  business man  named Terry Hay  .  I found my self being harassed by him when he  posted three advertisements in the mandarin time to ensure that  half the chinese  population descended up on our house hold   to buy a super cheap car,  get  a great accommodation deal, get a   fabulous job .
Simultaneously   I had reported  fresh prepared to  MAF at the time as it  was a border control    facility  and they  had  now claimed to be  a different company . I found myself under investigation by Maf and warned for passing myself off as a Maf officer.  I was to learn that this was handy work of Neil Wells.
Hay  was charged by the National enforcement unit and took of to Honolulu  he remained there for  several years and the 22 charges were dropped
Next up   was fraudster Jonathon Mann and his   partner Dr Gerald Waters , Jonathon Mann seeks to silence victims
His victims had to set up a blog site to deal with him,but it appears that fraudsters  don't like having potential  victims warned
I came under attack by Gerald Waters  but eventually he was charged with companies act offences
Then  I was approached  by  a couple ,  the husband had had a former brief relationship with  a Parisa Hamedi  . Hamedi had gone to  Steven ZINDEL and engaged him on legal aid ,  after a  dozen or so  bonks Hamedi  thought she was entitled to the   mans house . I conducted the investigation and found that  she maintained her housing corp home in Nelson  where she and her children lived with  her former husband.
I committed a terrible crime by suggesting to  ZINDEL that he  should do some home work on the  de facto status as my investigations had proved that   they were a long way off  the  threshold. He came back and suggested that  if   $50,000  compensation was paid then it would all go away . This   wonderful hard working couple  spent some 6 years fighting  this through court   and  in the end the verdict was.. wait for it.. there was no   de facto relationship .  Yet Zindel took me to the Private security licencing authority   because i  told him to check his facts as he may otherwise be using his office for fraud.
Then there is the on going saga  of Muse on allen, where a young immigrant   invested money  in a restaurant o see it all taken away by Samuel North  who then claimed to be  the youngest chef to own his own restaurant.  this has gone through courts   for many years and simply proves that the   civil jurisdiction  cannot cope with fraud ,  on top of being  ripped off the   victim then gets a hiding to nowhere and loses even more funds.
Lawyer  David Abricossow  was acting for the company  and   when I told him that he had an obligation to the rule of law  and could not use his  practice to facilitate fraud  he   took me to court  for harassment and made false  claims that I had defamed him,  I was beautifully set up and lost my Pi licence because this lawyer   was at the start of his career and needed protection .
From what I can see is the  Fraud is left un addressed as it is a fabulous meal ticket for lawyers. Brookfields Lawyers certainly clipped the  ticket on the AWINZ matter .
If you are defrauded  or if you  discover fraud the best thing you can do is close your  eyes and walk away.  make that RUN     the courts appear to support fraudsters   evidence has no place  the ones with the   biggest lawyers  win and when you have been scalped and  the other side has the money  you don't have much  of a chance at all  .
You have no  rights   there is no justice and in the civil jurisdiction there is actually not right to a fair trial .
But it all helps in   the concealment of  fraud  , if  we do not acknowledge that  fraud exists  then there is no fraud.
You cant find   something that you are not looking for  .. see no fraud problem in New Zealand.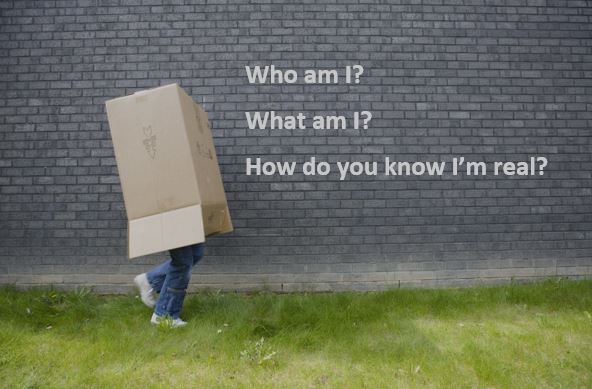 In  2006 I  unwittingly became a whistleblower on  serious corruption .  I discovered that  the Animal welfare institute of New Zealand (AWINZ)  did not exist  in any manner or form . Neil Wells  a barrister who is now known to be  corrupt   wrote  the legislation for  the animal welfare act to facilitate his own business plan, He made a totally fraudulent application   claiming  that  the application was being made by a trust.
for 11 years the Government  ( both National and Labour ) have failed to address she issue of  fake identities in trusts . I have long claimed that  identity fraud in companies and trusts is the greatest   corruption we face in NZ today.
So while all eyes are on Metiria for minor sins in the past  the large ones are still going on  , this week we learned that life line lost  the contract for suicide prevention and that it has gone to Le Va  where  Bills wife Mary  happens to be one  of the so called  board members of this fictional organisation
Bill English's  wife   and  her  association with the 1,000,000  grant.   I'm  not saying that there is anything up with what she has done but the "trusts " she is involved with certainly appears odd.
Le va   is   a creature of fiction  the terms and conditions page states
"These terms apply to the website and social media of www.leva.co.nz which is owned by xxx."
but in a page dedicated to a board  there is just one small clue to be found " Pacific Inc, trading as Le Va, is an organisation with charitable status governed by a board of trustees " it just shows how little   people know about trusts and  companies .  Companies have directors and trusts have  trustees.
the web site le Va.co.nz is registered to  Wise group
Wise Group is a group of charities , which  does not  have any legal status of its own , its neither a legal person nor a  natural  person  but the incorporated charitable trust  wise trust board   owns a conglomeration of companies  .
While le va  does appear to have foundations with a  legal company   why  do we have to  use a trading name that is so different to the legal name  .
This is exactly the type of confusion that Neil Wells relied upon   so how do you tell the difference between a trading name and a BS name well the companies act has a solution  for this    in
section 25
Wells signed agreements in the   name of this fictional trust with MAF and with   the dog control section of waitakere city council.  He  applied for the position of  Manager  without declaring his conflict of interest and   got the job  effectively then becoming both parties to this mou .
In 11 years I have not been able to get any progress on this matter ,I have truck loads of evidence  but   this matter has been actively covered up by MPI and the former Waitakere city council  and  Auckland council. The  Police and  SFO have played a  game of hot potato with the  case  one saying its too serious the other saying it isn't serious enough.
I have learned that  Wells  engaged a private investigator to  set me up  , I have just  discovered that Ron Mc Quilter  drafted a witness statement   which he then had a witness sign  and did what he could to ensure that  I would lose my PI licence.
Rons Business partner just happens to be  bryan Mogridge of the committee for auckland and previously enterprise waitakere , good reason to see me discredited .
the AWINZ matter has  highlighted to me the level at which corruption is condoned in New Zealand . We have a tendency to  ignore  crime at the top of the scale   but  pounce on the simple straight forward matters.
This is because or enforcement  system is economy based.  so  its about return of $ for investment.  I learned much about false  trusts, fake identities,  abuse of trading names  and was actually on to  the panama papers long before the journalists exposed the material . I included all this information  as evidence in  my petition for a commission against corruption
My petition was thrown out by  Mike Sabin .. now no one got to hear about his sins… and he most certainly did not  own up to them  .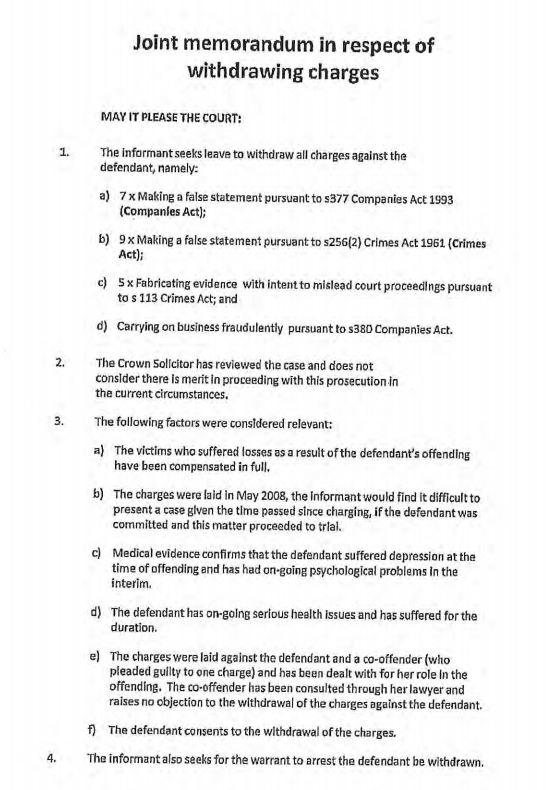 I have seen everything from fake companies fake addresses fake liquidators  proxy directors fake directors.  all of this is possible and apparently condoned.
On page 65 of my evidence you will see  that  the  crown law office memorandum   seeking to have the 22 charges withdrawn  for a  a  well connected  american business man Terry Hay , former  business partner of David Nathan  , for   charges relating to  company fraud.
so  why are we being so tough on   Metiria Turei  for  historic deeds of hers.
The awinz matter has been covered up at  40,000  feet ,   the fact that it has not been investigated 11 years after reporting it  shows that  this tactic of using  fake names is more common than we   think .
Just like the  Joanne Harrison matter      where she  concealed her frauds the same occurred in the   MPI . I have evidence of  OIA's being  run past Neil Wells, he was consulted and kept in the loop of  my   questions and contacts with the mpi.
there were  people in the auditor generals office who told me that they did not want to touch it as they were too close to retirement and were not wishing to place themselves in such a precarious position  .
Many years ago in police College I learned that  those who stand by and do nothing are as guilty as the perpetrator of   an offence .  Those who  assisted in  concealment  of an offence   were called accessories to the  fact or accessories after the fact  .
section 71 of our crimes act reads
71 

Accessory after the fact

(1)An accessory after the fact to an offence is one who, knowing any person to have been a party to the offence, receives, comforts, or assists that person or tampers with or actively suppresses any evidence against him or her, in order to enable him or her to escape after arrest or to avoid arrest or conviction.
so  while some politicians   admit to frauds of the past others stand by and let them happen  .
The state of corruption In New Zealand
Sir
I am the director of Transparency New Zealand Limited . My company  actively exposes corruption In New Zealand . It was formed after Transparency International New Zealand refused  me membership  because it  claims that
"the TINZ  Objectives, Guiding Principles and Rules of TINZ are not compatible with your actions and objectives. We do not undertake investigations on single cases of corruption or expose individual cases."
Unfortunately I believe that  by looking at  corruption in New Zealand we can learn from it  and  prevent  it from growing.
Ignoring corruption is like ignoring cancer,  ignore it long enough and it will kill you
I was  very impressed with your presentation at  Massey University, Palmerston North  .
The views you promoted on Behalf of transparency International  resonated with me  and  I felt sad that  Transparency International New Zealand  does not hold the same values as  the  international body .
You   regarded whistleblowers as  essential to  uncovering corruption  but the  local professor   quickly added that   whistleblowers are  regarded as tell tales and then there were some comments   by him abut obtaining information   unlawfully.
I can assure you that the truck loads of information I have collated have  been acquired lawfully and it sets out a  major issue  which we have in New Zealand   and that is the use of trusts.
We use trusts to the extent that we invent trusts  and  although the invented trust is totally bogus   they appear to be able to act like   legal persons , no one checks.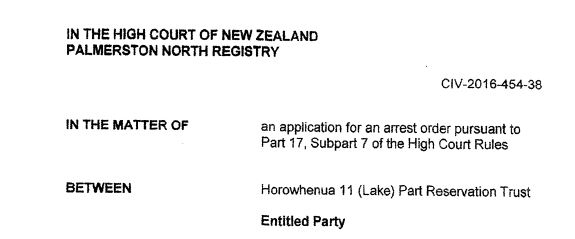 In this example  a  fictional trust obtained an arrest warrant the full document is here 
more   about this is found in Anne's book  available for download   at Annehunt.co.nz 
When  fictional  " trusts" have a standing in court and  can  have an order  issued to infringe on the rights of a  natural person  then there is something   seriously out of wack
It shoudl be the lawyer's responsibility to ensure that  such action does not  find itself in court and   he and he alone should be held accountable  to the full  force of the law.
In another matter A fictional trust   obtained law enforcement powers  the fraudulent application is here 
This application was made by a corrupt  Barrister   who has  advised Government and   was heavily involved in drafting the legislation  to facilitate this fraud
He had a business plan see here  and wrote the legislation and advised on it to facilitate this plan
He and his corrupt  lawyer took  action against me  for defamation  for saying that the trust was a sham.   I was denied a defence of truth and honest opinion   and through the false allegation that a similarly named " trusts " created retrospectively   ws one and the  same  he misled the court   and  effectively the fiction became reality .
I see the courts reliance on the word of lawyers  as the   single largest contributor to corruption in New Zealand .  Things are sanitised and legitimised through the courts  by misleading the court .. no evidence is ever required.
Trusts in New Zealand are therefore the  no 1 vehicle of choice for fraud and money laundering  , if our courts and lawyers don't check to see if a trust exists then  its open slather .  In the case of  animal welfare Institute of New Zealand (AWINZ)  I asked the solicitor general to investigate the trust  and the various  trusts that have been set up to    jump through time   and vacuums to give the illusion of reality.
If a trust does not have to have a legal structure which commences and  continues in any verifiable  form then   we are dealing with  fiction .
New Zealand is very much a Victorian colony  which is coming of age   through the use of computers . that is why   whistleblowers are silenced here.
You raised a question with regards to John Key  and asked why had no one investigated him.   The answer is simple   you just need to look at what I have suffered  and you  soon realise that  if you even ask one question out of place you will be discredited   and your life will be in tatters . Your comment and my  research on Key since  leaving the meeting  has made me realise why no action has ever been taken with regards to AWINZ,  for 11 years I have said it is a blue print    and sure  enough  it has been . If a fictional trust  can be a law enforcement authority then it can be anything.
In 2014  , Andrew Little presented my petition for a commission against corruption to Parliament  , I was the lead petitioner . I was asked to present evidence as to why we needed such a commission and   I supplied my evidence   it is at this link   you will see that I touched on panama, I was taken to court with regards to my discoveries of these panamanian companies and  Hungarian alcoholic directors , I was silenced .
I provided evidence of  fake liquidators  fake directors  and showed that the  crown  solicitor's dropped 22 charges of fraud of  Terry Hay a well connected   american  for   fraud under the companies act
items 56  in that report relate to TINZ role in  corruption today
Transparency International New Zealand in my opinion serves only to ensure that New Zealand status as least corrupt is preserved.  To do this  they actively ignore   corruption  and pretend that   it does not occur.
Transparency International New Zealand  gets funding  from the key public service agencies to do the integrity reports on the public sector.
Quite personally I think that that is a conflict of interest and corrupt .
The reality is that New Zealand is in my experience rotten to the core  we have cheated on  our exam cards (  the  perception index)  and that makes us  among the most corrupt of  them all .
When simple corruption  is covered up  at high levels  and they have to go as far as to discredit you  then you know that the corruption is deeper than any one imagined.
I  look forward to a response from you and look forward to being able to work with transparency International to  address corruption in New Zealand and not be part of the   problem by concealing it.
Of course, those are hardly the only issues that need fixing. Prime Minister John Key of New Zealand has been curiously quiet about his country's role in enabling the financial fraud Mecca that is the Cook Islands.
7 May 2016  Why was John Key singled out by Panama Papers hacker?
7 May 2016 Panama Papers whistleblower confused – John Key
8 May 2016  Taxing times: The ghosts of wineboxes past 
5 october 2016 John Key keeps lid on hidden billions
21 march 2014  John Key dismisses rumours surrounding resignation
READ MORE:
* Panama Papers source breaks silence, denies being a spy
* The Panama Papers New Zealand link revealed
* New measures to combat cybercrime outlined by Government
* Prime Minister John Key's lawyer asked about foreign trusts
* NZ trusts at the centre of Malta money scandal
* Government now says NZ trust examination likely
* More NZ links to Panama Papers to come
* Q&A: Panama Papers' fallout has only just begun
Documents obtained by the Australian Financial Review show:
 A Mexican construction tycoon dubbed the 'Duke of Influence' joined a rush of foreign money into tax-free New Zealand trusts.
Juan Armando Hinojosa Cantu, who built his fortune from billions of dollars in Mexican government contracts, was investigated for lavish housing deals with Mexican political figures.
On July 1 last year, Cantu's Miami lawyer said his client had "circa $US100 million" to put into three New Zealand trusts.
Maltese investors who had been turned away from nine banks in the Caribbean, Miami and Panama eventually found a home for their money in New Zealand trusts.
Demand for New Zealand trusts went into overdrive late last year with Mossack Fonseca staff in Panama urging New Zealand staff to "chase the money".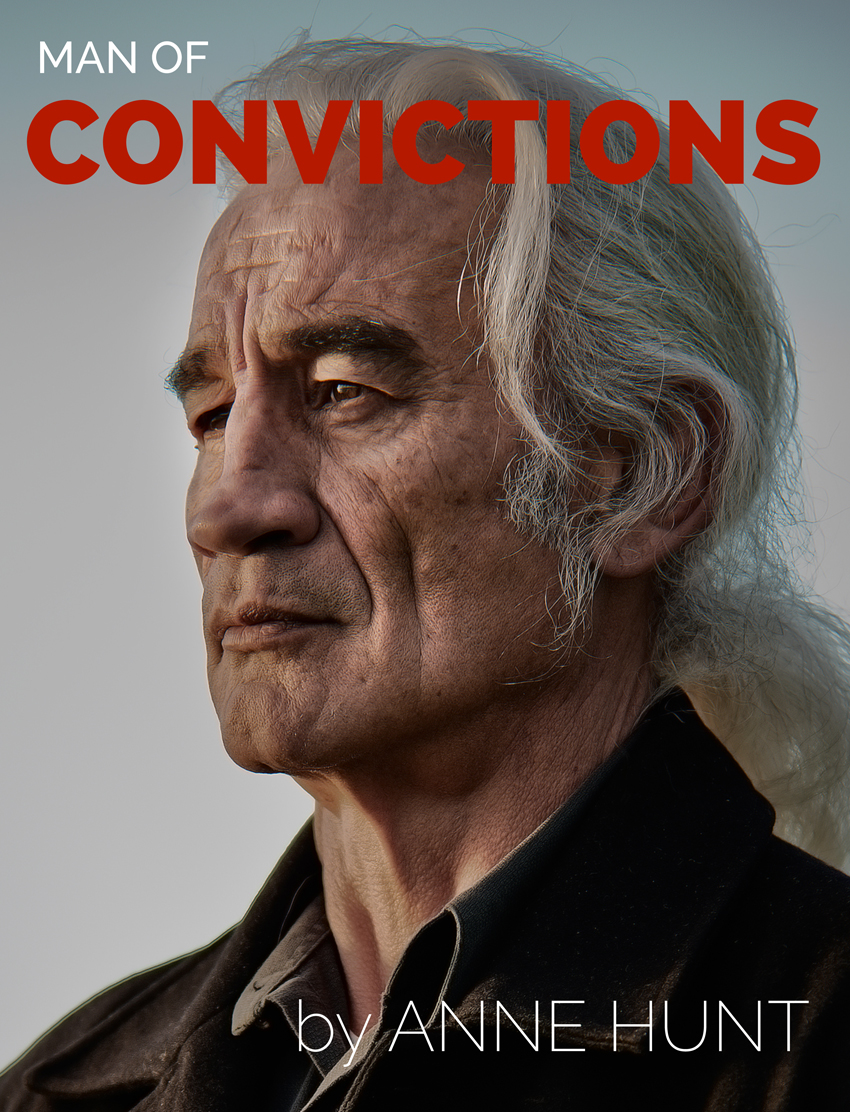 The Opening words of Anne's Report  could well be my own  with a minor  change, hers are with regards to Phil Taueki  and mine With Neil Wells
"The crime I discovered is serious. Why the cover-up? It piqued my curiosity. No self-respecting "Investigator" can resist the temptation to ferret out the facts! "
Anne makes this comment on her web page which   provides a down load for her latest book   a man of convictions http://www.annehunt.co.nz
the only difference between Phil and Neil is that Phil is a victim of   this type of fraud and Neil Wells is a  corrupt  former barrister who perpetrated this identity fraud on the public .
I have spoken to Anne many times  she was a fabulous  support  while I was going through the darkest days  of my AWINZ journey( Neil Wells )  .
There is a strange bond between  those of us who have gone through the mill  so to speak and we have all learned a lot about injustice , the  tricks played in court  and  the dirty tactics.
So when  Anne  sent on an email  with regards to Philip Taueki's plight  I couldn't help but get involved. I  smelt a rat  .
I asked Anne to keep my involvement quite   so I worked in the background as I feared that if I was to be connected with the  matter then it would blow up  out of proportion as other matters  which I have  been  seen to be connected with have. Its all over now  so I can come out of the wood work  , but you  can appreciate that Neil wells would not like to think that this was again another   fake trust and once people cotton on to the use of fake trusts his own might be looked at .
This trust however was  allegedly a Maori trust  so I  completed a crash course in Maori trusts  and identified the fact that there were a number of  court actions which had been  brought against Philip by fictional trusts.  It was  the Animal Welfare Institute of New Zealand all over again.
Much of the court action had been brought by "HOROWHENUA 11 (LAKE) PART RESERVATION TRUST" My investigations showed that  it  had no claim on the land, it was  a trading name which  has not been defined.   It has no standing before the court and cannot  seek to have a lawful  owner removed from his own  land . Basically it was  just a group of people  hiding behind a BS name .
Fortunately there is no corruption in New Zealand  we just have systems  where checking is the last thing that is done and  we  operate entirely on assumptions .Lawyers  will take instructions from any one with dosh which means at the worst  that   someone living overseas using a fictional name can make your life hell here on a bogus claim.
It is time that lawyers who do not check if
1. their client has standing  and
2. that there is a valid claim
If neither exist then the lawyers  should be charged with  offences under the  lawyers and conveyancers act .
Anne acknowledges my work  in the tributes, strangely enough I have  have just been removed s a PI for not acting in the public interest .. My crime  I told  David Abricossow  to act  impartially for his client the  muse on Allen  and  directed him to the provisions of the lawyers and conveyancers act  ….makes you wonder  doesn't it  .
Download the book its free    and promises to make good reading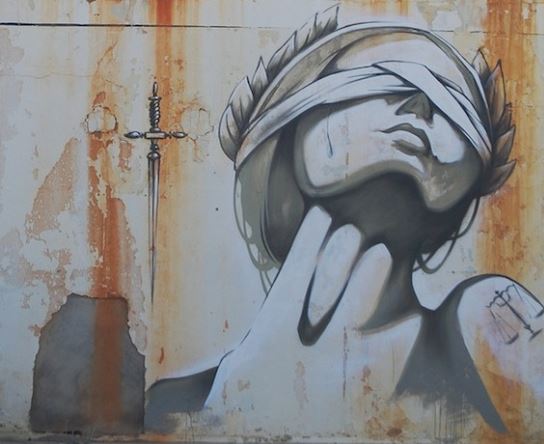 It's a new life for me
And I'm feeling good
Last week my world was shattered, for the past 14 years I have been a private investigator   before that  I was  a mother and before that a Police officer of 15 years standing.
I received the call in the morning telling me that  the reserved  decision was going  to be  released .  I didn't  know what to think  deep in my mind I knew that were desperate to strip me of my private investigator's  licence. The words of the PSPLA still rang in my ears… as long as you  blog and  report Lawyers to the law society you will not  have a licence.
So they had to dig  deep and they did it   see here decision second appeal
My entire ability to earn a living has been judged on one incident   where a lawyer  was in my professional appion not working according to the rule of law
But   fast forward  past the boring bit of how it happened and I am pleased to say I am reinventing myself as a
Every cloud has a silver lining  and  by being an investigative reporter I have no obligations to the Private Security Personnel and Private Investigators Act 2010
Meaning of private investigator

no person is a private investigator within the meaning of this Act by reason of the fact that—

(4) (a)

he or she seeks, obtains, or supplies any information—

(iv)

for any purpose relating to the dissemination of news or other information to the public or to any section of the public
The background to  the  lack of transparency and lack of justice   in losing my licence is here , they had to dig deep and this is what they had to  pin it on. the lawyers have not even been dealt with for misleading the court and I am already executed
David Abricossow of Johnston Lawrence law firm was representing the company Muse on Allen  Limited . (Muse on allen features on this site  a share holder had $64,000 transferred out of his name and  was kicked out of the company whihc had been purchased of  some $95,000 .)
Abricossow  saw it  fit to make a false allegation of contempt of court with regards to my  actions , he falsely alleged that I had distributed  documents which had  been provided by way of confidential discovery  in  the high court  proceedings . These documents were sitting in lawyers offices in Wellington, I had not seen them  nor did I know  what they were .
So by means of  what I believe to be a brilliant set up,   Malcolm North of the ministry of social development who claimed to be a director of the company , provided  Jozsef who I was  helping  with   documents which alleged that  he was responsible  for  losses in the company .   Statement of Claim without privilege  he also provided these privilege free documents.
It was obvious that the company was insolvent, trading while insolvent and incurring more debt that  at this stage they appeared to be holding Jozsef accountable for  so  the strategy was to limit the damage and  inform  creditors of the company   that  Jozsef did  not have any control over the company , his shared has been stolen from him, he was being held accountable  for the company debts and did not  consent to  the company incurring any more debt.   and that is  how Abricossow  came to make an allegation of contempt of court against me , it would appear that Malcolm north had provided  the documents  freely   one day yet on another   claimed they were confidential .
I made a complaint to the directors of  Johnston Lawrence with regards to  the false  allegations  of contempt   they addressed the issue by   alleging  harassment
The  harassment  proceedings were  set  down in Wellington I lived in Auckland
The proceedings  were more  in line with strategy  rather than rule of law   and when I thought there was an agreement for a consent order without  apportioning  blame they did an about turn on me and I found that I had to be in Wellington   at very short notice   like  Hours  away .
The judge refused to allow me to  attend by video conference   and held the hearing without me.
New matters were raised  particularly defamation , this was claimed  in letters which were only between myself and Abricossow and   by some what twisting matters . the reality is that defamtion has its own  act   and  under that act there is   a thing which I have never experienced.. the ability   to prove the truth of the statement or opinion.
without  your right to  that defence you are toast.  You are also toast when defamation is alleged  in your absence.
So his honour  decided that on the  basis of continued defamation I had Harassed David Abricossow  .
Because the   decision is under the harassment act  it is not published  but to overcome that  they published the decision  and called it  Lane V Haden   making it appear that I   am a serial harasser  ( a term  which Malcolm North the  recent bankrupt  likes to use )
I  asked for the decision to be recalled based on the legal grounds   that defamation was introduced at the final submissions, I was not given an opportunity to  address those allegations  and  defamation should have been pleaded separately .  So  one of the other  directors of  Johnston Lawrence trundles off to he court  and  misled the court with regards to defamation  and the  decision  stood.
so  I have made a complaint with the law society and the LCRO   nearly 2 years later these complaints  are still  being dealt with  but in the mean time the action of these lawers is enough to put me out of  my life time of work
I know that eh  disgraced barrister   Neil Wells is involved  because Malcolm North admitted to  communicating with him.
I suspect that Neil Wells  and Wyn Hoadley had engaged  Ron Mc quilter  and  a mate of Mc Quilter  Trevor Morely  a former president of the NZIPI   has been involved with the Norths  see here
From: Trevor Morley [mailto:twam@clear.net.nz]
Sent: Saturday, 2 May 2015 4:36 p.m.
To: Malcolm North
Subject: Message from Grace HADEN.

Good afternoon Malcolm,

When we spoke on the telephone and you sought my advice re the serving of a trespass notice, you mentioned that you had heard from a Grace HADEN.  My understanding of what you told me was that the service of the trespass notice and the matter that she was involved with and yourself were two entirely different matters.

 It would seem I may have misunderstood you.

 Irrespective of that, I certainly did not expect you to mention to her (or anyone else for that matter) that you have been in contact with me.

 Just so that there is no further misunderstanding(s) Malcolm I would be grateful if (a) you did not, at any time in the future, mention my name to someone without first confirming with me that it was proper and appropriate to do so, and (b) please do not communicate with me at any time in the future about whatever the matter(s) are that you are involved with necessitating the involvement of Ms HADEN.

 I am sending a separate and brief e-mail to her requesting that she does not communicate with me in any way, shape or form about whatever it is that she needs to communicate with you about.

 Thanks.

 Kind regards,

 Trevor W.A. Morley.
Trevor was the chair person of the NZIPI  when I was secretary  he changed the constitution so that he could remove two members  who they could not get rid of under the rules
I left the NZIPI after that  as  I believe that   if you have not got legal grounds for removal then  you don't change the rules retrospectively  .
Morley provided a lot of in put into the  the private  investigators new legislation  and now I have been  designated an unfit  person   based on  the subjective opinion .
I can  keep on fighting  but    want to  use my time constructively , I have asked for the judgment to be recalled but doubt if this will happen
on the basis of the above  incident with  a lawyer  I have at 64  lost my ability to earn an income  in my chosen profession  FOR EVER .  compare this with lawyers    and you see this
No right to justice for me     Ron , Twam Neil    you may think that you have achieved your objective, I am no longer a private Investigator  but I am now  a Public investigator  / Consultant   and Investigative journalist
May Transparency rule
Verisure  will continue to operate   we are investigators  just not Private  lets face it Hr specialists, lawyers   health and safety  people the whole  world investigates without a licence  so  why should I fight for mine.
it  was the last thing they held over me  I am free to speak up  and I think it is one hell of an indictment on the NZ  IN- justice system
The world justice forum is currently  under way  the forum is being attended by a colleague who will be distributing the following
 It is time New Zealand woke up  to the corruption which is occurring, ignoring it does not make it  go away . cancer ignored will kill you and so will corruption     https://worldjusticeproject.org/our-work/engagement/events/world-justice-forum
A whistle-blowers story from New Zealand
A short introduction by Grace Haden for the World Justice forum 10 July 2017
New Zealand is supposedly the least corrupt country in the world on the perception index.  This is probably because New Zealand excels in Perception.
New Zealand still lives in the Victorian era, front parlour looks great but in the back we hide things from  view.
I am a former Police Sergeant, I work as a private investigator, I am currently before the court on 5 counts of breaching a suppression order.   I was charged six weeks ago and today received the first publicly available copy of the order which I have allegedly breached. My crime was to identify the Barrister who has made my life hell for 11 years as the lawyer who was given name suppression for ripping off his client  and old lady who I know he has been targeting for years.
The police were quick to move on charging me but in 11 years they have never looked at the serious corruption which I uncovered. They even charged me before they even knew an order existed.
I run a web site called www.transparency.net.nz, I do this because transparency International in New Zealand is all about keeping the " least corrupt " perception alive   so that they can attract more business to New Zealand. They receive funding from the public service sector so they  can  boast how well  they do and because there is no corruption in New Zealand we don't need the usual safe guards
New Zealand is reputedly the country that is easiest to set a business up in, it is also a country in which the same simple companies structure will see you cleaned out.  No one checks and the registrar seldom prosecutes. I am currently dealing with a company where   the person who invested lost all their   funds with a stroke of a pen
In my time as a private Investigator I have seen false companies, false liquidators   and   the big one that I am being prosecuted for  is for  identifying a corrupt  barrister who  wrote legislation for his own business plan, advised  on it as " independent " adviser to the select committee then  made a fraudulent application   and told lies to get it past the post . He operated this from a local council's premises which he rebranded to look like his fictional trust.  In 11 years no one has looked at the mountain of evidence   and when he was recently   found guilty of serious offences under the lawyer's legislation he was given name suppression.   I recognised the scenario as being him speculated and am being prosecuted despite never having seen and order.
One law for all is not what you get in New Zealand, you must pitch your offending just right     be certain it does not include injury, no speeding or breaching any unseen orders.  But you can successfully use false identities and rip people off for any sun under two million dollars and get away with it.
I  presented evidence for a petition  for a  commission against corruption  , the petition was thrown out because the  evidence disclosed corruption  see it here http://www.anticorruption.co.nz/wp-content/uploads/2015/01/Evidence-in-support-of-the-Petition-of-Grace-Haden-and-others-5-11.pdf
Please keep tabs on   our web site and you will see how the law does not work in New Zealand, the structure is there, the perception is there but then perception is not reality
Grace Haden
Dear Sirs .
There is one fundamental  issue with the   complaints system in New Zealand .. it is  out of date  and does not appear to  comply with   the   standard for complaints AS/NZS 10002:2014
I note that the Good administration guides  are all about 5 years  old and probably out of  line with the  Changes to the Ombudsmen Act and official information legislation  document dated   May 2017.
Just recently I blogged  about  the reliance  by authorities on the   unreasonable complainant conduct manual 
and commented that this manual was pretty much identical to the one used in  New South Wales  , the fundamental difference is that  here in New Zealand whistleblowers  are often  labeled unreasonable complainants, in an attempt to  drive home the message the  complainant will  provide more evidence  and where the toll of whistleblowing   is starting to show the whistleblower may resort to highlighting text,  bolding it and  in conversations may raise their  voice due to frustration .  the  easy course to take is to   say AHAH  an unreasonable complainant.
In New South wales the  complainant  can go to the  Independent commission against corruption  who will   independently  investigate the   matter .
In New Zealand you go to the Police who  say it is too serious  and the   SFO  who say sorry not serious enough .
It appears some  australian states have adopted  the  standard for complaints AS/NZS 10002:2014 and have published a document    in 2015 and 2016 which guides Public sector agencies through   the complaint process.
The publications can be found at these links
[PDF]complaint management framework – Ombudsman SA     www.ombudsman.sa.gov.au/wp-content/…/Complaint_Management_Framework.pdf
[PDF]Complaint management framework and model … – NSW Ombudsman https://www.ombo.nsw.gov.au/__…/Complaint-management-framework-June-2015.p…
[PDF]Good Practice Guide to Handling Complaints – Parliament of Victoria  https://www.parliament.vic.gov.au/…/Tabling_copy_VO_Report_A_good_practice_g…
[PDF]Effective complaint handling guidelines – International Ombudsman … www.theioi.org/downloads/…/Effective-complaint-handling-guidelines-Third-edition….
and the company registration   also has  its policy
[PDF]Complaint management policy – ASIC   download.asic.gov.au/…/complaint-management-policy-for-external-publishing-final….
In New Zealand  we appear to be hell bent on " writing complaints off "  covering up   and doing what it takes to preserve our corruption free image .
As a whistleblower with over 11 years experience of  banging my head on a brick wall I have also noted that   identity fraud in New Zealand  is only dealt with by the  department of internal affairs .  the companies office on the other hand unlike ASIC  , looks at compliance and does   nothing   about the use  of "trading names " and   similar names
My complaint about the   approved organisation  Animal welfare institute was   thrown out by your office because no  one identified the fact that  the court had been seriously misled  through the introduction of a  trust  which bore the same name as the   fictional  law enforcement authority .
the Animal welfare institute of New Zealand ( AWINZ )   was an undefined trading name    it was a  falsely portrayed as being  a legal entity  by a lawyer who has now been proved to be corrupt .
He set up a trust with the identical  name   and misled the court and MAF   by switching one for the other  and thereby  pulled off the perfect fraud .
MPI never checked if AWINZ existed  and processed the   application with an unsigned trust deed.  they didn't even question  why  the subsequent deed that was provided to them 7 years later  differed from the signed copy which i was given for court.
Nor did they question why  The minister had been told on the  25th march 2000 that the  deed had been sent on for registration    when in reality  it had never  been incorporated in any  way .
Also   a simple check of the trust deed  would have revealed the out right lies as   there is no 20 (a)  in the   deed.
MAF at the time were clearly out of their  depth  and had not the faintest idea what a legal entity was  and how  they should deal with an unincorporated trust . They relied on Mr Wells  experience as a barrister and was prone to drafting documents for the ministry 
Mr Wells who  wrote  the  No 1 bill for the  animal welfare act and inserted the provisions of an approved Organisation to fulfil his own business plan in to the  new legislation on which he advised as "independent advisor "to the select committee without apparently  declaring his conflict of interest.

He made a fraudulent application to MaF  claiming that AWINZ existed as a trust  and was in the process of being registered  quite clearly this was a lie  as the trust deed showed  the trust was formed after this date   and   AWINZ was never incorporated  it was at all times an undefined trading name which  was given  legal existence without  actually having any  . What made this  so  important was the fact that this  was  a  Prosecuting authority under statute .  
It would have been impossible for anyone  to  hold AWINZ accountable ,  new trustees were  magically switched in in 2006   to   give it a pseudo appearance of legitimacy . I say magic  as  no real or legitimate process was involved . But MAF was very happy to  cover it all up  .
I  Brought it to the attention  of the council , Maf  and  a multitude of government  departments  and 11 years on I am still being persecuted . Government departments  like the companies office  look for compliance  they don't prosecute that is  why it is so  open to abuse .
Whistleblowers in New Zealand  are treated very poorly     to blow the whistle means to devastate your life.  it is therefore  essential that we have proper  complaint procedures and   staff who know what they are doing and  don't ask the alleged  offender for  guidance.
I may have forwarded one or two of her very early Emails for Mr Wells' awareness/comment/response.
they also state that MAF needed to   provide assurances to the minister that  AWINZ accountability  met  requirements of the act.. how could they possibly have achieved this  when the organisation was a total fiction  ?  This is Wells  OIA request

The significance of the  existence of an entity also goes to the heart of  any agreements .Here Joanne Tuckwell states
and it  states "This Memorandum of Understanding between the Animal Welfare Institute of New Zealand
(AWINZ) and the Ministry of Agriculture and Forestry (MAF) "
definition " "AWINZ" means the Animal welfare institute of New Zealand.     – this shows that MAF clearly thought that AWINZ was a legal person in its own right  But Neil Wells signs as trustee  and conceals the reality that   the application was not made by any trust (  there was no trust meeting  which  would have allowed him to  sign for the other trustees, the trustees of he 200 deed never met  )   and that AWINZ is not a legal person in its own right .
Now that  Neil Wells has been proved to be deceitful and a person  who is less than honest in his roll as barrister ,  I hope that    this may be used to  test out a robust complaint procedure.  11 years  of  victimisation for whistleblowing is enough  .
Please  implement the   standards adopted by australia and enforce them .
It is unreasonable to treat whistleblowers as unreasonable complainants no one should have to go through what I have been subjected to  .
I look forward to  finding some Fairness  .