The state of corruption In New Zealand
Sir
I am the director of Transparency New Zealand Limited . My company  actively exposes corruption In New Zealand . It was formed after Transparency International New Zealand refused  me membership  because it  claims that
"the TINZ  Objectives, Guiding Principles and Rules of TINZ are not compatible with your actions and objectives. We do not undertake investigations on single cases of corruption or expose individual cases."
Unfortunately I believe that  by looking at  corruption in New Zealand we can learn from it  and  prevent  it from growing.
Ignoring corruption is like ignoring cancer,  ignore it long enough and it will kill you
I was  very impressed with your presentation at  Massey University, Palmerston North  .
The views you promoted on Behalf of transparency International  resonated with me  and  I felt sad that  Transparency International New Zealand  does not hold the same values as  the  international body .
You   regarded whistleblowers as  essential to  uncovering corruption  but the  local professor   quickly added that   whistleblowers are  regarded as tell tales and then there were some comments   by him abut obtaining information   unlawfully.
I can assure you that the truck loads of information I have collated have  been acquired lawfully and it sets out a  major issue  which we have in New Zealand   and that is the use of trusts.
We use trusts to the extent that we invent trusts  and  although the invented trust is totally bogus   they appear to be able to act like   legal persons , no one checks.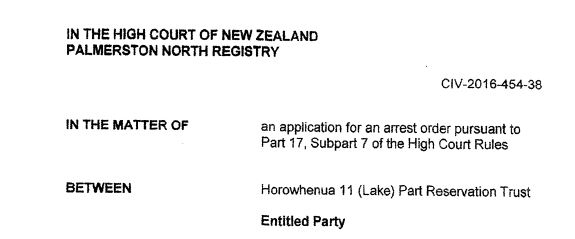 In this example  a  fictional trust obtained an arrest warrant the full document is here 
more   about this is found in Anne's book  available for download   at Annehunt.co.nz 
When  fictional  " trusts" have a standing in court and  can  have an order  issued to infringe on the rights of a  natural person  then there is something   seriously out of wack
It shoudl be the lawyer's responsibility to ensure that  such action does not  find itself in court and   he and he alone should be held accountable  to the full  force of the law.
In another matter A fictional trust   obtained law enforcement powers  the fraudulent application is here 
This application was made by a corrupt  Barrister   who has  advised Government and   was heavily involved in drafting the legislation  to facilitate this fraud
He had a business plan see here  and wrote the legislation and advised on it to facilitate this plan
He and his corrupt  lawyer took  action against me  for defamation  for saying that the trust was a sham.   I was denied a defence of truth and honest opinion   and through the false allegation that a similarly named " trusts " created retrospectively   ws one and the  same  he misled the court   and  effectively the fiction became reality .
I see the courts reliance on the word of lawyers  as the   single largest contributor to corruption in New Zealand .  Things are sanitised and legitimised through the courts  by misleading the court .. no evidence is ever required.
Trusts in New Zealand are therefore the  no 1 vehicle of choice for fraud and money laundering  , if our courts and lawyers don't check to see if a trust exists then  its open slather .  In the case of  animal welfare Institute of New Zealand (AWINZ)  I asked the solicitor general to investigate the trust  and the various  trusts that have been set up to    jump through time   and vacuums to give the illusion of reality.
If a trust does not have to have a legal structure which commences and  continues in any verifiable  form then   we are dealing with  fiction .
New Zealand is very much a Victorian colony  which is coming of age   through the use of computers . that is why   whistleblowers are silenced here.
You raised a question with regards to John Key  and asked why had no one investigated him.   The answer is simple   you just need to look at what I have suffered  and you  soon realise that  if you even ask one question out of place you will be discredited   and your life will be in tatters . Your comment and my  research on Key since  leaving the meeting  has made me realise why no action has ever been taken with regards to AWINZ,  for 11 years I have said it is a blue print    and sure  enough  it has been . If a fictional trust  can be a law enforcement authority then it can be anything.
In 2014  , Andrew Little presented my petition for a commission against corruption to Parliament  , I was the lead petitioner . I was asked to present evidence as to why we needed such a commission and   I supplied my evidence   it is at this link   you will see that I touched on panama, I was taken to court with regards to my discoveries of these panamanian companies and  Hungarian alcoholic directors , I was silenced .
I provided evidence of  fake liquidators  fake directors  and showed that the  crown  solicitor's dropped 22 charges of fraud of  Terry Hay a well connected   american  for   fraud under the companies act
items 56  in that report relate to TINZ role in  corruption today
Transparency International New Zealand in my opinion serves only to ensure that New Zealand status as least corrupt is preserved.  To do this  they actively ignore   corruption  and pretend that   it does not occur.
Transparency International New Zealand  gets funding  from the key public service agencies to do the integrity reports on the public sector.
Quite personally I think that that is a conflict of interest and corrupt .
The reality is that New Zealand is in my experience rotten to the core  we have cheated on  our exam cards (  the  perception index)  and that makes us  among the most corrupt of  them all .
When simple corruption  is covered up  at high levels  and they have to go as far as to discredit you  then you know that the corruption is deeper than any one imagined.
I  look forward to a response from you and look forward to being able to work with transparency International to  address corruption in New Zealand and not be part of the   problem by concealing it.
Of course, those are hardly the only issues that need fixing. Prime Minister John Key of New Zealand has been curiously quiet about his country's role in enabling the financial fraud Mecca that is the Cook Islands.
7 May 2016  Why was John Key singled out by Panama Papers hacker?
7 May 2016 Panama Papers whistleblower confused – John Key
8 May 2016  Taxing times: The ghosts of wineboxes past 
5 october 2016 John Key keeps lid on hidden billions
21 march 2014  John Key dismisses rumours surrounding resignation
READ MORE:
* Panama Papers source breaks silence, denies being a spy
* The Panama Papers New Zealand link revealed
* New measures to combat cybercrime outlined by Government
* Prime Minister John Key's lawyer asked about foreign trusts
* NZ trusts at the centre of Malta money scandal
* Government now says NZ trust examination likely
* More NZ links to Panama Papers to come
* Q&A: Panama Papers' fallout has only just begun
Documents obtained by the Australian Financial Review show:
 A Mexican construction tycoon dubbed the 'Duke of Influence' joined a rush of foreign money into tax-free New Zealand trusts.
Juan Armando Hinojosa Cantu, who built his fortune from billions of dollars in Mexican government contracts, was investigated for lavish housing deals with Mexican political figures.
On July 1 last year, Cantu's Miami lawyer said his client had "circa $US100 million" to put into three New Zealand trusts.
Maltese investors who had been turned away from nine banks in the Caribbean, Miami and Panama eventually found a home for their money in New Zealand trusts.
Demand for New Zealand trusts went into overdrive late last year with Mossack Fonseca staff in Panama urging New Zealand staff to "chase the money".