The officer in charge prosecutions pps.napier@police.govt.nz, copy to minister of justice
This morning I appeared in the Napier district court
I have been charged with four counts of " while a suppression order was in place Published the name of a person who has been granted name suppression"
I have been bailed to appear in two weeks time The conditions are to live in the house where I live any way and not to publish the name of the Practitioner and his former client with relation to the suppression order .
the four offences being as this one but on the dates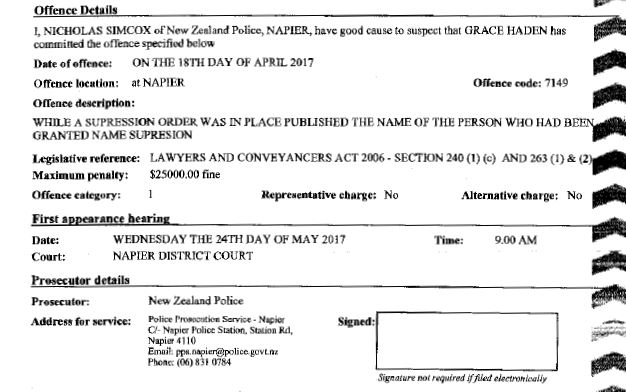 18 April 2017 the post being Was XXXXXXX censured ? is this why this animal welfare lawyer has gone? ( now sanitized to comply with bail conditions )
9 May 2017 Why I am a danger to society….. I must not lift rugs
17th May 2017 Time to support Whistle-blowers …. why we need an independent commission against corruption
22nd May 2017 Whistle-blowers .. Government fights back… Police make up offences to attack whistle-blower
The problem is in the discovery which you have supplied me does not support the charges . letter to police from justice alleged suppression order
As a former police prosecutor I identify the matters which you have to prove as being
that there was a legal suppression order
that the suppression order was with regards to the person named
That I knew it was the person named referred to in the article and not just speculation
to that end you were to provide me by way of discovery a suppression order, this is the first issue
If you were to search the lawyers and conveyances act you will note that there is no scope for suppression orders in that legislation . The word suppression only appears three times see this
being
This makes it clear that there can be no orders for Name suppression under the lawyers and conveyances act
Yet the charge sheet clearly states that there was a suppression order and I breached it .
The alleged suppression order that was supplied to me was almost totally redacted showing only two paragraphs
From the redacted version I presume that you rely on paragraph 28 for the existence of a order yet it states only
" [28] Given that there is no risk to the public posed by this practitioner in the future,we consider that the combination of factors referred to above do, in this unusual set of
circumstances, justify the permanent name suppression of the practitioner, his former client and any identifying details."
this left me to wonder if there was an order some where else in the document. How that I had a court number I ws able to search the tribunals web site and located the full underacted document the on the Justice web site see this link here
reading this document we note that the law society opposed the the suppression application and under orders there is no mention of any order in terms of section 240(1) (c) and it could well be that the suppression was given for the purposes of their published decision only.
As such there appears to be no evidence of existence of an order under section 240(1) (c) being
240

Restrictions on publication

(1)If the Disciplinary Tribunal is of the opinion that it is proper to do so, having regard to the interest of any person (including (without limitation) the privacy of the complainant (if any)) and to the public interest, it may make any 1 or more of the following orders:……

(c)

an order prohibiting the publication of the name or any particulars of the affairs of the person charged or any other person.
Since no such order exists so it would appear that I have been wrongly charged as no one can breach an order which has not been made and section 263 states
Every person commits an offence who, without lawful excuse, acts in contravention of any order made by the Disciplinary Tribunal under any of paragraphs (a) to (c) of section 240(1).
Until I received the discovery today I was unaware of the content of the decision I was merely commenting on a news item on the law society web site . "Name suppression granted to censured lawyer
I was not at the hearing and the information I had was nothing I gained from any tribunal process but knew from my own involvement with mr X
Mr XXXX is in the habit of telling the government and other people what to do and they accept that what he tells them is true Because he was a barrister. he continually gives false information and again he has made out to the case manager for the tribunal * that there was a decision in his favour when none existed. As Usual No one checks .
the full version of the decision states
He has been an advisor to Government.
His reputation with government is such that he is trusted to the point that the trust in him allows him to perpetrate offences such as making a fraudulent application to the minister of agriculture for a fictional trust to be granted law enforcement powers under the legislation which he advised on and wrote to facilitate his own business plan
I have 12 years of experience of this and this again is an example of mr XXX saying jump and every one says how high and again he gets to get away with his crimes. This time he has had me charged when there are no grounds and because he says so.
If only 1/10th of the effort had gone into him that has gone into me then he would be behind bars.
I will be providing transparency to this matter through this site using this site . I am a whistle blower and in 11 years the police have not acted yet mr X writes to the ministry of justice and within two weeks I am charged with four offences I could not have committed .
I look forward to whistle blowers being taken seriously , I don't care about mr XXX health he did not care about me when he destroyed my family and repeatedly tried to bankrupt me, his dirty tactics are un unprecedented. His ability to call the authorities to action show the the regard they have for him and how the bias wold possibly have prevented investigations in to his very public fraud .
I note that this week is anti bullying week and I can assure you I feel bullied.
Your officers have to ensure that the ingredients of an offence are met and they fall well short even to the extent of supplying me a redacted document when the full version is publicly available.
Request to prosecutions
Due to your lack of evidence I request that
the charges are withdrawn forth with
That I receive an apology
that the police deal with the historic file relating to the fraudulent application for law enforcement powers
the use of the civil court to conceal criminal action
and the identity fraud practiced using various AWINZ trusts.
there is more e.g. misappropriation of charitable funds but in the fist instance please provide the order or withdraw the charges.
Should you continue with the prosecution I will be pleading not guilty and will seek indemnity costs for my legal representation . loss of income and stress caused.
regards Grace Haden