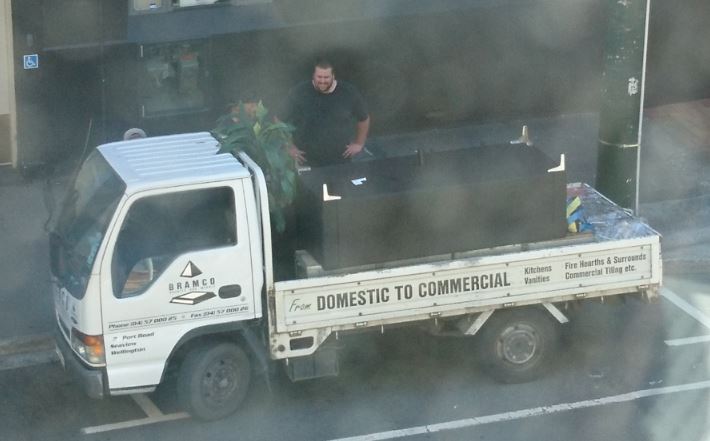 The liquidators first report has been released for catering limited the company which ran Muse eatery , it can be found here
The liquidators Palliser were appointed by resolution of the shareholder. The shareholder HANIA TRUSTEE (CATERING) LIMITED
is a trust into which Samuel North transferred his assets and his share holding in catering limited 22 April 2016 .
Samuel has done his apprenticeship in companies and when He was investigated in 2015 it was revealed that he had breached some 30 companies act provisions.
But the companies act does not appear to be well enforced and even while Samule was opperating what in our opinion ( based on a truck load of evidence ) was a Phoenix company.
It comes as a bit of a surprise that the liquidator states that there are no assets , we have to ask what was it then that was removed from the premises and captured on film .
There was a flat deck truck belonging to Bramco and another truck belonging to castle parcels DDF 834
and at least two other cars ERQ249 and KKF271
what did they take away thin air ?
the creditors are listed as
ASB Bank PO Box 35 Shortland Street Auckland, 1140
Carrello del Gelato PO Box 6818 Marion Square Wellington, 6141
CPC (New Zealand) Limited PO Box 90535 Victoria Street West Auckland, 1142
Deloitte Accountants 115033 Auckland, 1140
EVEVE New Zealand Limited PO Box 3992 Shortland Street Auckland, 1140
Executive Laundry WellingtonLimited 9 Sydney Street Petone Lower Hutt, 5012
Farm Fresh Distributors Limited 128d Park Road Miramar Wellington
Fish Factory Limited PO Box 68-409 Newton Auckland
Gilmours Wellington PO Box 38891 Wellington Mail Centre Wellington, 5045
Lee Fish New Zealand Limited PO Box 33077 Taka puna Auckland, 0740
Mediaworks Radio Limited PO Box 11441 Manners Street Wellington, 6142
Mediterranean Foods (WGTN) Limited Street 42 Constable Newtown Wellington, 6021 Nova Energy Po Box 404 Whakatane, 3158
Powershop NZ PO Box 7651 Newtown Wellington, 6242
Regional Wine and Spirits 15 Ellice Street Mount Victoria Wellington, 6011Private Bag 92
Rentokil Initial Limited 905 Onehunga Auckland, 1643
Six Barrel Soda Company PO Box 11884 Manners Street Wellington
T Leaf Limited PO Box 33139 Petone Lower Hutt, 5046
The Clareville Bakery Limited 3340 SH2 Clareville Carterton, 5713
Waste Management PO Box 204253 High brook Auckland,2161
We note that this list does not include grab one or groupon who were still selling " deals" after the doors closed
We hope that those who attend the watershed meeting appoint their own liquidator
Liquidators have an obligation to report potential breaches of legislation , we will be very happy to assist .
We hope that some one looks for the truck loads of assets which Samuel spirited away .