Many years ago a lawyer asked me to help him locate a director and liquidator of a firm called  fresh prepared limited 
The director was allegedly   Sanjay Patel 133 Captain Springs Rd, Onehunga.  Consent of Director
Sanjay Patel appointed a liquidator Babuhai Patel who happened to use the PO box right next to  that of the former proxy director  Lynn Pryor
Both Sanjay and Babuhai  were fictional   and  Terry Hay and  Lynne Pryor  were both charged with  fraud offences  .
The 22 fraud offences for Terry Hay are here 
Hay  skipped the country and  Pryor was convicted of one charge  as the blame was shifted onto Hay .The news items are here Charges over alleged fake liquidator and Boss invents accountant to escape $60k debt.
Hay being well connected   got the  charges dropped  21.1. 2013 see here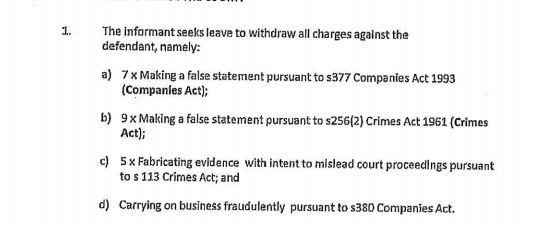 He wasted no time promoting himself as a successful  business man  no doubt including  teaching the tricks of  the trade  with regards to the  NZ companies office
Today I  discovered that  Hay has featured in the New Zealand courts again,  funding  litigation again .
This  time in   employment matters where  LSG sky chef  inherited  employees from the  firm   one being  Terry Hays brother in law.
the employment court  matter can be found here
The person posing as  director a Mr Drake who last claimed to live in Honolulu ( if he exists) moved the  address of service  of the company from  viaduct  harbour avenue  to Stewart Island.
A simple phone call  to   the lodge revealed that this  man of mystery had once again  fooled the   companies  registrar  .
so much  for having to have a Local director  all it takes  is an address which you can pick up from the internet and your away.
Terry  Hay registered as the shareholder as Terrance Hays
The registrar is once again   looking to remove the company from the  register ..  for  rich foreigners our company office is nothing  more than a useful tool  to  use  and abuse  from a safe distance away .
While Mr Hay was  comfortably ensconced in his Honolulu home  he sues the arse off unsuspecting Kiwis , some how that is so  wrong .
Its time we did more than register  companies .. how about checking and  stringently enforcing the company rules .
Companies  , trusts and societies are totally abused .   No one checks  and whistleblowers get shot  .. so    wonder why its so open to abuse.