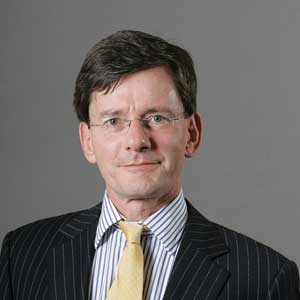 Good afternoon Attorney General
Please find here with my request for an inquiry into the animal welfare Institute of New Zealand
Request to Attorney General under section 58
This is not just any ordinary trust AWINZ claimed to have law enforcement powers under the animal welfare act.
In the detailed document attached I have shown how the application for Law enforcement powers was fraudulent and it has been covered up by the creation of several trusts and groups of persons posing as trusts.
The charities commission directed my complaint to you .
This is a matter which touches the heart of corruption in New Zealand s I have found that in 8 years it has been impossible to expose this perfect fraud.
I will be attending an international anti corruption conference this month I am therefore publishing my request on the transparency web site so that it is transparent .
Regards
Grace Haden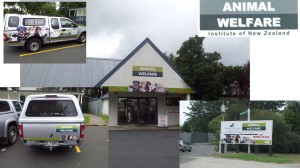 I have just taken time to look at submissions for the animal welfare bill  and  within the multitude of pages I find a  submission by Neil Wells . Neil Wells evidence text [PDF 258k] and  Neil Wells  supp  [PDF 141k]
In the  submission  he starts off stating
I agree with the general policy statement that the Bill will "improve the enforceability, clarity, and transparency of New Zealand's animal welfare system."
Transparency ?  run that past me gain  ? wasn't  it   Mr Wells  who made an application to the minister for approved status  using a  false name ?
Did he then not run  this enterprise himself   using the councils staff and resources while not  disclosing that there was no one else involved ?
So why does he  not list his experience of 10 years running  an approved organization?  and why did  he not even mention the Animal Welfare Institute of New Zealand? ( AWINZ ) .
I rather suspect that he has not mentioned AWINZ because  it would not read well saying
I was the author of a Private Member's Bill presented to Parliament by Hon Pete Hodgson in 1998, which was later joined with the government's Animal Welfare Bill (No. 2).

I served as an Independent Specialist Adviser to the Primary Production Select Committee during the consideration stages of the Bills.

I  applied for approved status  for an organization which did not exist and which was actually me using a pseudonym.

I  ran the approved organization for 10 years using the Waitakere  city council staff and resources  , prosecuted and  banked the proceeds into a bank account   which I  operated in the  name of AWINZ .
I suspect that if he had written that  some one might have said..  there is something wrong here.. perhaps  conflict or interest   even and some  one might  say  "hey is it OK to write legislation for your own business plan and advise on it and implement it under a false name   then cover up using the court. ? "
At Point three of his main submission Wells states
A statute is only as good as the procedures available for enforcement of its provisions, the detection of offences, and the prosecution of offenders.

3.1 Enforcement and prosecuting authorities
There are three types of enforcement and prosecuting authorities — the Police, the Ministry for Primary Industry, and approved organisations.

3.2 The Police
While every member of the Police is deemed to be an inspector the Police rarely take complaints related to animal welfare breaches and instead refer the complainant to the SPCA.

3.3 MPI
MPI does not have the resources to be able to deliver national enforcement and prosecution services on its own for all animal welfare complaints and is totally dependent on approved organisations. This creates an enormous risk for government.

3.4 Approved organisations
It appears odd to me  that Neil Wells does not  mention his own first hand experience  with running an approved organization .  but for once I  find myself agreeing  with Mr Wells he states
MPI does not have the resources to be able to deliver national enforcement and prosecution services on its own for all animal welfare complaints and is totally dependent on approved organisations. This creates an enormous risk for government.
It transpires the MPI could not even  discern the difference between  a legal  person and  a fiction, a truth and a falsehood .   The falsehoods  from Mr Wells as to the existence of  AWINZ were  swallowed hook line and sinker  and   each obstacle was overcome with   another  tall tale . he goes on to say
There is currently one approved organisation that is authorised to recommend the appointment of Inspectors and through those appointments, to enforce the Act and prosecute offenders — the Royal New Zealand SPCA.
But he doesn't mention  AWINZ Mr Wells using council  staff which had been offered for use  by his associate  Tom Didovich  without apparent  authority from the  council hierarchy . Wells points out how rare it is to have private law enforcement authorities
There are only 2 countries in the world that depend on a private organisation, the SPCA, to act as the enforcer and prosecutor of animal welfare law — New Zealand and the 7 states and territories of Australia.
Mr Wells   using the council  staff  and resources prosecuted under the  guise of the fictional AWINZ  and  pocketed the money into an account only he had access too, funds  which he has since used to  haul me through court  so as to cover up the  criminal activity associated with AWINZ.
If we were to adapt the model  which Mr Wells had  set up there would be no need for  funding as it   ensured that public assets were used for private pecuniary gain. I am sure that  any   accountant would tell you that there were serious flaws with Mr Wells model  and to prosecute through an  authority which has no legal existence  ensures that there is no accountability to the public and no one can hold you accountable as  there is no identifiable and sue able person to  take on. the dangers of  this relationship are  expressed by Mr Wells in  this comment
Legal commentators maintain that the enforcement and prosecution of criminal law (animal welfare offences are crimes) are the responsibility of the state and not private organisations that have no public accountability.
I could not agree more  , when an organization can  increase its income through prosecution  and  incidentally giving people a  criminal conviction  it  becomes very serious , take that one step further  and if there is no organization and the law enforcement authority   is in reality  just one  person  who has obtained law enforcement powers  using a false identity then it has to be SERIOUS , especially when    council, MPI, ministers, OAG  all go out of their  way to cover this up or turn a blind eye to it.
The statements he made  in  his submisson shows  just how serious the matter with regards to the  fictional AWINZ was
The Law Commission in its paper Delivering Justice For All (2004) commented that "the operation of the criminal justice system is the responsibility of the state." Judge Garland in R v Balfour said that "the SPCA was effectively standing in the shoes of the government."
In reality therefore  Neil Wells was one person standing in the   shoes of the government , so when I asked the question  why AWINZ did not exist, it was  far easier to  crucify me than it was for any government department   to say  Oops we gave law enforcement authority to  a fictional organisation.
AWINZ has proved that there was a lack of accountability , we still do not know   who  was regarded to be the organisation no one can identify the real people  actually involved.  we know that  Wyn Hoadley, Graeme Coutts Neil wells and  Tom Didovich posed as the organsiation and claimed the law enforcement powers as their own  but there is not one document which can be produced from any legitimate source which  supports that claim.
Incidentally it Was Tom Didovich who  supported Wells application  on behalf of Waitakere city council
When the application for approved status  was made there was no trust deed, there was no group of people who had decided to apply for approved  organization  status, there was just Neil Wells and his own business plan for making money .  In 2006 when I discovered that AWINZ did not exist , Neil Wells   tried to contact  four people  who he had spoken to in 1998 who had been recruited  by Didovich  for the possibility of forming a trust with council  to facilitate the delivery of animal welfare services.
Council paid for this through Didovich , but  the persons never met as a trust.  In 2006 there was not a trust deed ( it was claimed to be missing )  and I have conclusively proved that these persons did not form a trust until three months after the application for approved status  was made and that they were not the approved organisation .
Graeme Coutts , Nuala Grove and  Sarah Giltrap were all recruited because of their station in life or perceived station in life , they never met as a trust  and never applied for  approved status  , they were not  the law enforcement authority .
Under Item 17 clause 35 Mr Wells   describes the pilot scheme set up by him to trial   animal welfare in councils , he again fails to mention that it was set up at his  instigation and that this led on to the fictitious AWINZ  being created.
While I commend Mr Wells concern for little furry things  he has  had no such compassion for Humans  especially  when it came to me and my family.  Wells has totally destroyed my family  and  financially stripped me.   Mr Wells in my opinion  is nothing but a criminal at large  who has used the  courts to pervert the course of justice  so as to  conceal his criminal offending.
I do not believe that any one can treat humans and animals  differently , to be cruel to a human ( yes I have suffered at Mr Wells hands for 8 Years )  makes a mockery of the perception of being humanitarian .
If AWINZ had been legitimate ( it was not ) I would have expected Mr Wells to have made mention of it.  His  manner of dealing with AWINZ , or should I say avoiding it in his submission   , to me at least  proves  his guilt .
I think that it is about  time some one dealt with the reality  that AWINZ was nothing more than a name Mr Wells had given himself, he  had  used others to cover up , when they realized how serious things had become ,they could not  back out  for they too had committed  offences through him by  being party to a raft of offences  from being accessory after the  fact to  parties tothe  the offence of using the court to pervert the course of justice.
this was done through a tactic  called
DARVO – Acronym of "Deny, Attack, and Reverse Victim and Offender".
I was the  whistle blower and  was made out to be the villain   Wells became the Victim picked on by this deranged woman   .  It is a powerful strategy   and   it works in New Zealand especially when you   can show that  you are kind to animals.
Well I am kind to animals and  to humans.. hasn't helped me.
The victim stance  is a powerful one  . the victim is always morally  right  neither responsible  nor accountable and forever entitled to sympathy
I can prove everything I say   and I am speaking the truth  , I will again send this to Mr Wells and draw this to his attention   so that corrections can be made .
Again I will ask him to provide evidence.. that is the one thing  that those who make things up always lack. If you want  evidence from my side  all you need to do is ask  I have truckloads of the stuff.
 To the trustees of the animal welfare Institute of New Zealand – Tom Didovich, Wyn Hoadley, Graeme Coutts Neil Wells.  And to the  party to litigation   Hoadley Coutts and Wells
23 December 2013
 Ben Atkins   of Brookfields  has told me to pay the $19,000 cost demand payable to AWINZfor the legal action  for obtaining  a judgement by fraud into  a bank account number National Bank of New Zealand  060 968 0067 4 77 00, this is  the bank account  used by the  charity  animal welfare institute of New Zealand, it is not   the account for  Hoadley wells and Coutts  parties to the  litigation .   

Before I pay this money into the account  I  wish  to inform all those associated with the charity, the person running  the account  and those  party to the legal  action ,of the implications of receiving these  funds which have been  directed to be paid for deceiving the court.
 For 8 years there has been much obfuscation about who AWINZ is.  I have evidence to prove that the charity the law enforcement authority   or the former trust.  The charity does not run its own bank accounts Neil Wells does and the trustees are not running the charity in any proper manner.  They are not even meeting.
 In 2007 there was no trust deed associated with the national bank account   I am certain that the banking ombudsmen will help sort that one out.
The  account was in the name of a person who does not exist- animal welfare institute of New Zealand .  Neil Wells was the only person running the account and the account was not a trading as account.
I will not pay into a bank account of a non-party without some assurances and without the full knowledge and consent of those whose account it is being passed off as being.  I will not hand over that sum of money and then find that those who have a judgement against me    demand the money again in their personal capacity. 
I am therefore looking for   a letter in which Neil Wells ,Wyn Hoadley and Graeme Coutts as   the defendants agree that the money is paid into a designated account of a non-party being the trust which they are  trustees of  together with Tom Didovich . ( the charity )
As the account is that used by a registered  charity, I request that all of the trustees of the charity  AWINZ consent to the money being paid into that account  and that they accept full responsibility as trustees for  receiving the money which  has been obtained through deception on the court and perverting the course of justice.
 I note that the lawyers have gone on leave and so   will deal with the parties involved direct as the lawyers appear to be totally confused as to who is who. The lawyers in any case were not instructed by the charity but  by Hoadley and Wells  at a time when no trust existed. I   will show there is no continuity to a previously formed trust.
In 2009  Hoadley Wells  Didovich and Coutts  all signed  a document namely a financial return on the charities commission which read
"On 30 July 2008 Judge Rod Joyce QC made an order in the matter A WINZ and Wells v Haden and Verisure Investigations Ltd that Grace Haden and Verisure Investigations Ltd pay the following:
Damages — $57,500, costs $40,500
On 20 November 2009 Justice Hansen dismissed an appeal by Haden in the High Court.
As at 16 December 2009 damages, costs and interest due stood at $117,903
The Trustees have entered a charging order of $100,000 on properties jointly owned by Haden.
Resolved 20 December 2009 "  
Now my issue is that  I have paid some $200,000  to Neil Wells  alone, not in his capacity as   trustee   and I have paid  $16,000  to Wyn Hoadley in her private capacity   and according to these "true and correct" accounts   you have a charging order over my property.
I would like to know which property you have a charging   order over and I would   like proof that it has been  removed, I also want  all references of any debt to the trust  removed as  I have never had a debt to the charity .
I also dispute that there is any money owing to the charity   and I do not wish to put money into the charities account   thereby giving reality to their fiction. I will put the money in that account if I get acknowledgment   from all the parties as to why I am placing into that account.
The whole thing has been Identity fraud 101 and    all those who go along with this are complicit in obtaining a pecuniary advantage through fraud and perverting the course of justice. Facilitating something is enough.. each one of you  is a party to this   fraud.
I  will expect a response from each of you  by 4 pm  31 December .
Before you sign your life away I  wish you to be aware of the evidence  I have  which   I will use next year  ( in private criminal  prosecutions if  necessary )  that   will prove that you  do not have a leg to stand on  for claiming to be the law enforcement authority   or the 2000 trust
In 2006 I  was approached by an animal welfare officer employed by Waitakere  city council  she wanted to know who she was volunteering her council paid time  to  as she was uncertain as to who AWINZ was. I found that AWINZ did not exist and no one had a trust deed.  AWINZ   was a law enforcement authority under the animal welfare act,
We registered a trust  called the animal welfare Institute of New Zealand  on 27 April 2006  and through this registration proved that no other  legal entity  existed by that name. Neil Wells wanted our trust gone and was informed of the process by the  registrar of  society's , he chose  litigation  in the district court  and coercive means.
AWINZ operated from Waitakere city council premises using the council staff to   run its business and prosecuted those who fell fowl of the animal welfare law.( this money went into the  same account which your lawyer  now  wants me to put nearly $20,000 in to- this  account  was operated By  Neil Wells alone).
The vehicles, signage   and buildings at council had been re branded by the Neil Wells to look very much like the Logo which AWINZ the law enforcement authority used. There was talk of the   council assets to be transferred to AWINZ as is recorded in the audit report page 4.
Neil Wells had been Manager since 2005 when he took over from Tom Didovich the previous manager who had corresponded with the Minister of primary Industries and had given consents and approvals on behalf of council for matters which council had not been properly   consulted on.
As a result MAF and the minister were of the belief that  it was the councils desire to  take on animal welfare functions  in reality   it was Mr Wells personal desire  one that he had recorded in a business plan.  
I asked    questions as to AWINZ role and contracts with Waitakere Council and the existence of   the law enforcement powers which were obtained after Mr Wells had written the animal welfare bill and consulted on it as independent advisor to the select committee.
In July 2006 Wyn Hoadley, Neil Wells and Graeme Coutts commenced legal action,   using clever ploys such as false standing and striking out my defence of trust and honest opinion in defamation proceedings they have managed   to re write history and    confuse facts   .
I now  don't know who I am dealing with  I believe that there are various parties all called AWINZ    and  various ones have used the bank account  which the   lawyer has given me a number for .
  The groups are
1.       The people who came together   paid for by Waitakere  council to form a trust with Waitakere  council in 1998
2.       1999.The AWINZ which Neil Wells and Tom Didovich told the SPCA existed in 1999, the  one that they  claimed funds from the  community well being fund for  or the one which gave a notice of intent  and a made an application to the minister
3.       2000 The  trust deed   for which there are two versions  One given  to me in 2006, the other sent to MAF in 2006  trust deed MAF version
4.       The AWINZ which monitored the Lord of the rings  and  gave the  false and title
5.        The AWINZ  which received law enforcement powers and the  Awinz which Wells represented when he signed   the MOU Waitakere  and  MAF
6.       The Awinz which met June 2004 which only Mr Wells   knows about.
7.       The AWINZ which opened the bank account and obtained the IRD number and obtained the $100,000 beauty with compassion.
8.       The  people who posed as AWINZ as litigants  June 2006( no trust deed existed  no  evidence of being appointed )
9.       You  . the people who signed a deed 5.12.2006   the  trust which became a charity   and  although you    were not connected to the bank account  let Neil wells and Christine wells operate the bank account which  you were supposedly trustees of.
Not all AWINZ's are the same   they share a common name but there has to be real verifiable evidence to connect them.
In 2012   I  took action  against Hoadley ,Wells and Coutts  for obtaining a judgement by fraud  but  because their lawyers obfuscation  and  reputation   had more  impact on the court than the 700 odd  government documents which I had collated ,  my claim was struck out   at a cost of  some  $35,000 this and the  preceding  matters won by deceit has resulted in payments of $200,000 which has  mainly been collected by Wells himself in his own capacity.
Wells has been hell bent on bankrupting me and liquidating  my company  we have had three  attempts at liquidation and  in the courts own words it has been done in a very aggressive manner.. so much for animal   welfare .. can't be nice to humans.
The  latest round the invoices were made out to AWINZ, for them to be made out to AWINZ that is  the charity  then the charity must  be   itself involved  in the   perverting the course of justice , and  I would very much like to establish if   all of you   that is the  December  2006 trustees  consider  all the AWINZ entities  1-9  to be  you .
According to the charities web site you are the trustees of The Animal Welfare Institute Of New Zealand  a charity registered 28/09/2007 after you all signed a trust deed on 5 December 2006.
First of all you need to grasp that AWINZ is not a  body corporate  it is nothing more than a  name adopted by various people, in this case you  and only from 5 december 2006 . The trust therefore provides no protection for you for any act done before that date or for actions outside the scope of the trust deed.   
AWINZ cannot sue or be sued only the people who comprise AWINZ can sue and each does so based on legal documents which   support their claim of being legitimate trustees.
I cannot see how you can be a continuation of a trust allegedly formed  1.3.2000   as those trustees never met Let's look at the audit report and associated document  in detail to establish some   facts which you yourself ( through the lawyers )  have promoted.
 The Affidavit of  Tom Didovich  which sets out the fact that he ( while holding he position of manager  Dog and stock control of Waitakere city ) drove to each trustee and obtained their respective signatures , this proves they never got together at the start and could not have  ratified the  deed.
the  2009  an audit report released by MAF- the audit was  conducted on AWINZ the law enforcement authority   looking at   section  4.1.2
"we found  that despite being set up in 2000 AWINZ did not hold any trust board meetings until June 2004 . Since its inception (and at the time of the audit) AWINZ has held 4 Trust
Board meetings – we found that four Trust Board meetings held since 2000,three of.
the meetings minutes were not signed by the chair  and the one minute that was signed was for a meeting which did not have a quorum of trustees "
Neil Wells kindly supplied the minutes to   the law society they can be located at the  following links  
The minutes which we don't have is the June 2004
We know that the 2000 trustees did not meet when they signed the deed( see Didovich 's affidavit ) , we know that there were only ever 4 meetings  the earliest was 2004.
The 2000 trust deed calls for the trustees to be reappointed   by 1.3.2000. This trust never met, did not have minutes, passed no resolutions held no assets and by its own terms ceased to exist 1.3.2003
Therefore the meeting in 2004   was by an unknown group of persons or person.
Now let's look at the   Application for approved status 22 November 1999 how could this application have been made by those whose only act was to sign a trust deed  1.3.2000 , it is  customary for people to sign  such applications  to show that they consent to  it being made in their names.. This is not for a Sunday school picnic this is for law enforcement powers.
How could your deed   5 December 2006 revoke that deed when it was defunct   from 1.3.2003, there was nothing to revoke
In correspondence with   the AWINZ lawyer  Ben ATKINS  it  has become clear that  your lawyers think that AWINZ became the law enforcement authority   as set out in paragraphs 50-52 of their submissions  which read
"In paras 57-59, Ms Haden alleges that Mr Wells deceived the Court in "many ways" and in particular, she alleges that Mr Wells misrepresented that an application to the Minister of Agriculture on 22 November 1999, was not the final application made. We assume that Ms Haden is referring to Mr Wells' evidence given in Court when he said that MAF could not receive an application as an approved organisation until 1 January 2000, when the Animal Welfare Act 1999 was passed. Mr Wells went on to stay that a formal application could not be lodged before that time and that when the Act was passed, a formal application was made, and the trust deed was signed (refer CB p 340, L8-23).  Note how your lawyers cleverly  still put the application before the  signing of the deed , things just don't happen in that order. 
Ms Haden's claims of perjury in this regard are simply without any foundation. Mr Wells was entirely open with the Court about the formation with the trust and the application to be registered as an approved organisation. He noted that the November 1999 application was made, and this was attached to Mr Wells' affidavit sworn 10 December 2007 (refer CB p 324, para 31 ). Further, the application was subsequently formalised, after discussions with government officials and further correspondence. In particular, Mr Wells sent a letter to the Ministry of Agriculture on 25 March 2000 to address various issues that had been raised, and to formalise the application (refer CB p 138- 144).
You will note that in the letter dated 25 March 2000 om page 7  Wells stated  "Having provided all the additional information requested  over the past 3 months we trust you are now in a position to provide  approval in  our original application of November 1999."
So how   can    the persons involved in AWINZ the law enforcement authority become involved without putting their names to the application?  The assurances were at all times that AWINZ was a body corporate a legal person in its own right… It never was… This has a major impact on   the administration of justice   it is creating a false person and by consenting to being part of this you are implicated and  for the actions for keeping that illusion alive  . The audit report quite categorically states bottom of page 5 AWINZ has not  been incorporated under the Charitable Trust Act 1957, as was originally expected . Neil Wells  deliberately deceived the  Minister  in his letter  25 March 2000
 "A signed copy of the Deed of Trust will follow. The original is being submitted to the Ministry of Commerce for registration as a charitable trust in accordance with clause  20 (a) of the Deed."
You will note that your deed or the deed of the defunct trust which you claim to have followed on from  , does not contain a section 20  a
Your trust and  the  2000 trust were never incorporated  so it was not your deed that was sent in to the  Minister  for registration  and  clearly was not the deed which Mr Wells was referring to.  So how could this be YOU !!!!!!
Conclusion: It is therefore   a different AWINZ    which   became the law enforcement authority
In the audit report Wells  contradicts his  own evidence to the court  Neil  is quoted as  saying on Page 4  "Neil Wells (AWINZ Trustee) explained in his original application for AWINZ to be an approved organisation under the Animal Welfare Act 1999 (dated 22 November 1999) that in 1996 AWS(animal welfare services made a strategic decision that "a not-for-profit body to act as the interface between community and service delivery" be formed. This strategy led to the formation of the animal Welfare Institute of New Zealand ("AWINZ"), whose objective was "to achieve a seamless transition for those officers of Waitakere City Animal Welfare Services who were currently warranted to be appointed as from 01 January 2000 or as soon thereafter as is practicable " the AWINZ trust  was established in March 2000."
Wells also claims    that the objectives of AWINZ "was " to achieve a seamless transition for those officers of Waitakere City Animal Welfare Services who were currently warranted to  be appointed as from 01 January 2000 or as soon thereafter as is practicable " You will note that there is no mention of this objective in the  trust deed    1.3.2000  which   you claim to  have as your origins that this objective is  expressed.
Neil Wells further stated that the principal purpose of AWINZ was to promote the welfare of.
Animals, and its aims were "to provide a national body to which Inspectors will be properly answerable". How can that happen   through a trust which   did not meet   at all!!!!!!  Look at yourselves   you don't meet you all know that  Neil wells is the  only person  who deals  with AWINZ the rest of you are there  to cover up .
 On that point  You  did not meet to change the  terms of the  trust deed which you signed, there are no minutes which show a resolution to change the objectives,  there are no meetings  after 5 Dec 2006   which  resolved  that you should become a charity .  I will get a full investigation into this you have been most fraudulent. Trustees have legal obligations   including the requirement of a meeting to decide to take legal action.
I believe that the only explanation is that the trust 1.3.2000 was not the law enforcement authority and Neil wells was   it all by himself and all the rest is a cover up to pervert the course of justice  something you have all conspired in.
There are many other   points I could raise which   have come to light due to the audit report    but I won't go into that now   after all it is Christmas.
Those who want to save their necks   can do so now. I will hand over   the  $19,000 +   subject to being told   by all parties to the proceedings  that they consent to  it being  put into the  charities account   and acknowledging that the charity is  receiving  the money and know that it is money obtained by crime  in light of  this  detailed  letter.
I will not be responsible for any accrual of interest due to your delay
I will release the money as soon as  I have the assurances  and  also an explanation as to why  the charity is claiming the funds as theirs in the annual report  when they are not a party to the proceedings and how   they came to put the caveat over my property  , or if they did not put a caveat over my property  why they  filed false accounts.
 If I don't hear by 31 december 4 pm   I will assume that You will not be responding   and won't   be making any  demands on me  due to the fact that   you  are collecting the proceeds of a crime.
   Since its Christmas. Anyone who does not  wish to   be  prosecuted criminally next year   can come clean, I am sure the police  can  deal with   the issue. Having the matter before the court has held it back  but    all that is finished now     . You have cost me well over $300,000, my family and my marriage   I am not about to walk away from the crime you  have perpetrated,  You have  won the  battle  but not the war .
You will be   made accountable for your action and the part you played.   Ignorance of the law is no excuse.  Those who facilitate corruption are art of it.
 You can't put your name to something and then say you are not involved.
 Grace Haden
Copy on transparency.net.nz  as usual.
It has taken me a week and a steep learning curve  but I am happy to announce that I am embarking on  a new chapter.. Video..  This is my first attempt   or should I say the result of many attempts  its not perfect but  it sets out the story. I welcome feed back
Every charity needs to   show their accounts  and  the animal welfare Institute of New Zealand, formed 5.12.200  is no exception  except  its accounts  went up on the  charities web site  in December with a annotation along side   saying restricted.
Over the weekend  they finally materialized.  No real reason to see them withheld  except for the  fact that I know  that I have paid   well over  $100,000 into  what was claimed to be  their coffers  but  which  now appears  to have   gone somewhere else.
Apparently Mr Wells had asked for the accounts  to be withheld.
I have gone through the  accounts available on the charities  web site and   put together the following   summary   (click to down load )   AWINZ accounts summary 
In the 2012  disclaimer they claim  under the heading  Contingent asset
ASSET
On 30 July 2008 Judge Roderick Joyce QC made an order in the matter AWINZ and Wells v Haden and Verisure Investigations Ltd that Grace Haden and Verisure Investigations Ltd pay the following :
Damages– $57 ,500, costs $40,500
On 20 November 2009 Justice Hansen dismissed an appeal by Haden in the High Court.
decision.
On 6 December 2010 the Court of Appeal struck out an application by Haden to appeal the High Court decision.
Costs and interest awarded to AWINZ have yet to be finally fixed .
This statement is false in many ways and shows that the deception and corruption In Waitakere are still on going and shows that we do not have the staff with the necessary   ability or ethics to deal with such  corruption in   either councils or Government department. 
I must say   to be fair that if some one was to   do the right thing they would probably find themselves  out of a job, corruption in New Zealand is  that big.   Corruption like this is  actively concealed .

The $57,500  was awarded  in favour of Neil Wells only from litigation which did not involve the charity , or its trustees  in their capacity  of trustees of this   charity .
and although  this litigation was commenced when the old trust deed  was operative, the litigation was not undertaken  by the trustees of the 2000 trust
Neil Wells was the only person who could profit from the prosecution which  misled the court as to who or what AWINZ was  and treated AWINZ as though it  was a legal person in its own right  when  this was not the case.
 It is untrue to say  Costs and interest awarded to AWINZ have yet to be finally fixed .
The charitable trust   were not party to the litigation  they allowed their charitable funds to  be used  for personal gain of one trustee  which follows the fact that I have evidence that  in Waitakere City   he  used public resources for private pecuniary gain .. so why would  he not  use charitable funds  for  private gain ?
  Not only have the costs been fixed  they have calculated the interest and   collected   nearly $111,000   a further $30,000  is held in trust   and they have  a statutory demand for  $70,000  which includes the sum held in trust .
These claims have not been made in the name of   the trust  and have been made by Wells alone   and not as trustee of  AWINZ in fact I cannot recall  any of the court documents  for liquidation  or bankruptcy referring to AWINZ or trust or trustee.  .
 The high court matters were not against the trust they were against   the individual persons   and not the charity .
This charity   was set up   as a  trust 5.12.2006  is a different trust to the trust  which allegedly existed   from 1.3.2000
 The trust  set up 5.12 .2006   became a charity.  It did not  exist when  litigation commenced.
 Neither of these two trusts  the  trust deed 5/12/2006  or 1.3.2000 were the law enforcement authority  as the application the minister relied upon was    made 22.11.1999  some   three months  before the 2000 trust deed was allegedly signed and  the trustees other  than Neil Wells  had no involvement in any way with the law enforcement  authority
The trustees  of the 2000  trust had such little knowledge of the approved status (  law enforcement  status)  that   it had to be explained to them at their one and only meeting which occurred 6 years after the deed was signed and without any evidence of the trustees being re appointed. after three years  which is a requirement of the deed.
 Neither of these two trusts were the  litigants in the  court case.   Although  some of  the trustees were litigants  there    has never been any proof that they were together  trustees at the  time   as litigation commenced and  they had no evidence that they  had any   legla capacity  to act together as trustees   prior  to 5/12/2006 or together had responsibilities to the deed prior to 2/12/2006   and from that date they   could only act   with one other.
Costs have been finalized   for the court action which was  taken by three people who called themselves AWINZ but had no proof of  being a trust. ,
Wells commenced  liquidation proceedings on   Verisure  22 December 2011 by attaching a statutory demand to my Christmas wreath.
He had told  MAF in September that he was going to bankrupt me.  He was paid out  some $91,000   in mid June 2012   this sum does not show in the accounts   he appears to have  used charitable funds for self-enrichment  but  no one appears to care.
I was besieged by demands   $7,090.48 demanded  21 June 2012  payable the next day , $17.244.26 demanded  21 June 2012  payable the next day, $23091.47 demanded  21 June 2012  payable the next day,  a total of  some 47426.21, to be found over night .

28 June , 82,987.43   to be found over night
10 July  76,000  demanded by  Wells  and wells and others  to be paid   within 7 days
As soon as he was paid  out  Wyn   Hoadley    went after me for   $16638 but no one bothered to tell me.    I still cant see where that sum  came from  because nothing makes  sense   it certainly is not in the demand  28 June  or in the  July demand  or  the June   amounts
They succeeded in putting my company into liquidation   when they  failed to serve document   on me, they were caught out  and the   liquidation was reversed.
This all occurred while I had proceedings  before the court   to set the  judgement aside because it had been obtained by fraud.
They also attempted to bankrupt me  but the court allowed the money to stay in a trust account  while the   setting aside of the judgement is considered.
He succeeded in releasing most of this money through the  liquidation proceedings.
Neil Wells currently has  a statutory demand  out  against the company

Evidence is available  upon request
  What the charities commission have done by allowing this  matter to stand is to  condone litigants   for setting up a charitable trust   so that litigation  can be funded from  charitable funds.
 It opens the door to   more corruption in New Zealand  simply because  many investigators  dont understand the  legal requirements of Trust .

The  chronology speaks volumes any other interpretation of fact defies logic anc common sense.  ther is no law or statute which supports   any  way that this chronology  is invalid.
Chronology
 22/12/1999  application for approved status  Neil wells tells minister of  agriculture that AWINZ will be legally incorporated.
1.3.2000 trust deed signed  this copy came to me in 2006 from Brookfields, this trust deed is different to the deed which is supplied by   Wells to MAF  they go this version
The application  22/11/1999 is approved , not one of  the persons who signed the trust deed  ( apart from Wells)  AWINZ  despite not   existing gets  coercive law enforcement powers. Effectively Wells  has coercive law enforcement powers   in a pseudonym. the minister confirms  to Wells that this was the application he relied upon    
Neil Wells lied in court on this point  he said that the application had been made after the trust existed.
27.4.2006  a trust by the name of  the animal welfare institute of New Zealand is formed    and is legally incorporated,  and obtains charitable status from IRD, this was  done  by myself and others  to prove conclusively that no  legal person by the nae of animal welfare institute of New Zealand existed. MAF  had believed it existed  and they needed to get the egg off their face because they simply did not check  they had trusted Wells 
This threw a spanner in the works for Wells and he now had to  cover up the fact that  the law enforcement authority did not exist.
10.5.2006    the   only recorded  meeting of the trust 1.3.2000  which  by its trust deed should meet no less than 4x per year , trustees said they had not met  they did not even meet to sign the deed.! Wyn Hoadley becomes trustee   by invisible means.
25 May  2006   Hoadley and Wells  see lawyers to have the    incorporated trust  removed from the register.   As proof of their  existence they send  a copy of the trust deed 1.3.200  for which trustees have resigned.
18.7.2006 despite being told by the registrar of  incorporated societies    to challenge the registration in the  high  court  they decide to use  the district court  for intimidation and thereby   get a quick way to force  the name to be given up.
5.12.2006   After trying to get charitable status Wells is forced into  a position  where by he needs a new   and current deed  as   the old deed does not qualify    so with half the original trustees    he    changed the purpose of the  trust and writes in clauses which allow the   funds he has to be used for the litigation  .
Its identity fraud 101  and  just because they all share a name  it does not mean that they are all the same.
All you need in New Zealand to commit charity fraud  is a law degree standing as a barrister   and  the charities commission    will like MAF  accept any BS you  put their way.
Every day people  are locked up for minor matter    but     slick words  manipulation of  words  and  confusion allow you to get away with crime.
I am continually surprised at the lengths  that    Government departments  and the Council have gone to  condone this corruption   shows    that  Corruption is not  just  condoned in New Zealand it is concealed.
See the  Mayor of Auckland brush off   the " historic"  Corruption of Neil Wells , he does so unilaterally  and  without  allegedly knowing the facts Len Brown acts as judge  and jury. http://www.allaboutauckland.com/video/1907/accusations-of-corruption-within-councils/1   you will need to log in   it is free.
this is my  presentation Open Forum – 28 Feb 2013
IN 2006  XXXX  was working at home as a law clerk for  Brookfields , she was  allegedly approached by Two Barristers   Neil Wells and Wyn Hoadley  who  were pretending to be trustees of a trust which had never existed .
They had a dilemma you see in 1999 Neil Wells   had written legislation for the animal welfare act   and  had been an advisor to the select committee . He then made a fraudulent application to the  minister claiming that  the animal welfare institute of New Zealand existed , it was in reality  just a fancy name  that he had thrown about the  offices of  MPI  for a while so that those who did not check  got used to  the sound of the name .
In the application  Wells claimed that AWINZ was  formed by trust deed , but then in letters to the minister he avoided sending  a copy of  the deed .  he said that the one deed had been sent off to be registered.
The  lawyers for the MPI believed him  and never checked  and then  in 2006   some one had  registered a trust with the same name   which  embarrassingly showed that Neil wells had told a lie .
But rather than deal with the lie   and  hold Wells accountable to the law   it was far easier to instruct a law clerk to put some pressure on the woman involved.. One Grace Haden
Grace Haden is the villain in this piece , she questioned corruption , this threatened not only the  fraud that  was AWINZ but also  the ability of the  government to verify its facts  and uphold the  law.
So the heroine of the story   enters .  "I will fix this" she said   and  takes it upon her self to  ring the wicked witch of the west  late one friday night and threatens her PI licence if she does not change the name  of the trust which she and others had legally incorporated . ( blackmail in most peoples books )  The witch is not a push over   so our heroine sends some   emails to  drive her threats home .
The  witch   using her magic powers locates our heroines  home  and on arriving there on her japanese power driven  broom stick  is confronted by   two  children  who say " mummy is not home'   and calls daddy.   Daddy  sees  to it that the police serve a trespass notice  on the witch , last thing you want is to   intimidate some one and them have them call at your house to see if they can resolve the problem.
Next step is a lawyers letter .. Lawyers letters don't need to be factual , they  just have to threaten in a nice way  , leaving no options and the best thing is to get a lawyer who  does not check what he is signing so  the letter is put in front of Davis Neutze of Brookfields .
The  letter is  sent  by the lawyers  who claim to represent  the fictional organisation which cannot legally    contract to a lawyer , they effectively  claim that the trust formed in march 2000  made  the application for law enforcement powers  in 1999 . they   go   totally  off on  a tangent  about  AWINZ being a charity , the reality  is that  it was not a charity , it was not a trust  it was  a name  that Neil Wells used when he    took on the law enforcement role using the staff of waitakere city council .  He establishing a bogus Trust for personal profit.  As the UN call it   public office for private gain
But who cares  this Is NZ the land of opportunity and   the magic of being a barrister means that one can do what ever they like as they are trusted and believed  and no one must never say anything   bad  let alone the truth  .If you do  then you will be crucified in court..  yes that  is what happened to the  the witch and  years  later they are still trying to tie her to a dunking chair.. hard to  believe that this is  2018
The fact that Wyn Hoadley and Neil Wells   did not have a trust deed , nor any other documents which could show that they  were  trustees  was beside the point.. the fact that they were barristers   made it all leggit . A law degree makes people honest    Yeh!!!!!
So the  humble law clerk  dashes out and in August 2006  becomes a barrister too (She got a practicing certificate to be a barrister )    and prepares the statement of claim  which will force the  witch of the west to  give up the name so that  the two barristers  can  perform their magic and   make the problem  and the lies  Vanish
David Neutze signs the letter  he doesn't even notice that the trust deed he refers to is not there  , had he seen the trust deed he may have asked questions  like why is Wyn Hoadleys name not on it  and how and when did she  become a   trustee (   Not by any legal process we can assure you .. pure magic .. poof one minute she is not on the trust the next   she is the chair woman )
This was not the only magic    the trust deed which was missing in 2000 see page 6 bottom , has miraculously  reappeared , been renumbered  to eliminate the clause referred to   and now has two versions   one  sent to the witch the other  to MPI .  MPI didn't even notice that there were lots of pages on their one not signed.. but why should that matter  .. don't want to look too close do we  its just a bit of paper that ticks the box  after all .
The real magic had been concealed as the people who  allegedly signed the  deed  had never met , never passed a resolution   and never held funds. AWINZ was a total fiction .
We were told that our heroine prepared the  statement of claim  which  was a wonderful piece of fiction
The first plaintiffs are the current trustees of The Animal Welfare Institute of New Zealand,
('AWINZ 2000), an unincorporated charitable trust which was formed pursuant to a trust
deed executed on 1 March 2000.
the reality of the trust is recorded by Maf   by 2008 the trust had met three times   2004  2006  twice.  By its own terms the trust  ceased to exist in 2003  when no  trustees were reappointed .  Hoadley had become  a " trustee on  10 may  when the deed was missing , by a clause that does not exist in the copy of the deed  and by no visible legal means , the  audit report records AWINZ has not been incorporated under the Charitable Trust Act 1957, as was originally expected . The lies in the application  Have been totally  condoned by MPI .
In November 1999, the second plaintiff wrote to the Minister of Agriculture advising that he
was seeking approval for AWINZ 2000, which was at that time not yet formally constituted
by way of trust deed,
this from the application audit report

Question  which  statement is false  the SOC, the  application  or perhaps BOTH
The third defendant is a trust formed pursuant to a trust deed executed in 2006 and
incorporated pursuant to the Charitable Trusts Act 1 957 on 27 April 2006.
Note that this was formed before Wyn Hoadley  came on board with Neil Wells, they also had this letter from the registrar of trusts  lawyer 
Everything was twisted and contorted   we had set up a website   to  advertise the fact that AWINZ  was not  legitimate. It was using  waitakere city council dog control officers to collect revenue for its Boss Neil Wells .
He had re branded the building to be  confusingly similar to   the fictional AWINZ 
Now  12 years  later  and  with Neil Wells dead  , our herone  is still at it  she decided to go after the witches  PI licence, because  she thought it gave the  witch powers of magic  like being able to find people .  She   ensured that  there was no point in the witch appealing the decision of the person  posing as the pspla( he was not a lawyer as required ) and his misguided belief   that the witch was a conspiracy theorist and  therefore should not be   an investigator .
Vivienne's own words  in the complaint to the  Pspla  show that her aim was to discredit the  witch   the  new PSPLA  decided to have a hearing in Wellington before  she even considering  all the submissions  submissions   this is my response response to complaint_and the witches  submissions in response 
It is of note that  every time   our heroine contacted the witch  she  has made a threat   against the  witches professional licence, now that she has  have given up my licence she is  taking the witch  to court . for defamation . what does this woman want !!!! she doesn't want to settle she doesn't want to say  what  has been said that is wrong .But you guessed it she wants $$$$$$ about $30,0000   worth  $20,000  as compensation   ..  for what ?    because the  truth hurts .
She has proved  that you do need defamation papers to put in front of Google to have your name removed  from the web https://www.lumendatabase.org/notices/16567636
Is this how the court is  going to  be  used in New Zealand ? is this  going to be condoned  by our judges..      I will keep you posted
So there you have it folked if the truth hurts and you want to remove it from  Google  you need to take defamation  action   and you can continue to ensure that  the bad spot light   fixes on  others  while you  conceal the truth about yourself .
mean  while we  continue to  live in the perception
don't be fooled   The reality is no fairy  tale
 Last year a number of news items  were prominent with regards to  the issues of dairy farming  and the effect on  waterways   see here   here   here and here 
Put simply, more cows have meant more nutrient and pathogen pollution of waterways. Across the whole country, the number of dairy cows increased by over two million between 1992 and 2011 – an 86 percent expansion. During the same period, average dairy herd size in New Zealand more than doubled from 169 to 386.
Now it occurs to me that   Mycoplasma Bovis  appears to be a blessing for  the greenies or is it simply just a convenient way to   reduce  cattle numbers ?  I have first hand evidence  of how  MPI can be manipulated and how  facts are irrelevant   to them.
Bryce Edwards  published a  great little article yesterday Political Roundup: The M. Bovis debacle deserves more debate. His opening statement  totally echos my experience with MPI
What has emerged from the debate over the Mycoplasma Bovis saga is that New Zealand appears to have been let down by authorities – especially politicians and senior government bureaucrats who have mismanaged the country's biosecurity, leaving farming in turmoil, and the taxpayer picking up most of the tab for their negligence.
I had cause to speak to a bovine vet the other day  and  he  confirmed that the tests of mycoplasma bovis  are  not particularly reliable,so a whole herd is put down because one cow tested positive, this could  have been a false positive  but who cares  lets put the whole herd down  at a time when Gypsy day is seeing  other herds migrate freely from one area to another .  Guess that fits with the agenda of culling as many   cattle as possible .
It has made me realise that the  characters in the old  TV series gliding on  are still alive and well  and working  at MPI ,  they may of course have taken the precaution to drink their tea and coffee  black .
My own experience with the incompetence of MPI  ( then MAF)goes back 12 years .
I questioned serious corruption which had allowed a person closely associated  with  key players in  MPI   to  write legislation for their own business plan , advise on it  as " independent  advisor" to the select committee and while MPI knew this person was severely conflicted they stood by and allowed him to  provide comment on caucus  papers which saw the government approve an application for coercive law enforcement powers to a non existent organisation  based on a fraudulent application.
MAF/ MPI are fully aware of it  and have refused to undertake  an investigation, my own opinion for this  is that the lawyer who provided a crown law opinion  was Peter McCarthy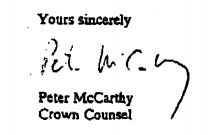 who gave a detailed legal opinion but didn't  even think about checking if the application he was commenting on was legitimately made and that AWINZ existed  .
As a whistleblower on the AWINZ matter I was crucified , the first thing MPI did was  to  attempt to prosecute me for  passing myself off  as a MAF officer, their evidence was so thin that  they resolved to warn me  despite the fact that  there should not have been an investigation  in the first place  . This was tied up with another substantial fraud  see Boss invents accountant to escape $60k debt – NZ Herald and Charges over alleged fake liquidator – NZ Herald
That was the  very first attempt to discredit me,   and   to   properly conceal the matter Peter Mc Carthy  was made chief legal officer  of MPI 
Despite  untold complaints to government , ombudsmen , state services commission , police ,SFO and untold ministers  this issue has been totally concealed while I   was refused a renewal of my  private investigators licence   and was labeled a " conspiracy theorist "
This has been  total bullying an  white washing of a criminal act .
Wells was able to  negotiate with  MPI to withhold information from me  so that  the complaints to the  law society etc  could be dealt with  without the inconvenience of facts  getting in the way also see here   and here .This crucial document was the audit report which totally expose AWINZ as a sham  but even despite their own findings  nothing was done but  AWINZ conveniently  stopped being an approved organisation  when the super city was formed.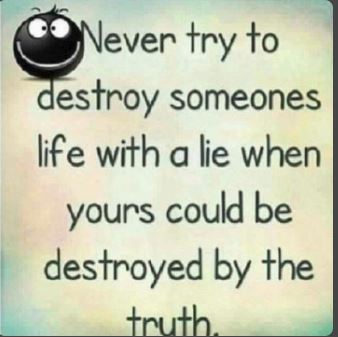 Below  is the  email received from  Vivienne Holm  with regards to the post Open letter to Vivienne Holm Policy analyst for land information NZ .. concealment of corruption
I   have published the message in full with  my response   I have also updated the    earlier  posts to   reflect  Holms views
the questions which I have  and would like to see an answer to are
1. Why did  Two Barristers  approach a  resource management  Law clerk   who was working for brookfields  from home for legal advice ?
see  Hoadley decision  " Mrs Hoadley on behalf of AWINZ instructed Brookfields as a source of independent legal advice."
see Hoadley response " AWINZ Trustees resolved to seek legal advice and assistance from Brookfields Barristers and Solicitors."
Nick Wright  in his response narrative of facts  states " Initial contact was made by Mr Wells to Ms Vivienne Parre (who was at that time married to Mr Wright). Ms Parre was employed at Brookfields at the   time, and the instruction in turn came to Brookfields."
Vivienne Holm Told the law society investigator that she was a law clerk  see copy of ltr 11 May to Holm with file notes of conversation SAQ and Holm 18 May 2011 
The law society in their decision on Holm 4192 completed decision Vivienne Holm state
6] In 2006 Vivienne Holm worked at Brookfields as a law clerk. She did not have a practising certificate until 15 August 2006 when she became an employed solicitor at that firm. At that time she was married to Mr Nick Wright, about whom Mrs Haden has also complained, and came into contact with Mrs Haden because she knew Neil Wells.
next question
2.   In her   complaint  to the  Private security Licencing authority Holm  claims "First, I held a practising certificate throughout 2006 as confirmed in the   email from the NZLS attached  annexure H.
I enquired with the law society  and was told that they did not have the records as the records in 2006 were  held by a different  society which   folded when the new legislation came in .( 2008)
I stand by my Enquiries at the time and the  findings that the law society came to, ie that you  were a law clerk and did not hold a practicing certificate until august   I cant see what the big deal is   other than   that you  too can see that there is no logic in two barristers instructing a law clerk.  the email  copy which you sent is not evidence  , it is hearsay and therefore rejected .
3. my contact with you was in 2006 when you phoned me and intimidated me and attempted to blackmail me by making threats against my private investigators licence if we did not change the name of out legally incorporated trust

Why do you  consider this defamatory when the evidence speaks for itself .
see  emails from vivienne parre
Note Vivienne has been  married a number of times her names have been  Parre   Holm and  Wright
4.  in the emails  mentioned above  you say " I simply wish to alert you to the fact that in my view your registration of the name "AWINZ" and your website are illegal."  what is the basis for this ? we proved through registration  and  our website clearly proved that we had incorporated to prove that the   AWINZ with   law enforcement authority did not exist , this  was of major public interest.
evidence was sent to  you  from the registrar of companies  see here 
So how is it illegal to  prove that something  which  plays such a pivotal role in society is a fraud  and why did you go all out and sustain an attack on me   for a further 12 years to keep this  fraud concealed
5.  you contacted me via netsafe   to  support a complaint under the harmful digital communications act with  regards to a post on transparency  in 2011  which predates the  act .  If there was  anything   incorrect with this  why not simply communicate with  us and seek a correction .Why did it take till 2016  for you to contact me again
Next contact almost exactly a year later
6. in december 2017  you  again contacted me    again you made threats against my  PI licence , why  make threats   when  if something had been lost in interpretation with net safe and myself  it  could have been  resolved with simple non threatening  communications, each time  you come at me in the most aggressive manner . Every contact contains a threat of one sort  or another .
Despite a most civil response and  the promise to provide clarification   you  made a complaint to the private security licencing authority alleging  very serious  wrong doing   for which you did not provide any evidence .
You even tried to imply something sinister in my   arrival at your house in 2006 when I attempted to seek resolution as a result of your threats
7. you state "I note that I gave you a letter from the New Zealand Law Society rebutting your claims about me weeks ago. "  I do not recall getting such a letter   are you referring to annexure H  ? if not please send  me the letter you are referring to  happy  to look at it and publish it
Now   you are threatening  defamation  again  , and no, I don't know  that you are suing me , I do not assume such things . I have repeatedly asked you to point out what you think is defamatory  and you will not tell me. Resolution apparently not high o n your list as you know you will have to eat humble pie   . as I have said its never too late to apologize
May I remind you   that  defamation is a two edged sword  and at this stage it appears that I have the  evidence  that you have been defaming  and blackmailing me To tell someone to change the name of a legally formed trust  or risk losing their  professional licence is black mail I have the evidence that I have been speaking the truth .
The fact which matters is that AWINZ   the  approved organization  was not the  same as the trust which  you  claim you were instructed by.
Please Vivienne  You are a policy analyst it defies belief that you don't know about  identity 101
an unincorporated trust   which  does not have a trust deed, trustees  or assets   cannot make an application for  law enforcement powers
Neil Wells  did not have a trust deed  in  March 2000  to give the minister a copy, this was  two weeks after  two copies had allegedly been signed
Why was Wells claiming that AWINZ  existed in 1998 , if it existed   it could have  incorporated 10 times over , but he was using  his position as  advisor to the select committee  to feel every one so that he could make a fraudulent application   to  the minister.
It is this fraud that you have strived so hard to cover up ,  I can prove it and I welcome your defamation action to prove  the truth. the reality is  that  due diligence  would have prevented  12 years of hell for me.
Last time you initiated definition proceedings  with your then husband  Nick   never proved the content of the statement of  claim,  it is full of lies and seriously misleads the court , you   had my defence of truth and honest opinion  struck out  so that   you could  win.
I call that dirty law   it is against the  rule of law and only unethical  lawyers  act in that way, the law society investigated but because this transition  over the implementation of new legislation  you  got out of it  this is the decision for nick wright decision
It is of note that Nick Wright wright response narrative of facts wrote on a letter head for a fictional company  a undefined trading name  something which cannot enter into a contract  and after he had  been a committed patient   which  appeared to escape the law societies notice   as to his suitability  to  hold a practicing certificate..   it gets better all the time see] WRIGHT v ATTORNEY-GENERAL (NEW ZEALAND POLICE) [2017] NZHC 2865 [22 November 2017]
as a subtle reminder    as  the lawyer you are  obliged to   comply with  section 4 of the lawyers and conveyancers act 
(a) the obligation to uphold the rule of law and to facilitate the administration of justice in New Zealand:
(d)the obligation to protect, subject to his or her overriding duties as an officer of the High Court and to his or her duties under any enactment, the interests of his or her clients.
Any way  your email in response  to the post is below  and my response  back to  you to which you replied "Thanks for the response Grace, that's fine."
From: Grace Haden <grace@verisure.co.nz>
Sent: Sunday, 18 March 2018 5:09 p.m.
To: 'Vivienne Holm' <karen161970@hotmail.com>
Subject: RE: Open letter to Vivienne Holm Policy analyst for land information NZ .. concealment of corruption
Thank you Vivienne
No  I will not accept service   email
I am happy   to   make any corrections  and will  update the posts using your emails  as reference.
I am happy to resolve anything  but  I suspect you are looking for a fight .
The reality is that I checked with the  law society and I have  been told by them that they do not have the records  for   2006 as this was a different society
You  escaped  the wrath of the law society because the act changed in 2008
I am happy to  put an Asterix and   a foot note to the posts to clarify  your view  and  the evidence which I obtained at the time and the findings of the  law society
I cannot understand why you think  that a simple letter can  over turn the findings of the law society   committee , and you call me unhinged !!!!
I  will welcome   your defamation proceedings     it will once and  for all blow the lid on AWINZ .
It is simply beyond me that a policy analyst cannot discern what a trust is  or what a lie to the minister is
You have concealed corruption    you know that you have to attack me  because you are so scared of your own neck
This is nothing more than vexatious  you have built up to this over the years probably because you see this way of getting some  money  due to all your pro bono   mindless work.
Sit down  Vivienne and have a very good hard think about the reality of   AWINZ  the law enforcement authority   which  the  trust deed 1.3.2000  which had not been seen prior to  2006  concealed
Also check out the  lies that Neil wells  told the minister   and ask yourself why you never questioned how wyn Hoadley became a trustee of a trust which  was missing a deed  had no assets and  had never met prior to 10 may 2010
Why would two barristers instruct a law clerk working from home   and why did you tell Sally Quigley that you were a law clerk.

Open some of the evidence on the site   Vivienne   look at it    do your job  you have been  covering up for a fictional organisation  by   consistently attacking me .
Your credibility would   be enhanced if you  looked at the things which  simply do not stack up and say .. oops sorry
I will have no reason to  blog about you and AWINZ once the attacks on me stop.
I have the evidence   , I will be asking for security for costs and I will get a top lawyer    so  be prepared .
Will put this up on transparency  tomorrow. In the interest of transparency
Its never too late to apologise , this can be resolved amicably   you just need to stop attacking me
happy to sit down with a mediator if   you pay
Regards
Grace Haden
Vivienne  You could have made a massive difference to  many lives by  asking questions in 2006 , instead I felt bullied by you  when you  concealed the corruption that was AWINZ.
AWINZ  was not   just any old organisation  there were only two private law enforcement organisations in New Zealand , AWINZ was one of them ( RNZSPCA the other )   AWINZ did not exist  you covered it up  and  12 years latter are still on the attack . I have had enough.
The purpose of this open letter is to get  some  issues into the open , you are a policy analyst employed by the  government directly  as a contractor  and  apparently as an employee For LINZ.
You are reportedly a lobbyist  and as such I see the  connection between  you and Wells .

see Lifting the lid on lobbying in politics ..When lobbyists are handed control
As such it is in the public interest that you  act  with integrity and  that your actions are exposed .
As to integrity  it is my   professional opinion is that your  does not reach the threshold for a public servant  It is my considered opinion that a person with integrity would not seek to  damage some ones reputation  so that  corruption could be  concealed.
I am no longer a private Investigator , you are very much the reason for this, by  giving up  my career I am free from the constraints of the Private security Licencing authority ( PSPLA)which I believe you and your associates have been stirring up for years  in an attempt to discredit me . You say so  yourself in the complaint to the pspla COMPLAINT DATED 23 JANUARY 2018
Your  complaint in January   was in my opinion  totally  malicious and vexatious  yet I was  supposed  to travel to Wellington  the following week  so that you   could have a go at me in person  at a " disciplinary "  hearing.  presumably for the  defamation claim     you were setting me up for.
You have also   alleged that you are preparing  a defamation prosecution  but refuse to say how I have defamed you  or given an opportunity  to  make a correction  .I stand by everything I say as truth and Honest opinion .
In short your  actions  with  the PSPLA  appears to me to  have been  for no other reason that to bully and intimidate me .
I have never met you Vivienne  but for the past 12 years you have been beavering away in the  background to conceal serious government corruption . I suspect the link  with Neil Wells was that you   both advised on Policy and there appear secrets which need to be  kept , Like   protecting corruption rather than exposing it .
Last year I suspected  that Neil Wells was  the  corrupt barrister   who  is mentioned in this  decision for ripping off his client and then charging 7 grand to find the  money he  took , perhaps that unsettled you  because you   had gone all out to defend him  and  spent years with your former husband persecuting me, taking me to court for defamation when I was speaking the truth   but  by denying me  the  right  to a fair trial and a defence   you influenced the court and  a most defamatory judgement of me  emerged when the  judge believed the spin  the lies and  misinformation Nick Wright  put to the  court.
The  resulting Judgement has served you well     and has been rolled out by you and your mates for 12 years to create a false impression  that I am a nasty person, and you are the one who complains of defamation !  You have done everything you can    they should not believe my allegations of corruption.  It has worked so  far but then you  thought I would have given up by now , No I have not .  with the spotlight on  rape  or sexual violation    you will be next    this is  like being abused for 12 years   .
I suspect that  in fearing  that the tide was turning, you  made a complaint  against My Private Investigators licence , it was malicious vexatious  and as a result I have  given up  my licence as  it was obviously the draw card for your ongoing  attacks  by those I suspect that you have encouraged to  make complaints against me. Free from the PSPLA   I  have eliminated that  avenue for harassment .
You  first approached me at  9.45 Pm on Friday 2nd june  2006  you rang my home number   and told me  to change the name of the  legal trust which I was a trustee of  or you would make certain I would lose My Private investigator licence  , you followed this up   with  an email at 11 pm making  similar threats .
You were working from your home as a law clerk  at the time for Brookfields  which your then Husband Nick Wright was a partner  of  .
You now falsely  claim that you had a practicing certificate  but the law society  investigations  Here  and the decision here  prove  otherwise .
there is evidence that  you  lied to the  PSPLA when you said "I was not working as a law clerk in 2006.I was a lawyer. I had been a lawyer for about ten years, since late 1996." this    reflects on your level of  integrity

One  has to wonder  why Neil Wells a Barrister  and Wyn Hoadley  a barrister  would instruct a resource management law clerk working from home on an alleged defamation matter  and why she is now rewriting the past about her   status as a law clerk. !
The trust which I was a  trustee of was the Animal welfare institute of New Zealand  now called the  ANIMAL OWNERS SUPPORT TRUST, we had incorporated it to prove conclusively  that no other  legal entity existed by that name. The purpose of this was to support our suspicions that   the Approved Organisation  by the same name was a fraud.  see here Lifting the lid on lobbying in politics ..When lobbyists are handed control
You and Nick Wright contorted that to be something quite sinister alleging  that we were  competitors trading on the name and seeking to deprive   Wells of donations .  You had the ability to twist facts then   that skill you apparently have retained .
This post has been amended to remove the honest opinion of the writer at the time,  the writer now believes that  Vivienne Holm is helping to expose this corruption by giving her an opportunity  to  call all witnesses to court to address the defamation claim brought By Holm  . We are grateful for this opportunity and  apologize for the harsh words we used when  we  were pushed into a situation of  having defamation threats  made against us while having to  go to Wellington to be cross examined by the person making litigation threats. Documents in support as attached   .submissions in response and emails coa
Vivienne  Holm claims that "There was nothing unusually in my phone call or emails to Mrs Haden. In fact, forewarning people that you are about to take action against them unless is the ethical thing to do"  Really!  at 9.45 pm at night   when   this is what  the law society reported in their finding 

So why  not simply hang up  when I answered or say  sorry wrong number  but you went on to intimidate  and followed it up with threatening  emails  at 11 pm on Friday night!  You  used the names Vivienne Parre and Vivienne Wight at the time  you now use  Vivienne Holm and the email address karen161970@hotmail.com which I presume is  your middle name and date of birth ( not very clever )
You  never took any notice of  the letter  which the   registrar sent you in reply to  your complaint  see here 
You may not be aware of the significance of this  but when Neil Wells wrote the legislation for the animal welfare act he did so to facilitate his own business plan
AWINZ did not exist  despite the fact that Neil Wells had talked about it since  at least 1998 , Tom Didovich  was  working on this fraud with him  and paid for  the recruitment of trustees from council funds invoice-re-trustees  see also this file
In his application for coercive law enforcement powers on behalf of AWINZ   Neil Wells wrote on 22  november 1999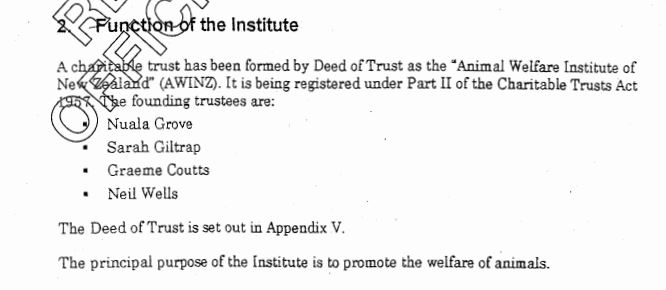 Now apparently, according to  you ,   I am a person of limited intelligence so I am asking you as a Policy analyst what   you think  a "charitable trust has been formed by way of trust deed " means ?
I think that it means that a trust exists, don't you ?  well  it might surprise you that when Neil Wells  made this application   it was three months  before the date   of the trust deed  he produced in 2006. The deed was "missing "until  june 2006 when miraculously there were two  ( but they were not the same )
Perhaps you can explain the legalities of a   group of people  applying for law enforcement powers through a trust which  does not exist and  does not have a deed,
How did the  trustees   pass a resolution  to  apply for   law enforcement powers ?
how  does the law of contracts apply in this instance  what liability would  there be  for the individuals in running such an organisation ..   NONE cause they were not involved
why did wells have to explain to these same trustees in 200  what being an approved organisation  meant, surely they would have known they  allegedly ran one for   6 years .. or did they ?
In correspondence to the minister   Neil Wells wrote in 2000.

A person such  as myself who according to your slanderous comment  has   " limited intellectual capabilities"  this means  that
there is a trust deed
it has a clause 20 (a)  see the trust deed he produced   it only goes to 19   there is no 20  or 20 (a)
there is only one copy( because if there had been two he could have sent a copy of the other one )
It is  not available because the original has been sent  for registration .(  he knowe that only copies were sent  he lied )
The reality is that Neil Wells  deliberately lied to the minister  not one of those statements is true .
Wells knew how to incorporate a trust and there by  become a body corporate   ( for your information that is the process by which it becomes a legal person  in its own right and has existence  apart from the trustees )  Wells had incorporated two  just months earlier  ARK ANGEL TRUST BOARD  and NATIONAL ANIMAL WELFARE TRUST BOARD
He knew that only copies  of the deed  were sent  and  in 2006  we had not only one trust deed we had two.. but wait for it they were  different  version 1  and version 2 
Version 2 was sent  to MAF  , the  front page and the signature pages are original and the middle  pages have been switched out.. Do policy  analysts  care about that, is that acceptable ? do you condone  that ?   are you fit to be a policy analyst ?Are you safe in a public role ?
All these things have been pointed out to you and Nick Wright over the  years but you and him  continued your vexatious attacks on me.
Have you not read section  4 of the lawyers and conveyancers act .. your duty is to the  rule of law   you were  an officer of the court , but you have stayed out of things  so that it would not reflect on your practicing certificate  you  are cunning .
You prepared the statement of claim  and Nick Wright  your ex husband another resource management lawyer took the matter to court  the intention was to get me to shut up and to change the name of our trust so that Neil Wells could cover up, it did not work   I wont be bullied
In my book that is using the law for an improper purpose . The law  society did not deal with you because it all happened in 2006  when the old legal practitioner legislation was still in place see the decision here Holm Decision 
It obviously became too much for Nick when he  became a committed patient  but despite this he continued to practice  law until  june 2011 when he was still acting past that date  despite not having a practicing certificate 

Nick  has now left law , I was particularly taken  with  the poem he read on his face book page  about the  wheels of sharp weapons returning.. so true
Getting back to you and your complaint   I fully addressed this with the private security Licensing authority  , But no matter what I  said the matter was set down for a " disciplinary hearing " even before  you had served papers on me   MY response   is here 
When ever you submit  more  information you introduce more  misinformation and childish action   as can be seen in your  Vivienne Holm submissions in reply
On the one hand you are complaining that I was inaccurate,   for the  first time since 2011  you allege that there is an  issue, then when I  correct it for  you, you    scream to the PSPLA  .. "she has changed it  she is disobeying  the pspla."
For the record the PSPLA had no authority over me and my blogs they are not part of my private investigators business, In reality there is no difference to  the situation with Wyn Hoadley   see the decision re her  Hoadley decision  and her response Hoadley response
I have no legal  obligation to the PSPLA with regards to my actions  for companies which were not under my PI licence .
You are  right  not to  respond to   my  submissions, to do so would  cause you to put your foot in it further .
If you think I am defaming you   tell me   how and where      , too may of the complaints to the PSPLA  are too similar  you have been  there all along  ensuring that I am never out of court.   How childish can you get  for  the allegations about me speaking to your kids    They came to the door  in 2006  I asked for their mother..  you even managed to make that sound like  the crime of the century .
Not long after I  had an anonymous complaint  to the PPLA from Suzie Dawson  who coincidentally  claimed I had used  those same frightful words when her daughter answered the phone .. Have I been set up or what Suzie Dawson a blast from the past may she fare well in Russia
I will not give up until You are  convicted     as a lawyer  your obligation was to the rule of law  you  have been a lawyer off an on since   since 1996  you cannot plead ignorance  and I have every reason to believe  that  you have   coordinated the attacks on  me  to discredit me
It all started with the   Statement of claim which you  and your then husband Nick Wright  filed   for the  fictional AWINZ
The very first  paragraph to the court   is a lie   and the lies  just get better as they go along, there was no need to prove any of this   Nick just stood there  and lied  i was denied a defence  and that is called JUSTICE !
You did not check to see if AWINZ existed  You had evidence that we had legitimate  trust  had body corporate status  but you  gave the fictional AWINZ life by calling it  AWINZ 2000, in terms of corruption  you take the cake
Neil Wells  conspired with  MAF to ensure that information was withheld  until after the  court proceedings were concluded, he was then advised that the information was being released  this  vital evidence included the audit report  which  proved that AWNZ was a sham .

This  was later  confirmed by Neil Wells to the law society  with this letter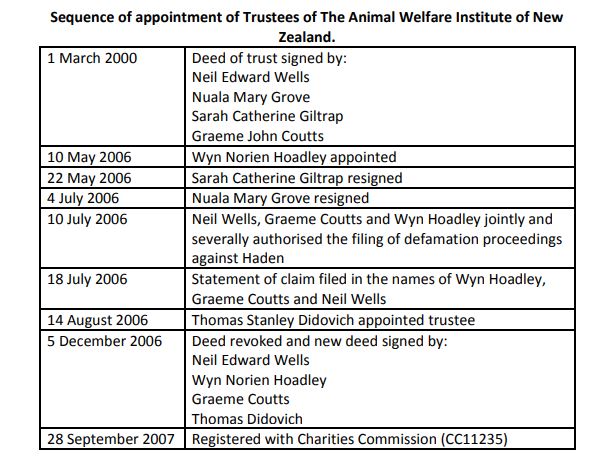 What is missing is that  the application for  approved status under the legislation which Wells had written  and advised on , was made  by AWINZ  on 22 November 1999.  so how could  trustees who have not formed a trust make such an application  ?
Quite clearly that application was not made by these trustees  only Wells signature was on the  application . AWINZ was treated by MAF and crown law to be a legal entity  in its own right . as you can see the  signatory of this crown law  opinion is none other than the solicitor for MPI  Peter Mc Carthy
the trust deed   which first  saw daylight  in 2006 after being reported missing at an alleged meeting  on  10 May  states  that the trustees  required to be reappointed after three years
the  alleged trustees of this  2000 trust did not  hold assets ,, no bank account existed until 2005    and no  meeting had occured  since it inception despite requiring to have four meetings per year . Perhaps you  can tell me how this fits in with a legitimate trust ?
Wyn Hoadley in her response to the law society Hoadley response  states " I had been approached several years prior to this by Mr Neil Wells regarding my possible involvement with AWINZ."  this again proves that AWINZ was nothing more than Neil Wells , how can one person  make such decisions without the other trustees in a properly run trust ?
Wyn Hoadley goes on to say 

So this  woman   who is supposedly a Barrister  seeks legal advice from a  resource management  law clerk working from HOME ! Yes they did expect it to be resolved  quickly because the tool of resolution was intimidation  your specialty
Wyn Hoadley also  falsely claims that  AWINZ  resolved to seek  professional legal advice .. so where is the resolution   it is not in the   minutes!  
Wyn  was also not appointed by any legal  method   she was appointed??? under a section which does not appear in the trust deed   and at a time the deed was missing.. so what was she   binding herself into ????  would you become a trustee of a trust when you don't know what the terms are ????   it simply defies belief.  These people are lawyers  !!!!!! or should I say Liars
By writing this open letter I will give you the opportunity to  address the   malicious attack on me  which you state in  paragraphs 22 and 23  of your complaint , ie  to  take away  any credibility my PI licence could  give.
The good news   is that  a PI licence doesn't give any credibility , take  Translegal   and its  director  Gary Swan for example they  have a PI licence   yet  swear affidavits of service for fictional document services , that is something  which is apparently condoned .see this  and these Translegal document server jailed .      Translegal services NZ ltd contracts criminals to serve documents.
Nor  does my PI licence give me any powers, the ability to find addresses,attention to detail   and ability to  find  information  is a skill I have,   a skill which apparently you  lack despite  you claiming that I have " limited Intellectual capabilities " the skill you have is in my opinion  in being a corrupt  former lawyer  specialising in intimidation  and  discrediting  people to  win at any cost.
I will be happy to publish any comment you wish to make    By not replying  within 5 days you are  confirming to the accuracy of this post
Historical references  https://bsa.govt.nz/decisions/3122-parre-and-canwest-radioworks-ltd-2005-016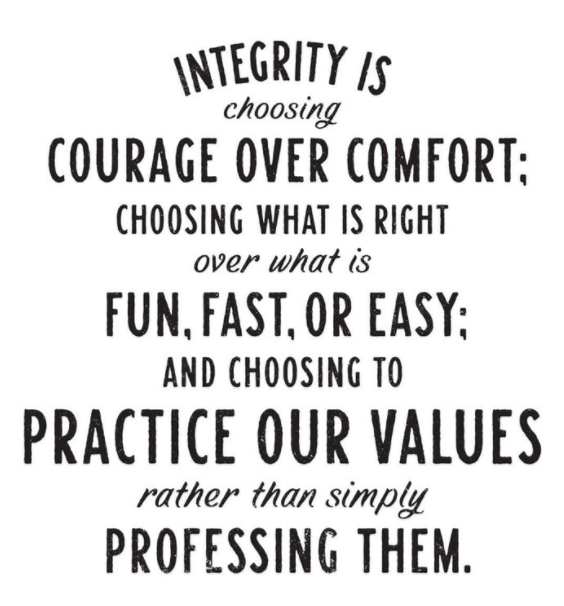 Further open letter to David Mc Neill  Corruption , Whistleblowers  and Transparency
David,
Since responding to your reply  to  my first open letter  a number of people have approached me and  have asked me to put questions to   you as a director of transparency  International .
Could you  any  one else from Transparency International NZ please respond  with your observations
You state" I can certainly see great misdeeds have occurred." and then you  ask  "If Neil Wells is so horribly corrupt, who is he exploiting now?"
These statements indicate to me that  you  and Transparency International New Zealand may have missed the point on this entire issue.
it is not about me , it is not about Neil Wells
   it is about corruption in our public sector , how it is concealed  and  about our ministers in ability to act responsibly when  issues of corruption are brought to their attention   .
Unfortunately  Transparency International New Zealand claims that we have the least corrupt  Public service in the world , if this was the case I would  still expect to  find corruption   but I would  expect that there were  policies and  methods  in place throughout  the  public sector which would ensure integrity   and  systems of accountability .
Jose Ugay  , your international president used an equation  which I have been fond of
Corruption = monopoly + discretion – accountability .
If you were to apply this to our public sector  you would  quickly find that   accountability  is  almost totally absent and discretion being  the use of the  unreasonable complainant conduct manual  , totally out of hand
I have actually come across  items where it stated  that  due to the relatively  corruption free environment  such policies are not required .This was all driven by the fact that New Zealand was perceived to be  the least corrupt .
Of the 2013 Integrity report  ,which I believe Susan Snively was paid for  for  compiling,   she said
Our report finds that the mechanisms that support a high integrity and high trust society, and that facilitate social and economic development, remain generally robust but are coming under increasing stress. There has been complacency in the face of increased risks".
It was not  coincidence that TINZ was at the time   funded by  the very organisations on whose behalf the report was being written.  see here  To me this appears to be a conflict of interest  which in itself is corrupt .
Now if  TINZ  had taken the trouble to  listen to the  issues which I and other  whistleblowers  had raised  rather than treating us as a villains then  the person  conducting the integrity review could have included some very valid points. But then    the results would not have  been so glowing .
In an impartial and thorough  evaluation of integrity in the public service an  important aspect would be   to monitor  public service deals with complaints, this can be done by listening to  whistleblowers and evaluating their  experience based on the evidence  that  they have to support their claim  .
The reality is that the public sector does not know  what  investigation is . As a result they investigate the persons  and not the issue. 
It appears to me , on what I have seen and experienced ,that the public service definition of investigation is about speaking to the persons involved and  short cutting the process by accepting what they are told by their trusted colleague , evidence  plays almost no part and assumptions , preconceived ideas and  perception of integrity of persons  are  what is accepted and  considered. Of course if they want to get rid of  the person involved then   any complaint will do .
The person "investigating" and coming to an adverse  conclusion could of course be  implicating his /her work mates and in a way the investigator  becomes the whistleblower  and become  unpopular at work  .
So what does the public sector do they turn to   manuals , so they go to the " Good administration guides" published by   your gold  partner   the ombudsman's office .
There  a number of documents are available including Good decision making 10 pages Effective complaint handling 23 pages   and Managing unreasonable
complainant conduct  138 Pages Yes that's  right there is no manual on how to investigate
What do you think the "Go to" resource  will  be , which one   allows them to  get the head ache off the desk  and Write off the matter ?.. yes that's it  "the  unreasonable complaint manual"   its the thickest and  was copied from Australia minus the  essential resource  "Unreasonable Complainant Conduct Model Policy"  .
In NZ  and our manual  simply refers  the user to locate the  model policy on  the Australian web site. This essential  part of the  document which is missing in NZ  stipulates that  each organisation  should rely   on their organisations own policies for  unreasonable complainants.
So with that part missing  so are the policies in our  public sector  and there is no go to person to decide who can make the call  on unreasonable complainants and   how they are defined.
While I accept that there are fruit loops out there  at all times it could be the complaint and not he complainant who is evaluated.  and if a complaint is properly  and fairly  evaluated then people  don't get cross if they are shown   why their complaint comes unstuck .
But we work  in terms of economy  and its not economic to look at ll complaints  so    throw up a brick wall and  very soon you will have enough to designate the complainant as an unreasonable person.  Problem solved
The essential  Unreasonable Complainant Conduct Model Policy  which is missing in New Zealand  specifies
3. Avoiding misuses and overuses of UCC policies
Organisations also need to take steps to ensure that their UCC policies are applied cautiously and sparingly.
So this is how the " investigation  " in our public sector  is conducted
Get complaint
go to the person  allegedly accused and run it past them
accept what they say about the person making the complaint who    after consulting the   alleged perpetrator has been made out to be a troublesome person  and   go to the check list
 The manual says .."All complaints are considered on their merits".   the  perpetrator has already given a good  explanation… therefore the complaint has no merit
The manual says…"Unreasonable complainant conduct does not preclude there being a valid issue"..  well how can there be a valid issue when the   complainant  is reportedly just a nasty person  the whole thing has to be a set up and we know  the  alleged perpetrator and trust him / her
The manual says"The substance of a complaint dictates the level of resources dedicated to it, not a complainant's demands or behaviour."  Substance  has already established from our trusted colleague and  based on what he/she tells us there is  no substance
For good measure   the complainant is evaluated against the Why do some complainants behave unreasonably? page 14  and the early warning  signs UCC? page 16   and I can assure you that a genuine whistleblower  , on issues of genuine public interest  can tick  many of these boxes
So let us see how this applied to me
I had been on a trust  with Neil Wells  , I was treasurer and he was using trust resources and used the trust for his own benefit , I did not know this at the time but I was asking questions   due to the trust being  in danger of becoming insolvent  .
He removed me from the trust  by telling lies .  I  sent him a fax to his work place , Waitakere city council dog control   to express my opinion that he was the biggest bully I had ever known .
Lyn Macdonald   who worked at waitakere city council as a dog control officer  saw that I was a private Investigator  , she too had been bullied by wells and he later   got her kicked out of her job for associating with me .  she asked me to find out  who or what AWINZ was  , she had been a dog control officer for many years but was now required to prioritise  animal welfare  over her council paid duties.
I  searched for AWINZ but could  not find  any record of it existing , I did a OIA with MAF and a LGOIMA with council  I found that although both had a MOU  with  AWINZ( MOU Waitakere          MOU  MAF) neither had a copy of  a trust deed .
I obtained other documents from MAF which indicated  that  AWINZ had to be a real  or legal person .  This was 2006 and  registers were not that easily searched  so with  others we formed and  incorporated a trust called the animal welfare Institute of New Zealand .  we did not expect to  be successful  but we were, this proved  conclusively that   the entiy  which Neil wells claimed to  operate was fictional.
Here I have to explain something about names  and trusts
an unincorporated trust    can be a group of people  who are trustees in a trust which they  then give a name , the legal name for that trust is  (the names of all the persons ) as trustees in the .. trust.
An incorporated trust    can use the name of the trust and  trade  in that name without referring to the  trustees  as the  trust is registered and becomes a legal entity in its own right , our trust was incorporated ANIMAL WELFARE INSTITUTE OF NEW ZEALANDNeil Wells had  previously registered ARK ANGEL TRUST BOARD and the NATIONAL ANIMAL WELFARE TRUST BOARD both were registered in mid 1999 these  were all legal persons  in their own name .
The application. 

which Neil Wells  filed  with MAF  to obtain law enforcement  powers under the legislation  which he had  drafted and advised on  was fraudulent  it categorically stated
since the trust had not been   formed  but  was allegedly in the process  of being incorporated  the application should have been in the names of  the four people  shown  as trustees of AWINZ  and each should have  at least signed the trust deed  and  each would have to take  responsibility for their role in running a law enforcement body by signing a document  committing to that role.
The reality was that the  trust did not exist   as there was no trust deed .

Wells covers this up in a letter to the minister   In this short paragraph   he  tells the following lies 

Originals are not sent only copies he knows this because he has just incorporated  ARK ANGEL TRUST BOARD and the NATIONAL ANIMAL WELFARE TRUST BOARD
The deed are not registered with the ministry of commerce .
the trust deed  which was allegedly signed three weeks earlier   only goes to 19
Just this little bit of information should make   the investigators look more closely  but Wells was  well connected to MAF and was  known to ministers  he was even able to write caucus papers .
When I   raised concerns  with AWINZ not existing he created a trust to cover up   he selected the people wisely
Graeme Coutts  .. a non questioning JP  who worked in the office beside  Wells and beside the  RNZSPCA  his name had been on the original application .
Wyn Hoadley  QSM..    great to have someone with a queen's award they are always  reputable
Tom Didovich .. the previous manager of Dog control  who had written letters outside his field authority claiming to give approval on behalf of council  . Tom Didovich  was in this up to his neck  and went out to get the  signatures of the   alleged trustees when the deed was    missing.. probably  missing because hit had never been signed .
So  in my situation
I was  made out  by wells as some fruit loop  who  was disgruntled about her removal from a trust
Wells was a respected barrister  wrote legislation and  lots of friends in very high places
so  Maf and  Council threw up brick walls   and  I became frustrated, My marriage fell apart due to action which wells took on the side line and  also  his  desire to bankrupt me which was stated in 2007 to  Joanna Tuckwell  who was so obliging that she regularly communicated with wells with regards to my requests and complaints.
Wells took me to court for  defamation ,  his lawyers  Brookfields  did not check to see if there was a trust deed  before commencing proceedings  ,  Nick Wright a resource management lawyer  started the proceedings by having his  then wife harass me , they  then ensured that my defence of truth and honest opinion was struck out , the   fed the court  a lot of BS  and Voila  a judgement which   they could wave around to   discredit me and  use to apparently legitimise  AWINZ .
every one happy  except that Wells  kept attacking me subversively  and saw to it that  I lost my ability to earn a living   through private investigations .
when he appeared before the lawyers and conveyancer tribunal he sought name suppression as he was still fearful of being caught out  and  knew that I would use that decision for his corrupt conduct  to   have the investigation into AWINZ opened.
Had the public sector   acted with integrity  they would have left people aside and investigated the  Very simple  issue
Did  AWINZ exist …No it did not   no one had a trust deed prior to 2006    By that stage  it had  been acting as a law enforcement authority for 6 years
Was the application  for approved status  fraudulent… Yes it  was
can you see   that we have a problem ?
If we conceal corruption and give  the public sectors resources  which help  conceal corruption  then we have no corruption  .
You report  that there is integrity in the public sector  and by   refusing to look  beyond the perception  which you help create . whistleblowers  and their families have their lives destroyed .
You don't have to   support our complaints but if you are going to evaluate  integrity in the public service, then you have to ensure that   proper  and fair complaint measures are available  and that    the issues are dealt with   .
I am by no means alone , those of us who are more prone than other to speaking up  are  easily Labeled  Uncooperative complainants  because that way we remain  the least corrupt  and after all ask any economist  .. that's good for business.
so in the end the question is
are you going to look at the integrity of the public service  with regards to how they  deal with  complaints
Are you going to allow whistleblowers to  be members of transparency International New Zealand
will you monitor   the complaint making process ?
will you be impartial or is the income from your sponsors
Where is the transparency in your accounts     you have $400,000 of your 500,000   expenses written off as  other expenses .. does this include wages .. who to  how much   and  why be conflicted   when  you could be making a real difference to corruption in New Zealand instead of being part of the problem .