Our post MUSE ON ALLEN we reveal the secret to Samuel North's success. Has met with total acceptance of  Malcolm and Samuel North  but no  so of the  lawyer for Muse on Allen   .
Despite  knowing where our information came from the lawyers for the company are  making allegations  of  Contempt of court when there is no way in the world that  we have had access to the documents which were   provided for discovery.
Malcolm North on the other hand  has been freely distributing the  accounts  and then  claims that we are breaching court orders  when the documents he has provided have not been given with any privilege attached .
this post has been amended when the lawyers    made threats of defamation  because they did not like the fact that  we pointed out  that we were not in contempt of court and took issue  with  these false allegations.
The lawyer  is now putting pressure on  Jozsef to get these posts taken down. Truth and transparency   appears not to suit  them
We are  taking this action because  Jozsef is a  share holder of Muse on Allen and  they allege that he has been removed  from the register in " error' We believe that if you have made an error  and  you have identified it then you correct  the error.
the company records have been updated at lest 6 times  since  alleging that Jozsefs name  has been removed in " error'  so why is his name not back on the   register ?????
Any way  it appears that Malcolm and Samuel agree with  the posts  here is  a communication with Malcolm  and  some feed back  which    Sam has  seen fit to remove from Trip advisor
From: malcolm north [mailto:malcolm@muserestaurant.co.nz]
Sent: Thursday, 9 July 2015 6:10 p.m.
To: 'Grace Haden'
Subject: RE: CIV 2013-485-9825: Szekely v Muse on Allen Ltd

Hello Grace

Thanks for the update you haven't taken any notice of me at all about your grammar ,punctuation and spelling.
Response :Thank you Malcolm     did I mention that English is my second  language .
On 9 Jul 2015 9:19 pm, "malcolm north" <malcolm@muserestaurant.co.nz> wrote:

Thanks for that .Probably why you can't understand Szekely walked out of the Restaurant after  eleven weeks .Funny how you haven't told anyone this.
Response :Did he walk or was he pushed.  I suspect he walked just like pirate's made their victims walk the plank.   Yes its all Jozsef's  fault because he wouldn't put up with the bullying.   Bullies always blame their victims.
On 9 Jul 2015 11:01 pm, "malcolm north" <malcolm@muserestaurant.co.nz> wrote:

He walked.
Response : Yes he walked….. Straight to his lawyers   see letter here letter from lawyer 16Jan
Note: Samuel did an interview in   Concrete Playground     these are extracts show how he started Muse on Allen    the reality is reflected in the fact that   he  transferred the share holding of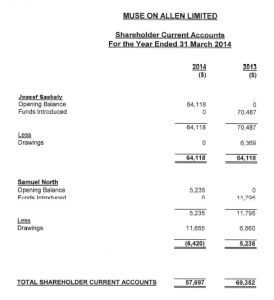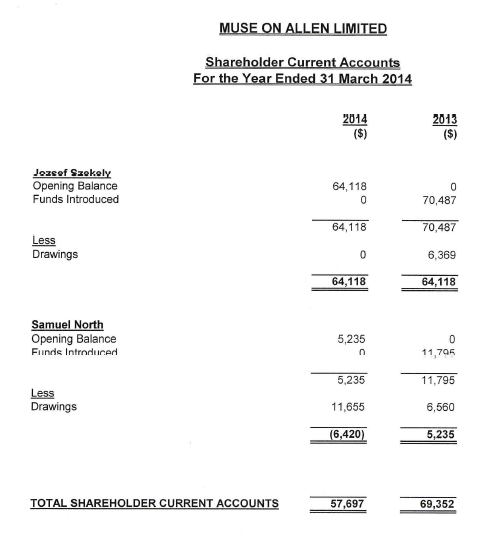 another  chef into his own name  and then  denied  Jozsef  any rights    .  The accounts  in 2014 show that there were two share holders in the accounts  although Samuel was  listed as the 100% share holder on the companies  office site .
Jozsef had $64,118   equity in the company  while  Samuel owed the company $6420     yet Samuel  went out a bought a 207 BMW SUV loaned against the company BMW
Remembering  this read the article below    and remember that Samuel is being acclaimed  as begin the youngest Chef in Wellington to OWN a restaurant .. He actually OWNS NOTHING  and OWES   it all to  Jozsef
The opening accounts  speak volumes    prizes fro those who spot the contributions by Samuel click to enlarge 
This is the real secret to opening your very own  restaurant. its called other peoples money  .
In our professional opinion  it is  fraud when you get   a person to invest in a company   they are the majority share holder  and then you  move  all their shares into the name of a person who makes a living off the company .   At the same time   the  majority  share holder is excluded  and    is sued   for   the losses incurred by  the company.
to  put the icing on the cake  the losses  include the purchase of  a  2007 BMW which the person who has no share capital in the company but  who has claimed all the shares as his own, uses as his own .
Open letter to  Craig Foss Minister of small business
Good Morning Minster
I am  approaching you in your capacity as  minster for small business and wish to bring to your attention a major flaw which I have identified in  the enforcement of the companies act with regards to small businesses.
We appear to have entered  a phase where economics  are  considered before justice  and  this  is distinctly in favour  of those who  breach the provisions of the companies act.
I am a licenced Private Investigator / Former long serving  police and  prosecuting sergeant .  Earlier this year  a young man approached  me  when  his lawyers advised him that after spending $50,000  with them  to seek justice it would take another $42,000  to  get the matter to trial and since it appeared that the company  was insolvent  there was no point in pursuing the matter .
In brief the circumstances are my client  Jozsef Gabor SZEKELY  and Samuel Raymond North are chefs, together they  purchased a  restaurant  for $90,000 they set up a company called Muse on Allen Limited and were 70/30   share holders .
Jozsef is an immigrant to New Zealand  . Samuels Father,  Malcolm North  is an Employment Broker for the ministry of  Social Development.  Malcolm  helped and supported the two boys in getting the business started   but it now appears that as far as Jozsef was concerned there as an ulterior motive, that was   to provide his son with a company financed by some one else.
Samuel gave the company key to his mother she used this  to  appointed herself as director and backdated this to the companies date of formation.
Samuel   reduced Jozsef's shares  to 49% ,  then appointed his father as director, removed Jozsef and  finally transferring  all the shares into his own name. this was all done contrary to the act and without the injection of more share capital
This occurred in January 2013   less than  6 months after the company was formed.  Jozsef immediately went to see  lawyers .  It was correctly identified as fraud  but  could not get the police to take a complaint .
The lawyers took the matter to court under section 174  of the companies act   and  Jozsef  spent most of his time  earning money to pay the  lawyers.
Malcolm   represented the company in court and even  posed as though he was counsel  this   caused  Jozsef's expenses with the lawyers to go out of hand .
The company would not  give Jozsef any of the documents which a shareholder is rightfully entitled to but they were released to  Jozsef's lawyers under confidentiality  and   copies remain in  their office  and no duplicates have been released.
When the lawyers withdrew Jozsef approached me,  I attempted to get the registrar to correct  the  on line register  based on a set of accounts which we had obtained outside the discovery process.
The registrar   however would not act as they claimed that  redress was available through the courts .
I acted as a Mc Kenzie friend for Jozsef and  supported him in representing himself in court ,the matter was   to have  been set down for a formal proof hearing  but now   the company  has engaged counsel ( instructed by the   very directors who  have  breached the companies act  in so many ways )  and it is set for a three day trial in September  on the matter of   Jozsef being a disadvantaged shareholder.
In early June   we were advised  By Malcolm North  that the former lawyers for the company   have taken the company to  liquidation court and the company could    be wound up  before the hearing.
Jozsef has not only lost his $64,000  investment in the company but has paid $50,000  in an attempt to  have his rights enforced.
The  final straw came  when   the company sued  Jozsef on 19 June   in the district court  for the losses  which the directors  have incurred in the company since unlawfully  removing   Josef's shareholding .
The whole purpose of a limited liability company is that    the   losses are limited to  that of the shareholders  equity  yet   Jozsef now finds himself burdened with a second set of court proceedings.
So we now have an ironic situation   where by   Josef's shareholding has been removed from him  and he is  being  held responsible for losses in the company due to being a share holder
I have prepared   and  filed an extensive  complaint with the   registry integrity  , there are some 30  serious companies  act offences  which  the directors and their associates have committed.  Yet  in again a parallel move they are attempting to hold  Jozsef   for contempt of court  for allegedly  using the accounts  and the  documents which  have never been copied  or  been  outside his lawyers office  .
The entire process has been total bullying  and  abuse .
Those who invest in NZ companies  should not   be subjected  to  this lunacy, it destroys confidence in small business and shows that there is  a major flaw in the system which  allows  people to effectively steal shareholders  equity and use it for their own means.  The law is there  to  protect persons such as Jozsef and  ot should be affordable and expedient.
Samuel North   has  a deficit of  shareholders equity in the company yet drives around in a  late  model BMW  vehicle  owned by the company  while  the  only person to have invested in the company is being  hammered in the court
We request urgent intervention in this matter  where by the registrar   seeks to hold the  company and its directors  accountable to the act.
We need a system  which  prevents   this type of scenario from repeating .
In the interest of public  confidence in small business ,we hope that you can open a ministerial  enquiry into this matter  so that   this   cannot happen again.
I am happy to  supply the complaint to the  registrar and  the evidence  on your request .
Regards
Grace Haden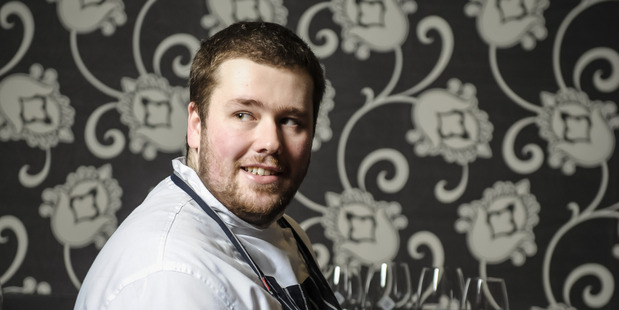 Restaurateur Samuel North has been in the news  many times , each time there is a common thread  and that is – he is identified as- the youngest chef  in Wellington to  have his own restaurant .
Transparency New Zealand will today   examine the truth behind that statement  and others  which we have located in the news.
For convenience we have prepared a file with the relevant documents  they can be found here  samuel north evidence  (  most of the originals of these documents are available on the companies register , the others have been filed in  the Wellington district court with the exception of the  car registration which comes from the on line register)
Page 1  this  is the sale and purchase agreement    the lawyer involved  for Muse on Allen   was  the North's own lawyer  .The company was set up with two directors and two share holders   Jozsef Gabor SZEKELY     who owned 70 % of the company page 2    and Samuel Raymond NORTH  who owned 30%  of the company  .
Malcolm North  was involved from day one and took charge,  he drew up a  Partnership agreement     and as can be seen  Samuel's total contributions  was to be $10,000  as opposed to  Jozsef who invested $65,000 .page 3
Jozsef understood  that  all would be equal partners  but that was not to be,   as it was later revealed that  every one except  Jozsef  introduced their money into the company  by way of loans . Jozsef on the other hand was    recognized in the accounts as a share holder .
Debbie North Samuel's mother   requested to be an alternate director for her son   instead she  completed her own directors documents  and uploaded them on to the companies  site back dating  them to the date of the companies formation Pages 4 &5 
On 3 November 2012  the dominion post published a review of  the restaurant Muse on Allen: Food fit for the gods
On 19 December 2012 Samuel  without complying with the required legislation  and without any  share holder transfer   documents  reduced Jozsefs 70% share holding to  49%  Page 6.
Another great  review was published by Raymond Chan on  4 January   2013 acclaiming both chefs.
On 9 January 2013  without   following the required procedure for appointing a director Samuel prepares a directors consent for his father  Page 7  and up loads this to the companies register Page 8
Malcolm North, Debbie North and Samuel North  are  now all directors  and have  a meeting at their home on the 10 January  they resole to remove Jozsef as director   Page 9 
24 February Samuel North  transfers all of Jozsef's shares to  himself .  page 10
Jozsef   who consulted Lawyers on the  10th of January  2012   has spent  two years in court  attempting  to  get justice.
It has been a stalling game one intent on  costing Jozsef big $  and now when the end is in sight Malcolm North advises that the company is in liquidation court.
Malcolm North has also  been passing himself off as counsel in court documents  see here 18 Amended Statement of Defence   In this document Malcolm  also states
 The Companies Office records stating otherwise are in error, and that the plaintiff remains a shareholder in the company,  and 

The amendment of the Company's Office register on or around 24February 2013 was an error, and the plaintiff remains a minority shareholder of the Company.
despite  making this statement  the companies register has never been corrected.
On 19th June   2015   despite  Jozsef being denied any rights  of a share holder, Malcolm files documents in the District Court pages 11- 54.
In the statement of claim  he alleges that Jozsef  as a 63.2% share holder is responsible for the corresponding  % of losses in  Muse on Allen  for the 2013 & 2014 financial years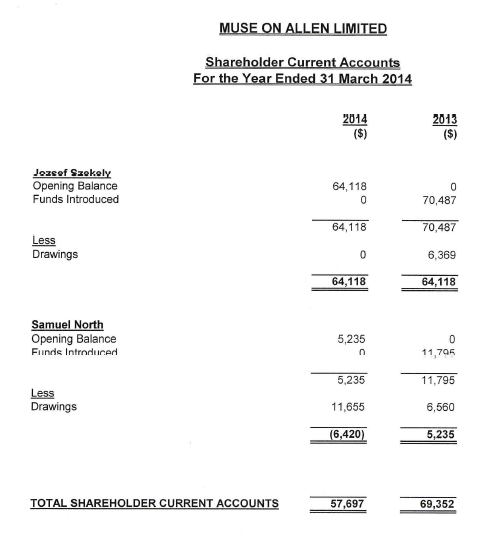 .
this would have to be  a first in New Zealand  where a company sues its only solvent  share holder for  the loses which the management  has incurred after denying the share holder any rights.
The accounts attached  speak volumes   especially the share holder accounts   they show  that Jozsef has paid up share capital of $64,118  and  Samuel North  has a deficit of $6420.
No other persons are shown as share holders   and no  other share capital has been introduced.
The accounts clearly show however that the   funds introduced  into the company by Samuel's parents and  his girlfriend Anabel Torrejos  were introduced as LOANS. they have never been  recorded as share holders.
We wish to make it clear that these documents came to us without any restriction  or confidentiality and as can be seen  they clearly identify Jozsef as the  majority share holder.
As a share holder and in this case the only paid up share holder he has every right to the accounts .
On a  % share holding basis    it is obvious  that the sole owner of Muse on Allen is Not Samuel North but Jozsef  .
We believe  that what has happened in  Muse on Allen   totally undermines the  confidence that   should be had in the integrity of  our companies.
Jozsefs battle to  be recognized as share holder continues  but in a bizarre twist Malcolm North advised   Jozsef on 8 June 2015   that the company is  currently in insolvency court  being  sued  by Kensington Swan , their former lawyer. The date for the hearing has been delayed allegedly in the hope that  they can repay the  debt which we believe is some $24,000.
In the mean time  Samuel North is driving about town  in  a Black BMW X3 2007 Reg HYE837 Page 55   .similar to the one pictured for which he has raised a loan through the company ( see corrections  on Samuel North  responds )
Now that you have these facts   you  can look at the following articles in a different light , we particularly  like  the  concrete playground  article   it speaks volumes and is well  worth reading   and now that  you  know the truth you  will have more insight.
Other less colourful articles are below  they all    assert falsely that Samuel  is the sole owner of   Muse on Allen  Limited. 
11 august 2013 Muse on Allen takes Top Honours– Wellington has a new rising star on the food scene, with the 22-year-old head chef and owner of Muse on Allen taking out this year's MiNDFOOD Wellington On a Plate Award……Muse on Allen's 22-year-old head chef and owner, Samuel North
04/09/2013  Young upstart of the restaurant scene   Samuel North is not your typical restaurateur. At just 22, he's thought to be the youngest chef running his own dining establishment in Wellington. In fact, he was 21 when he launched Muse on Allen in the former site of Satay Kampong restaurant at the top of Allen St…..In his most recent job at the White House as chef de partie, he read about Martin Bosley starting a restaurant at the age of 21, and says: "I was inspired by that. I thought I could do that. I started looking at places up for sale. We looked at 19 different places before we found this one."  
August 9, 2013MiNDFOOD Wellington On a Plate Award Winner Announced 22 year-old Samuel North, chef & owner of Muse on Allen, takes out the MiNDFOOD Wellington on a Plate Award….Wellington has a new rising star on the food scene, as the chef & owner of Muse on Allen takes out this year's MiNDFOOD Wellington On a Plate Award…..Muse on Allen's 22-year-old head chef and owner, Samuel North,
21 July 2014 Theatrical dish coasts into Dine award final Samuel North, 23, the head chef and owner of Muse on Allen in central Wellington, has had his restaurant nominated as one of five finalists in the Visa Wellington on a Plate Award.
06/08/2014 Fresh faces of food SAMUEL NORTH, OWNER AND HEAD CHEF AT MUSE ON ALLEN  Samuel North was just 21 when he opened his own restaurant, Muse on Allen in 2012. By that time he'd already chalked up six years behind the stoves of a whole bunch of kitchens from Wairarapa to Hunter Valley. "I think I may have been the youngest chef to open a restaurant in town. There was this big hype when I opened it because I was so young and a lot of people thought I'd fail, " he says
Oct 13, 2014   NZ Herald -Your Business: Young Entrepreneurs
"The founder and head chef of Wellington-based restaurant Muse on Allen worked and saved hard for six years, and got a loan from his parents and help from his partner to set up the restaurant, which last year took out a top culinary prize – the Visa Wellington on a Plate Award."
Oct 13, 2014   NZ Herald -Your Business: Young Entrepreneurs   "I have no credit cards, no bank loans – nothing," he says. "The banks ran a mile when I put the idea to them. It's pretty funny looking back at it now; there was no way they were taking the chance on me – and I can't blame them."
March 2013 social cooking :Samuel North  Info:At just 21 years old, Sam was considered to be the youngest Chef to be running his own establishment in Wellington, when he opened Muse on Allen 2 years ag0
31 July 2014  Lettuce take a moment with… Samuel North  "Samuel North is no stranger to success. At the age of twenty-one, Sam opened his very own Restaurant, Muse on Allen."
August 13, 2014  48 hours in the capital: Where to eat in Wellington  Head chef and owner Samuel North is, amazingly, only 22, and made a name for his new restaurant
31 January 2015  Grab one  Owner and chef, Samuel North, won this year's MiNDFOOD Wellington On a Plate Award, which recognises the top level of creativity and skill among Wellington's chefs, along with their ability to showcase local ingredients through Dine Wellington's festival programme.
18 April 2015  Muse and a little Singin' in the rain   Muse is the establishment of Samuel North, a young chef in Wellington with a bucketful of talent.
08 July 2015  Producers "live and breathe" their craft….Muse on Allen chef and owner Samuel North 
Muse on Allen Restaurant and Bar -Wellington on a plate
More soon