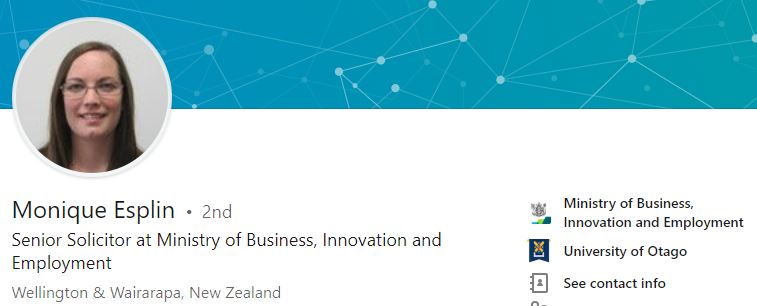 The reason I am writing to you is because of your position at MBIE and the fact that you have now witnessed two affirmations for Vivienne Holm lawyer for the FMA. a full detailed copy of my sworn affidavit is here ..it is important to note that she has never disputed this evidence or proved anything to the contrary. the only issue appears to be as to her not having a practicing certificate in june 2006 which has been proved conclusively by by her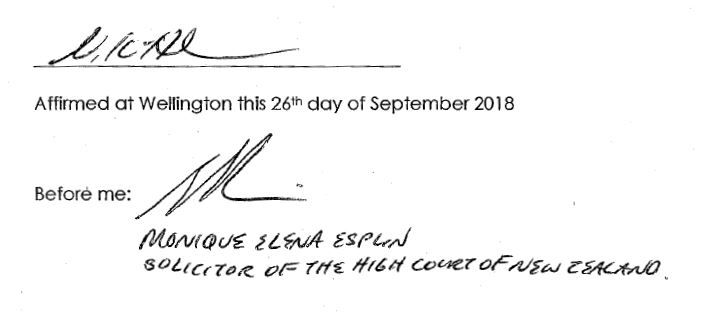 The court action in Auckland was commenced on the day when Vivienne who lives in Wellington was declined the right to transfer the Wellington proceedings to Auckland . Vivienne has been very uncomplimentary about me and appears to need help in sorting out what a legal entity is and what constitutes a trust . It is therefore fortuitous that you have come into play and have a position with the government department which should know a thing or two about legal entities.
I have never met Vivienne she phoned me late at night on 2 june 2006 and threatened my professional licence if I did not change the name of our legally incorporated trust , to me and by definition this is intimidation .
Vivienne claimed to be acting for AWINZ , an organisation which through our successful incorporation of our trust (also called the animal welfare institute of New Zealand) was proved to be fictitious. Our trust was incorporated on 27-APR-2006 . AWINZ in the case of her " client" was just a undefined name for person or persons unknown yet was referred to in the proceedings as though it was a legal entity in its own right. The first recorded meeting of this " trust "was 10 may 2006
In 2006 it was not easy to search the register and by being successful we proved that no other trust could exist by that name as no two legal entities can be registered under the same name.
Our reason for doing this was to establish who or what the approved organisation AWINZ was . AWINZ had coercive law enforcement powers under the animal welfare act equivalent to those of the RNZSPCA but unlike the RNZSPCA which is an incorporated society , AWINZ was proved to have no legal existence at all and no trust deed was held by MPI who contracted to it or by Waitakere city council who's facilities and infrastructure "AWINZ " through the guise of Neil Wells ,was using to obtain a private income from public resources.
Our concern was that an Organisation which had no legal standing could not possibly be identified and be held accountable to the provisions of the animal welfare act , as only legal persons can sue or be sued and who ever AWINZ was was effectively invisible.
A recent court decision from Canada shows the importance of this accountability see here http://www.transparency.net.nz/wp-content/uploads/2019/01/Decision-19-01-02-Ontario.pdf
MBIE at the time was the ministry of economic development and the then registrar of trusts sent this letter which basically stated that we had a legal right to the name and Neil Wells did not.
Not being content with this, a letter was sent by brookfields solicitors see here and we believe that it was who Vivienne drafted a statement of claim for her husband to prosecute so as to force us into abandoning the name .
MPI, in collusion with Wells withheld vital information from me and only after having the ombudsmen intervene and 5 years having passed, I obtained information which is significant .
the audit report from MPI here showed

The reality was that the very first meeting was three weeks after we had incorporated and had proved its lack of existence this was serious cover up .
From the affidavit of Tom Didovich we learned that he had allegedly driven to the trustees in 2000 and obtained their respective signatures, they therefore did not meet at inception , the deed itself had a termination clause after three years, since no meetings were held the trust could not have survived, we have evidence that the trustees did not hold a bank account and never passed a resolution .
The first meeting was recorded as seen here There is no legal appointment of Wyn Hoadley ,the trust deed was missing and the so called trustees had to be briefed on the purpose of the trust , one would have thought that trustees of a legitimate trust would have known this .
There was also no connection of this " trust" to the approved organisation as it allegedly formed months after the application for approved status was made and had no proven connection with the application other than an unsigned trust deed. It is our opinion that Vivienne does not appear to be very good on time frames and you may wish to explain why legally it is impossible for a trust allegedly formed on 1.3.2000 to make an application for law enforcement powers on 22.11.1999.. how would a resolution to apply for such powers be possible if the people have not met and consented to their individual responsibility of accountability which was required in this instance.
Monique I hope that you can explain to Vivienne that the people who she claimed to have instructed her (at a time when the law society claimed she was a law clerk) , had no standing as a trust as they did not have a trust deed, had no evidence of being appointed to the trust and had no evidence of ever having worked or functioned as a trust or even a law enforcement authority and that she had a legal duty to ensure that these finer details were confirmed before taking legal action .
It was therefore impossible for the legally incorporated AWINZ to pass ourselves off as a group of three people who together had no legal identity and had never functioned as a group under any name , they certainly had no legal right to force us to give up the name . The legally incorporated AWINZ was a legal entity, a body corporate but the people whose names appear on the statement of claim, Wyn Hoadley , Neil Wells and Graeme Coutts were not a legal entity by any legally provable means and could not have legally called themselves AWINZ, they could , if they had a trust deed or proof of appointment call them selves Hoadley, Coutts and wells as trustees in the animal welfare institute of New Zealand. Their responsibilities were as individuals and their trust had no legal standing separate from the alleged trustees jointly
I was taken me to court for defamation for saying that the AWINZ trust(as in the law enforcement body ) was a sham, I was denied a defence of truth and honest opinion and my life , my family and my marriage was destroyed. It has been proved conclusively that AWINZ was a sham now Vivienne has come out of nowhere taking me to court for harassment for getting the discovery documents to her .. its absurd.Its in my opinion all to cover up conscience does make cowards of us all .. and its at my expense that is why I speak up 13 years is too long.
If any one with the paperwork which "AWINZ" produced to obtain law enforcement powers , had gone to a bank they would have been laughed out of the place.
Vivienne's father David Holm transpires to be a community board member in Auckland I wonder if he condones the use of council resources for private enrichment ?
Vivienne has all the evidence and it is additionally all set out in full in my
copy of my sworn affidavit is here , I don't know if she has a mental block or just cant see it or refuses to see it but it doesn't take an Einstein to work out that a trust which has never met cannot be a law enforcement authority especially when there is no evidence of a trust existing prior to the application and when trustees are not appointed or reappointed then the trust ceases to exist, and in any case a trust without assets is not a trust its a sham .
The only evidence which was sent to me to support the claim to the name was this deed as you can see they are different people to those named on the statement of claim . Without a connection and proof of continuity Tom Dick and Harry cannot claim to be the same trust as Mary, Joan and Edward
It is important that you sort her out on the legal entity issue and trusts as she is now a lawyer for the FMA and heaven forbid if she continues to think that any one with a piece of paper or speaking convincingly can be a trust or a legal person, its the stuff that fraud is made of
Looking forward to your help .