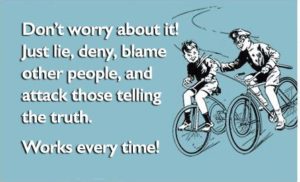 The following  article was written in response to an email from Tatsuhiko Koyama   and Paul Gee …
There  appears to be something inherent in NZ about  covering up   , its all about saving  $$$   and saving face  so  we  unjustly  leave  citizens with the cost  and the  degradation    which comes with being a whistle-blower .. no wonder there are so many suicides  we just  give some one a pill  and tell them to go away .
Our legal system is totally out of whack  it does not deliver justice  and our public servants have a massive rug under which  anything  suspected  of being  even   slightly rotten is swept.
Our systems are broken  I petitioned for an independent commission against corruption  it was thrown out by a man who left parliament under a cloud , the reason it was thrown out.. it disclose fraud and corruption… go figure read  about it here 
I was charged and  found guilty  for breaching an order  which cannot be shown to exist  for an un name person  the  Lawyers disciplinary tribunal decision   makes no reference to any orders  nor does it caution  the existence of one , the decision was one where the  tribunal effectively condoned  criminal behaviour of one of its own  have a read…. https://www.justice.govt.nz/assets/Documents/Decisions/2016-NZLCDT-24-Waikato-Bay-of-Plenty-Standards-Committee-v-Mr-M.pdf. I believe that this is  the same man who wrote the legislation for the animal welfare act for his  own  business plan  and  then made a fraudulent application which gave him statutory law enforcement powers and no accountability , the court has protected him and  MPI has protected him because they never checked the facts  they were reckless and its easier to make some one else's life hell than show that they system is not working .
The ombudsmen's office provides a document 130 pages long  http://www.ombudsman.parliament.nz/system/paperclip/document_files/document_files/463/original/managing_unreasonable_complainant_conduct_manual_october_2012.pdf?1351456121    which  allows  a person who  uses CAPITALS , underlines words , uses a different Colour or Highlights  a word to be  declared an " unreasonable complainant .
To complain about  being an unreasonable complainant makes you even more unreasonable
The ombudsmen  do have a book on how  to deal with complaints  its only 32 pages long  of which only 5 pages deal with  the  actual guidance of dealing with complaints
This culture of treating any   complainant  whether whistle-blower or some one pointing out a flaw in the system ,as a villain  only serves to make New Zealand more corrupt.
I had a first hand  demonstration   of how effective this system is   Ian Holyoake  who has been a rotarian for many years  totally defamed me with his  opinion which was so skewed  that logic was totally absent   ,
Ian  is of such standing that  his word is  gospel    and all he needs to say is   that he is a fine upstanding person  and that is sufficient for his opinion to hold against any one.  When I asked for a retraction and an apology  he could not possibly do that   and when I mentioned the possibility of defamation action  he went round  telling  people that  I had already served him with papers . The local assistant Governor  told me that an apology from Ian would  be unlikely   the pattern in my opinion  appears to resemble the rules  shown here
When you are the innocent party   every reasonable  thing you do to set things right  is turned into  a sinister act it is a real art form  all perpetrated with  fallacies  but more on that later .
Whether that society is  your  local rotary club the  Plumbers Gasfitters and Drainlayers Board, Law society or  our government,when facts and evidence  don't matter   the society you are involved in corrupt  but it appears that it is also a crime to expose the corruption.. that is what the   real problem is .