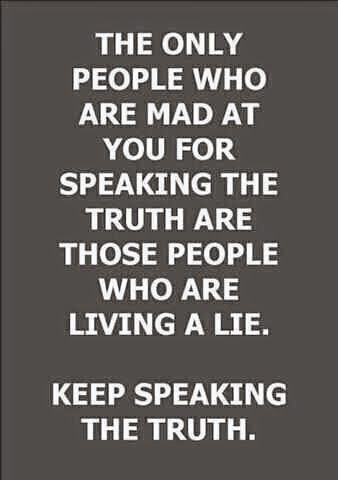 It appears to me that the worst thing you an do in our society is to speak the truth .
I am not alone    I had the  video link  below sent to me today and it   simply goes to prove it
Just a few days ago two gentlemen came to my house and spoke most disapproving my of  Blogging   and frowned upon the fact that I fight  corruption .( as if that's a bad thing to  do  )
I was told to leave it  to the proper authorities.  I explained that there appears to be a general covering up of corruption in New Zealand  and   that my experience was such that I don't want to see any one   go through what I had to endure ( and am still enduring )
I was told that there are two Grace Haden's  the one they  like and then there is  other , the one with  the  online presence the one who speaks about things  which apparently  are a tad embarrassing and conflict with the statistics .. heaven forbid that we upset the perception  or prove statistics  wrong .
They expressed their opinion that I should not express mine.
I was extremely upset with their visit  , I felt bullied by it  and it was totally unnecessary  additionally they had  no apparent mandate from any one, it was totally uncalled for an out of place .
Why  do we seek to silence those who are speaking up  about   the wrongs in our society . The cracks are starting to  show  in MPI and the SIS  . Thompson and clark  are members of the NZIPI https://www.nzipi.org.nz/nicholas-thompson/. The NZIPI is headed up by Ron McQuilter  who was behind  ensuring that I was discredited as a Private investigator .  I feel certain that these old boy connections  are  what is keeping New Zealand's  perception of the least corrupt alive.   Stomp on any one  when they  speak up about corruption , crucify them and   make their lives hell so as to ensure that  the next person  will see nothing .
https://www.facebook.com/supportrickflori/videos/1950697488298231/
 Last year a number of news items  were prominent with regards to  the issues of dairy farming  and the effect on  waterways   see here   here   here and here 
Put simply, more cows have meant more nutrient and pathogen pollution of waterways. Across the whole country, the number of dairy cows increased by over two million between 1992 and 2011 – an 86 percent expansion. During the same period, average dairy herd size in New Zealand more than doubled from 169 to 386.
Now it occurs to me that   Mycoplasma Bovis  appears to be a blessing for  the greenies or is it simply just a convenient way to   reduce  cattle numbers ?  I have first hand evidence  of how  MPI can be manipulated and how  facts are irrelevant   to them.
Bryce Edwards  published a  great little article yesterday Political Roundup: The M. Bovis debacle deserves more debate. His opening statement  totally echos my experience with MPI
What has emerged from the debate over the Mycoplasma Bovis saga is that New Zealand appears to have been let down by authorities – especially politicians and senior government bureaucrats who have mismanaged the country's biosecurity, leaving farming in turmoil, and the taxpayer picking up most of the tab for their negligence.
I had cause to speak to a bovine vet the other day  and  he  confirmed that the tests of mycoplasma bovis  are  not particularly reliable,so a whole herd is put down because one cow tested positive, this could  have been a false positive  but who cares  lets put the whole herd down  at a time when Gypsy day is seeing  other herds migrate freely from one area to another .  Guess that fits with the agenda of culling as many   cattle as possible .
It has made me realise that the  characters in the old  TV series gliding on  are still alive and well  and working  at MPI ,  they may of course have taken the precaution to drink their tea and coffee  black .
My own experience with the incompetence of MPI  ( then MAF)goes back 12 years .
I questioned serious corruption which had allowed a person closely associated  with  key players in  MPI   to  write legislation for their own business plan , advise on it  as " independent  advisor" to the select committee and while MPI knew this person was severely conflicted they stood by and allowed him to  provide comment on caucus  papers which saw the government approve an application for coercive law enforcement powers to a non existent organisation  based on a fraudulent application.
MAF/ MPI are fully aware of it  and have refused to undertake  an investigation, my own opinion for this  is that the lawyer who provided a crown law opinion  was Peter McCarthy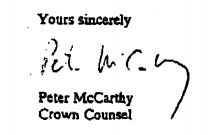 who gave a detailed legal opinion but didn't  even think about checking if the application he was commenting on was legitimately made and that AWINZ existed  .
As a whistleblower on the AWINZ matter I was crucified , the first thing MPI did was  to  attempt to prosecute me for  passing myself off  as a MAF officer, their evidence was so thin that  they resolved to warn me  despite the fact that  there should not have been an investigation  in the first place  . This was tied up with another substantial fraud  see Boss invents accountant to escape $60k debt – NZ Herald and Charges over alleged fake liquidator – NZ Herald
That was the  very first attempt to discredit me,   and   to   properly conceal the matter Peter Mc Carthy  was made chief legal officer  of MPI 
Despite  untold complaints to government , ombudsmen , state services commission , police ,SFO and untold ministers  this issue has been totally concealed while I   was refused a renewal of my  private investigators licence   and was labeled a " conspiracy theorist "
This has been  total bullying an  white washing of a criminal act .
Wells was able to  negotiate with  MPI to withhold information from me  so that  the complaints to the  law society etc  could be dealt with  without the inconvenience of facts  getting in the way also see here   and here .This crucial document was the audit report which totally expose AWINZ as a sham  but even despite their own findings  nothing was done but  AWINZ conveniently  stopped being an approved organisation  when the super city was formed.