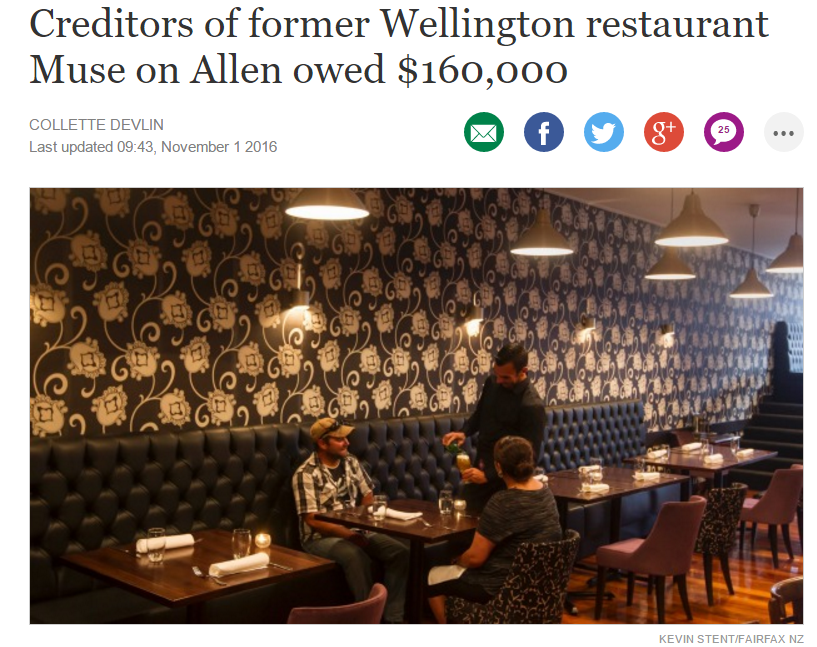 This week has been a big week  for Malcolm North  He appeared in the Wellington High court  bankruptcy court.  He has  apparently come home to have another go at me, I am becoming very tired of his  bullying behaviour   and  find the only way to deal with him  is through this site
I have responded in Red
From: malcolm north [mailto:malcolm@muserestaurant.co.nz]
Sent: Thursday, 10 November 2016 6:06 p.m.
To: 'Grace'
Subject: Defamatory Information.
Hello Grace.
I have requested you before to remove the defamatory information from your website and so far you have not done this I don't have a problem with factual information so can you either remove it or amend it.
Malcolm I have responded to you and  advised you that truth is never  defamatory. I responded  on 30 September , if you care to look at the act you will note that you are grossly out of  time   however  with respect  to the following I will address them 
I am not a Business Development Manager with Ministry of Social Development. Not true.
the words used  were "   I believe"  I may have  got that wrong looking at your earlier emails which were sent  from your business email you  the following   so   perhaps you still hold that position 
 Malcolm North
Employment Broker
Job Connect.
Phone: 0800-778-008  DDI 049137535
Email: malcolm.north004@msd.govt.nz
Debbie had no input into setting up the business ( please provide evidence that she did )
Please refer to the companies  register  on the 17th August she   completed and  uploaded her own directors documents  back dating them to the date the company was formed  Director Consent 
apparently it is an offence under the companies act to do that   and also there are no resolutions which allow her to even be appointed as director  but then that  has never made any difference .
Even when she worked for the Dental council she allegedly managed to get a dentist removed from the roll without  following process . 
The matter has been before the courts for 4 years not 2 years. Not true.
sorry I erred on the side of caution .. how is that defamatory ? 
The Police have advised on 2 occasions  not 4 that we should refrain from emailing you .Not true
It would appear that  it doesn't matter how many time you get told you keep on emailing.. this is harassment 
You are correct that Joszef contributed $65,000 towards setting up the business but you have failed to supply evidence where the balance of the purchase price and further capital came from .If you read the 2012 /2013 you will see a further $79,147 was introduced please provide evidence that this is not the case.
The 2013 and 2014 annual  accounts  show no  introduction of equity annual accounts  It shows  loans which is an introduction of debt  and  Samuel actually took out  more money in the business than he had invested. 
It appears to me that you do not grasp the concept of equity and loans 
Please provide evidence that we have defrauded Joszef because we have not seen any.
OK   I will explain this S L O W L Y    You and Debbie were directors of the company with Samuel Director Consent      Director Consent Form      Director Consent
You went home to your flat and without giving the proper notice had a cozy meeting  and  threw Jozsef out  Particulars of Director  the resolution you passed  is here directors-resolution-dated-10-january-2013  note that it is signed by Debbie  
Debbie and  Samuel  were directors when  Jozsefs majority share holding was reduced through no  legal means for the shares to be transferred from  Jozsef to samuel   when there was no paperwork or transactions to  facilitate that Shareholder Consent Form   transferred shares  here  to 49%   and then when you were director took all his shares Here . In my experience  and  my opinion it  is fraudulent   to claim shares which have not been legally transferred  and the person  owning them  has not received compensation  or  consented to the the transfer  .  
As directors of the company you had a legal obligation   to oversee the share register  and in my  humble opinion ,  by allowing this to continue  you became parties to the offence as well as committing offences under the companies  act 
You then   represented the company in court proceedings and passed yourself off as  a lawyer  and  claimed that the shares were transferred in " error"  but despite this   and over the period of  four years  you never made any attempts to correct the alleged  " error " 
You are correct about the ownership of the BMW can you please provide evidence that this was paid for from Muse on Allen funds.
The ownership of the vehicle   shows that  it was owned by Muse on Allen , there was a security  interest agaisnt it  in the name of Muse on allen 
the vehicle was then transfered to  the ownership of Catering  Limited   and the PPSR remained with Muse on allen  but changed some months later   .
the registration of the BMW is now 1 Muse 1 
We have seen no evidence of bullying yourself and Joszef by myself and Samuel can you please provide this.
It is sad that you do not know what bullying is,   the  many horrible emails which you have sent   the personal comments the below the belt  statements   are privately recorded , only the police have copies of them , they were sufficient for them to warn you a number of times 
Your concerns to my employers have been thoroughly investigated and no action has been taken against me.
Time will tell  
Could you please provide evidence that Muse on Allen was run into the ground.
Where do I begin 
The company is in liquidation 
It owes $160,000  see here 
I could go on but it  would be boring 
I am receiving calls at my employment about your behaviour in the Hawkes Bay so contrary to what you might think the publicity you are giving me is probably not in your favour.
Now that would be boring    why would any one want to  call you   about me  ,   But I guess that would  be the same  way as people phoning me  about the three of you  
but don't you  think that the statement you have just made is not bullying  ??????   I think it is  
Trusting this is not seen as bullying  as it is not intended to be as it is only a opportunity for you to amend your postings before I  go to the expense to proceed with defamation proceedings against you.
Yes I do see it as bullying , I wont be amending anything  I   think that this  explanation should serve  any discerning reader  . Long live transparency  
Kind regards
Malcolm North
One Response to "Malcolm North takes a break from Bankruptcy court to do more harassing"