I believe that Malcolm North is  a Business development manger  with the ministry of social development .
In 2012 he  and his  wife  Debbie  North  and son  Samuel North , used a young Hungarian chef   to  fund the setting up of the Muse on Allen restaurant.   Once they had his money they turned on him  and removed his as director and   transferred all his shares into  Samuel's name .
The matter had been  before the court for  some 2 years when  the lawyers   advised that the company was insolvent  . by this stage Jozsef had spent $50,000   on top of the 64,000 which had  been stolen from him .
I prepared  complaints for the  police and for the registrar of companies   they can be found here  Offences  .  The evidence is available  on request  but due to the bulk of  the evidence I have not placed it on the web site .
Neither the police nor registrar of companies would act  because the matter is before the court , the fact that it is before the court  under section 174 of the companies act   appears to  be beside the point   and the many serious  imprison-able offences  are  on the back burner probably awaiting the statute of limitations to pass .
Because I appear to be the only person who has  focused on the  criminal aspect Malcolm has had it in for me.
I have reported his  actions and  those of his son to the police many times and I think they are up to warning  4 .
Just a few weeks ago  Malcolm sought to  cast aspersions on me  with a business group that I belong to  , I  responded by sending an open letter to his wife Debbie  whose actions facilitated this  whole mess  right at the beginning.
Now Malcolm   has threatened legal action   alleging defamation . It is therefore appropriate for me to respond in terms of  section  25 of the defamation act 
the following are the statements which Malcolm alleges to be defamatory .  Truth and honest opinion are never defamatory , truth may be inconvenient  but in the end we are all accountable to the truth
I have for each statement produced the evidence  which  I rely on
The only equity in the business was  the  funds which Jozsef introduced.  Truth  the  evidence is the 2014 accounts . as can be seen  by the end of 2014  the only equity in the company was Jozsef's  funds , Samuel actually had a deficit .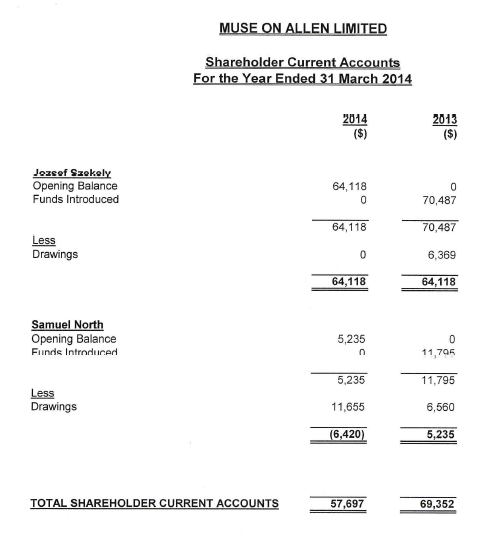 In my professional opinion and based on the   evidence I have collated I am of the opinion that all three of you should be locked up for defrauding  Jozsef.
Honest opinion based on 15 years policing experience and  13 years as a private investigator    see the offences as  shown above 
Samuel is still driving the  BMW  which he purchased using   the money which  he made out of Muse on allen   and he has now transferred the ownership to  Catering limited.
Truth  I will supply the registration  documents and the  ppsr's. they can be found  here  as  shown to Muse on Allen here BMW   and transferred to catering co  Here bmw-1muse1 note also the  number plate change but the chassis no etc are the same  good to see that a young man who has just put a company into liquidation can afford  a personalised plate the regos  are.

The three of you have  defrauded  Jozsef  , you have   allowed Muse on Allen to be run into the ground and have left a trail of debts.
Honest opinion based on 15 years policing experience and  13 years as a private investigator     offences  and the  credit report of Muse . here muse-on-allen-credit-check  not the defaults and also the fact that  the company is now in liquidation   see here 
Throughout this time   and    to this date you have stood by and allowed your son and husband  to bully and abuse both Jozsef and myself.
Truth  the police have  warned him  at least three times you have apparently done nothing but duck for  cover 
I have communicated my concerns  about Malcolm's behaviour to the ministry of social development    I do not believe that persons who practices this level of bullying that  in his private life ,  does not  display those same qualities at work .
Honest opinion  the degree of bullying which we have suffered is  unbelievable   there are many emails in which they have made the most  cruel remarks to me  , I am totally  fed up with their  bullying behaviour   
 Often what is not  objected to proves more  than you realise.  In this case Malcolm North  by not claiming  these statements to be defamatory   admits to them as fact   
1. I am writing to you in the hope that   we may be able to   sort out the bullying which I have been suffering at the hands of you husband and son.
2.Jozsef and Sam were the only  directors when the company was  formed. You were  to be an alternate director for Samuel   and  you completed your own forms and backdated your directorship  to day one .  If you were to ask any one at the companies office they would tell you that this is not a lawful  way to do things as you cannot appoint yourself director
3.With your son  You then appointed  Malcolm your husband to be a further director  then all three of you  went home and passed a resolution to remove Jozsef as director
4.As a director of the company  you allowed Samuel to  transfer all of Jozsefs shares into his own name   without any legal basis  and without the introduction of  further equity into the company .
5.Through out  this time   and    to this date you have stood by and allowed your son and husband  to bully and abuse both Jozsef and myself.
6. we have made complaints to the police  under the harmful digital communications act  and   despite the fact that they have been  warned a number of time the abuse has continued
7. Last Year Malcolm made a complaint against my private investigators licence ,   there was no  substance in his complaint
8. His vexatious complaints had me under investigation for some 10 months
9 Now he is sending emails   to  people associated   with my business
10 If the police did their job and were not busy   dealing with traffic  the three of you would   beheld fully answerable to the  law .
11.I realize that attack is  the best form of defence and that is exactly the only defence which  your son  and husband have
12.Debbie  how about   some integrity  you work for counselors  how about getting some counselign for your  boys   so that they can see  that what they are doing is  pure bullying  and totally un ethical.