Thank you for your letter Malcolm  alleging that  I  have been defaming you  . I am communicating with you through this site as I  have previously advised you that you are harassing and bullying us and that my only communication with you will be in an open transparent forum.  I had no desire to communicate with you  but your barrage of insulting   emails  and below the belt   communications leave this as the only viable option. it is quite clear that you are ignoring the police  warning email to muse restaurant 171115
Your dear son  let it slip that he had been  communicating with Neil Wells  who  years ago won a defamation case against  me by having my defence of truth and honest opinions struck out  when he ensured that so much shit was going down in my life that my marriage  fell to bits and my family was torn apart. I was unable to come up with a payment of 19,000  due to  the bank accounts being  frozen for the divorce .  Dirty tactics  and desperation run deep
Neil had a secret  one which I had stumbled on  and I had to be silenced at all costs.    He had  written legislation for his own business plan   and as " independent adviser to the select committee he ensured that  this legislation became law.
He then made a fraudulent application under the act to the minister , falsely  stating that  AWINZ was a trust when the reality is that no such trust existed and AWINZ was in reality    a nothing .   ( it is fraud to make a false statement which people then act upon..  this is fact )
AWINZ became a law enforcement authority, because no one checked   that it existed , it  had  powers that equaled those of the RNZSPCA  search seizure .
Neil Wells used the staff at Waitakere city as AWINZ  animal welfare officers  and as their council boss he wore two hats and made them prioritize animal welfare over their council paid  duties.He rebranded the council premises so that no one knew  where AWINZ began and council  finished  all in all AWINZ appeared to exist  the reality it was funded through the public purse for private pecuniary gain. ( evidence is on this site and  on anticorruption.co.nz )
If an animal welfare prosecution eventuated Neil Wells performed in  his capacity as barrister  and  would offer diversion for a donation to the "charity"AWINZ   which  in reality did not exist other than the bank account which he had opened and was the sole operator of.
that was my  first experience of  civil litigation  ,Neil has  ensured that it would not  be my last and has been  stirring up any one  who I mention  on this site .
I was taken to court  last year by the lawyers who represented Muse on Allen .  Documents were filed which  claimed that Jozsefs share holding had been removed in error .   The lawyer  representing he company did not like me telling him  that if it was an error then  the error should be corrected. I pointed out that  when  new  annual reports are filed in the companies office  then  the error appears not to be an error.   there have  now been three  annual returns filed since  Jozsefs share holdings were claimed to have been  transferred in error .
The lawyer  also did not like me telling him that he  had a legal duty to act independently for his client which is the company and that  the company is a separate legal entity from the directors  who by all accounts had allowed Jozsefs shares to be transferred illegally
so the lawyers took me to court for  harassment  this is after having  falsely accused me of contempt of court and blackmail . Apparently it is harassment to tell a lawyer that he should not be going round making false allegations  and that  he has a duty to be independent and act according to the rule of law.
when the lawyer  made a song and dance about the unusualness of his name  I contacted his father who I had served with in the Police, I  stupidly thought that by speaking to the lawyers father   who I had known very well  I might be able to put an end to this madness   but instead every  innocent act  gets turned into something sinister and I am made out to be a beast
Documents were withheld from me including  the court hearing date .  When the papers were served there was an initial  court  date    given as usual . the matter was was set down for hearing and I thought it strange that  I had not been advised of the date but this often happens near the end of the year.   I  discovered the true date after a bit of game play by the lawyers  and  at 9 am on the morning of the hearing I was told  that I had to appear at 10.  slight problem the hearing was in Wellington and I live in Auckland .
I was later to find out that there were other documents  which the court had been given and  which had  conveniently not been  served on me. These documents were submissions which alleged  defamation of the lawyer .
So without  any  legal  defamation process  and without any right  to  defend myself or even  knowing that I had been accused of defamation, I became a serial defamer and harasser seething  which Malcolm North now uses to spout on about  to  defame me .  In the mean time his son  who has claimed the restaurant as his own  but has no equity in the place  slings below the belt   emails at me at christmas time telling me that I am hated  and  alleging that my former husband and children   are  among  those and that I don't have any family to enjoy christmas with   .  I know this not to be true   and I resent   a kid younger than my children  bullying me in such a manner.
It turns out that Neil Wells has been in the back ground  following my every move and prompting every one   I have contact with to  make such allegations.  The same happened with my former lawyer   who was stuck off last year.  the court stepped in   and with a confidentiality clause  all was dealt with minute Judge Sargisson.
Neil Wells was also on the scene when I conducted an investigation into Fresh prepared  and he ensured that harassment proceeding were also commenced in that  matter.  The fact that one person Terry Hay had never seen me or been  contacted by me was beside the point . Mr Terry Hay was later charged with 22 counts of fraud  but skipped the country and  paid his way  out of a conviction
I'm getting a little bit over  this  use of he court by criminals  to  attack those  who have no ability to get the government to act on criminal matters. In this case the Registrar of companies  appears to do nothing to  control the use of  companies  and the police  are too busy reducing the road toll but driving more people to  suicide .
Malcolm and  Sam are no exception   we have had repeated admissions from them of their  crime
"Thanks for letting us know we have got away with theft fraud and a raft of companies act offences that is very reassuring "
Malcolm has stated openly  that the police are not going to arrest them  , he is grossly derogatory and totally gets his facts wrong   as usual   which   his bosses at the MSD  don't appear to mind .  But   Attack is the best form of defence   and  attack is the only defence these people have
yet on the other hand  he expresses in an email that he does not wish to spend the next christmas behind bars  due to my fraud complaint and would  like to negotiate a  settlement  with Jozsef. An innocent person would not   have  those worries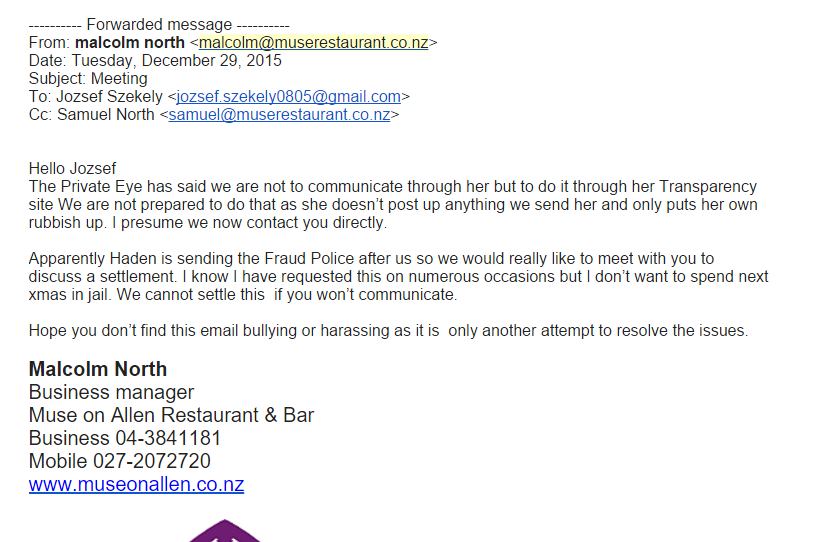 So far the settlement offers have been a total insult.   Is this the way of the future  a criminal rips you off  breaks a raft of laws then   says   hey  I will give  you  two and tuppence halfpenny  so that it can all go away .
Malcolm has asked me to publish the following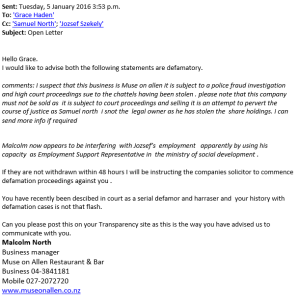 I have  amended the   publication he has complained of accordingly but  the other statement was made to the  link broker who is selling the business  Buy a Restaurant & Bar-too Good Opportunity To Miss For Sale, business for sale Wellington, New Zealand . We stand by our statements  they are true  and will defend   the truth . the police fraud file    is  151010/8943
Malcolm    could you please clarify  how you can take action against  Jozsef for being a 63.2% share holder    yet not  consult him  in the sale of the business  your own accounts show that he is the only person with equity in the business see here . Samuel  who unlawfully  transferred  all of Jozsefs shares to himself  acted with the consent  of the other directors  of which   you are one. You are all in it together .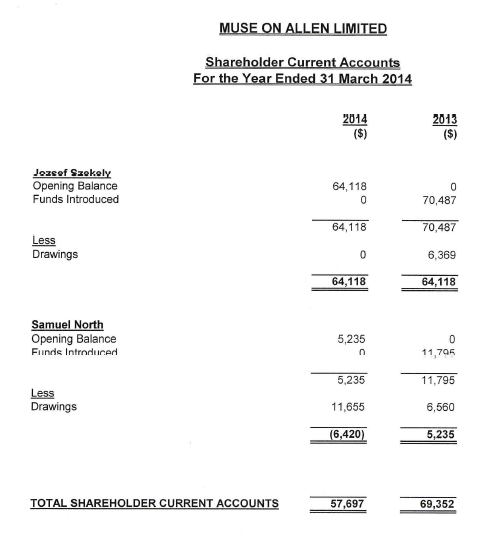 Malcolm I will send a copy of this    to the   business broker to clarify the statements which you mistakenly think are defamatory
Happy to respond  again to any further  emails  through this forum
Update
Update continuing  bullying and harassment   
it would appear that Malcolm is incapable of seeing  the  alterations made despite the fact that they are highlighted
the  latest abuse   from these  bullies  and an admission that Neil Wells is behind it all
will soon put up a post  with Trevor Morely  who asked them not to  divulge that they had contact him   if they are on about laughs  I can provide some good ones. when  some one calls some one a name  it usually means they are looking in a mirror .We are just after justice and   did not subscribe to this on going crap .