Our post MUSE ON ALLEN we reveal the secret to Samuel North's success. Has met with total acceptance of  Malcolm and Samuel North  but no  so of the  lawyer for Muse on Allen   .
Despite  knowing where our information came from the lawyers for the company are  making allegations  of  Contempt of court when there is no way in the world that  we have had access to the documents which were   provided for discovery.
Malcolm North on the other hand  has been freely distributing the  accounts  and then  claims that we are breaching court orders  when the documents he has provided have not been given with any privilege attached .
this post has been amended when the lawyers    made threats of defamation  because they did not like the fact that  we pointed out  that we were not in contempt of court and took issue  with  these false allegations.
The lawyer  is now putting pressure on  Jozsef to get these posts taken down. Truth and transparency   appears not to suit  them
We are  taking this action because  Jozsef is a  share holder of Muse on Allen and  they allege that he has been removed  from the register in " error' We believe that if you have made an error  and  you have identified it then you correct  the error.
the company records have been updated at lest 6 times  since  alleging that Jozsefs name  has been removed in " error'  so why is his name not back on the   register ?????
Any way  it appears that Malcolm and Samuel agree with  the posts  here is  a communication with Malcolm  and  some feed back  which    Sam has  seen fit to remove from Trip advisor
From: malcolm north [mailto:malcolm@muserestaurant.co.nz]
Sent: Thursday, 9 July 2015 6:10 p.m.
To: 'Grace Haden'
Subject: RE: CIV 2013-485-9825: Szekely v Muse on Allen Ltd

Hello Grace

Thanks for the update you haven't taken any notice of me at all about your grammar ,punctuation and spelling.
Response :Thank you Malcolm     did I mention that English is my second  language .
On 9 Jul 2015 9:19 pm, "malcolm north" <malcolm@muserestaurant.co.nz> wrote:

Thanks for that .Probably why you can't understand Szekely walked out of the Restaurant after  eleven weeks .Funny how you haven't told anyone this.
Response :Did he walk or was he pushed.  I suspect he walked just like pirate's made their victims walk the plank.   Yes its all Jozsef's  fault because he wouldn't put up with the bullying.   Bullies always blame their victims.
On 9 Jul 2015 11:01 pm, "malcolm north" <malcolm@muserestaurant.co.nz> wrote:

He walked.
Response : Yes he walked….. Straight to his lawyers   see letter here letter from lawyer 16Jan
Note: Samuel did an interview in   Concrete Playground     these are extracts show how he started Muse on Allen    the reality is reflected in the fact that   he  transferred the share holding of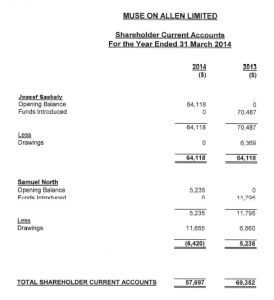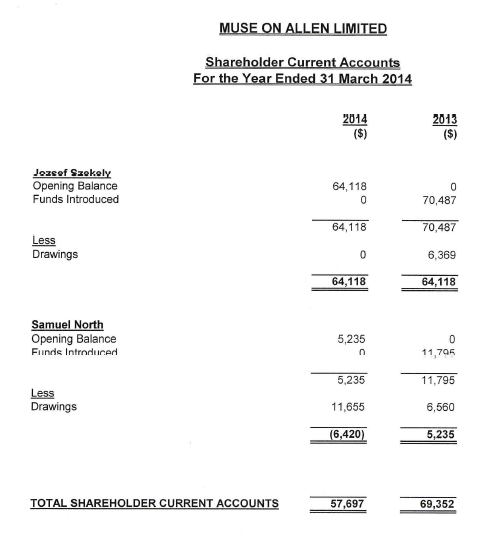 another  chef into his own name  and then  denied  Jozsef  any rights    .  The accounts  in 2014 show that there were two share holders in the accounts  although Samuel was  listed as the 100% share holder on the companies  office site .
Jozsef had $64,118   equity in the company  while  Samuel owed the company $6420     yet Samuel  went out a bought a 207 BMW SUV loaned against the company BMW
Remembering  this read the article below    and remember that Samuel is being acclaimed  as begin the youngest Chef in Wellington to OWN a restaurant .. He actually OWNS NOTHING  and OWES   it all to  Jozsef
The opening accounts  speak volumes    prizes fro those who spot the contributions by Samuel click to enlarge 
This is the real secret to opening your very own  restaurant. its called other peoples money  .
In our professional opinion  it is  fraud when you get   a person to invest in a company   they are the majority share holder  and then you  move  all their shares into the name of a person who makes a living off the company .   At the same time   the  majority  share holder is excluded  and    is sued   for   the losses incurred by  the company.
to  put the icing on the cake  the losses  include the purchase of  a  2007 BMW which the person who has no share capital in the company but  who has claimed all the shares as his own, uses as his own .