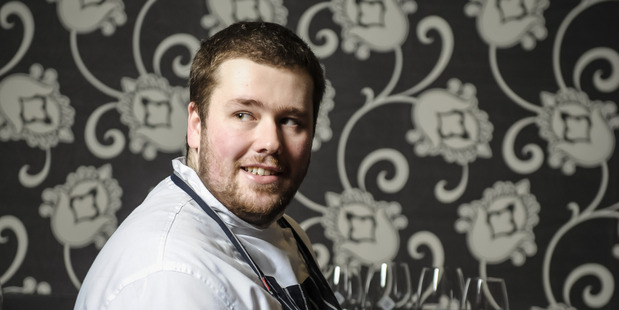 Restaurateur Samuel North has been in the news  many times , each time there is a common thread  and that is – he is identified as- the youngest chef  in Wellington to  have his own restaurant .
Transparency New Zealand will today   examine the truth behind that statement  and others  which we have located in the news.
For convenience we have prepared a file with the relevant documents  they can be found here  samuel north evidence  (  most of the originals of these documents are available on the companies register , the others have been filed in  the Wellington district court with the exception of the  car registration which comes from the on line register)
Page 1  this  is the sale and purchase agreement    the lawyer involved  for Muse on Allen   was  the North's own lawyer  .The company was set up with two directors and two share holders   Jozsef Gabor SZEKELY     who owned 70 % of the company page 2    and Samuel Raymond NORTH  who owned 30%  of the company  .
Malcolm North  was involved from day one and took charge,  he drew up a  Partnership agreement     and as can be seen  Samuel's total contributions  was to be $10,000  as opposed to  Jozsef who invested $65,000 .page 3
Jozsef understood  that  all would be equal partners  but that was not to be,   as it was later revealed that  every one except  Jozsef  introduced their money into the company  by way of loans . Jozsef on the other hand was    recognized in the accounts as a share holder .
Debbie North Samuel's mother   requested to be an alternate director for her son   instead she  completed her own directors documents  and uploaded them on to the companies  site back dating  them to the date of the companies formation Pages 4 &5 
On 3 November 2012  the dominion post published a review of  the restaurant Muse on Allen: Food fit for the gods
On 19 December 2012 Samuel  without complying with the required legislation  and without any  share holder transfer   documents  reduced Jozsefs 70% share holding to  49%  Page 6.
Another great  review was published by Raymond Chan on  4 January   2013 acclaiming both chefs.
On 9 January 2013  without   following the required procedure for appointing a director Samuel prepares a directors consent for his father  Page 7  and up loads this to the companies register Page 8
Malcolm North, Debbie North and Samuel North  are  now all directors  and have  a meeting at their home on the 10 January  they resole to remove Jozsef as director   Page 9 
24 February Samuel North  transfers all of Jozsef's shares to  himself .  page 10
Jozsef   who consulted Lawyers on the  10th of January  2012   has spent  two years in court  attempting  to  get justice.
It has been a stalling game one intent on  costing Jozsef big $  and now when the end is in sight Malcolm North advises that the company is in liquidation court.
Malcolm North has also  been passing himself off as counsel in court documents  see here 18 Amended Statement of Defence   In this document Malcolm  also states
 The Companies Office records stating otherwise are in error, and that the plaintiff remains a shareholder in the company,  and 

The amendment of the Company's Office register on or around 24February 2013 was an error, and the plaintiff remains a minority shareholder of the Company.
despite  making this statement  the companies register has never been corrected.
On 19th June   2015   despite  Jozsef being denied any rights  of a share holder, Malcolm files documents in the District Court pages 11- 54.
In the statement of claim  he alleges that Jozsef  as a 63.2% share holder is responsible for the corresponding  % of losses in  Muse on Allen  for the 2013 & 2014 financial years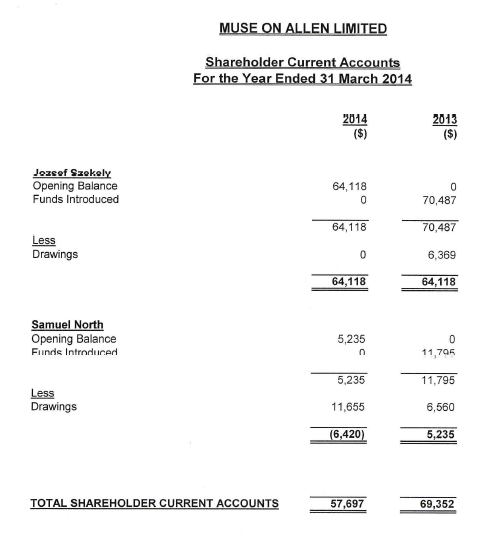 .
this would have to be  a first in New Zealand  where a company sues its only solvent  share holder for  the loses which the management  has incurred after denying the share holder any rights.
The accounts attached  speak volumes   especially the share holder accounts   they show  that Jozsef has paid up share capital of $64,118  and  Samuel North  has a deficit of $6420.
No other persons are shown as share holders   and no  other share capital has been introduced.
The accounts clearly show however that the   funds introduced  into the company by Samuel's parents and  his girlfriend Anabel Torrejos  were introduced as LOANS. they have never been  recorded as share holders.
We wish to make it clear that these documents came to us without any restriction  or confidentiality and as can be seen  they clearly identify Jozsef as the  majority share holder.
As a share holder and in this case the only paid up share holder he has every right to the accounts .
On a  % share holding basis    it is obvious  that the sole owner of Muse on Allen is Not Samuel North but Jozsef  .
We believe  that what has happened in  Muse on Allen   totally undermines the  confidence that   should be had in the integrity of  our companies.
Jozsefs battle to  be recognized as share holder continues  but in a bizarre twist Malcolm North advised   Jozsef on 8 June 2015   that the company is  currently in insolvency court  being  sued  by Kensington Swan , their former lawyer. The date for the hearing has been delayed allegedly in the hope that  they can repay the  debt which we believe is some $24,000.
In the mean time  Samuel North is driving about town  in  a Black BMW X3 2007 Reg HYE837 Page 55   .similar to the one pictured for which he has raised a loan through the company ( see corrections  on Samuel North  responds )
Now that you have these facts   you  can look at the following articles in a different light , we particularly  like  the  concrete playground  article   it speaks volumes and is well  worth reading   and now that  you  know the truth you  will have more insight.
Other less colourful articles are below  they all    assert falsely that Samuel  is the sole owner of   Muse on Allen  Limited. 
11 august 2013 Muse on Allen takes Top Honours– Wellington has a new rising star on the food scene, with the 22-year-old head chef and owner of Muse on Allen taking out this year's MiNDFOOD Wellington On a Plate Award……Muse on Allen's 22-year-old head chef and owner, Samuel North
04/09/2013  Young upstart of the restaurant scene   Samuel North is not your typical restaurateur. At just 22, he's thought to be the youngest chef running his own dining establishment in Wellington. In fact, he was 21 when he launched Muse on Allen in the former site of Satay Kampong restaurant at the top of Allen St…..In his most recent job at the White House as chef de partie, he read about Martin Bosley starting a restaurant at the age of 21, and says: "I was inspired by that. I thought I could do that. I started looking at places up for sale. We looked at 19 different places before we found this one."  
August 9, 2013MiNDFOOD Wellington On a Plate Award Winner Announced 22 year-old Samuel North, chef & owner of Muse on Allen, takes out the MiNDFOOD Wellington on a Plate Award….Wellington has a new rising star on the food scene, as the chef & owner of Muse on Allen takes out this year's MiNDFOOD Wellington On a Plate Award…..Muse on Allen's 22-year-old head chef and owner, Samuel North,
21 July 2014 Theatrical dish coasts into Dine award final Samuel North, 23, the head chef and owner of Muse on Allen in central Wellington, has had his restaurant nominated as one of five finalists in the Visa Wellington on a Plate Award.
06/08/2014 Fresh faces of food SAMUEL NORTH, OWNER AND HEAD CHEF AT MUSE ON ALLEN  Samuel North was just 21 when he opened his own restaurant, Muse on Allen in 2012. By that time he'd already chalked up six years behind the stoves of a whole bunch of kitchens from Wairarapa to Hunter Valley. "I think I may have been the youngest chef to open a restaurant in town. There was this big hype when I opened it because I was so young and a lot of people thought I'd fail, " he says
Oct 13, 2014   NZ Herald -Your Business: Young Entrepreneurs
"The founder and head chef of Wellington-based restaurant Muse on Allen worked and saved hard for six years, and got a loan from his parents and help from his partner to set up the restaurant, which last year took out a top culinary prize – the Visa Wellington on a Plate Award."
Oct 13, 2014   NZ Herald -Your Business: Young Entrepreneurs   "I have no credit cards, no bank loans – nothing," he says. "The banks ran a mile when I put the idea to them. It's pretty funny looking back at it now; there was no way they were taking the chance on me – and I can't blame them."
March 2013 social cooking :Samuel North  Info:At just 21 years old, Sam was considered to be the youngest Chef to be running his own establishment in Wellington, when he opened Muse on Allen 2 years ag0
31 July 2014  Lettuce take a moment with… Samuel North  "Samuel North is no stranger to success. At the age of twenty-one, Sam opened his very own Restaurant, Muse on Allen."
August 13, 2014  48 hours in the capital: Where to eat in Wellington  Head chef and owner Samuel North is, amazingly, only 22, and made a name for his new restaurant
31 January 2015  Grab one  Owner and chef, Samuel North, won this year's MiNDFOOD Wellington On a Plate Award, which recognises the top level of creativity and skill among Wellington's chefs, along with their ability to showcase local ingredients through Dine Wellington's festival programme.
18 April 2015  Muse and a little Singin' in the rain   Muse is the establishment of Samuel North, a young chef in Wellington with a bucketful of talent.
08 July 2015  Producers "live and breathe" their craft….Muse on Allen chef and owner Samuel North 
Muse on Allen Restaurant and Bar -Wellington on a plate
More soon