Back on the subject of Mowing Verges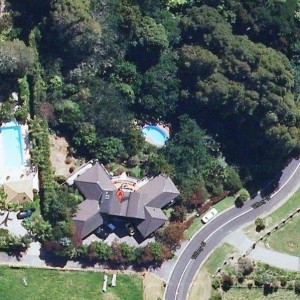 Len Brown  when he heard he had  won  said he would go out an celebrate  by mowing his Berm    this prompted me to look at   how big his berms were  and  I noted  that   he  might mow them  but  it also seems  that he can use them for parking, the  address is   8 Tiffany close  have a look for yourself  on  Google earth , Google maps or wises.
Perhaps this is an employee Benefit ?
Maybe  if  we had a house  like his an income of   some $200,000   then we  wouldn't begrudge mowing the berms, the chances are the  mowing  contractor   would be doing it .. For the rest of us there is nothing like paying for a service and   then doing the work yourself   and not being allowed to park on  it.
I had asked   by way of LGOIMA as to the policy for mowing verges, we are told  it  went through council yet  in this  email I have been  clearly redirected to Auckland Transport as follows
Dear Grace
Thank you for your response.
As your enquiry requires more detailed information about the berm mowing policy, we have referred it to Auckland Transport.
You can expect to receive a reply from them directly within 10 working days.
Should you wish to follow up on this enquiry, please contact Auckland Transport on (09) 355 3553.
In the mean time, you may wish to read through the information provided on the Auckland Transport website in regard to urban berm mowing:
http://www.aucklandtransport.govt.nz/improving-transport/maintenance/Road/Pages/Urban-Berm-Mowing.aspx
Nāku noa nā | Regards
Emma Powell
Written Communications Team
Auckland Council
(09) 301 0101
So I shall wait for Auckland transport   to reply,  I  actually don't pay rates to  Auckland transport  , I pay them to the council  who  owns the grass verges .
Yet we are saving  15 million  in not  mowing them..  this pales into insignificance  in light of this item in the  annual report
I have addressed this   in a LGOIMA request via  FYI.   as follows
Dear Auckland Council,
In your annual report item 7 (www.aucklandcouncil.govt.nz/EN/planspoli…) you list the following
7 EMPLOYEE BENEFITS ( millions )
Other 2013 Group 42 million 2012 7 million
2013 Council 21 million 2012 1 million
Please give a breakdown of the 35 million difference in the group
benefits between last annual report and current report and also the
20 million difference in the council benefits
Please also advise the number of employees council has and how many
of them benefited from these benefits and also detail how these
benefits were approved.
Yours faithfully,
Grace Haden
Will keep you posed    I will be sure to   bring the parking on the berm  to the attention of Auckland transport  if it si good enough  for Len  then is  good enough  for all of us.