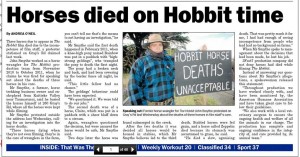 A news item was published this morning and then   removed from the stuff web site, fortunately we have a  hard copy  "news clipping hobbit
Hobbit horse deaths needless and avoidable wrangler
This would appear to be a  case of history repeating itself.
Horses died on the  lord of the ring set as well . In that case  the  monitoring was being done  through a fictional organization called AWINZ  which in reality was nothing more than  barrister Neil Wells  sub contracting to SPCA  inspectors. ( Neil Wells  is a barrister who write the  standards for  animals in  entertainment )
see article page 13  of this  document
The movies were given the end title  that no animals were harmed  which is a registered trade mark of  the  American Humane association  
see the letter here
and
and
Speculation is that Christine  wells the wife of  the  founder of this   charity, which   shared the same name as the  " approved Organisation " is doing all the  film monitoring.  she has done so in the past  and from  our investigations we have not  been able to confirm that she has any formal qualifications  as an animal welfare inspector .News items relating to the 2002 incident can be found at  Towers title slammedand Towers title slammed as insult to US attack
We would welcome any  information as to  who the  animal welfare monitors are on the set,  which is probably a  well guarded secret.
a further  article can be found on the one ring net
we will keep you posted